St. Patrick's Day is on it's way. An opportunity for everyone to claim their Irish connection, even if you or your ancestors and their ancestors before them have never set foot on the emerald isle.
Patrick was an Englishman, doing a very early rendition of 12 Years a Slave. He escaped after six years, returned home, became a cleric under the tutelage of St. Germain and returned to Ireland to serve there the rest of his life which history says ended on a March 17th. The actual year is in question.
Saints, in the Catholic Church have feast days. Now usually feast days are solemn religious times. The unique connection to beer, parties and excess stems from the exemption given when March 17, falls during Lent allowing for drinking and other forms of "fun".
I am not a Guinness kind of gal, any beer for that matter. Sacrilege, I know. But I make up for it by working on a serious Bailey's addiction. So it should come as no surprise that Irish Cream would be at the top of my St. Paddy's Day list of treats for adults.
For these nummy, easy to make delectables……
You will need:
1 2/3 cup good quality chopped milk chocolate
2 Tbsp. scalded whipping cream
50 ml Baileys ( airline bottle size )
250gr ( one small container ) of Philadelphia Cream Cheese
cocoa powder and or almond meal for rolling
" I am living to nourish you, cherish you, I am pulsing the blood in your veins, Feel the magic and power of surrender, To life. Uisce Beatha "
Uisce Beatha means "water of life" like the Latin "aqua vitae". It is also Gaelic for whiskey, the main ingredient of any Irish Cream.
These words come from the show Riverdance, the history and story of Ireland set to music and dance.
Breath in the words, feel their magic and surrender……..
Chop the chocolate into small pieces. This will allow for a more even melt and make stirring easier.The chocolate can be melted in a bowl over simmering water ( Do not allow it to boil ) while stirring regularly.
The second option is to melt with a microwave. If you choose this option, DO NOT turn the microwave on for more than 1 minute and reduce to 45 seconds, then 30 seconds with each additional time in the unit.
It may not look as melted when you take it out but stirring will show the change in texture.
Stir well before returning to the microwave for additional time. Once  3/4's of the chocolate is melted by either method you will probably be able melt the remaining lumps by stirring.
While the chocolate is melting, scald the whipping cream. When the cream is added and stirred, the chocolate will seize up. Just keep stirring until the cream is incorporated and then add the Bailey's and keep stirring.
The mixture will soften and be pourable.
You can choose to call the truffles done at this point, pour the mixture into a container with a lid and place in the fridge until firm enough to roll.
Option two is to add the cream cheese and mix well.
One part truffle mix to one part cream cheese. I used the small (250gr) size of cream cheese. As you can see above, it changes the texture of the truffle mix again.
Place the finished mixture in an airtight container and place in the fridge until cold.
My preference for Bailey's truffles is milk but you can choose to use dark chocolate instead. Dark chocolate is harder and will not melt as much the first time in the microwave. It would be good to add either a little extra Baileys or scalded cream to get a softer texture as the dark chocolate will be missing the added ingredients that soften a milk chocolate.
Once the truffle mixture is cold, roll balls just under the size of a walnut and then drop into cocoa, almond meal or a combination of both for a final covering.
Serve immediately or store in the fridge.
I have been known to pipe the cream cheese mixture onto mini cupcakes, between the layers of cakes, into tart shells and add it as a layer in trifle. Did I mention it was a serious addiction I was working on?
Beannachtaí na Féile Pádraig oraibh! (Best St. Patrick's Day Greetings!)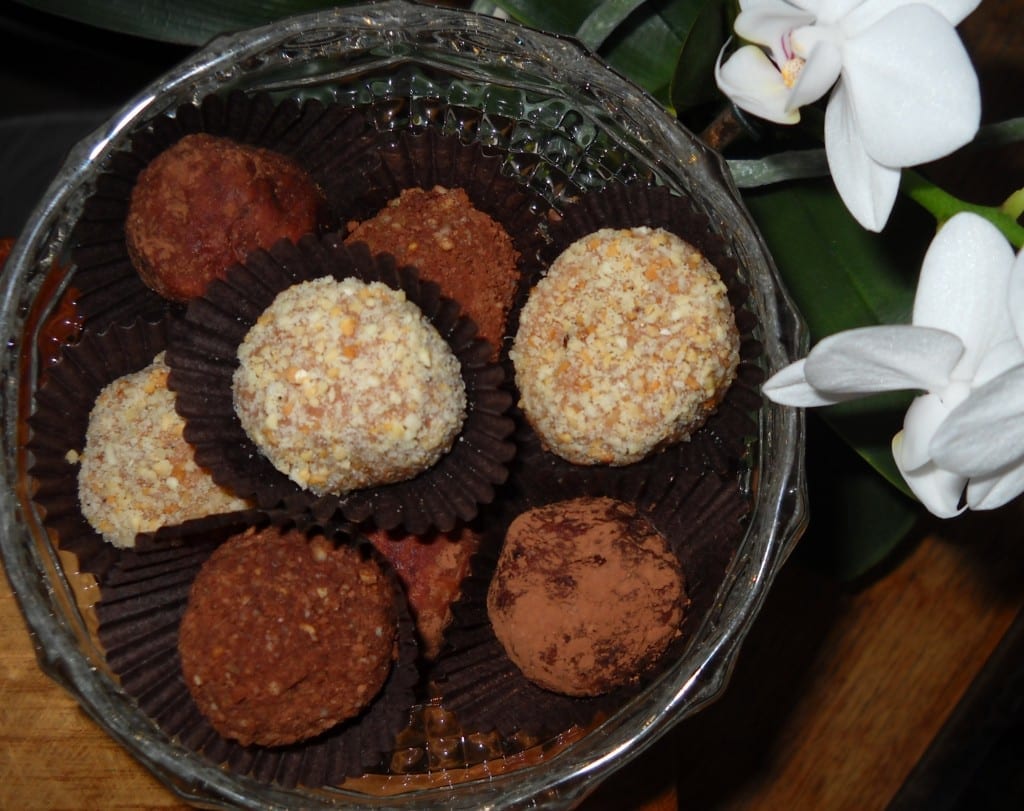 Bailey's Chocolate Cheesecake Truffles from My Kitchen Wand