During the hot European summer months of old, women avoided sweltering kitchens by cooking early in the day and then shutting everything down before it got unbearable. This dish is for one of those " I do not want to be cooking in the kitchen" days.
I spent years cooking for young male boarders and this recipe also made a great ending to lighter meals like summer salads. It filled up their follow legs and there were rarely leftovers. The word for cream of wheat in German is griese, pronounced "grease". My guys would always try to put any newcomers off by asking if they wanted grease pudding while looking like they would be crazy to say yes.
Wheat and milk being an acceptable offering to most Gods and Goddesses, with fruit being a well received addition to many agricultural Deities , this makes a highly appropriate addition to a Lammas/Lughnasa festival table as well.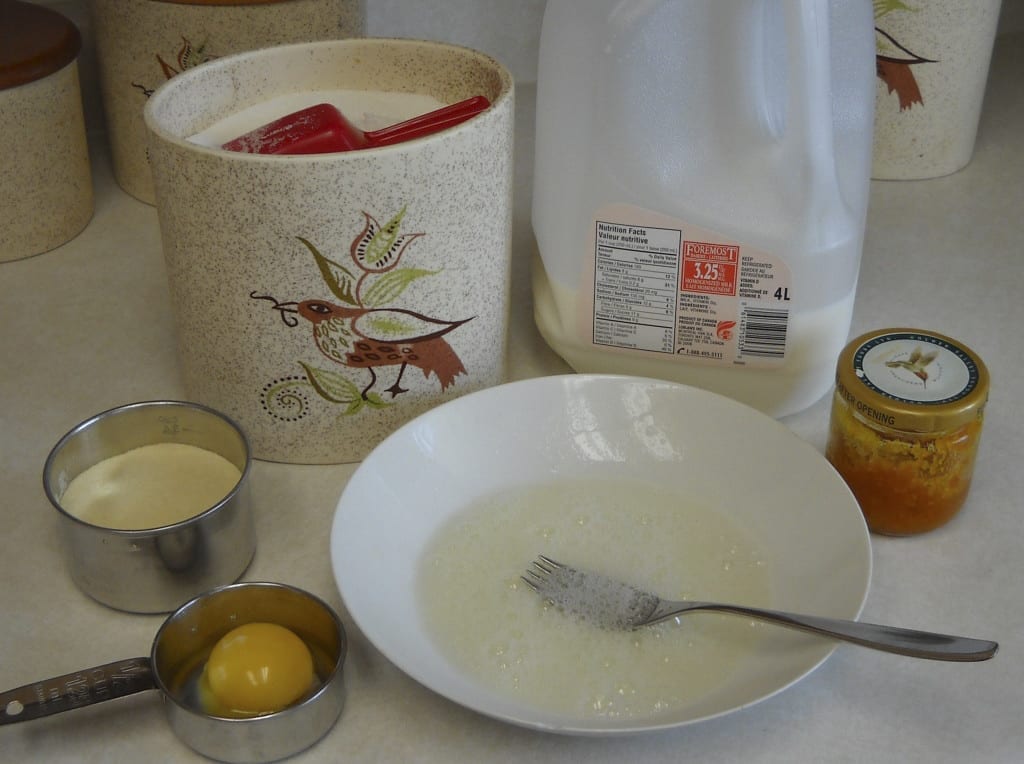 You will need:
4 cups milk
1/3 cup sugar
lemon or orange zest, knife tip
3/4 – 7/8 cup cream of wheat
1 or 2 eggs, separated
berries, which I will discuss later in this post
"Appreciation is a combination of honor and gratitude. Everything thrives on appreciation. As often as possible, offer your appreciation. Express it openly. Give it freely, whether to a stranger, a loved one or a rose." This quote is from In Love With The Mystery by Ann Mortifee. I thought you might appreciate a slightly different perspective before beginning this dish. Lammas is the first of the harvest festivals and using fresh local fruit creates a highly appropriate time to appreciate the bounty of the earth in our lives. With eyes closed, take in a few deep breathes, release and repeat, " In my Kitchen filled with Care, I Welcome, Earth, Fire, Water Air." Begin.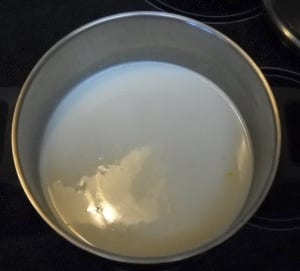 Place the milk, sugar and the zest of your choice in a pot over medium heat and bring to a simmer.
My grandmother would just cut a couple of slices of skin off a lemon and drop it in the pot. Someone always got a unexpected mouthful of peel. I prefer to use zest so everyone gets a little lemon or orange and it mixes easily throughout the pudding.
The foam is just beginning to gather on the milk. Add the cream of wheat and stir well.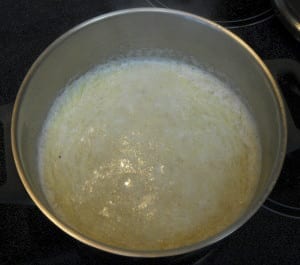 Available in my part of the world are two cream of wheat options, both come in boxes and are not visible so you don't always know what you have until the box is opened. One option is all creamy coloured and the other option is a bit of a mix of colours (think plain flour and whole wheat flour). When using the bi/tri colour cream of wheat, the measurement above will work. You may need to add an additional tablespoon or so to the quantity if you find you have the one colour variety as it does not thicken to the same extant. The pudding is light when finished but the choice is still to spoon it from the serving dish, not ladle it out.
Add a little hot pudding mix to the egg yolk and then return the mixture back into the pot, stirring well to avoid cooking the egg before it is mixed. Let the pudding continue to cook for a two to three minutes on low so it will thicken a bit more.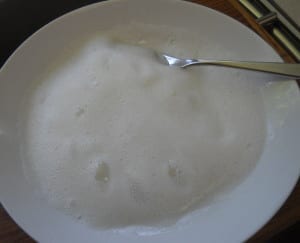 While the pudding is thickening, beat the egg white. You can absolutely do this with a egg beater. I learned from my grandmother and have always done it on a soup plate. The bubbles are bigger and they will also deflate more easily so if you need to stop for something just beat it again when you are finished. She always used one egg (frugal war times). I use two.
When the  pudding has thickened, pour the egg white into the pudding and gently fold in the fluffy egg white a couple of time before pouring the entire mixture into a serving bowl.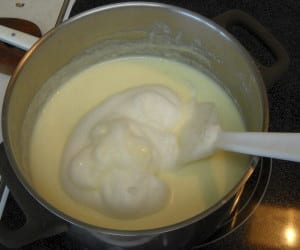 My grandmother used to always rinse the bowl out with water and pour the pudding in while the bowl was still moist. She said it helped the pudding not stick to the bowl.
Do not worry about blending the egg whites so that they can not be seen. It looks much prettier with the varieties of texture on top. Cool. This version is one colour cream of wheat.
A variety of fruits will work with this but moisture/sauce is important. Aim for about 2/3 of a cup prepared fruit per person.
Fresh strawberries can be cut, given a little sugar and allowed to sit. The sugar will draw out the strawberry juice.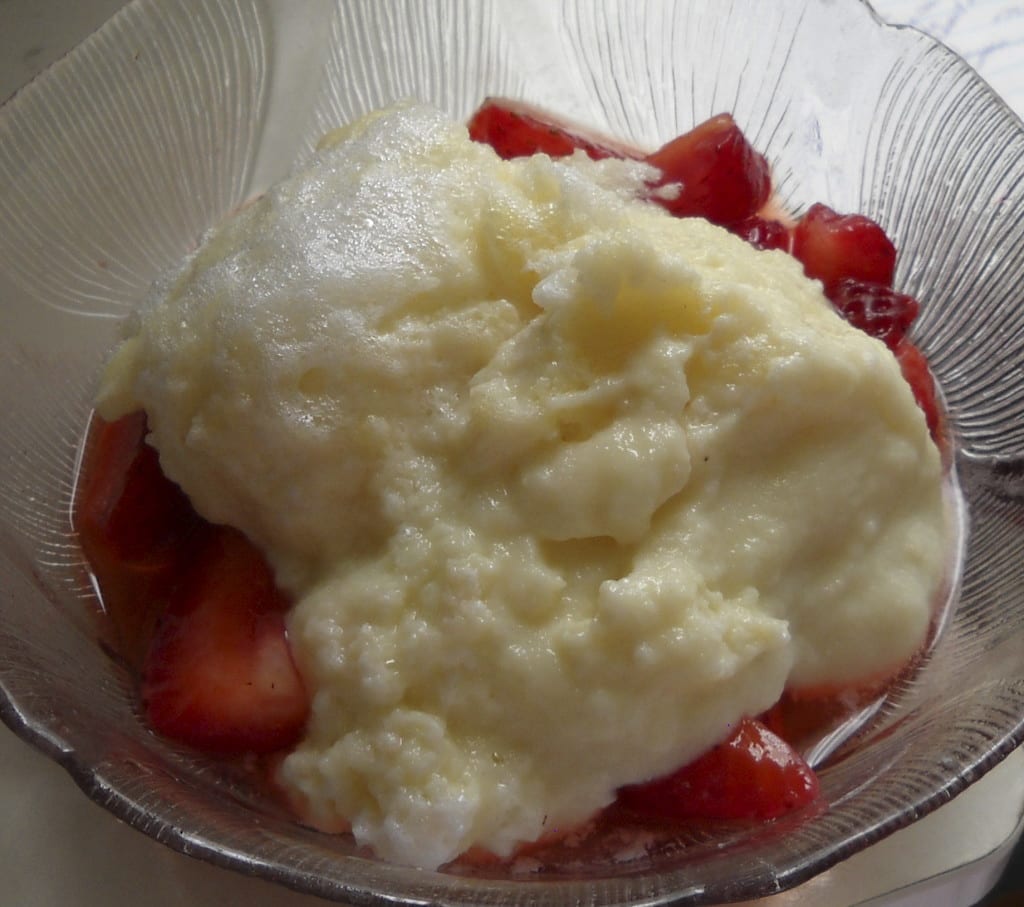 Blueberries, blackberries and raspberries don't work quite the same way. They naturally have less juice so pureeing some of the fresh raspberries to get the juices going before sprinkling with sugar is helpful. Try adding a couple tablespoons of orange juice if there is not enough liquid and sweeten to taste.
Cooking the blueberries is another option. In the picture below are wild blueberries ( hence their size) with a little water and sugar but no thickener. This is not pie filling. They were sealed in 1 cup jars that just need to be opened to serve. This pudding was made with the multi-coloured cream of wheat. When comparing the two puddings, you can see that the one with strawberries is looser and could have benefited from that extra tablespoon of cream of wheat.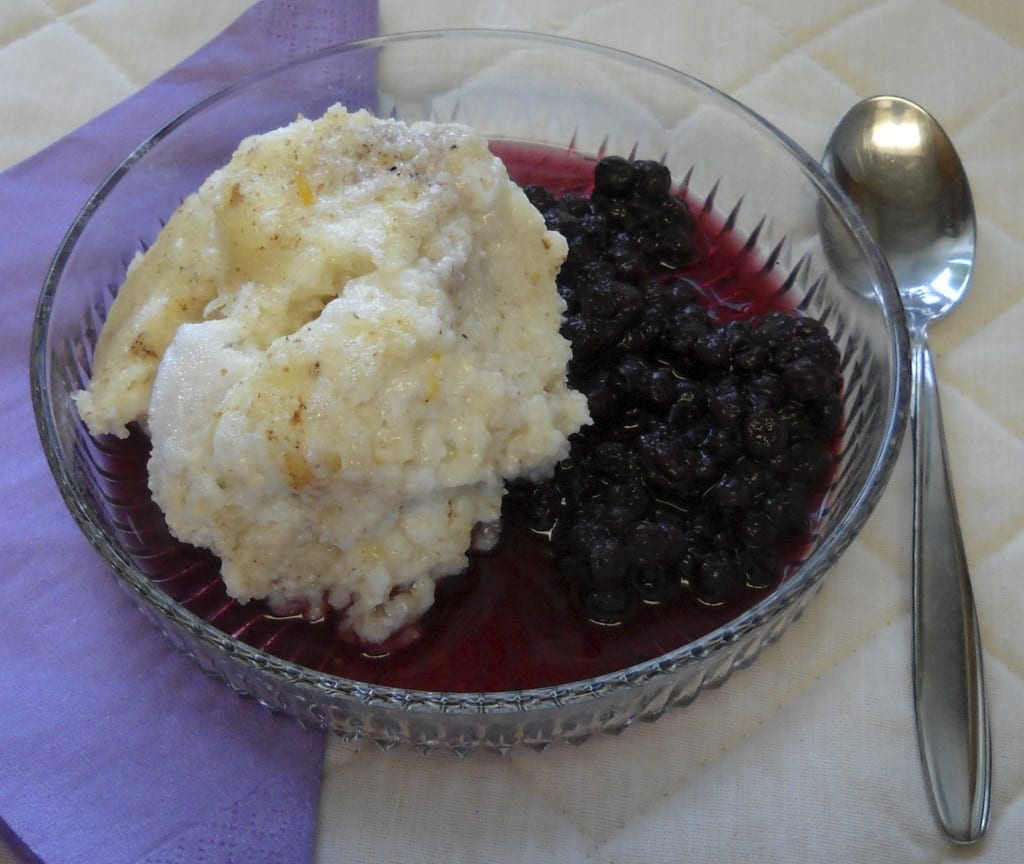 No matter how you decide to finish off the fruit side of this meal, a bowl of fruit and cream of wheat pudding will leave you happy and satisfied. It is light yet filling, just enough on those super warm summer days when eating a full meal holds no appeal.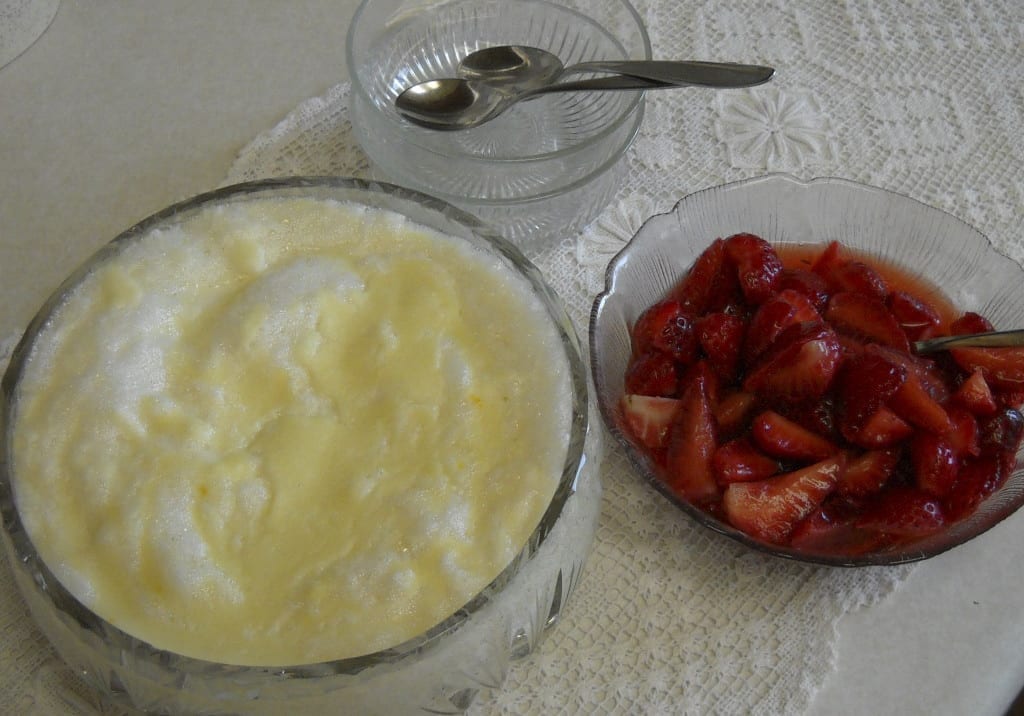 Cream of Wheat Pudding with fresh fruit from My Kitchen Wand