This spring when putting the idea for a fairy tea together I wanted to incorporate herbs into the elegant little sandwich bites, for taste, and also as a way for children to begin to learn about the world around them. Yesterday in the ideas for celebrating Earth Day post, I shared a picture from a foraging walk I had thoroughly enjoyed, hosted by Jess of Red Hawk Healing. It was great to learn more about the plants that live in my area and I would highly recommend doing something similar around your home if it speaks to you in any way.
Putting together a smaller version, like a walk around your block, for tea guests could be a lovely activity before serving the meal, especially if they got to pick the ingredients to actually make the tisane. If you live in an area where that is absolutely out of the question, it is possible with a little extra planning to turn this tea party into a picnic in a location where wildcrafting is an option. It is best that you do the picking for beginners as not everything is safe to eat. Enthusiasm does not equal edible.
A traditional English tea begins with finger sandwiches. Small servings, without crust and just a hint of filling. My grandfather, as a boy in boarding school in England, won on several occasions, most valuable player. It was an award he detested as the winner was given the "honour" of having tea with the Head Master's wife. For a young man who had just played his heart out on the soccer field; who was tired, dirty and hungry, the last thing he felt was a reward was to sit up straight and nibble on a few fancy little sandwiches while the rest of the students had a substantial and proper supper.
This tea is not so formal (Have you ever known a fairy to stand on ceremony?) and there are more than enough options to keep small tummies happy. Herb Finger Sandwiches, Almond Tarts with Wild Violet Jelly, Mini Chocolate Cheesecake and Dandelion Cake. Pull out the good/fun dishes and get your invitees to dress up. Who doesn't like to play in the land of the fairies?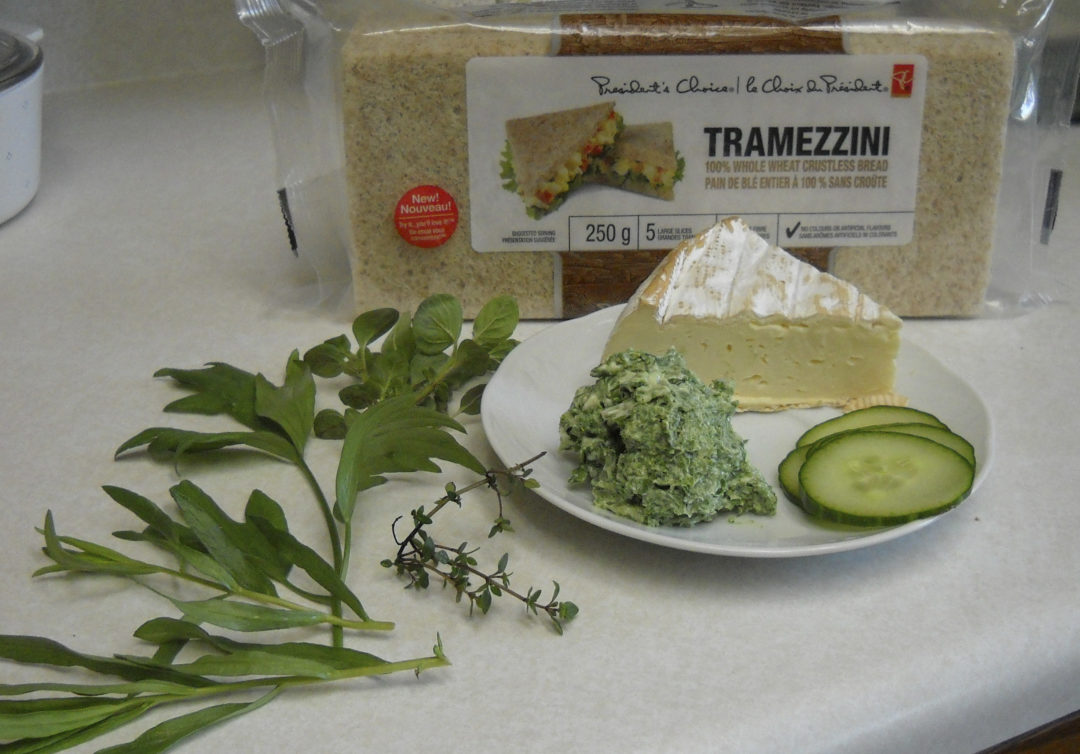 You will need:
Bread (I will expand on that in a moment)
Butter
Mayonnaise
Spreadable Cheese (Expanding below)
A selection of fresh herbs (more on that too)
Cucumber slices or grated carrots or sliced grape tomatoes
Dill pickle or black olives or grape tomatoes
I usually start with an opening focus of some sort in the kitchen but today I am going to suggest starting in the garden/forest/park with the kids. Share your wisdom, offer tales and open the door to the adventure of harvesting plants from the earth for the tea.
If you need a little help check out the story of the start of the Findhorn Community. In 1962, three people lost their jobs at a hotel in Northern Scotland and not knowing what the next step would be, they rented a tiny cottage and began to grow vegetables in the barren sandy soil. The two women started to listen to the nature spirits of the vegetables they were growing and acted on the information they were receiving to grow amazing vegetable, more than enough to feed themselves and others around them. People heard about the 40 pound cabbages and scientists came to visit, It made headline news in the mid 60's, this partnership between the gardeners and the spirits (devas) of the plants.
In the kitchen, let's start with three sandwich options.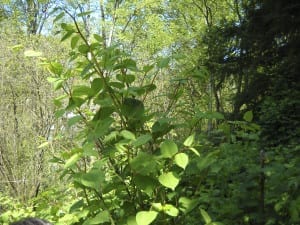 Japanese Knotweed Pinwheels are the first sandwiches we will make and this is where we get to the more information on the bread part.
If you are still lucky enough to be able to go to a local baker and ask for a loaf of sandwich (square) bread to be cut lengthwise, that is great! It is not as easy today, where I live, so I wanted you to see (picture above) that is available pre-cut and packaged. Tramezzini comes in brown and white options and the slices are thinner than regular sliced bread, all the more to be daintily nibbled upon. A package has 5 or 6 slices which is usually enough for a small group. The slices are rectangles that can be used to make rolled sandwiches. Get the freshest package you can as this will give you more flexible bread for rolling.
I chose brown but there is no right or wrong here. What will the kids eat and what colour combinations make the most sense and can I get away with only buying one package or do I need both are the best starting point questions.
If you can get a loaf cut at a bakery, will be necessary to trim the crusts off the bread at home before rolling or you will not be successful.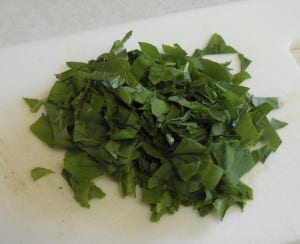 Moving on to Japanese Knotweed. This plant is EVERYWHERE! The bill for clearing it out of a site for the Olympics in Britain topped 35 million pounds. It is an invasive member of the Buckwheat family, grows aggressively and is edible with a tangy, lemony type flavour. I have seen recipes suggesting using the bamboo style stocks for a rhubarb like crumble dessert but for now we will use the fresh young leaves at the top of the plant.
Chop freshly washed leaves and pack into a 1/3 cup measuring cup. Place knotweed and 3 tablespoons butter into a container and pulse with a wand until fully mixed.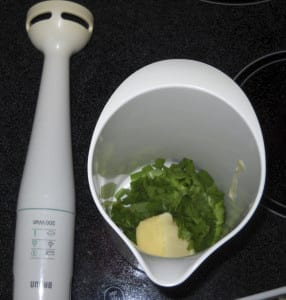 It might become necessary to stop, detach the blade end and clean it off a couple of times. You are not working with a lot of volume.
Once well mixed, spread out the butter mixture onto one slice of sandwich bread and spread to the edges.
Here again, there are choices, I used small dill pickles but you may prefer, olives or grape tomatoes, or something else. Whatever choice you make, line it up along the short end of the bread and then gently roll the bread up.
Do not worry if the bread breaks as you begin to roll as that will all be inside and not seen by anyone.
Once the sandwich has been rolled up, cover and place in the fridge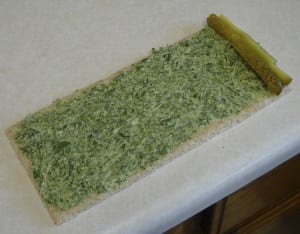 for about an hour before cutting into six pieces. The covering part in important, otherwise the bread will dry out.
Just because I was doing my part to control Japanese Knotweed, does not mean that you need to go looking for some. Any compatible combination of herbs will work. If your garden is stocked with other options then use them instead. I would suggest staying away from anything too bitter as children are more sensitive to bitter tastes than adults. Additionally, if you are wildcrafting, make very sure that you know what you are harvesting. Plants can look similar and be very different.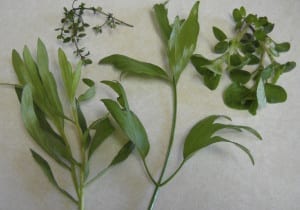 Cheese Rounds with Herb Highlights The choice you make for cheese is entirely up to you. I used Brie for these but a plain cream cheese or something like Boursin, which is a herb cream cheese is another option. Make it easy on yourself and use what is spreadable and handy. We started with a trip to the herb garden and brought back some, thyme, oregano, lovage and tarragon. You only need a little each to decorate the tops of the circles.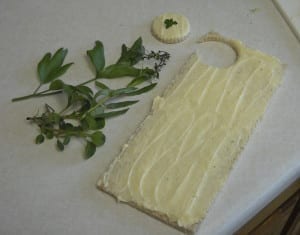 The Brie needed a little help to be spreadable so after cutting off the edges of the piece in the picture at the top, I had about 1/3 of cup to which I added 1 tablespoon butter and again mixed it up with the electric wand, stopping a couple of times to detach the mixture from the wand and made sure everything mixed together well.
Spread the cheese over the bread and cut in circles. I used a fluted cookie cutter, in a size that would let me get two circle from the width of the bread. I cut a total of eight circles from one slice.
Someone asked,"Why not just use Ritz Crackers?" That is a great suggestion. You will find that that option works better if you pipe on the cheese and leave an open edge. If you would like the cheese to go all the way to the edges cleanly, bread and cutter is a better option.
Once the rounds are cut, finish with a fresh sprig of whatever you have collected.
Cucumber and Tarragon Triangles. This is quick and easy option three. Slice the sandwich bread into two even squares. This will leave about an inch left over at the end of the slice of bread. Spread the bread with mayonnaise and nine thinly sliced overlapping pieces of cucumber. You can choose to peal  the cucumber before slicing if you would prefer. I washed and left the skin on for colour and food value. Top with fresh tarragon leaves and then a second layer of bread that also has a little mayonnaise on it. This layer of mayonnaise is more for sticking power than flavour but not adding anything makes it easier for the sandwich to fall apart.
Cucumber sandwiches are the more traditional option but finely grated carrots or sliced tomatoes will add additional colour and a different texture. ( Choose tomatoes without a lot of moisture).
Cut diagonally across the sandwich in both directions to create four triangle sandwiches. Plate, keep covered until serving.
One last thing to cover for today.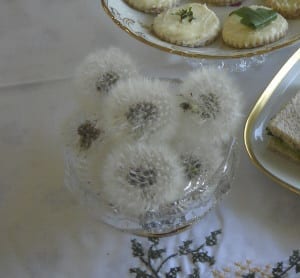 Along with the herbs for the sandwiches, gently collect complete dandelion heads in a special bowl.
Use it as a decoration of the table and when everyone is finished take the bowl outside and allow each child to make a wish, sending the seeds out into the world on the afternoon breeze.
I would suggest not doing this in the direction of your well maintained lawn but towards a more natural environment.
So there you have it! A longer post than normal and the first installment of a Fairy Flower Tea. I hope it gets you thinking about how these ideas could be used or adapted for the children in your life. A special tea is a great way to open the door to learning about plants, manners and magic of fairies. Bon Appetit!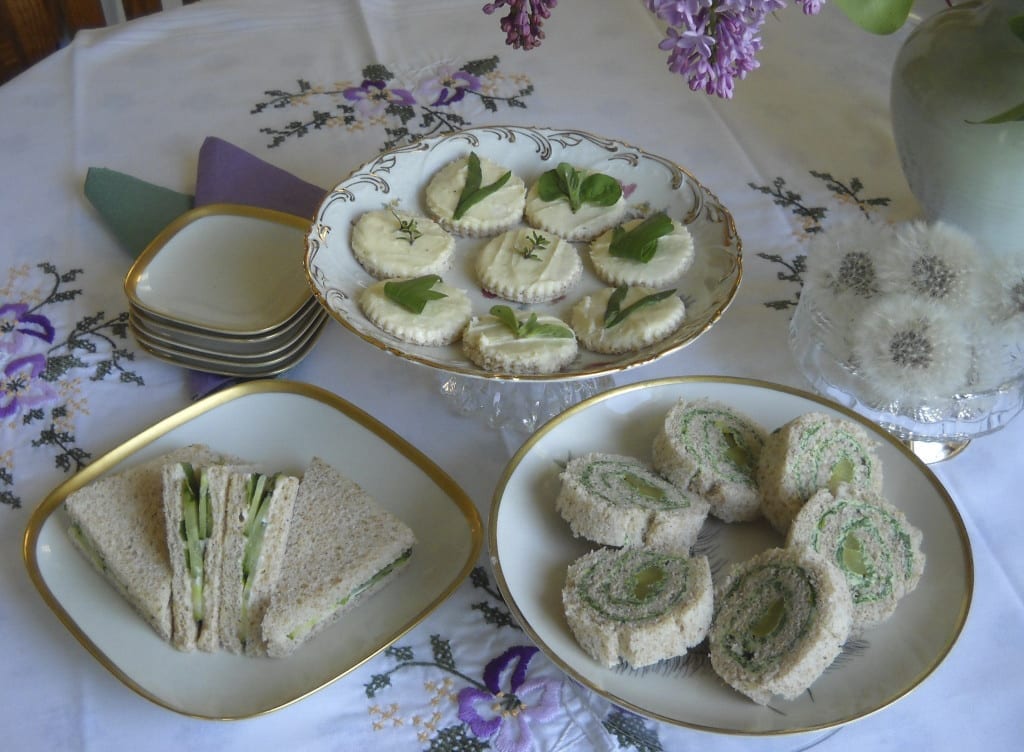 Herb Finger Sandwiches for a Fairy Tea from My Kitchen Wand