The printing process. All Kitchen Wand tea towels are digitally printed with water based dyes. As a small niche business, it can be a challenge to transform ideas into reasonably priced products when screen printing. Each additional colour requires an additional screen at an additional cost. ( So naturally, my first design has 13 colours in it. ) With digital printing it is possible to get a range of colours and shades, allowing you, the customer, access to many more choices.

Brushed cotton is a premium tea towel. Designed and woven to feel more like linen. This is your grandmother's tea towel, the piece de resistance of tea towel materials. It will last forever ( not literally ) and will take time to soften and wear in, sometimes longer than one might appreciate.
When ordering multiple tea towels there is a shipping rebate button below.
Our Tea Towel Designs

The moons journey around the earth includes waxing, full, waning and dark phases before the cycle repeats itself. There are 13 lunar cycles in a solar year of the wheel. This triple moon image has also come, in some groups, to represent the three aspects of the Divine Feminine; maiden, mother and crone.
Edged with cotton lace for easy washing, the filigree moons transition from fuchsia to lavender to blue with deep purple writing.
Try pairing with a …Lady, guide my hand Kitchen Wand.
Thirteen Moon Tea Towel $19.00 Canadian
This colourful Celtic pentagram pattern will be at home in any Kitchen Witch's kitchen. A plain white tea towel with bright borders top and bottom. Each point rotates one position across the width of the tea towel. A green line above and below the knotwork and My Kitchen Wands, signature invocation, " In my kitchen filled with care, I Welcome, Earth, Fire, Water, Air".
Combines well with a Blessed Be my food for Thee Kitchen Wand.
In my Kitchen…  $19.00 Canadian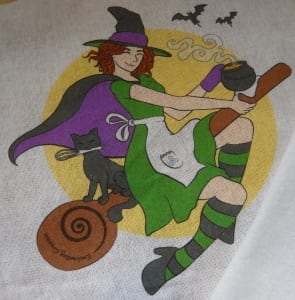 Happily sitting on an Enchanting Creation Kitchen Wand and carefully off to share a comforting meal (or magical potion) on the full moon. What more could a black cat ask for?
This image sits facing opposite directions at opposite ends of the tea towel.
Fold this tea towel in half vertically and pop it over the oven handle. The complete design will still be visible for all to see.
Finish off with an Enchanting Creation Kitchen Wand.
Kitchen Witch Tea Towel $19.00 Canadian
Please contact us through the contact page with regards to the Kitchen Witch Tea Towel
These comments come from Valerie Lana, a much appreciated volunteer who has been using the brushed cotton towel now for several months and washes it regularly. 
June 14th 2014 – one month in `It washes well, the colours hold beautifully, and other than a light pressing, it comes out of the wash in great shape. It's only downfall is that the cotton isn't as absorbent as a thicker cotton blend would be or a terry.`
`It gets washed about once a week, and the fabric is still quite firm. I use Kirkland phosphate free liquid detergent and we have a water softener system here (calcium and lime in our water otherwise). No issue with stains, yet; I do live with pets and a mechanic, only time will tell on that one Also, I wash in cold water typically; warm if the well water is too cold. I chose to iron it lightly after it came out of the wash but that's because I typically hang things to dry and anything cotton usually needs a fluff up or light steam to make it look crisp again.
August 22, 2014 update `The towel did soften a bit but the nature of that particular fabric is that it is stain resistant but not overly absorbent, probably to help resist staining. The colours are still very vibrant (even after a couple dozen washes) and it frequently gets used to polish my glassware. I still iron it after the wash, but again, that is because I prefer a nice crisp look (grandmother's influence). I would definitely recommend the product. `
If you are ordering multiple tea towels

, thank you! Here is where you can adjust the shipping and handling fees for multiple tea towels.

I am ordering two or three tea towels ( $7.75 rebate )

I am ordering four or five tea towels ( $15.50 rebate )

I am ordering six or seven tea towels ( $23.500 rebate )

***We are pleased to ship orders outside of Canada and the United States. Please click on the "add to cart" button below and $5.00 additional postage will be added to your order so that Canada Post will be happy as well.***
International postage               $ 5.00