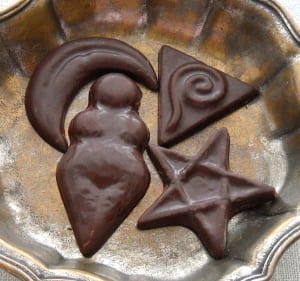 For those that follow a Goddess related path, Mabon is a time for welcoming the Crone aspect of The Triple Goddess. She is the waning moon, the dark Goddess; black with the coming of death and full with the wisdom of life experience.
Hag is another name for this aspect of the Goddess and while not identical in meaning they are oft times interchanged. The word hag comes from Proto-Germanic roots. While it's connection to "witch" is traceable through German and Dutch, the link to "hedge" is a little more tenuous.
Bringing that energy to a Mabon table is quite simple. Who doesn't like rich dark chocolate? It does not need to be in the molded form seen here.
It can also arrive through a freshly baked loaf of dark rye bread or a ginger cookie with lots of molasses and cloves, anything with deep, earthy and intense flavours.
Another symbol of the Crone and Mabon are nuts. Actually, many agricultural gifts, such as grapes, apples, corn and root vegetables that are gathered at this second of three harvest Sabbaths.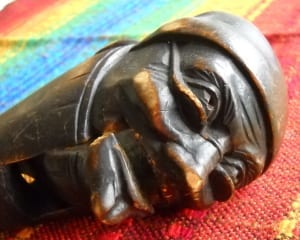 Many years ago, I was honoured to be given this hand carved nut cracker from my "Omi". It was much later that I understood it's relationship to Mabon. Painted black, she snaps and crushes, "destroying" what is in her jaw while bringing forth the goodness from the seed within. Don't her lips look dry and cracked from all that munching?
I used to bring her out during Yule but now she is around from Autumn Equinox, although like anyone that has been chewing for over 100 years, I give the really hard bits to the "young folk". I don't want to even think about looking for someone should she ever need fixing.
A dessert/snack option, great for helping hands are these dark chocolate sugar cookies, made with a cookie stamp. In years past, I have also used pieces of jewelry and sand blasted rocks to create the designs.
You will need:
2/3 cup butter
1/3 cup white sugar
2/3 cup brown sugar
1 egg
1 tsp. vanilla, rum, almond or orange flavouring
2 cups all purpose flour
1/3 cup cocoa ( you can add an additional 2 Tbsp. if you would like something darker )
Gather your ingredients while setting the intention to let go of whatever is niggling at you and focus on the present moment. Relax your body, clear your mind, welcome the compassionate spirits and b..r..e..a..t..h.
Beat butter and sugars together until light and fluffy. Add egg and flavourings and mix well. Sift in flour and cocoa and mix.
I find with a hand mixer the dough does not always come together into a ball but stays in little crumbly pieces until I turn the hand mixer off and squeeze it all together. It all sticks together nicely then.
Roll dough by hand about the size of walnuts and place on an ungreased cookie sheet, evenly spaced. Now press down with a cookie stamp, a piece of jewelry or a glass that has been dipped in flour. If using the glass to flatten, you can then take a knitting needle and draw your designs but truthfully a stamp is easier.
Another option is to roll out the dough into thin lines and curl them up into spirals before grouping three together to form a cookie.
Or finally, forget all the above and pull out the 5 pointed star cookie cutter in the back corner of your drawer.
Bake at 325 degrees until the edges are crispy, about 18 minutes. Allow to cool and store in an airtight container.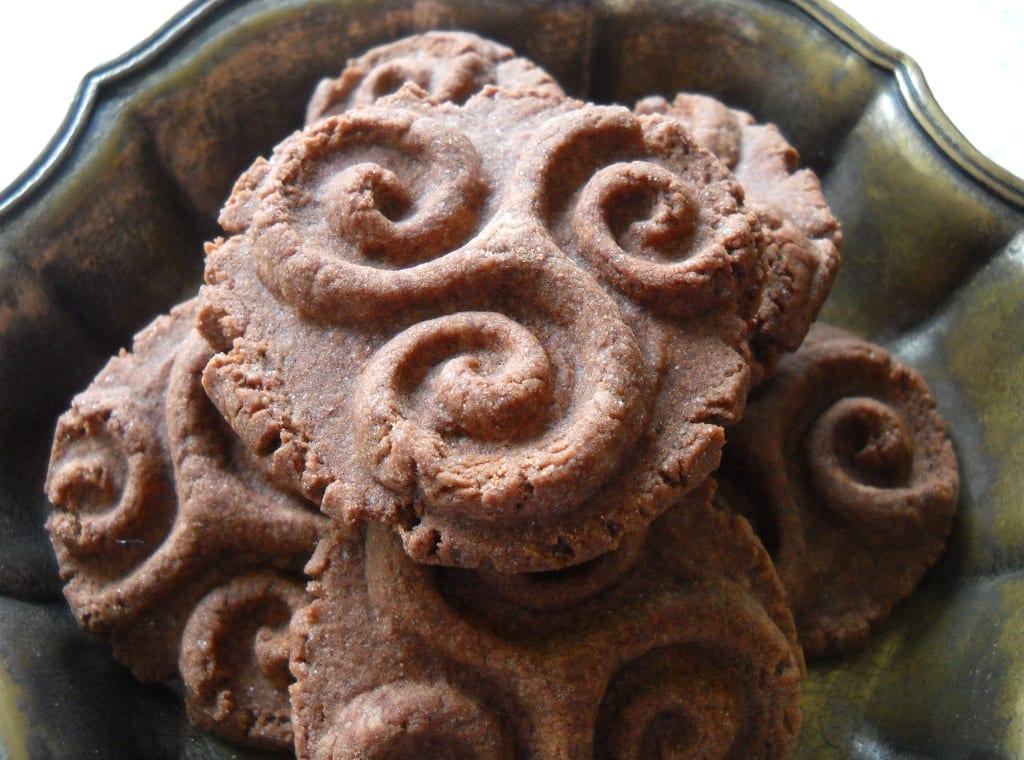 It is a basic sugar cookie, loaded with dark cocoa. I didn't add any icing as I wanted the depth of flavour from the cocoa to be the focus and besides I paired it this year with vanilla ice cream and crabapple/maple syrup caramel sauce, which I promise to post sometime in the next few days.
So whether you use black string licorice to weave a besom or burn the pot roast for good measure, be sure that you have black somewhere on your celebration table to honour the Mabon Crone.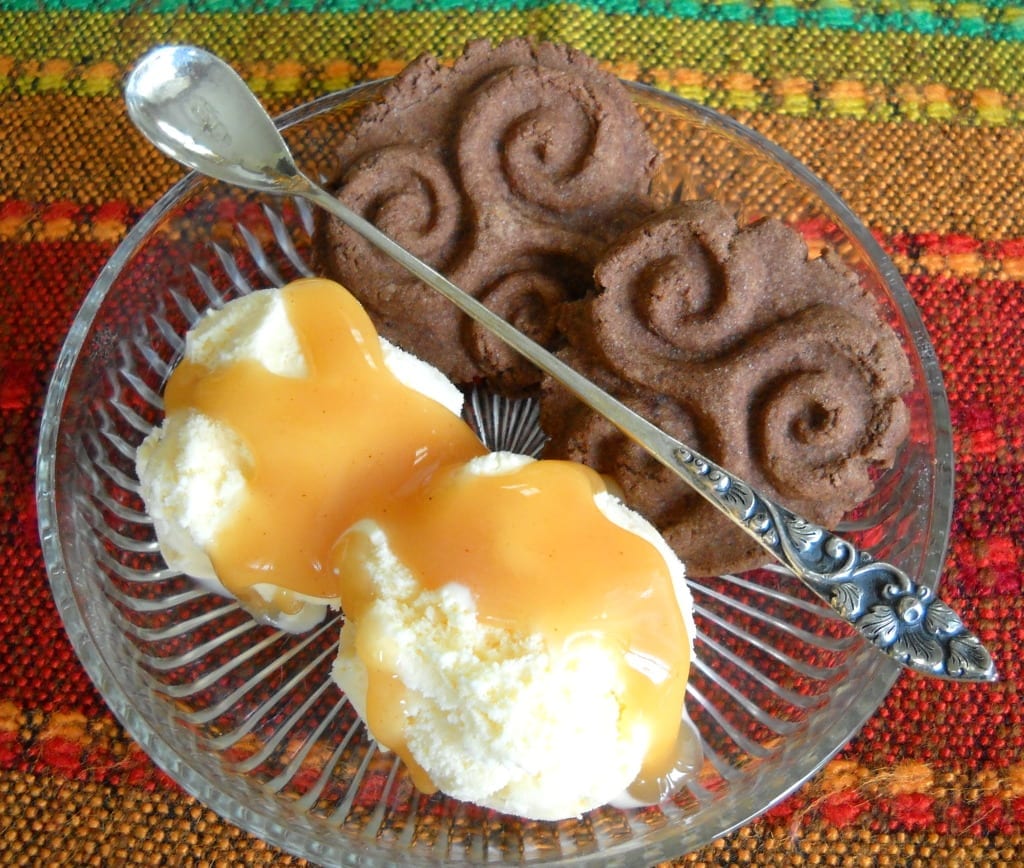 The Mabon Crone Goddess from My Kitchen Wand