All three for the holiday pricing of $44.00 Canadian,
until October 22.
All Hallows Eve Kitchen Wand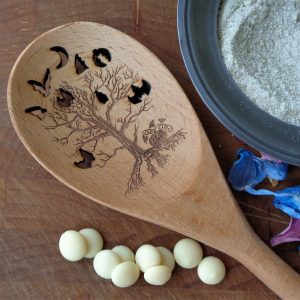 As nights turn cold, windy, wet and slimy, things die. This is the theme honoured at Samhain and although bats have amazing flying skills and do not go bump in the night, we tend to put them into that category of nasty monsters that arouse our fears of the dark.
A more shamanic approach to the symbolism of bats is one of transformation and rebirth and for this slotted Kitchen Wand it seems a perfect choice as we have all held on to coping behaviours that are past their usefulness. At this time of the year, when so much around us is letting go, is it not time for us also to face the monsters under the bed as the skilled adults we are? The dark time of the year supports our journey to rebirth. Allow this colony of bats to aid in the transition.
It can be heartening to know that bats also symbolize happiness and long life in places like Poland and China. So whether seen as the comforting physical manifestions of the souls of the dead or something just as likely to suck the life energy out of you, it is time to honour and be open to changing. A truer you is a blessing to all.
Grandmother Weaver Tea Towel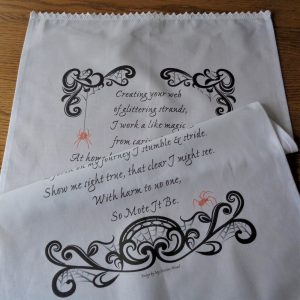 A traditional English style tea towel on 100% brushed cotton.
Cross orb weaver spiders happily find homes in woodpiles, pumpkin patches and window corners. They are oft times seen as teachers and helpers from which support can be requested.
"Creating your web of glittering strands, I work a like magic from caring hands. At home by my hearth, I spin with love with you at my window, ensconced above. Wisdom, protection, I ask you to share with thanks & a blessing that well may you fare. Grandmother Weaver, please act as my guide as forth on my journey I stumble & stride. Show me sight true, that clear I might see. With harm to no one, So Mote It Be."
Beeswax Wrap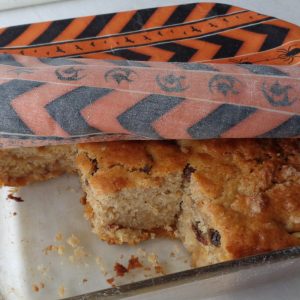 Trying to get away from plastics? Want to keep your snackin' cakes moist? These wraps, made by saturating cotton with a mixture of resin, oil and beeswax are a cheeky alternative for wrapping foods and covering dishes that don't have lids.
They are easily cleaned with a wipe of warm water and will last through at least 150 uses. When no longer sticky they can be redipped or cut up and composted.
It is easy to find wraps cut in circles for wrapping sandwiches, cut fruits and vegetables or leftovers in bowls.
Not so easy are square ones large enough to cover cake and casserole dishes.
Large enough to cover a 9×13 casserole and an 8×8 baking form by cutting across at 11 inches, it also allows for cutting to the size that works best in your kitchen. If your casserole is 7 x 11 or if you would prefer loaf pan sizes, it is all possible within the 26 x 11 inches.
Marti Rasmussen has been using them for months and says, "I think they are awesome. They work great for cheese and my husband's sandwiches that he takes to work."
All Hallows Kitchen Package $44.00 Canadian