Last summer I posted a Raspberry Tarragon Shrub made with white wine vinegar. Apple cider and balsamic vinegars add an entirely different complexity to this one with backberries, ginger and basil.
This is also a cold processed recipe meaning the fruit is not heated to extract its goodness. I find the finished product is brighter and clearer in taste than when the flavour is extracted by heat and for berry shrubs it works well.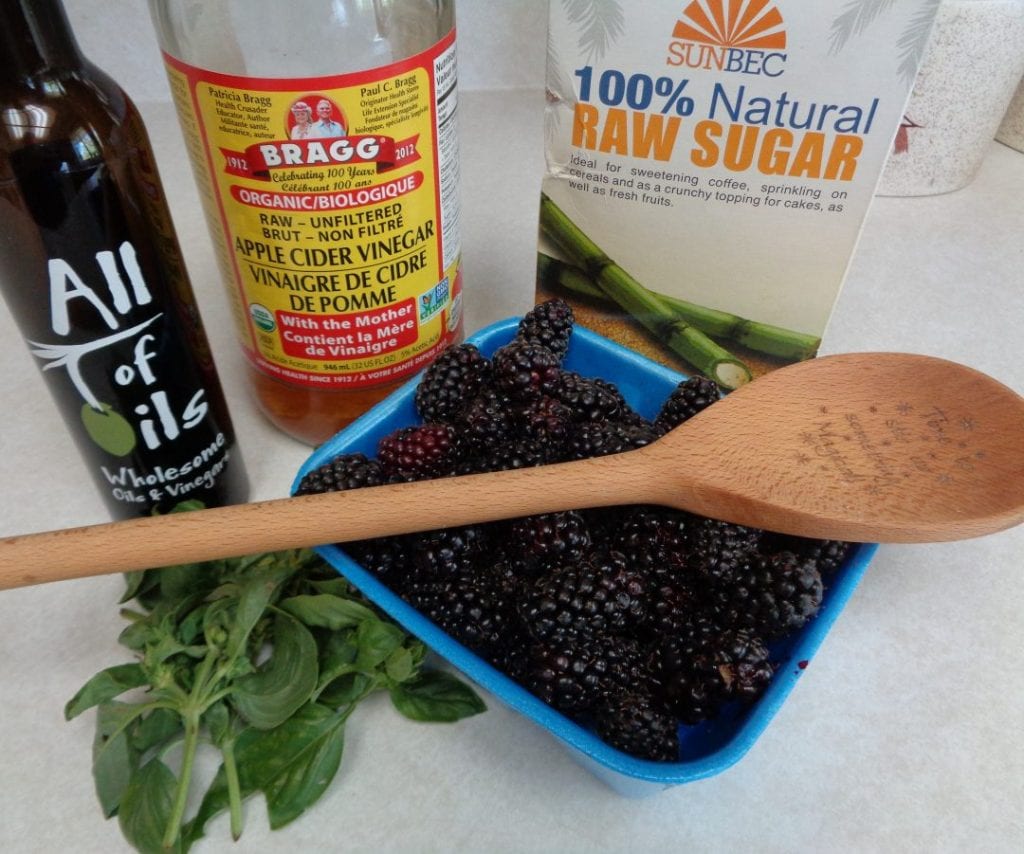 You will need:
2 parts raw sugar
2 parts fresh blackberries
6 slices fresh ginger
6 – 8 large basil leaves
1 part balsamic vinegar
1 part apple cider vinegar
A general starting ratio for shrubs is 1-1-1. One part vinegar, one part sugar and one part fruit. Stronger flavoured fruits, like black currants can be better with  .75 part or more mix when adding water or soda at the end. One part for me this time was 1/3 cup so double or triple the ginger and basil when making a larger volume of shrub.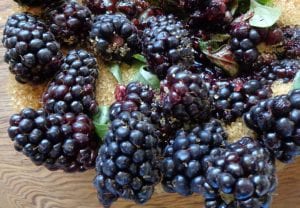 Place the sugar, blackberries and basil in a size appropriate bowl.
Muddle the blackberries and basil with a fork and stir to combine with the sugar. Slice or grate the ginger into the mixture and stir in.
Allow everything to sit for an hour at room temperature before transferring to the fridge overnight.
Pour the mixture into a clean jar and add the vinegars.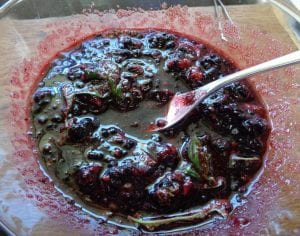 Close the jar and shake to mix the contents up.
At this point some people choose to keep their shrub on the counter as a reminder to shake it at regular intervals. Others prefer to keep it in the fridge.
Both the vinegar and sugar act as preservatives but the choice is yours.
Store 5 – 7 days on a counter and 7 – 10 days in the fridge.
It is during this time that the ingredients will learn how to "work well together" and although you will definitely be able to taste the vinegar, the experience will be a much smoother one than in the first few hours after mixing.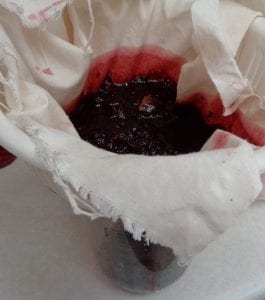 Filter the mixture through either a fine mesh sieve or untreated cotton cloth.
Store your shrub in a freshly washed, sealable bottle in the refrigerator  three weeks. It will more than likely be gone way before that unless you stared with buckets of blackberries.
Combine with still or cabonated water, iced tea, lemonade or turn it into a cocktail with vodka and soda. Blackberry with rum!?
From there the possibilities are endless both in shrub choices and how they can be used to add a little kick to beverages, meals and other adventures. ( I am seriously considering making mayonnaise/salad dressing in a few days.)
Light summer sipping vinegars such as strawberry or peach. Tasty flavour combinations along the lines of rhubarb/strawberry or blackcurrant/pear. Dip your toe into adding herbs, Strawberry Lemon Thyme? this one? and working with other intriguing options like beets!
Vinegar works much like citrus fruit in cocktails. It is a natural balance to the sweet side of things, is thirst quenching and will cleanse the palate when enjoyed before a meal.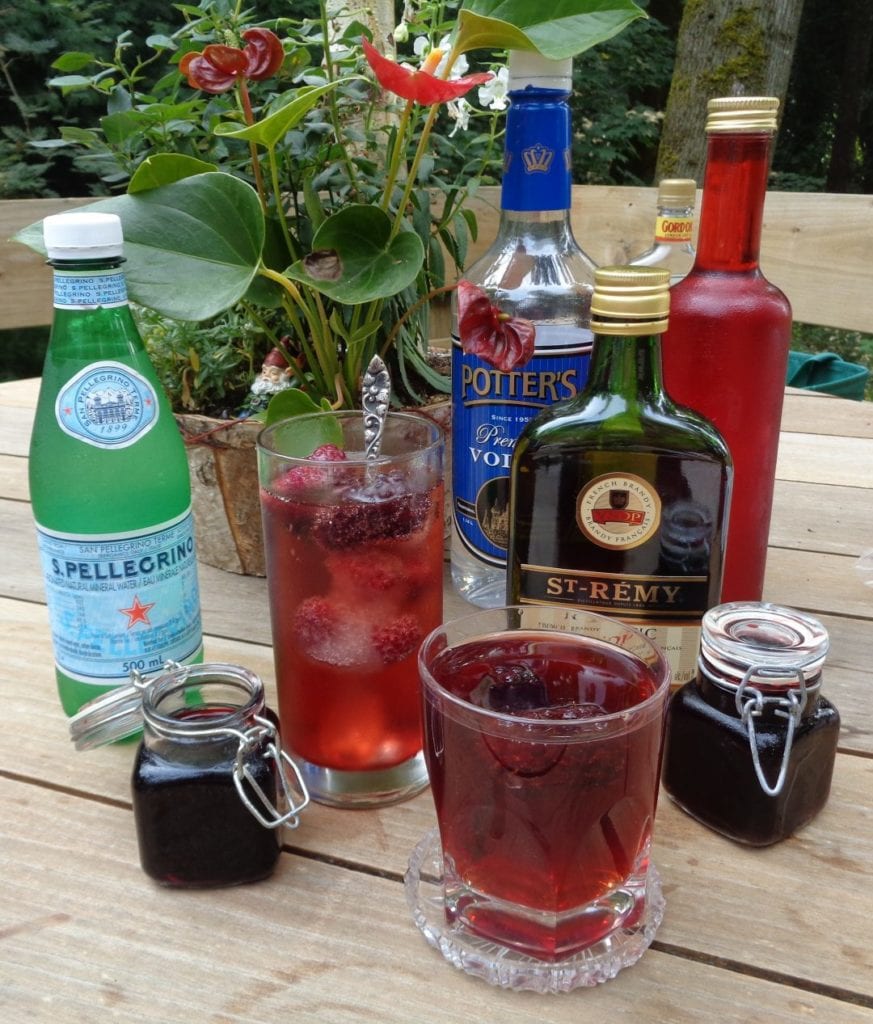 Complex vinegars like balsamic add a wonderful depth of favour while white wine vinegars let the brightness of the fruits shine.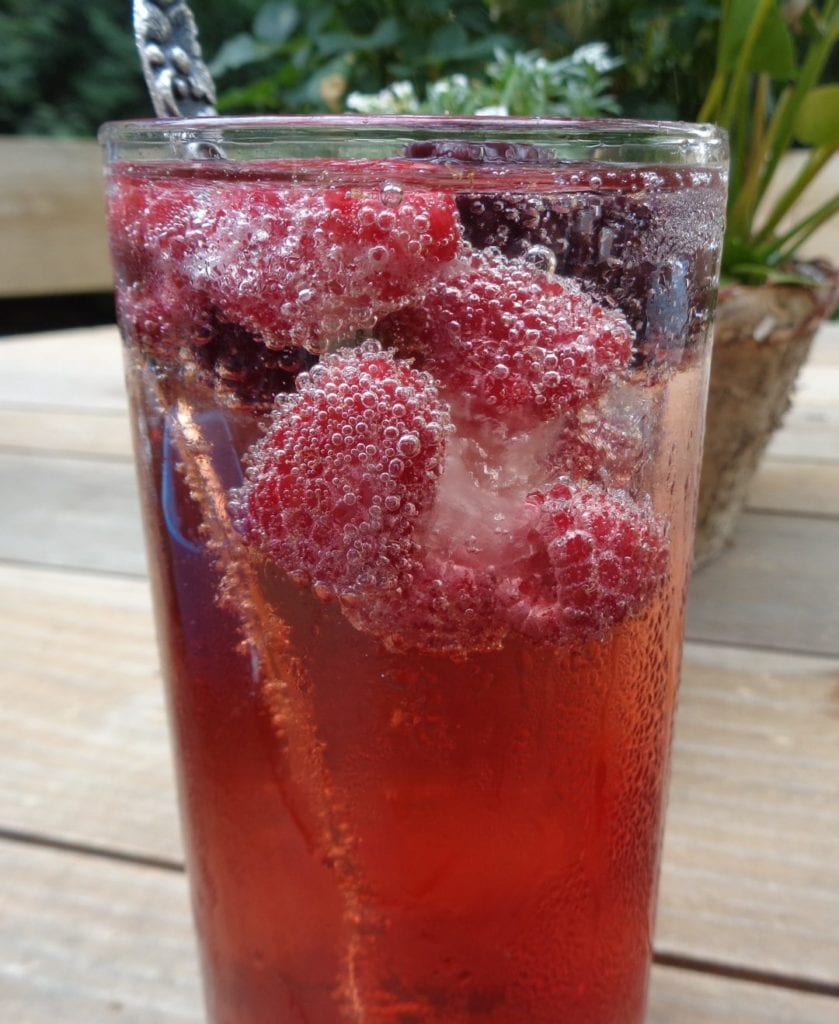 So find a little patch of shade where you can put your head back and feet up while enjoying a refreshing pick me up. We have another month of hot summer weather.
Blackberry Ginger Basil Shrub from My Kitchen Wand