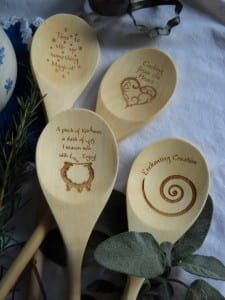 Listed below are the stores that currently carry our original Kitchen Wands.
Please check them out if you are in the area or call first just to make sure they are still in stock.
For Kitchen Wands with customized handles and special requests, please connect with us directly and we will be happy to help.
Canada
Naniamo, BC,           Lobelia's Lair                     Suite 8-321 Wesley St        Ph:(250) 753-5440
Ajax,ON                    Odyssey Books                 #15 109 Old Kingston Rd    Ph:(905) 426-4823
United States
Fayetteville, AR        Passages Rising                  14 E Meadow St                 Ph:(479) 935-8544
Tuscon, AZ               Newmoon Haven                  16256 N Oracle Rd, #100   Ph:(520)825-9044
Eureka, CA               Humboldt Herbals                300 2nd Street                   Ph:(707) 442-3541
Felton, CA                Mountain Spirit                     6299 Hwy. 9                       Ph:(831) 335-7700
Kittredge, CO           Purple Sage                         26290 Highway 74             Ph:(303) 670-7933
Indianapolis, IN        Inner Path                            7673 S. Shelby St.              Ph:(317) 883-1100
East Hampton, MA  Awen Tree                            102 Cottage Street             Ph:(413) 527-3331
Kansas City, MO      Aquarius Books                    3936 Broadway                  Ph:(816) 931-6303
Saluda, NC              Salamander                           7 W Main St                       Ph:(828) 749-3466
Brookville, PA          Miller's Precious Treasure      92 Pickering Street         Ph:(814) 849-3669
Ventura, CA            Journey Home                         2950 Johnson Dr. # 113    Ph:(805) 650-8272