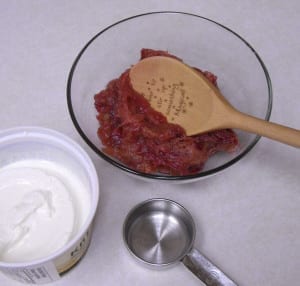 Yesterday,  I posted Rhubarb Lemonade Syrup and talked a little about making full use of the gifts we get from the earth.
After I was finished making the syrup, this was left over, the now sweet and lemony rhubarb "puree". I tasted a little bit and "Mikey liked it".
My brain got working and this is what I did.
Preheat oven to 375 degrees.
Step One, took out some tough pieces of skin that were in the puree and added 1/2 cup of sour cream.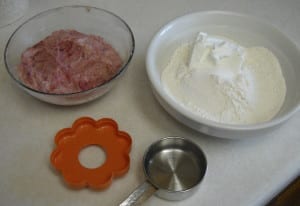 Step Two, made a batch of pastry. Use your favourite one or if you would like full instructions click here.
Making sure that you don't over work the dough is good and starting with crumbles like the picture below before adding the water will help make your pastry flaky.
Once the dough is ready, roll it out and decide where you are going to place your cookie cutter cuts.
Roll out a second piece of pastry.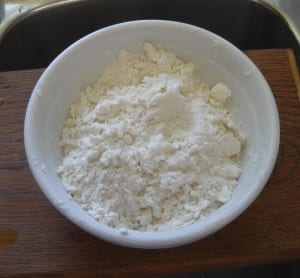 Step Three, Put a large spoonful of rhubarb mixture, well spaced and flatten a little. The filling needs to remain inside the cookie cutter so being aware if the size of the filling is important,
Wet the dough around the filling and place another layer of pastry on top. Press down around the filling to seal the pockets being created. Cut with a large cookie cutter. I used the one in the picture, about 3 1/2 inches in diameter.
You can also use a bowl or large glass. Once the pockets have been cut, transfer to a baking sheet and gently press around the edges again to keep everything sealed in.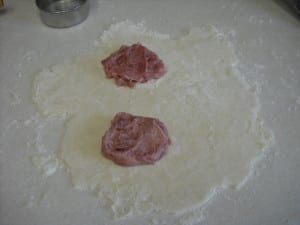 Bake for about 20 minutes , until the pastry is golden, You can also choose to brush the pastry with a little milk or and egg wash before putting in the oven. I didn't think about it until afterwards.
Top with a drizzle of icing and some decorative zest. The glaze is just 2 -3 Tbsp of icing sugar and a couple of drops of water, Stir until smooth and add either more water or icing sugar depending on the consistency.
The turnovers were a hit. A treat with coffee/tea on a Saturday afternoon. Served well with a good chat. Sorry, no pretty picture of the filling inside because they didn't stay around long enough.
Just one example of what can be done with something that would otherwise have ended up in the compost.  Rhubarb Chiffon Flan is another.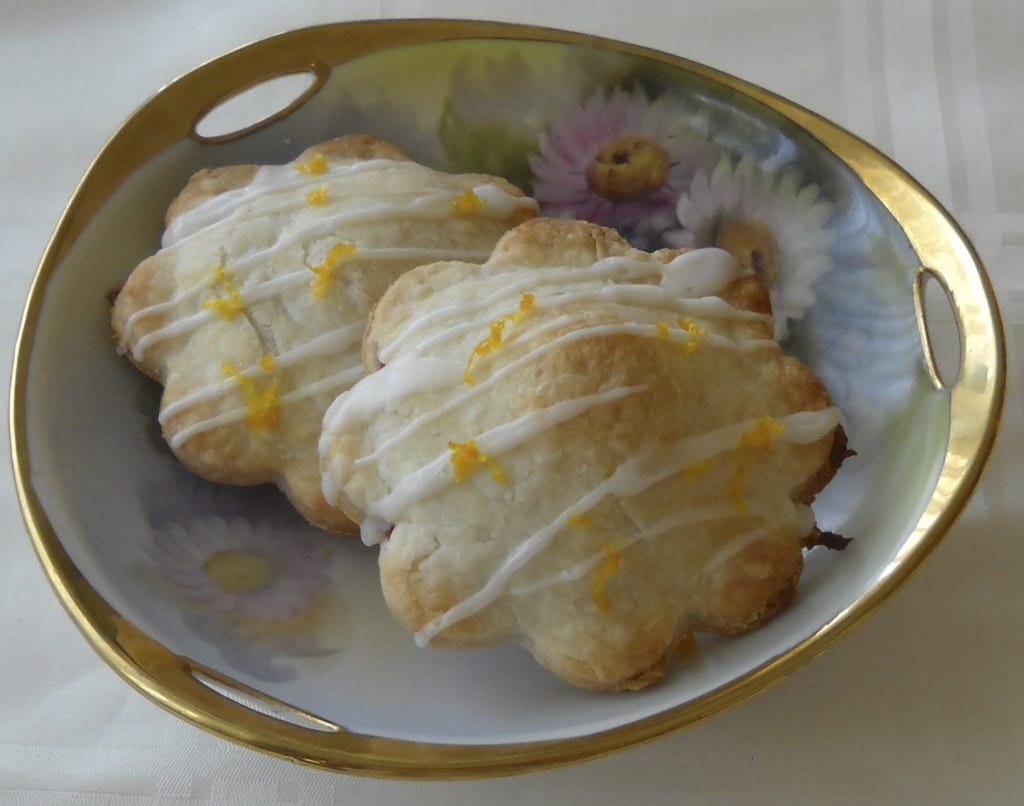 Lemon Rhubarb Turnovers from My Kitchen Wand