My Kitchen Wand for your utensils of choice

For potions of all sorts ( from chicken soup or bath bombs to honey lemon nettle tea or cascade berry jam ), our beechwood spoons are the ideal way to focus the love you have to share with others.
In Europe, before the time of paper, beechwood was the material of choice for recording words and the root of "book" and "beech" is in many languages, the same. Created from natural materials grown in a protected managed forest in Hungary, expect each wand to be unique with variations in wood pattern, colour (Canadian, eh!) and intensity of image.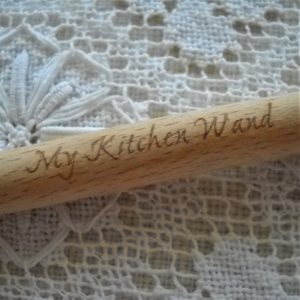 Laser charmed and bathed in warmed grape seed oil and melted beeswax to protect the wood, these wands are just the thing for a "kitchen witch", someone who loves to cook with care and intention.
Use your wand regularly and it won't take long at all to make it your own.
"My Kitchen Wand" is etched on the back of each handle and it is possible for a little extra to personalize one (or several ) with a name at checkout.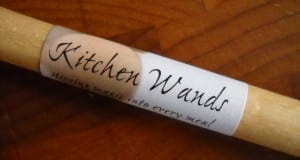 Each Kitchen Wand comes with an easily removable label and an invitation to visit anintroductionto.kitchenwands.com where a plethora of information awaits about the care of your Kitchen Wand, cooking with intention and why we use beech wood.
Just for you or as a thoughtful gift, we offer options that are sure to please anyone who loves to spend creative time in a kitchen.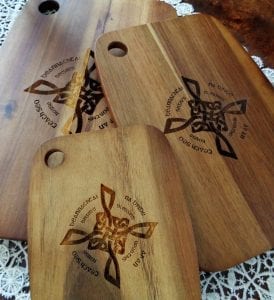 Over the years, our offerings have expanded to include:
* Acacia cutting boards
* Alder cookie stamps, a package of four designs
* Digitally printed, 100% cotton tea towels
* Whimsical kitchen plaques for the cookbook shelf, window sill or wall
* An everchanging selection of hand crafted spurtles
* And a book!, Cookies Around the Wheel
Clicking on In the Shoppe at the top of the page will take you to complete information on all our kitchen wares for kitchen witches.