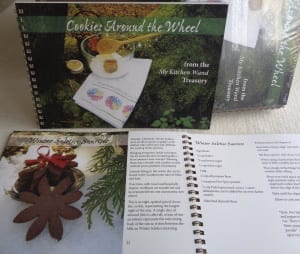 "Customs begin as a way of giving meaning to the remarkable days of our lives … we have gathered to celebrate those times for millennia, and where people gather to create occasion, there is food."
The recipes in Cookies Around the Wheel are intended for a time when the water can be put on for tea or coffee or hot chocolate and it is possible to fully relax into your caring hospitality.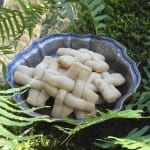 Conscious cooking involves being aware of your own personal energy and that energy does not end at the edge of your physical body.
Explore some of the reasons we do the things we do and why making time to share a deeper history of our traditions keeps us connected to spirit.
"Cookies Around the Wheel" is a delightfully magical celebration of the seasons through cookies for every palate and preference!

Stunning photography and detailed recipes printed on heavy, glossy cardstock and spiral-bound prepare this book to endure the inevitable drips and spills of the creative kitchen and ensure it will become a family treasure for generations. The stories of ancient traditions inspire the baker to add her own memories as well as her personal touch of ingredients and variations.

The addition of edible flowers and fruit garnishes, coupled with suggestions for butter substitutes and gluten-free options, make these recipes as timely as they are timeless.

"Cookies Around the Wheel" gives the baker recipes for cookies that are as deeply meaningful as a ritual, and as deliciously joyful as a party!

Jeanine Lesniak The Crone's Cupboard, Boise, Idaho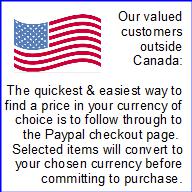 Cookies Around the Wheel $13.50 Canadian
and as a downloadable e-book Cookies Around the Wheel E-book  $4.99 Canadian
Would you like the complete package, including the Kitchen Wand and tea towel from the front cover of the book?
We can do that!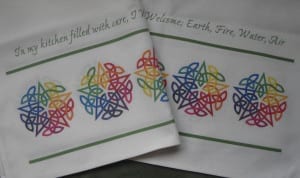 Made from 100% practically lint free cotton and digitally printed, the towels will take a few washes to relax.
All Kitchen Wands are sourced from stewarded forests in Germany and transformed in Canada, before being protected in a bath of grape seed oil and beeswax.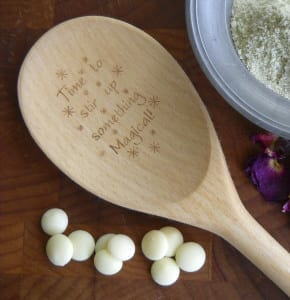 Cookies Around the Wheel, In my Kitchen…Tea Towel & Time to Stir up something Magical Kitchen Wand      $45.00
When the shipping destination is outside Canada or the U.S.A., Canada Post requires an International Shipping Surcharge. Please add the button below to your cart.
International postage (not needed on U.S. destinations)               $ 6.00