It is interesting to see traditions being formed in present day. I wonder what people will say about them in 50 years. One example is carrot cake. As sugar and other sweeteners were scarce in England during the war years, carrots were an oft used alternative. Although there are references to cakes that go back hundreds of years and carrot puddings were known in medieval times, the connection to Easter is more modern, brought on possibly by songs of Peter Cottontail and the children's stories of Thornton Burgess and Beatrix Potter. Rabbits, a symbol of spring, eat carrots. The connection was made and now there are posts in many places suggesting carrot cake as the perfect addition to Easter Sunday brunch, Oestara gatherings and similar events. Who am I to disagree?
Here is my standard go to recipe for carrot cake, given to me by a friend, several decades ago. It is full of carrots but also pineapple, coconut, raisins and walnuts. A little something for everyone.
Below it is a second recipe that I put together as a birthday cake this week. It contains some alternate flours and whey instead of buttermilk and got rave reviews for its moistness. It won't work for a totally gluten free diet but I was able to sub out 3/4's of the all purpose flour. There is no reason that the last cup could not be changed to whole spelt flour as well. Since I was out of raisins, in went black currants. A request was made to continue using them but as in all things, it is about what makes sense and tastes good to you and yours.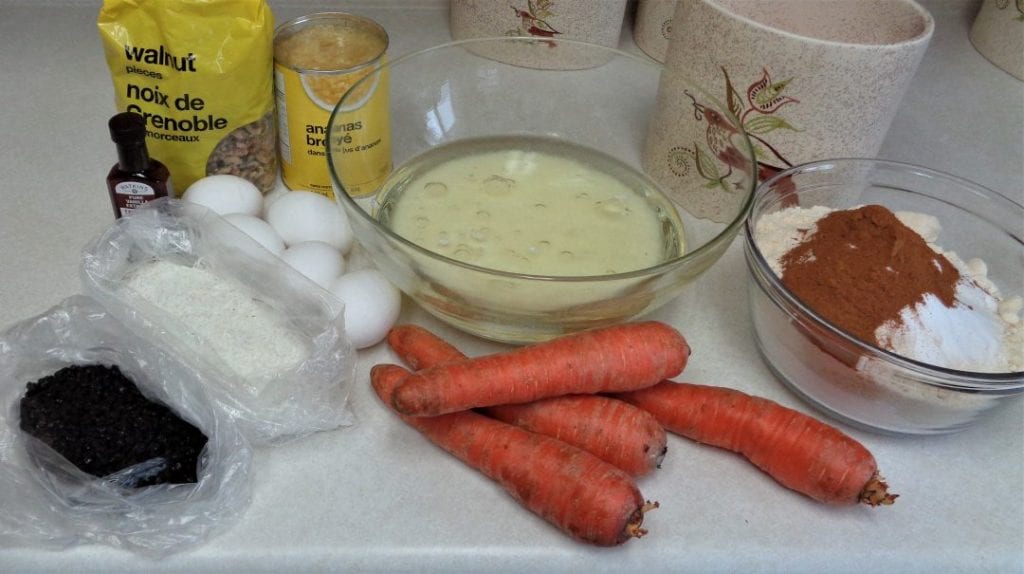 My go to ingredients:
3 eggs
3/4 cup buttermilk
3/4 cup vegetable oil
1 1/2 cups white sugar
2 tsp. vanilla extract
2 tsp. cinnamon
1/4 tsp. salt
2 cups all-purpose flour
2 tsp. baking soda
2 cups shredded carrots
3/4 cup flaked coconut
1 (8 ounce) can crushed pineapple with juice
3/4 chopped walnuts
Or if this appeals:
5 extra large eggs
1 cup whey
1/2 cup yoghurt
3/4 cup vegetable oil
3 cups white or raw sugar
4 tsp. vanilla extract
4 tsp. cinnamon
1/2 tsp. salt
1 cup all-purpose flour
1 cup whole spelt flour
1 cup coconut flour
1 cup almond flour
4 tsp. baking soda
3 3/4 cups shredded carrots
1 1/2 cups flaked coconut
20 oz. tin crushed pineapple with juice with 1/4 cup taken out
1 1/2 cups chopped walnuts
For the second recipe, the amounts are doubled, as I was making a spring form cake, cupcakes and mini cakes. Halving everything is just fine and going with 3 regular eggs, if you do, will make things easier if your intention is a 9 x 13 pan, about 18 cupcakes or a couple of layers for a cake.
Whichever option you choose, the process is the same.
Come into the present moment and switch focus by washing your hands and putting on an apron. With gratitude for the coming spring, preheat the oven to 350 degrees F. Grease and flour spring form pan while letting go anything that is taking your attention away from the project at hand. Line cupcake tins. I used the large cupcake liners. Put aside. Take a deep breath in, hold and release.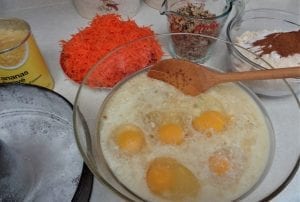 Begin by washing, peeling and grating the carrots, chopping walnuts and measuring everything else. The flours and spices can go into one bowl and the liquids with sugar into a larger one as that is where everything will end up.
Stir together the whey, yoghurt oil and eggs with the sugar and vanilla.
Mix well and then add in the flours, stirring until well combined.
Now comes all the additions, grated carrots, coconut, chopped walnuts, pineapple with juice. Fold until just blended.
Pour or spoon into the baking form and bake until done. The time will depend on whether it is cupcakes, spring form pan or cake layers that you have in mind. Done is when the gently pressed top springs back and the edges are coming away fom the sides, somewhere between 25 and 45 minutes. A toothpick or knitting needle to check will confirm for you as well. Do not take out too early. The middle will sag. This really is a moist cake and several extra minutes will not be an issue.
Cool the cakes before removing from their pans, especially the alternate flour cake as it will be fragile and allowing the cake to cool before moving will help its stability. The spring form outer ring can be released after running a knife around the outside but be careful with releasing the inner ring too soon.
Once cool, frost with orange cream cheese icing and sprinkle with toasted coconut and the remaining 1/4 cup of pineapple, drained.
Cream cheese frosting is always a hit around here and since I had just finished
a batch of ricotta
, it all went into the icing with no extra butter added. If you have a personal favourite alternative, that is all good as well.
8 oz. ish cream cheese (softened)
2 tsp. orange zest
a pinch of salt
1 lb. powdered sugar
Whip the ricotta/cream cheese until nice and fluffy. Add in the orange zest, salt and icing sugar (sifted). Beat until smooth. Test for consistency and adjust by adding either small amounts of icing sugar or milk until you have the right mix for icing the cake. The birthday cake below was not cut into layers so the icing can be a little softer as it was just going around the outside.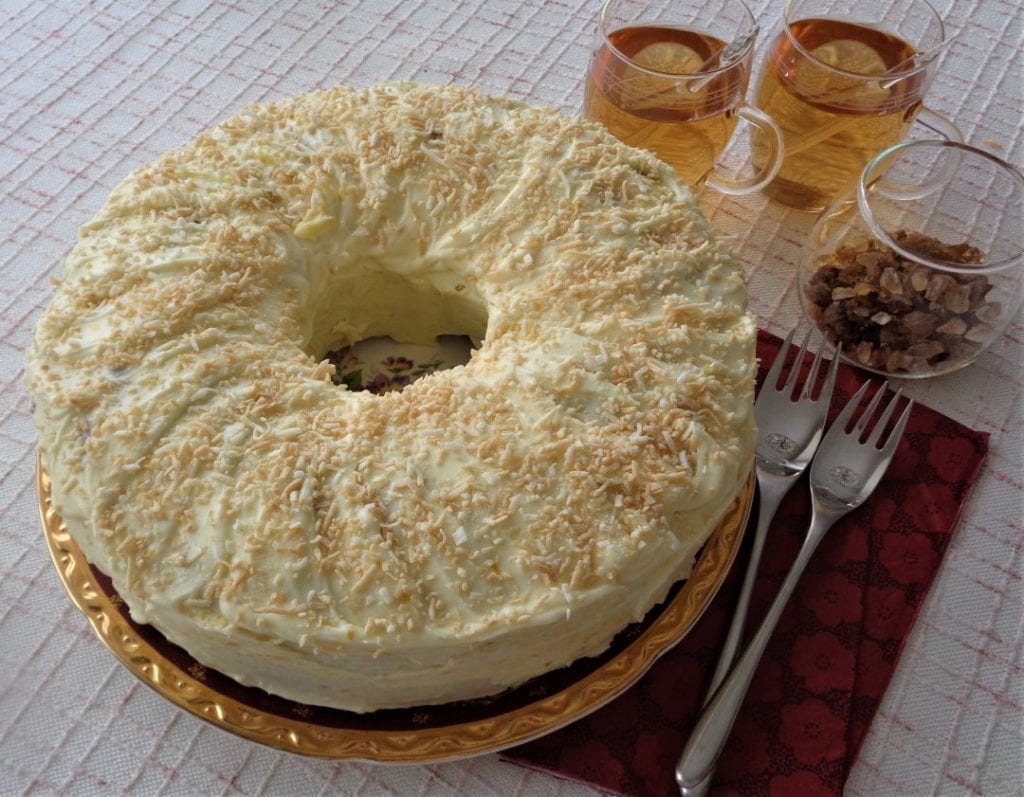 Although carrot cake is great year round, here is an idea specifically for Easter. Make the batter and bake in two or three 8 inch pans. Make the cream cheese icing substituting 2 tsp. vanilla for the orange zest. I like to take out enough icing to put between the layers before adding in ONE drop blue food colouring. Blue is an unusual colour for food and keeping the inside white can make it more comfortable for people. Stir well and check the colour before adding any more. Once you have a nice pale sky blue ice the outside of the cake.
Place coloured coconut around the bottom. ( Toss coconut in 1 drop green food colouring until mixed. Green food colouring comes a little on the blue side for grass but adding yellow can go too far in the other direction for the amount of coconut a cake actually needs. ) If you have the inclination, time and patience try mixing one drop of each and giving that a go if the brand you are using gets closer to the actual colour of grass.
Here are the instructions for making freehand chocolate rabbits. Place the rabbits around the outside of the cake in an asymetrical arrangement and fill in the spaces with jellybeans.
This is the kind of project that, depending on motor skills, the kids and grans can get involved in and they will be thrilled to present their efforts at your celebration.
Happy Birthday Ronel!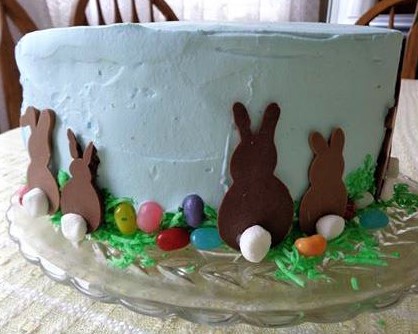 Two Carrot Cake Options from My Kitchen Wand