Back in August, when the weather was warm, I posted this recipe for an Aloe Coconut Cream.
Now that the mercury has dropped the coconut may feel a little much as it will be firmer, so I have adjusted the ingredient list, adding a few additional optional ingredients and am making this the third treat in the Yule stocking stuffers I am working on for some of my friends.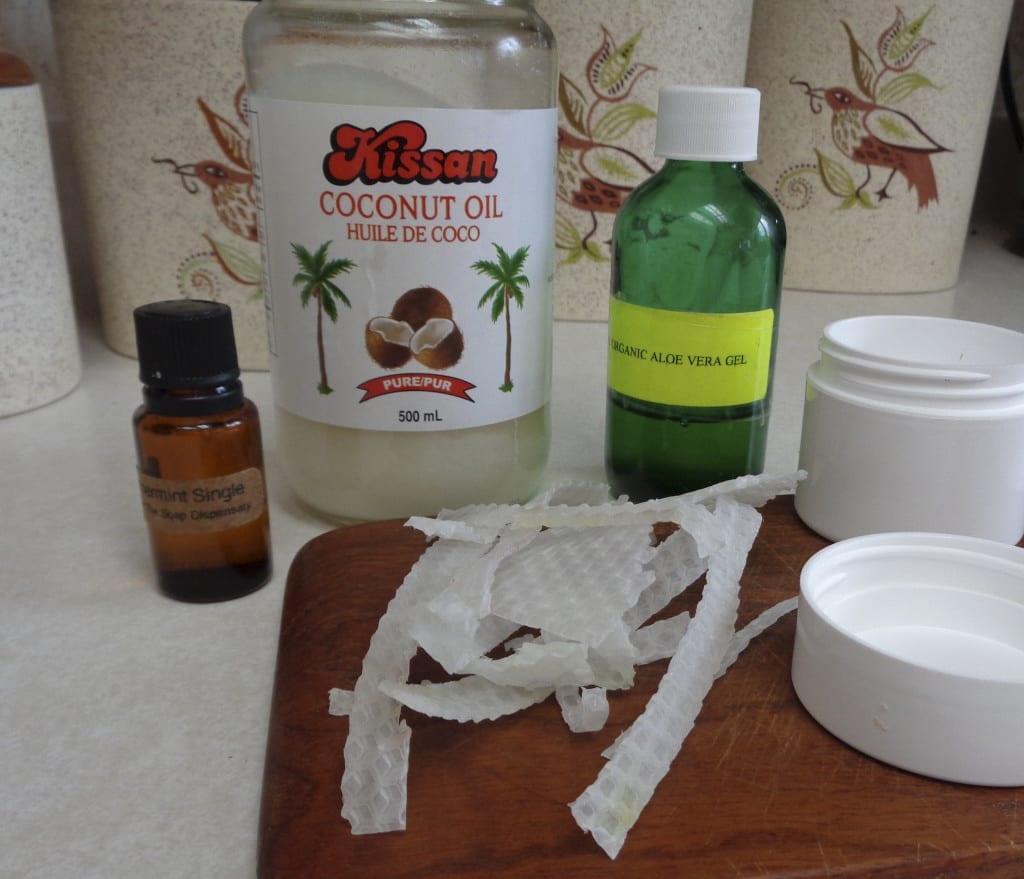 You will need:
3 Tbsp. beeswax, in very small pieces
1/4 cup coconut oil
1/4 cup almond oil
1/2 cup aloe vera gel
A couple of drops of the essential oil of your choice (optional)
1/4 tsp. strawberry powder (optional)
1/4 tsp, papaya powder (optional)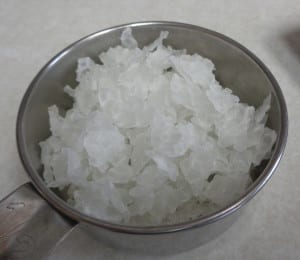 Let's start with the tweaks.
I reduced the beeswax by 25% as that is also something that will add to the stiffness of the finished product. This picture shows a half cup measurement as I was doubling the recipe. The amount of space between the pieces will effect the total amount of wax actually being used so in the end, I decided to weigh the beeswax, making it is easier to maintain accuracy for the next batch.
If however you don't have scales handy, this is what 3/4's full of torn pieces of white beeswax looked like and to the right is how it translated into grams. 14 grams comes in at just under 1/2 oz.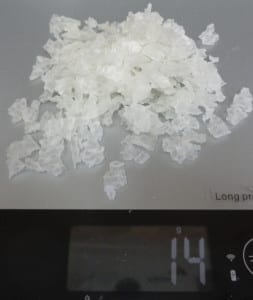 Second tweak was to substitute almond oil for half the coconut oil. Almond oil is liquid at room temperature so using it will also allow the finished product to be creamier.
The third tweak was the addition of both strawberry and papaya powder. This may not be an easy thing to source thing if there is no supplier nearby. It is available online but it is also a question of balancing the investment with the amount needed for the recipe.
A full jar at 1/2 teaspoon a time will last a LONG, LONG, LONG time.
I was lucky enough to get to share some with a friend.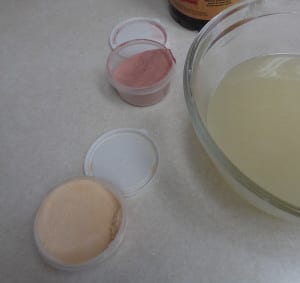 Here is the explanation , from Voyager Soaps for papaya "Papaya contains the enzyme papain, which has wonderful exfoliating properties – removing dead skin, and specifically damaged skin. It can also help reduce the appearance of freckles or brown spots due to exposure to sunlight, smoothing the skin and creating a healthier appearance." and for strawberry "Rich in polyphenols and Vitamin C, Strawberry extract provides skin protection, contains soothing properties and is a wonderful toner to reduce the appearance of pores." The suggested amount to add to any product you are making is .05% and as I mentioned totally optional.
Place the beeswax and coconut oil in a bowl over a pan of heating water on low – medium heat. No need for the water to be boiling.
Heat just until just melted.
Coconut oil melts at around 76 degrees Fahrenheit (24C) and beeswax not until 144 degrees F (62C). Keeping the temperature as low as possible will preserve the benefits of the coconut oil but practically speaking, the temperature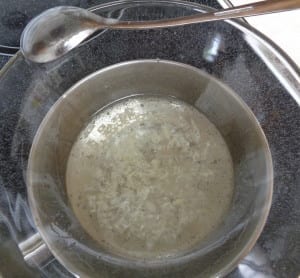 will need to climb high enough to melt the beeswax for at least a short period of time.
I chose to use an impressed beeswax sheet broken into small pieces. By this I mean the sheets of beeswax that have a hexagon pattern pressed into them. They offer the thinnest pieces of beeswax and are therefore the quickest melting, making for the shortest time above 144 degrees.
Once the wax is melted, take the bowl off the heat and whisk in the almond oil and aloe vera gel. You may find that the wax begins to solidify, Pop the bowl back over heat and stir until the wax has melted again. ( A microwave for this part is also an option ).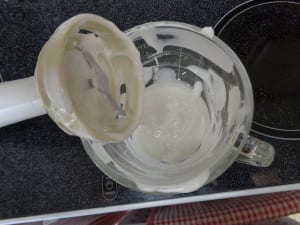 Using an immersion blender, work the ingredients as the mixture cools.
You may need to mix and then let the mixture cool for 10 minutes before mixing again. Each time the mixture is whipped it will become lighter in colour and texture.
Add the powders and any essential oil you are choosing to use. I left this batch unscented.
Keep blending off and on until the cream is light and fluffy. Transfer to a pretty container and label.
On the subject of labels, there are some wonderful programs out there these days for making custom labels, so if you are taking on any of the projects posted in the last few days try printing your labels and kicking your presentation up a notch, unless calligraphy is your thing, then I bow to your wonderful skills. My new printer is not yet installed so its hand written labels for me this year.
There you have it; five relatively simple and inexpensive non edible options for home made Yule gifts that will keep you out of the mall and hopefully away from the bank account. Options that can be infused with love and caring and adjusted as need be to the preferences of your friends.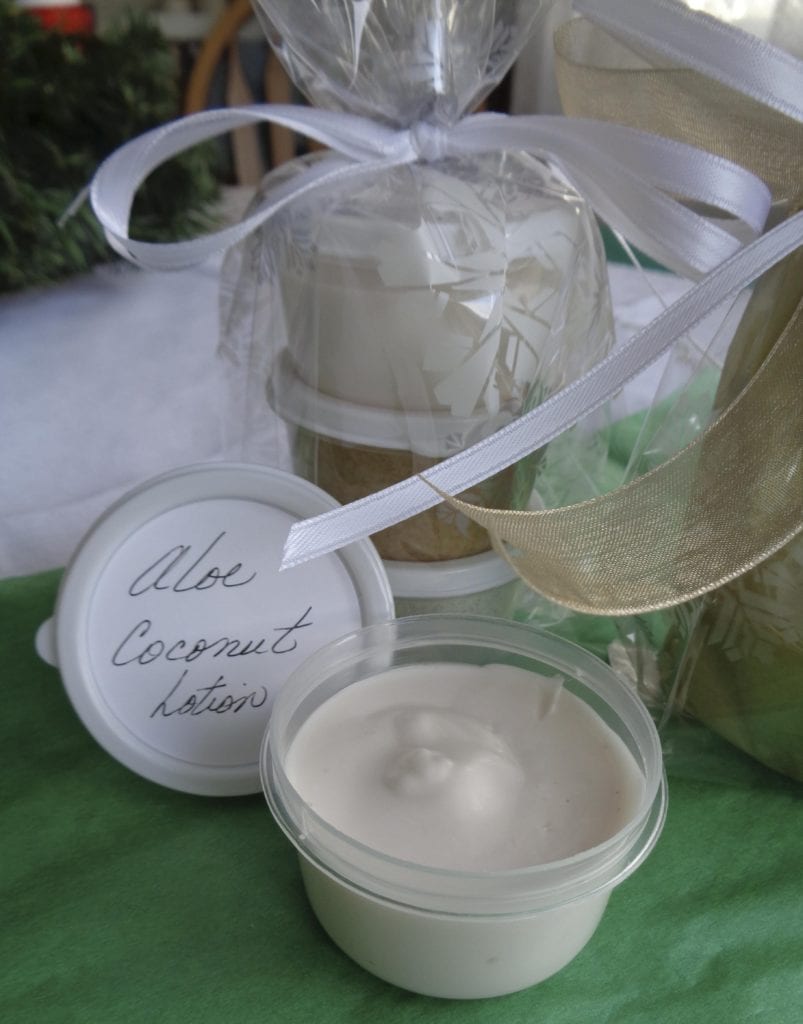 Aleo Vera Lotion Tweaked from My Kitchen Wand