During blackberry time, the brambles in safe places are full with pickers gathering their summer treats. Do you have a favourite place to gather blackberries?
Jean knew where these peak of perfection berries were hiding on her street and I whipped up a simple cake to spread the wealth. All sorts of fruits can be substituted, apples, blueberries, sour cherries, prune plums to name a few.
In parts of the Mediterranean, it is said that Christ's Crown of Thorns was made from blackberry runners and that the color of the berries, changing from red to black represents Christ's blood. In Celtic traditions, blackberries are fae food and should not be eaten as the eating can bring bad luck for people. Drinking them in wine however, does not hold the same taboo. Legends around Satan suggest he landed in a patch of brambles upon falling from heaven. He was said to have been so angry that he stomped all over the berries, cursing them. Therefore they should also not be picked or eaten, especially later in the season.

If you have the courage, give this recipe a try.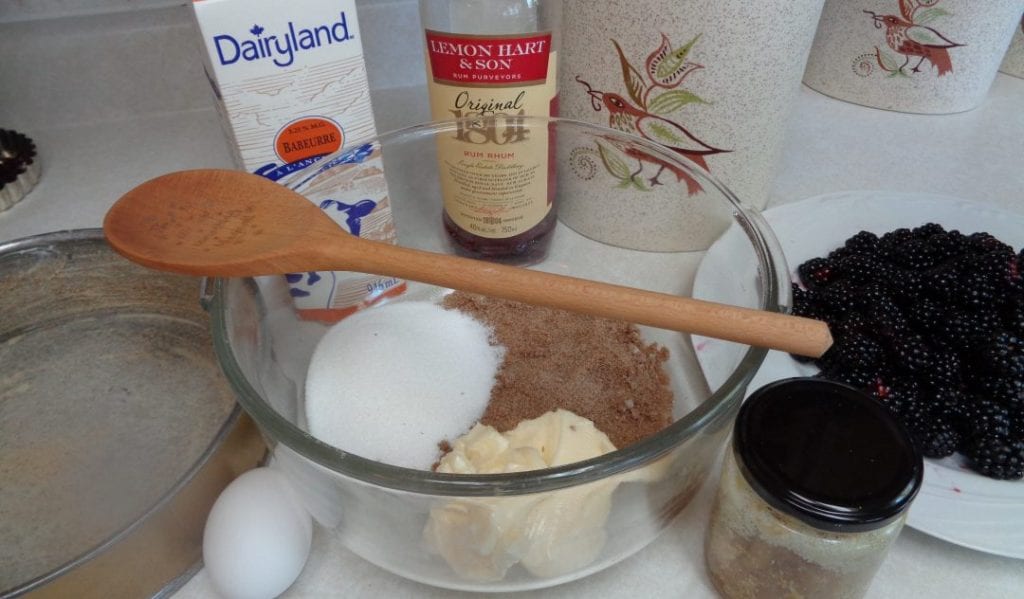 You will need:
1/2 cup butter softened
1/2 cup white sugar
1/2 cup brown sugar
1 egg
2 Tbsp. rum
1 Tbsp. lemon zest
2 cups all-purpose flour
2 tsp. baking soda
1/2 tsp. salt
1 cup buttermilk
4 cups fresh blackberries rinsed, drained and patted dry
1 to 2 Tbsp. powdered confectioners sugar and more if a second sprinking is needed

Begin by creating a place within your kitchen to concentrate on the project at hand. Wash hands, put on an apron, gather ingredients while bring your focus into the present moment. Who are you baking for? What is your purpose for this baking? Why are you using this time to do something for others? Allow your heart to open and your light to shine. Commence.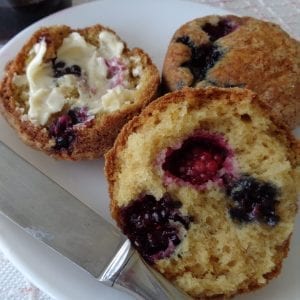 As a quick note before we get properly started, it is also possible to change things up and use a muffin tin for the batter. Sprinkle a little course sugar on top to garnish before baking.
Preheat the oven to 350 degrees F. I used a 9 inch springform pan but this can also be baked in a 9 x 9 inch square baking pan and cut into squares.
Grease and flour your pan of choice. As an aside, fine bread crumbs can also be substituted if your family likes crunchy edges.
Wash the blackberries if needed and pat dry or allow them to sit on paper towel on a cookie sheet so as not to stain the kitchen counter.
Using a hand or stand mixer, cream butter and both sugars, along with the rest and rum until light and fluffy. Mix in the egg and continue beating unti combined and smooth.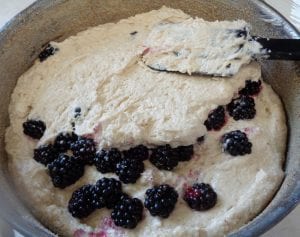 In a sifter, combine the flour, baking powder and salt. Add the flour mixture in thirds to the butter mixture, adding in half of the buttermilk, between each third of flour mixture.
Beat until combined before adding the next section. Start and finish with dry ingredients.
Transfer 2/3's of the batter to the baking form and gently spread the batter to the edges without disturbing the flour/breadcrumbs.
Place half the blackberries on top of batter, spacing out evenly. Cover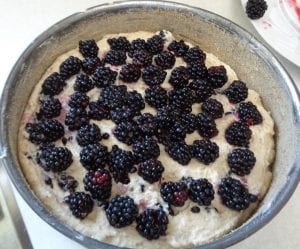 with the last third of the cake batter and place the remaining blackberries on top.
Bake for 35 to 40 minutes. Test with a toothpick or knitting needle inserted in center of cake. It should come out crumb free. Place back in the oven for a few minutes more if need be.
Allow to cool for about 10 minutes before releasing the springform. Continue to cool.
Sift icing sugar over the top about an hour before serving. This will give the icing sugar a little time to dissolve and let more of the colour of the blackberries show through. Serve with sweetened whipped cream and any remaining fresh blackberries.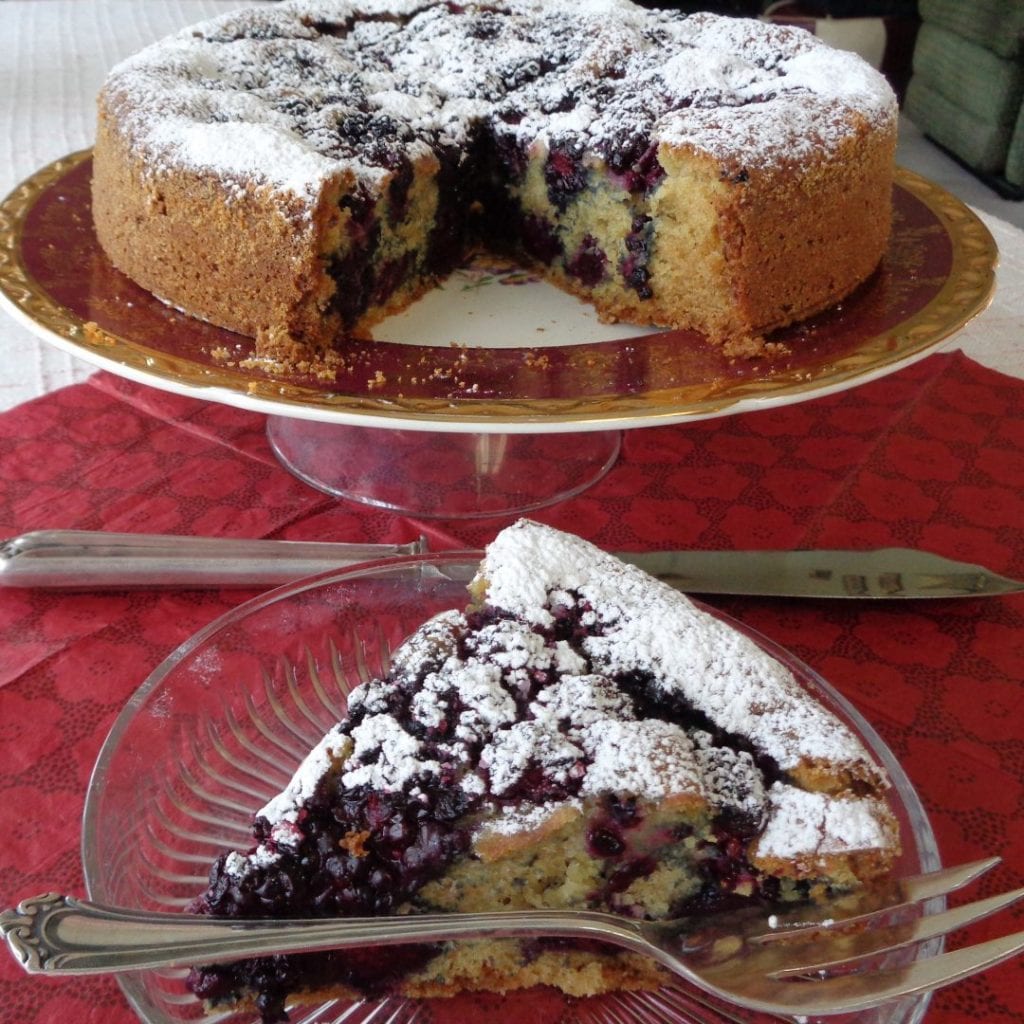 This cake looks a little yellow as it was made with unbleached flour.
It is a fine balance with ripe, juicy fruit, too many pieces in the cake and the juices will bleed as it bakes, making the finished product look dark. Too little and you are left wanting more as the cake is drier.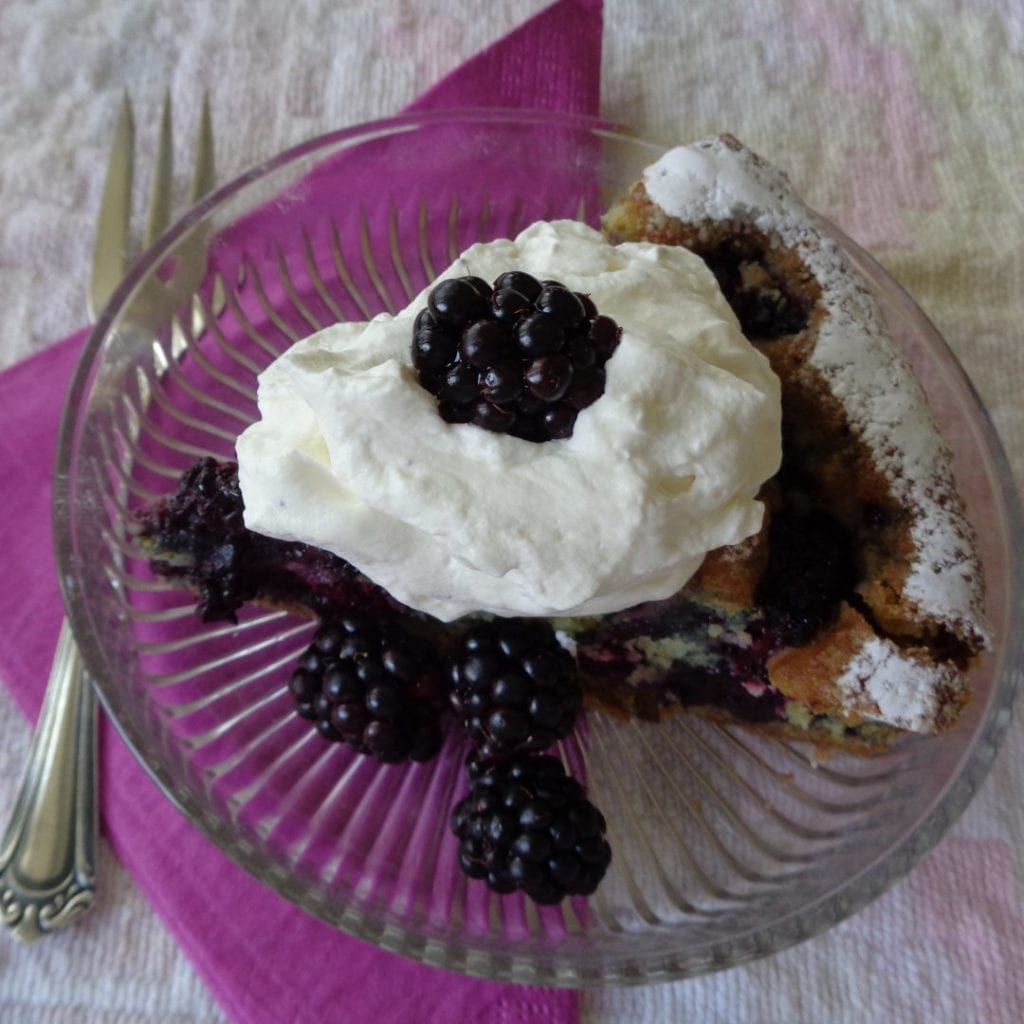 Blackberry Cake with Rum and Lemon from My Kitchen Wand