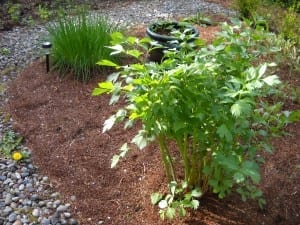 We covered Lovage last week, so I thought I would start by showing off what warmer weather and sun has done in a week, a good eight inches.
The chives in the back are almost ready to flower which will make for lovely purple flower garnishes along with the dandelion petals on the left.
Our focus today is Sage. Most of us know common sage as an ingredient in poultry seasoning and connect it to turkey stuffing.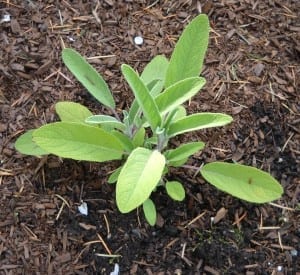 There are over 700 different species of salvia, most of which love a sunny place to grow and well drained soil.  Although they can look lovely potted and in bloom, sage does not typically flourish indoors for long. The picture to the right is of a new addition to Jean's garden.
Sage leaves come in a variety of colours, both in the leaves and the flowers sage produces. Sage plants also carry names such as pineapple, grapefruit, tangerine or anise for the aroma of the leaves. Each brings a unique contribution to the kitchen.
Clary sage is grown in France for its' essential oil, much used in the perfume industry. Clary sage is also the source of the muscatel flavourings you will find in wines and liqueurs.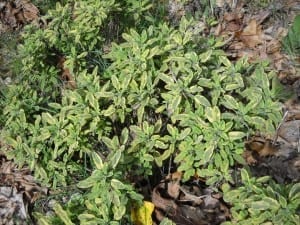 This variegated variety is much more mature and overwinters well in British Columbia. Plants don't generally get over two feet tall.
Sage has anti-inflammatory and anti-microbial properties. It has been used as an antidote for the night sweats associated with menopause. It has a beneficial effect on memory and there has been a little research done on it's possible uses with Alzheimer's disease.
In the kitchen, sage is a welcome addition to herb butters, flavoured vinegars, poultry dishes and tomato sauces. Best not to use sage in quantities beyond a light seasoning if you are pregnant or breastfeeding.
For more information on sage click here http://www.herbs-info.com/sage.html
If you have additional information we want to hear from YOU!, a recipe, a story or a potion, please click back to Facebook and add in the comment field.
Bright Blessings!