There are not a lot of dishes with quinoa that I think of as comfort food. This is one of them. It is an all in one ( protein, carbs and vegetables ) casserole that is easy to take along to potluck and gatherings. It is also a pop a couple of scoops in a bowl and curl up on the couch kind of meal that you can feel good about eating.
I use just enough red pepper sauce for that warm glow in the tummy feel without having to reach for milk to put out the fire. What that point is for you is probably different than what it is for me as I have a low tolerance for heat.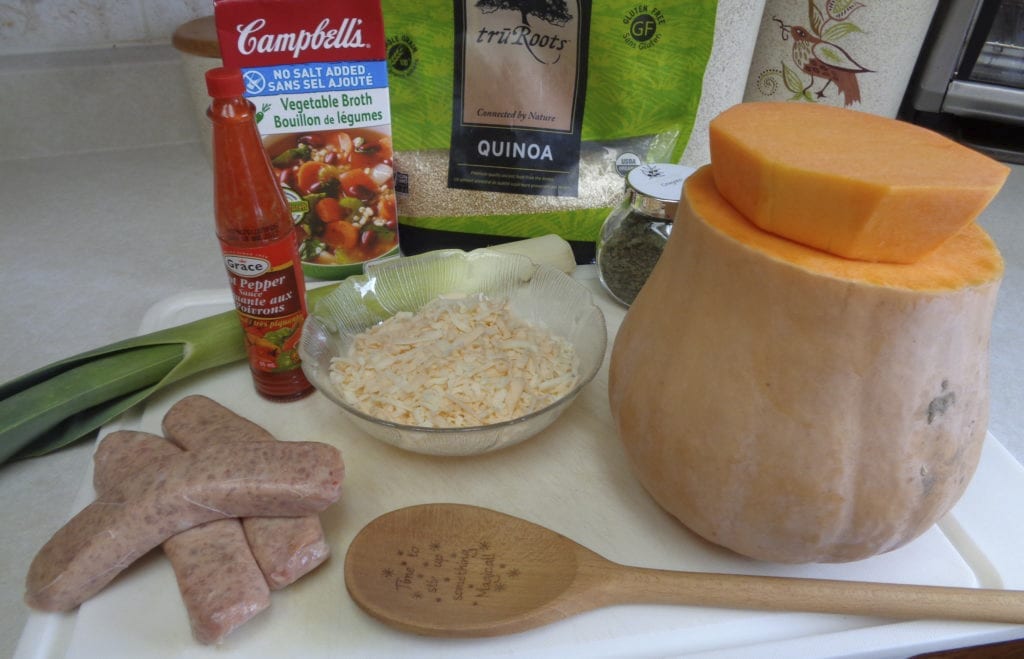 You will need:
4 -5 cups cubed butternut squash
1 leek, washed and sliced
2 Tbsp. Oil
3 mild Italian sausages ( or hot if you prefer, optional )
1/2 tsp. garlic powder
1 tsp. dried thyme leaves
Red pepper sauce to taste ( I used three shakes )
Salt & pepper to taste
3/4 cup quinoa, uncooked
1 1/4 cups vegetable stock
1 1/4 cups shredded cheese
fresh herbs for sprinking on top
Set the space for your work by washing hands and putting on an apron before beginning. Gather up the ingredients and clear your mind of any nigglies that keep you from being in the present moment. The energies of leeks and squash are connected to strength, protection and spirituality so including that focus in your preparations can support your intentions. Take a deep breath and invite the compassionate spirits before beginning.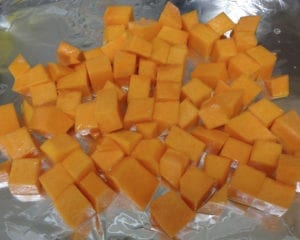 Preheat the oven to 375 degrees. Cut the outer skin off the butternut squash and then dice into 1/2 cubes. Toss in 1 Tbsp. oil to to stop sticking and place on a foil lined cookie sheet.
Bake for 15 – 20 minutes.
The intention here is not to fully cook the butternut squash, as the casserole will go back in the oven, just to give it a jump start.
Leeks can contain a lot of dirt so giving an attentive wash is a good thing. Usually the white section is pretty good but the green tops made require a little extra inspection. Slice into 1/4 inch strips.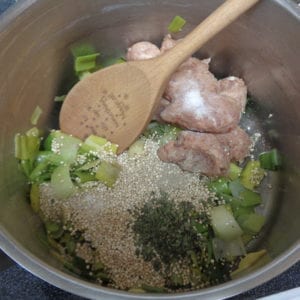 In a pot, on the stove, on medium heat, add the leeks and saute until just soft.
Take the sausage meat out of the casing and break into bite size pieces. Add to the pot and cook a few minutes just to get the process going.
Add the quinoa, salt, pepper, garlic, crumbled thyme, red pepper sauce and stock.
If you don't have red pepper sauce handy but do have another hot style sauce, try substituting that.
Stir. Put the lid on and allow to cook for 5 minutes. If you are concerned about the meat being cooked through, it is possible to cook a little longer but do not use up all the liquid.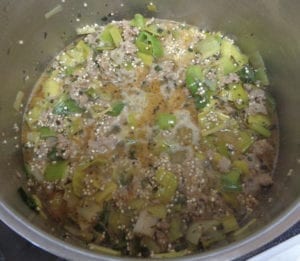 I have never had an issue with the meat not being cooked by the time the casserole comes out of the oven and overcooking the quinoa makes the dish dry.
Remove the butternut squash from the oven and add to the pot.
Turn out into a greased 8 x 8 inch casserole and top with shredded cheese.
Place the casserole in the oven and bake for 30 minutes. The squash and quinoa will finish cooking and the cheese will melt.
I have tried this will cheddar and prefer the finished dish with a yellow cheese like gruyere or mozzarella mix both for flavour and looks.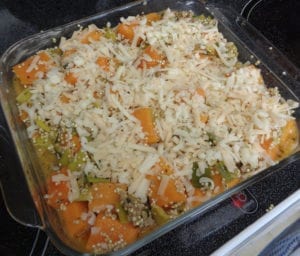 A few fresh herbs will brighten up the finished presentation. Chives or parsley, thyme if there is some around.
I have always thought of this as a spring time dish, using up the last of the winter supplies with some fresh leeks. That doesn't mean it is not also a fall dish when the first of the squash has arrived and turkey is on many people minds.
Squash like carrots can take a fair amount of seasoning so test out the quantities you like. I used vegetable stock this time and in the past have left the turkey sausage out, making this a tasty vegetarian or side dish.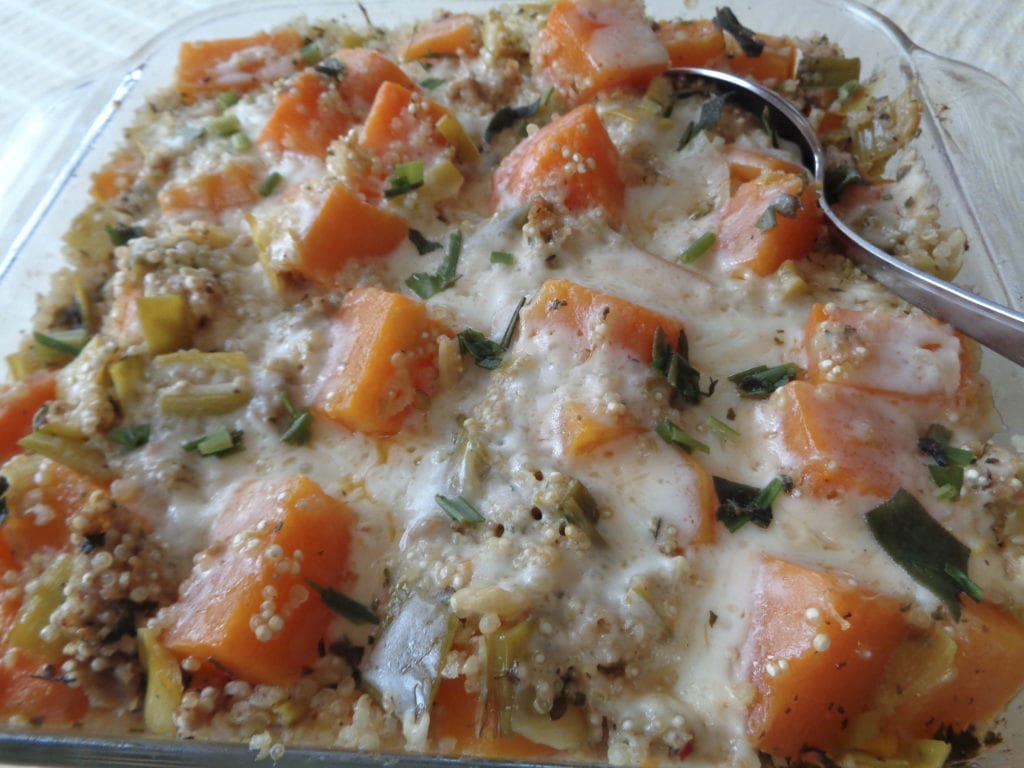 Butternut, Leek & Quinoa Casserole from My Kitchen Wand