Four maple wood laser cut cookie stamps for Christmas.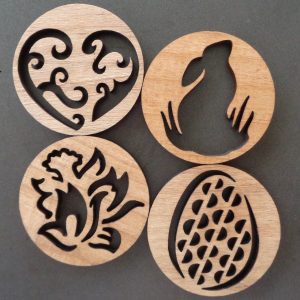 Just under two inches in diameter, they have been bathed in beeswax and grape seed oil. Please wash by hand in warm soapy water. Not recommended for a dishwasher.
These stamps have been tested through 10 dozen cookies but it is important to remember that wood has grain and being gentle while pushing down at narrow points is important.
Christmas tree roots go back a long way. Plants that did not die off over winter held a special place of honour in pre-Christian beliefs. They were a reminder of the hope that life that would be returning to the earth when spring came again. Boughs of evergreens were used to help clean the air in small, musty cottages and they were hung over doors and windows where it was believed they banished, illness and evil.
The 16th century was a turning point for Christmas trees. They came inside and one winter night the story goes, while walking home, composing a sermon, Martin Luther, looked up and was enchanted by the stars twinkling through the evergreens around him. It is said that he brought a tree into his house and wired candles to the branches to share the experience with his family, starting the tradition of light on Christmas trees. My father grew up in Germany and in his home, each child chose the candle they thought would last the longest. They were allowed to stay up on Christmas Eve to see who was right. ( It is good to remember that we are talking about a time, when the tree came into the house on Christmas Eve, so it was still moist. The houses were made of stone not wood, and there was no central heating.) With the coming of electricity, candles became lights and over the years many different styles of Christmas tree lights and decorations have come and gone.
Another  candle tradition is the advent wreath. Candles are lit in the weeks before Christmas, at home and in church. As this is the darkest time of the year, candles add a lovely ambience to any home, a small anticipatory reminder of the returning fire in the sky.
Bells at Christmas have many similar meanings. Church bell towers send out their birth announcement on Christmas morning. "I Heard The Bells On Christmas Day" is a song sourced in a Henry Wadsworth Longfellow poem. "I heard the bells on Christmas Day. Their old, familiar carols play, and wild and sweet the words repeat, of peace on earth, good-will to men!" Christmas movies have also linked bells to belief through lines like "every time a bell rings an angel gets his wings" and "Though I've grown old, the bell still rings for me…as it does for all who truly believe." Salvation Army volunteers ring bells to remind people that there are families in their own neighborhoods who won't have a Christmas without their help and Santa has bells on his sleigh to  signal his approach. Flying sleighs, you see, are unable to stop quickly so they need a warning sound for anything else that happens to be in the air or on a rooftop.
Reindeers and Santa Clause were first put together in the 1820's and it was just assumed that the reindeer were male. Andrew Hebda, a zoologist at the Nova Scotia Museum, has been suggesting that might not be correct. Male reindeer grow antlers a little earlier than the females and they drop off after mating season, leaving only the females with antlers over the winter months. I like the thought that while flying all over the world, it is females doing the navigating, even if Rudolph is an unusual name for a doe.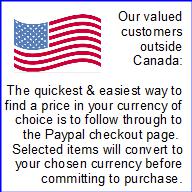 Set of Four Christmas Cookies Stamps      $19.00 Canadian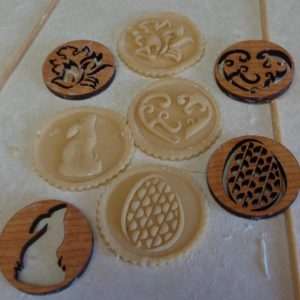 It is best to use a recipe with little or no large extra bits. Spices, extracts and zest are fine but chopped nuts and dried fruits can be more challenging to work with. The cookies in the picture below have a bit of added orange zest.
Roll out dough of your chosen recipe and cut circles either with a glass or scalloped edge cookie cutter.
Tap stamp in flour and push down into the center of the precut cookie.
Bake.
Sugar cookies are traditionally taken from the oven before they brown but since these cookie will not be iced, I personally prefer to get them just a little golden around the edges. That will mean a little paying attention so as not to over bake.
For a full page of tips and tricks click here. Please visit.