There is something you may not know about me, I have a great deal of trouble remaining faithful and I tend to swing back and forth. First there was Pheobe, beautiful brown eyes with gorgeous highlights in her husky fur. Then Morris came along, all don't touch me, which I ignored and now he jumps up on the back of the chair and gives me head butts and little nips. There are also Alice and Piesy and Charlie and Bubbles and Maddie and Queenie. I am so glad that my friends have furry family members I get to love while I am living in a no animal house.
Hecate, the Greek Goddess of the moon with knowledge of herbs and poisonous plants, magic and witchcraft is often depicted with dogs. Legends suggest after Hekabe threw herself into the ocean at the fall of Troy, Hecate transformed her into a dog and she became Hecate's familiar.
So when I finished up a goats milk soap making class yesterday and had some milk leftover I opted to mix up a quick batch of thank-you treats for the woof woofs in my life.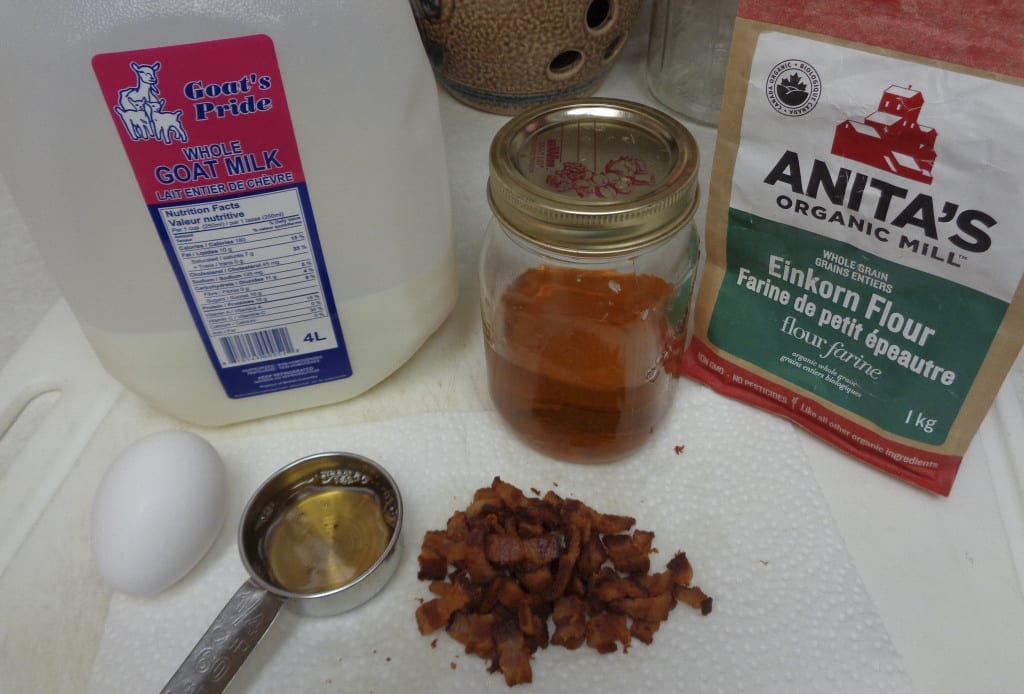 You will need:
1 egg
1/2 cup goats milk  (I am not saying you need to use goats milk, just that that is what I used)
1 Tbsp. honey
3 Tbsp. bacon fat
2 slices thick cut bacon, crumbled
1 1/2 cups Einkorn flour
Center, ground and focus yourself by closing your eyes and taking one or more deep breaths. Let the nigglies go and bring your intention and attention to the project at hand. Invite the compassionate spirits to be in the kitchen with you and open yourself to creative inspiration.
Cut the bacon into 1/4 inch strips across the slices and cook the bacon in a frying pan until crisp. Keep the fat for the dough and cool and crumble the bacon for later.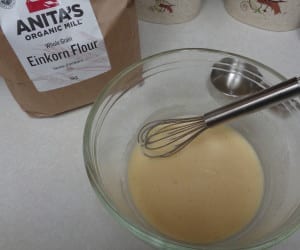 Preheat the oven to 350 degrees.
Mix the liquids together after making sure the bacon fat is cool enough it will not cook the egg.
I used Einkorn flour for this recipe because I am on a bit of a kick and it was handy. All purpose will need a different amount of liquid but trying oat, whole wheat, Spelt or Emmer, something with better nutritional value for your furry friends would be my first choice if you don't have Einkorn handy.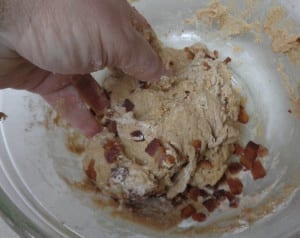 Mix in the flour. The dough should be stiff enough to roll nicely.
Add the crumbled bits of cooled crisp bacon and mix together.
On a floured surface roll out the dough.
It is possible to use fancy dog bone shaped cutters for special treats and to make people smile. It won't matter to the dogs.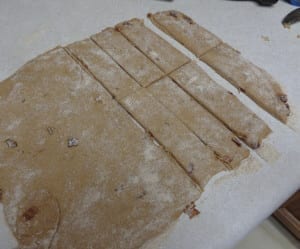 In this case I cut the dough into strips and placed them on a parchment paper lined cookies tray.
Bake for 35- 40 minutes, until lightly browned and crisp.
The recipe made 18 strips.
Transfer to a cooling rack and ultimately to an airtight container to keep fresh and secondly, to not have the aroma wafting through the house.
Why you ask?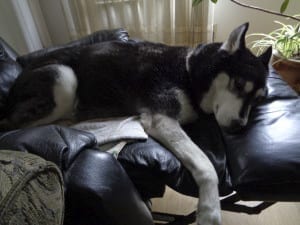 I made two visits to test the recipe and Pheobe, who was in absolutely no hurry to move, came alive when the top of the container came off, in another room.
I managed to get a video of her excitement but have not been able to get it to transfer to the computer for upload. It just seemed like teasing to have the smell around but no treats.
Maddie and Queenie were equally happy to nibble and nibble and nibble.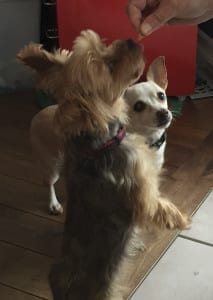 I can not say the cats were as thrilled. Bubbles took a sniff and decided she was more interested in my lap than my fingers.
Got a pampered pooch in your life in need of some lovin"?
Goats milks, bacon, egg, Einkorn flour and a little honey. No added unpronounceable anythings and in the oven in under five minutes once the bacon is crisp.
There is also room for all sorts of additions if you are trying to get supplements into a diet.
As in all things, share in moderation. Probably best to store in the fridge unless you live with a household of large dogs, in which case they will be GONE…..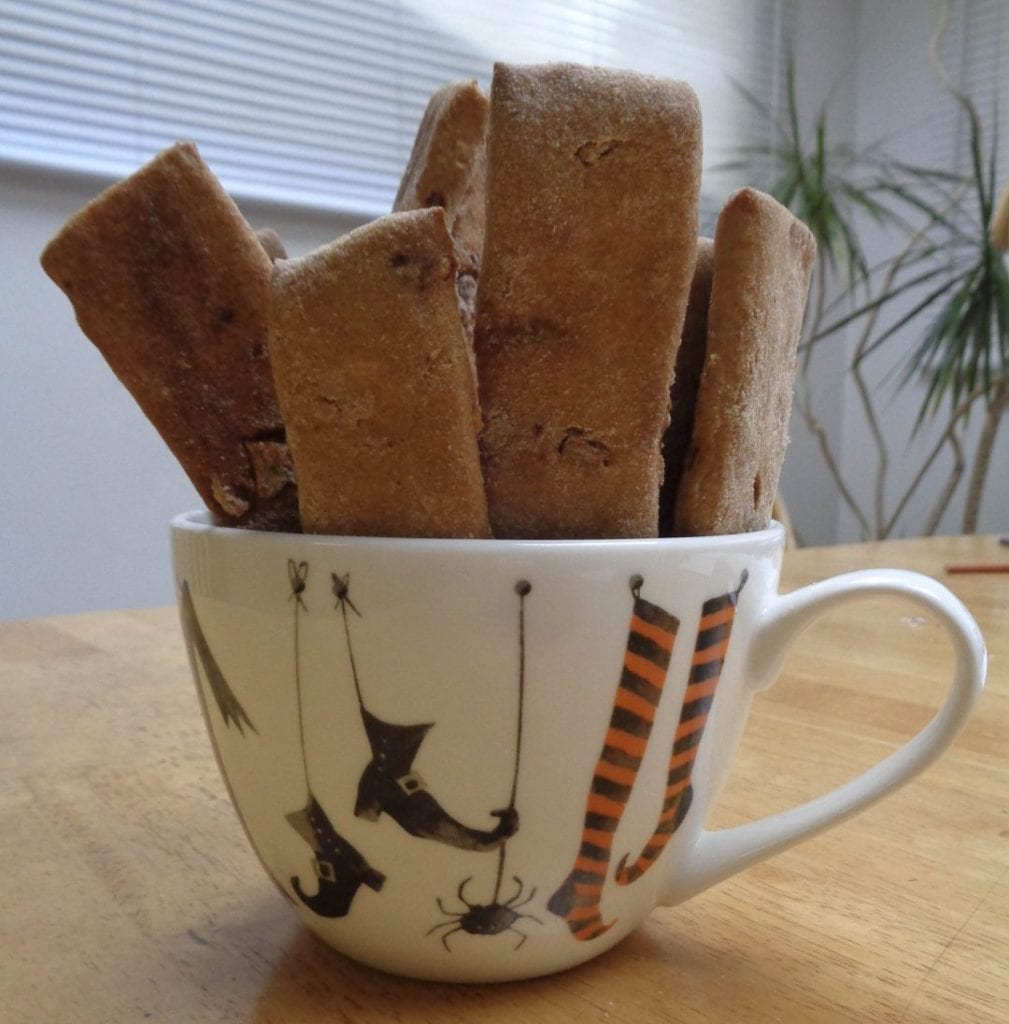 Doggy Treats form My Kitchen Wand