I needed a birthday cake yesterday for a friend I have known 96.5% of my life. She is watching her sugar intake so I was looking for a balance between honouring her 60 years of adventures and filling her full of icing. As Samhain and American Thanksgiving are just around the corner, taking some pictures and sharing a decorating idea seemed like a good thing.
I decided to use the falling leaves to decorate. I will say that after the post yesterday about plants and energy, I was not really willing to just break off bits for purely decorative purposes. I used leaves but cutting out an image with paper will work just as well. So cats and bats and all other things that go bump in the night are options.
You can use icing sugar on chocolate cakes for optimum contrast but also mixed cocoa and icing sugar on white cakes for a more subtle finished product. This will work on brownies and smooth topped cupcakes and gives you a quickly themed, nice decorative finish without loads of extra icing.
Not so good for moist products like pumpkin pie unless they are being served immediately after being dusted.
So lets get started. I am not going to go through the full recipe as this is really about finishing touches. I used a chocolate zucchini cake, I had tucked away in the freezer. I also thickened some Bing cherries from the freezer with cornstarch, sweetener, lemon juice and rum. (We have been having freezer issues so what needed to be used up dictated my choices.)  Lemon juice adds a bit of tang to sweet cherries and although I was not making a Black Forest Cherry Cake, I was cooking in the ball park.
I allowed to cake to partially thaw and then cut in three layers horizontally. The cake being cold allowed for an easier cut than when it is freshly baked.
Because I was staying away from sugar icings, I used whipping cream instead. As the cake was going to be driven around for half the day. I dissolved 1 package of Knox gelatine in 1/4 cup rum and whipped it into 2 cups of whipping cream until stiff. You will need to add sugar to taste as well. This allowed the cream to set once cooled.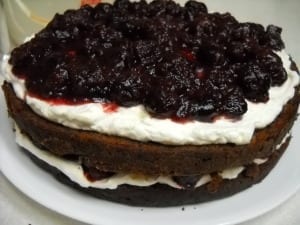 Using the layers in reverse order and upside down so that the flat bottom of the cake is the last layers in top, place the first layer on your plate. You may need to cut a little off the bottom of this piece to level the edge that meets the plate or you will be compensating for the extra depth as you continue to build the finished cake.
Bottom layer of cake, a layer of whipped cream and a layer of cherry filling, repeat and top with the last layer of cake, paying attention to keeping the layers flat. Putting some of the larger cherries out at the edge so they are visible helps make the finished cake more interesting.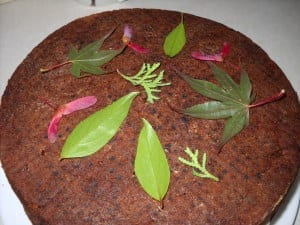 Once complete, pop to cake in the fridge and take a walk around your garden to collect what nature has to offer. I used leaves and seed pods. You are looking for fairly small pieces as the assorted shapes will show up better than one of two big pieces. Saying thank you as you collect is a good thing.
Wash and dry your finds and arrange on the top of the cake. I turned the leaves upside down as it gave me something to hold on to when I took them off the cake and as they curled a little, this gave me less of a chance of the icing sugar going under the leaves.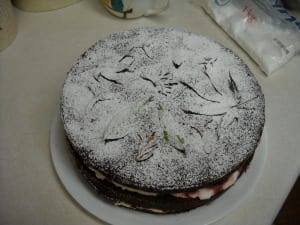 Using a small spoon and a small sieve, gently sift a layer icing sugar over the cake. Don't over do but do pay attention to what places might need a little more coverage. This picture was taken part way through. I had stopped to take a look see what I had missed.
Once you are happy with the coverage, take the leaves off the cake to reveal the pattern.
I finished off by using up the last of the whipped cream in an icing bag. If you don't have an icing bag, use a regular clean plastic bag and cut the tip off. I added an icing tip but if you don't have one that is okay too. You will just get a softer ball of whipping cream on top, more like something you would get at Dairy Queen. I topped the cake with 12 swirls and topped each swirl with an upside down large chocolate chip.
So get out the scissors and see what patterns you can find in the coming few weeks. Pumpkins, apples, turkeys, black hats and broom sticks will all work just fine on the top of your seasonal treats.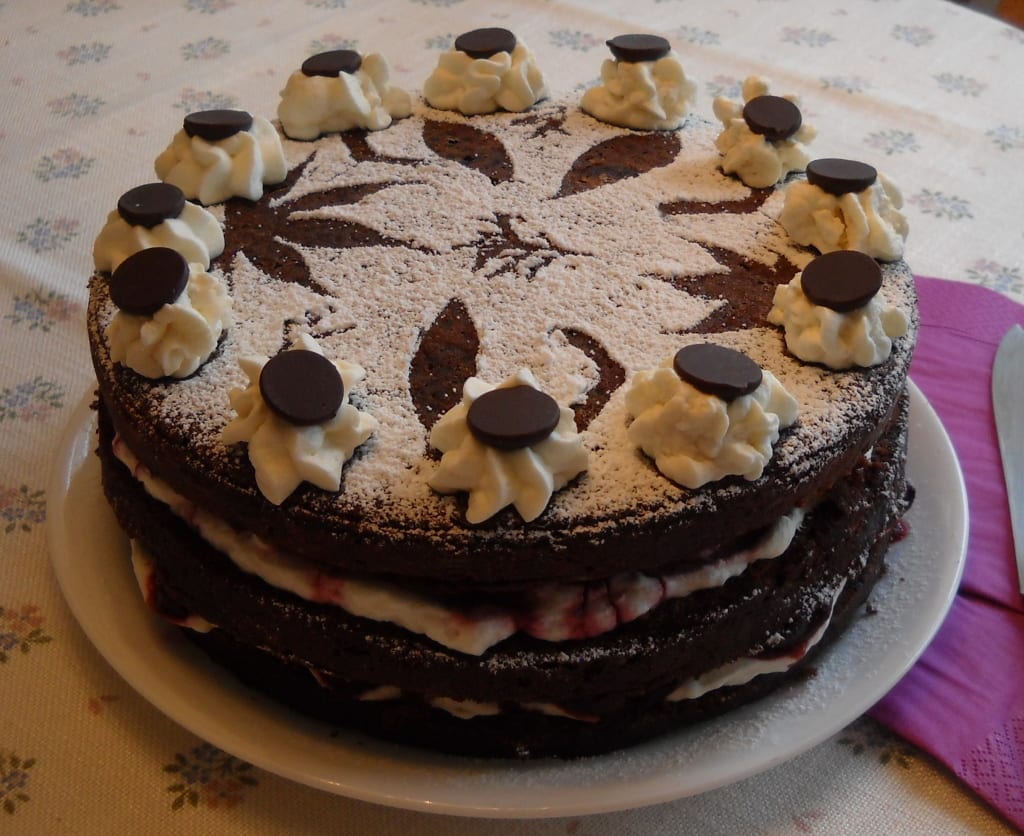 Fall Leaves from My Kitchen Wand