If anyone is waiting on this weekend (2016) to celebrate Mabon together with the full moon, here is a quick fresh corn pancake recipe that can be made larger for meals or smaller, as I have done here for sharing with friends.
This full moon is also known as Harvest Moon. Farmers could work well into the night guided by the moon's reflected light to gather the last of the crops before the weather changed and the harvest was lost.
Corn is feminine in nature, is connected to fire and the sun, making it a good option to any solar festival but especially one at the time it is harvested as prosperity and abundance are also associations when using corn and cornmeal.
Truthfully, there is no need to wait on a festival day, these also make a quick, filling weeknight meal.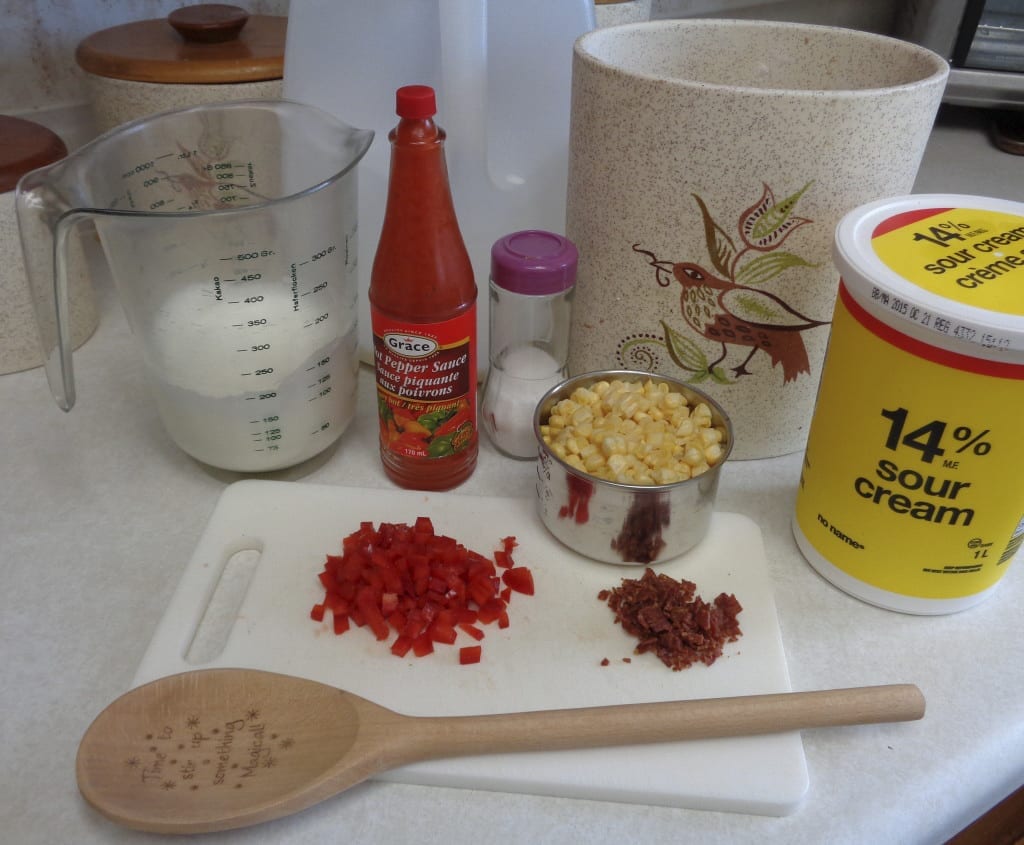 You will need:
1 cup flour (I will get into gluten free options below)
1 teaspoon baking powder
1/2 teaspoon salt
1/8 teaspoon chili powder or cayenne ( optional ) or
red pepper sauce to taste
2/3 cup milk
1 cup of fresh corn, one cob give or take (yes, you can use frozen)
1/4 cup diced red pepper
2 large eggs, separated
2 – 4 Tbsp, fried salami, diced
sour cream
Begin by shifting your attention to the work at hand. You are preparing an offering and this is "Love In Action" as they would say in Findhorn. Find your grounded center and invite in the compassionate spirits to inspire you. " In my Kitchen filled with Care, I welcome Earth, Fire, Water, Air ".
Shuck the corn, getting rid of any hang around tassels before cutting the kernels off the cob. Run your knife down all sides of the cut cob to get all the juice and left over pieces off and added to the fresh kernels. You should have about a cup but it does not need to be exact.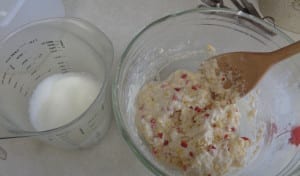 Separate the eggs and beat the whites until they are fluffy stiff peaks.
Heat your frying pan to medium hot and add a little butter to begin melting. Watch the pan as your work as the temperature may need to be turned down before the pancakes are ready for cooking.
In a bowl sift together the  flour, salt, baking powder and spices if using. Add the corn and diced red peppers. Mix. Combine milk and egg yolks and add to the mixture. Add red pepper sauce to taste if using.
Some heat is a great idea, especially as we enter autumn. Use powder or liquid or chopped chilis for that matter but unless you have a cast iron stomach do not use them all.
Give the egg whites a final whipping and gently fold into the mixture. One option is to start with 1/4 of the egg whites to loosen the batter first and then add the remaining 3/4 into a batter that is now easier to work with.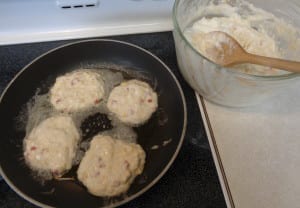 Place by spoonfuls in the heated pan. There is enough flour in this mixture that you will be looking for the same signs as plain pancakes, bubbles and crispy edges before flipping over. It is best to flip only once.
Adjust your heat as needed for your stove. The goal is nicely browned outsides and cooked insides.
While the pancakes are cooking finish off the salami by placing them on a tray in the toaster oven at 325 degrees and baking until they are crisp and bubbling. Crumble.
An alternative would be to fry like bacon in a separate frying pan.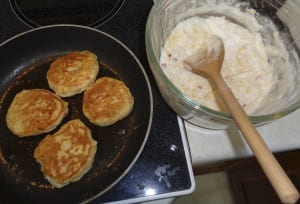 I used salami for this recipe as a crunchy salty accompaniment to the soft pancakes because the fresh corn showed up unexpectedly. Living in the Pacific North West, if I were planning these pancakes, especially as a special meal, I would have chosen smoked salmon.
I have also tried mixing the protein choice into the batter and my experience is that is gets lost and is much more appreciated, sprinkled on top.
If you are staying away from all purpose flour. There are several variations to this theme. The simplest is your favourite gluten free one to one flour substitution. Option two is to put some cornmeal in a blender and pulse until it is more like flour. Use 1/3 cup ground corn meal and 1 shredded potato. The finished product  will be more like a latka (potato pancake). There is no need to separate the eggs. I also up the salt to 1 tsp. Here is the ingredient list for this variation.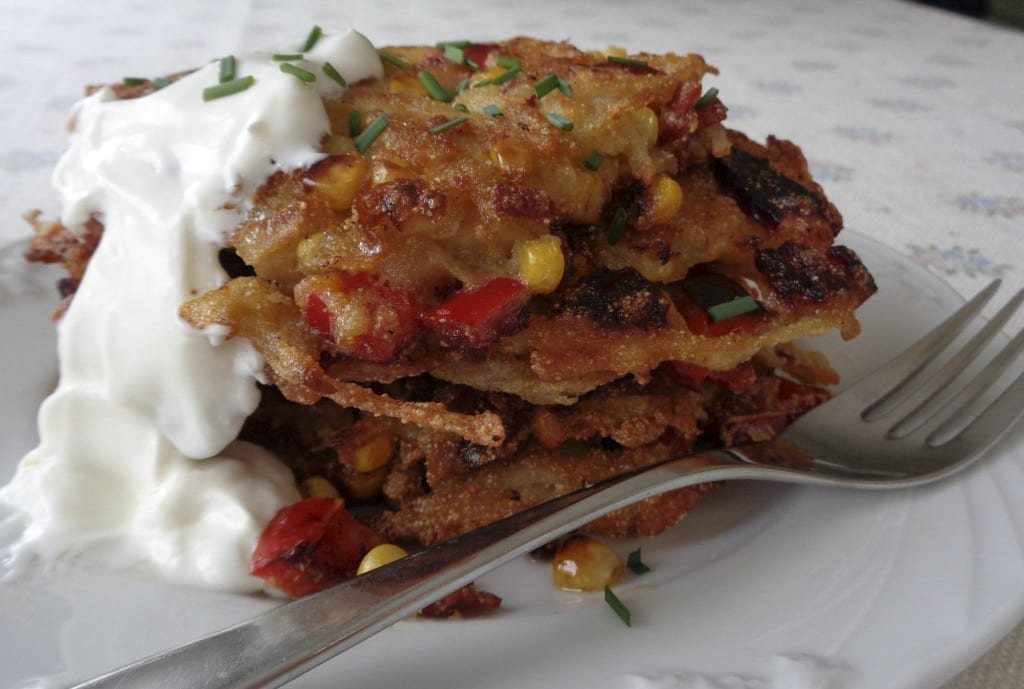 You will need:
1 Russet potato peeled and shredded ( about 1 1/4 cup)
1/4 cup diced red pepper
1/3 cup ground yellow cornmeal
1 teaspoon salt
1/8 teaspoon chili powder or cayenne ( optional ) or
red pepper sauce to taste
1 cup of fresh corn, one cob give or take (2 cups kernels if using frozen)
2 large eggs
Okay, back to our previous programming!
Serve hot with sour cream. If you have any chives left in the garden, chop and mix in a few teaspoons.
These can also be served fresh at room temperature as an appetizer. Place on a large serving platter, top with a dollap of sour cream and sprinkle with crispy salami or smoked salmon.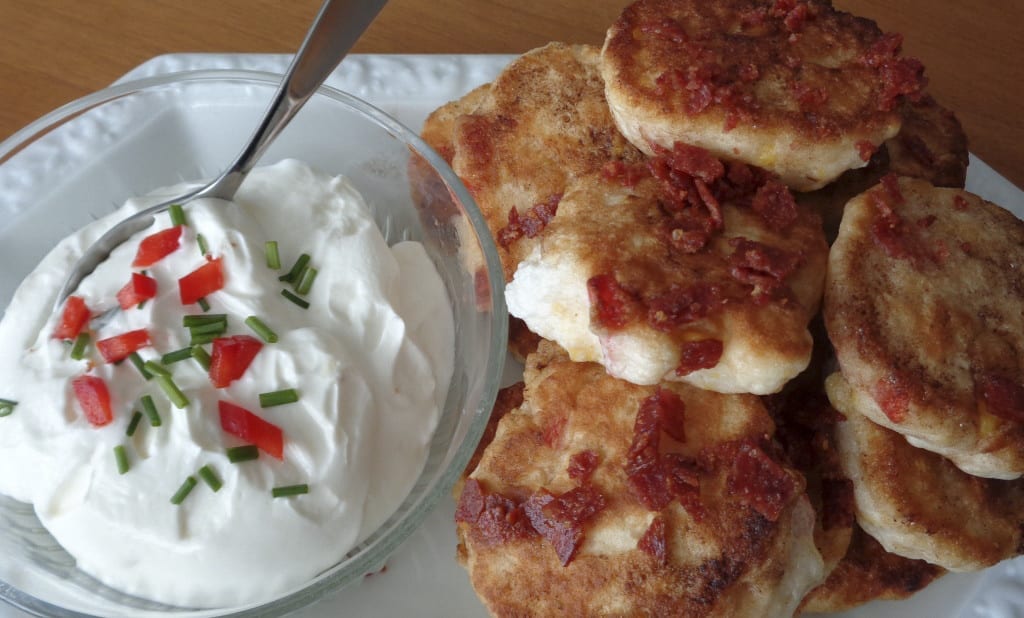 Fresh Corn and Red Pepper Pancakes from My Kitchen Wand