I live in a valley with major fruit growing operations. This time of year, driving down many streets includes waiting while the big picking machines move from field to field to brush the blueberry bushes and gather up the bounty. There are lots of recipes for cakes that include cooked fruit but this time of the year it is expecially tasty to use local fruit that's fresh.
Years ago my mother had a special baking pan called a "tortenboden" in German, otherwise known as a cake bottom. Somewhere along the way we ( the pan and I) were separated but last year another crossed my path when a friend was clearing out her mother's home. The cake is soft and springy, much like a purchased strawberry shortcake cup but presented as a cake.
We often filled the tortenboden with canned peach slices but living here strawberries, currants, raspberries, blue, goose and blackberries are ready options, especially when they are fresh picked from local fields.
With the traditions of first fruits that comes with Lammas, this a light addition to a feast table or next year create a red and white combination for Canada Day or a red, white and blue option for the 4th of July.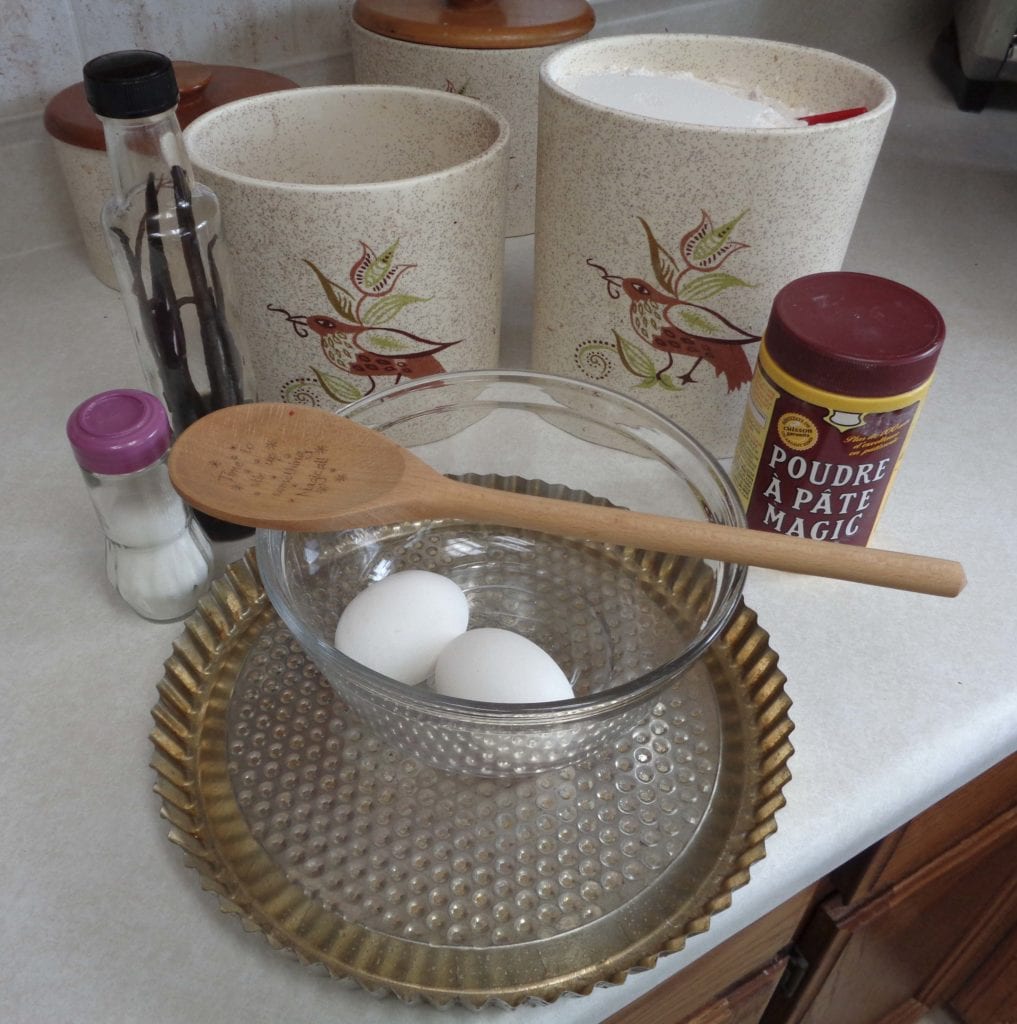 For the cake you will need:
2 eggs
2/3 cup sugar
1/2 tsp. vanilla
3 Tbsp. hot water
2/3 cup sifted flour
3/4 tsp. baking soda
pinch of salt
Preheat oven to 375 degrees.
Let the niggles of the day flow out of you as you wash your hands in warm water. Close your eyes and come into the present moment with a deep breath, holding and releasing. Honour your intentions clearly as you welcome the compassionate spirits and begin.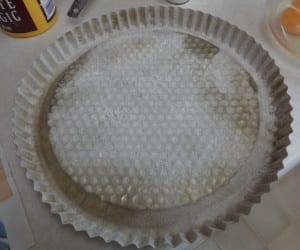 The trick to a happy cake in this case is a well prepared pan.  There is no spring form to release so any place that gets stuck can and will create an issue. Grease well and then flour to give an extra layer of separation from the batter.
In this case I sprayed the pan with oil, something I rarely use but it was in the house and spray is easier than greasing. The flour can be seen here getting moist from the spray. That is just fine as long as nothing gets moved about. Put pan aside.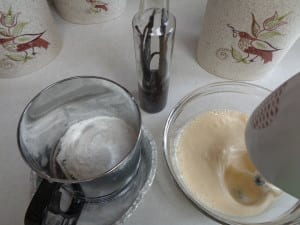 Sift the flour, soft and salt together.
Crack the eggs into a clean bowl and using a hand mixer, beat until light, thick and lemony in colour, about three minutes.
Slowly add in the sugar while continuing to beat and then the vanilla.
Gently sift the flour over the egg mixture and fold into the batter with care.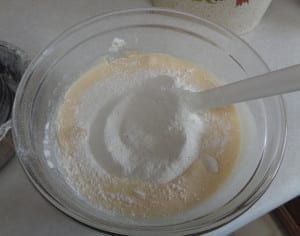 Robust stirring will release the air bubbles captured in the eggs, resulting in a heavier cake.
Finally add the hot water mixing gently.
Pour the batter into the pan and bake in the middle of the oven for about 15 minutes.
Pay close attention as all ovens are different and the depth of this cake is under one inch.
Once golden brown and set, remove from the oven.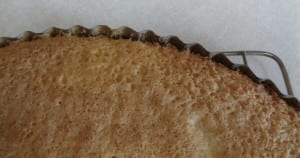 Check the edges. It is possible that some  sections are still attached. With a knife tip, gently pull separate any places that need a little help.
Place a cooling rack over the top of the tortenboden and flip.
If all has gone well the cake will release itself from the pan.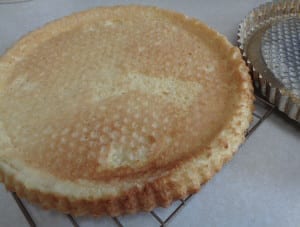 This is a light jelly roll style recipe so being gentle is a must.
If for any reason, a little help is needed use a metal spatula and patience.
Do not worry about any broken bits. They can be "glued" together with the cheese filling and will most likely not even be seen once the cake is assembled. Cool cake.
This next step is totally optional. Some variations benefit from the added layer more than others. It is entirely your choice.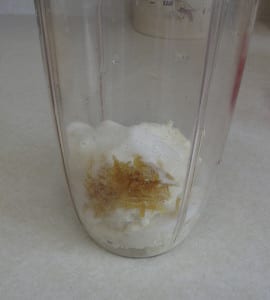 In a blender:
1 cup ricotta cheese
1/4 cup almonds
1 1/2 tsp. lemon zest
sugar to taste 3 – 4 Tbps.
Pulse until fully mixed and the nuts are finely chopped.
Put aside until the cake is cooled and then spread over the top inside section of the cake bottom.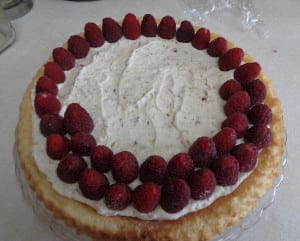 Fruit:
You will need 70 – 80 rasperries depending on the size of the berries.
That said, please, use your imagination. It does not need to be all one variety of fruit or even fresh, as mentioned above, I grew up making this with canned peaches. Poached pears is an option for later in the year and a cranberry plum combination around Yule is a thought.
Once filled set aside and complete the glaze.
For the glaze you will need:
1/2 cup raspberry puree
1/2 cup water
2 Tbsp. cornstarch
1/4 – 1/3 cup sugar to taste
So here's the thing. If you want to enhance the flavour then having the raspberry puree in the glaze will do that. It will mean not seeing the raspberries or blueberries or blackberries as much because the glaze will be darker.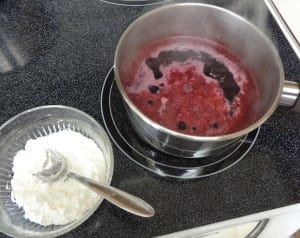 There are lots of picture online of beautiful mixed fruit tarts all shiny and clear. Those glazes are made with water and usually a little added lemon or clear pineapple juice.
For this recipe I put fresh raspberries in a blender and then put the mixture through a sieve to get the seeds out and mixed the 1/2 cup puree with water to get a cup of liquid.
Put over medium heat and bring the mixture to a boil. In a small dish mix the sugar and cornstarch together.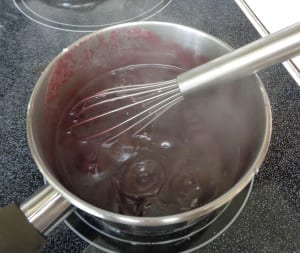 Pour a little of the hot liquid into the sugar mixture and stir well. All the little clumps should be mixed and squished until smooth.
Using a whisk and while stirring , pour the sugar mixture into the hot liquid, continuing to stir well.
The glaze will turn cloudy until the cornstarch cooks and thickens, when it will become translucent.
Remove from heat and spoon over the berries starting in the middle and working your way out. If there is not enough glaze to get right to the edges. Do not worry it will all be covered by the whipped cream.
Whipped Cream:
1 1/2 cups whipping cream
2 -3 Tbsp. vanilla sugar to taste. ( plain sugar and vanilla extract can be substituted )
Whip cream until soft peaks form and slowly add the sugar and continue whipping until firm peaks form. Do not over whip unless you want sweetened butter for a different project.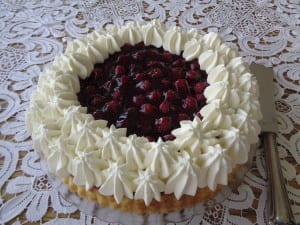 I transferred the whipped cream to a piping bag with a large star tip and piped on two circles of whipping cream.
Another option is to simply spread the whipped cream over the entire top and using the side of a knife, give it a gentle swirled finish. That is what my mother did when finishing the canned peach variation.
I am so pleased to have this baking pan back in my kitchen. What it produces is less cake, more fresh fruit and an all round lighter option with great presentation appeal on very little decorating skill.
Note: If locating the baking tin is an issue, try using half the cake recipe in a nine inch cake pan. Keep the fillings away from the edges so that the whipping cream can cover that space. Be careful around the amount of glaze you use on the cake. It can easily run off the cake when there is no side edge to contain it.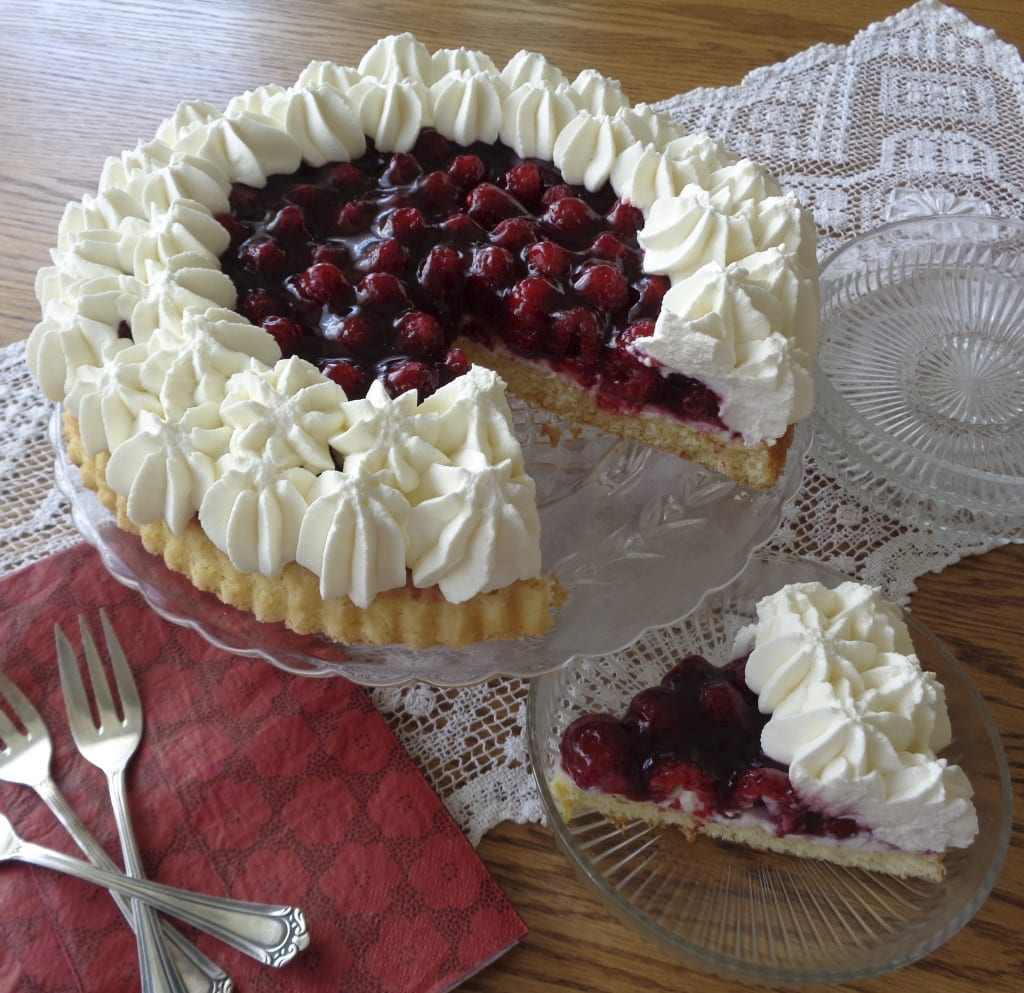 Raspberry Torte from My Kitchen Wand.