As the wheel turns towards Lammas, the Earth comes into Her fullness and harvesting becomes the next natural step. How to hold the fresh tasty flavours of the garden for those times when the days are not so long and warm?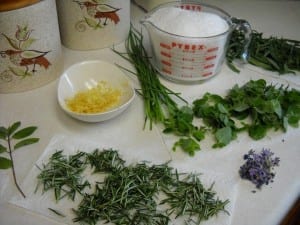 There are a variety of ways to preserve herbs. They can be dried, crumbled and stored for casseroles and stews on cold winter nights. They can be chopped and frozen in ice cube trays, waiting patiently to be popped into a pot of delicious home made soup and they can be preserved in salt!
When blended together the herbs infuse every sea salt crystal with their fresh aroma. They can be used to create your unique house salad dressing and specialty sauces, sprinkled over a meal as a finishing salt or used for personal body care, either as an ingredient for a scrub or for adding directly to your bath.
Sea salt makes an excellent preservative and a finished mixture, stored in a dark dry place will keep for about six months.
From Jean's garden I collected, thyme, rosemary, sage, tarragon, chives and lavender, asking and thanking along the way. Since the bunnies had so thoroughly enjoyed their basil buffet last month, I purchased some and two lemons as I wanted to make a lemon/rosemary combination for Mediterranean dishes.
Wash the herbs and pick the leaves off the stems, separating any bits that are "off". Allow them to dry before using, as water will start to dissolve the salt. The ratio is 1/4 cup – 1/3 cup of herbs to 1 cup coarse sea salt but that is not a hard and fast rule and really you can't get it wrong if you use a little bit more or less than that range. It will just be a different consistency.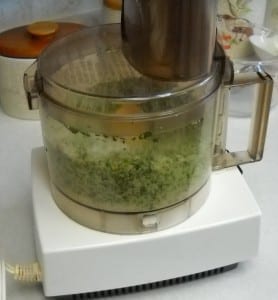 You will see some recipes that use coarse salt in smaller quantities for the first blending and then add a finer grained salt ( such as pink himalayan ) at the end. You can do it either way but start by blending the herbs with at least 1/3 cup of coarse sea salt.
The coarse salt will do a better job with the herbs in the first mix. I used only coarse sea salt. Just under 3 pounds will give you about 5 cups of salt and it cost my $2.78Cdn.
If you mix in something like a Cuisinart, you will finish with a coarser blend. Fine for baths and scrubs, maybe a bit too large as a finishing salt. A blender will give you a finer finished product. It is just personal taste.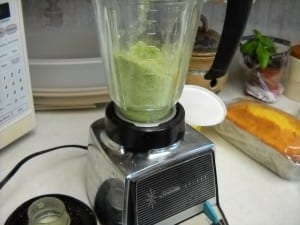 One thing to remember is that a pure sea salt does not have any of the added ingredients that make the salt flow smoothly. So when you are finished blending, the salt may be a little clumpy for two reasons. One no added chemicals and two the herbs although "dry" still have some moisture in them. A quick shake will sort that out very easily.
Blend in short bursts as you do no want to over heat the herbs and some styles of blenders do a lovely job of the salt in the bottom section but will need to be mixed up manually to get all the salt ground. Do small batches of just under a cup at a time if this is an issue and it will help get everything moving. Too much mixture in the blender can stop proper mixing as there is no liquid.
Pour your finished product into a 9 x 13 baking pan or a clean cookie sheet and allow to dry for several hours or overnight. If you are storing the salt away to dry in a place like the garage, it might be a good thing to cover with cheesecloth to keep any critters away. Just make sure the air can get at the herbs and salt so any moisture can evaporate.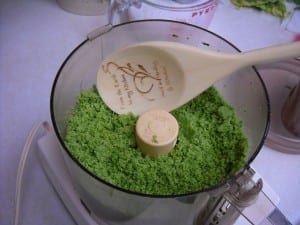 If after the mixture has dried, you decide it should be finer. It can always be put back into the blender for a touch up.
The first mixture was zested lemon peel and rosemary. The second combination was basil, thyme and tarragon which is why it is so delightfully green; all that fresh leafy goodness. The final herded salt was an herbs de province style mixture without the marjoram.
When choosing the flavour combinations, keep a couple of things in mind; the taste buds of the people who will be enjoying these salts, your cooking style and intended purpose. Try garlic scapes or leeks or celery as an alternative addition or something like chili peppers and lime zest, if Mexican is your thing.
The health benefits of the herbs, especially if your intention is to use these herbed salts in a bath can also be a consideration. Combining for detox, relaxation or healing will also effect your ingredient choices.
Quick, easy, inexpensive and delicious. What hostess would not be happy with a homemade bottle of herbed salts?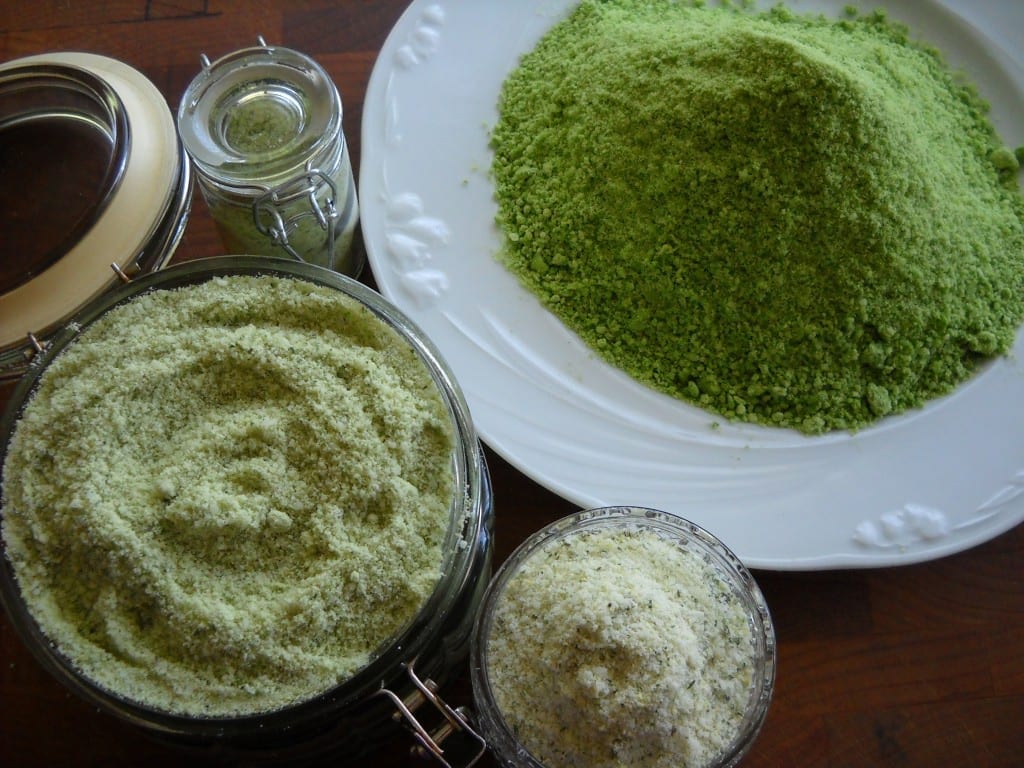 Herbed Salts from My Kitchen Wand