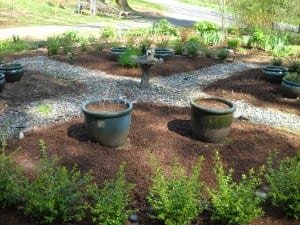 We will all have the excellent fortune of being able to follow a beautiful herb garden through the season. This garden is built in a circle, contained by box wood with gravel pathways that cross the middle to create four sections. In each section are two large pots that allow for the containing of fast spreading or unique varieties of plants.
I had the great blessing of being gifted with three bottles of dried herbs from this garden last year, an absolute treat for my kitchen!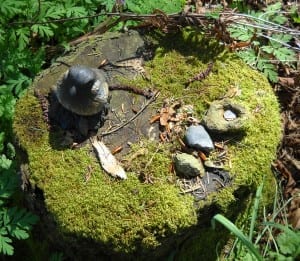 Jean shares a piece of heaven with her partner and five cats. They ( the people not the cats ) tap maple trees, grow garlic and enjoy the large variety of birds who make their homes on just under five acres of land in British Columbia. Some are temporary as they migrate between summer and winter residences. Others are here on a more permanent basis. Spring mornings are filled with non digital tweets as mating calls go out and Beltane approaches.
Along the pathways of the garden proper you will find bits of whimsy to attract your eyes as well as a wide range of local plants.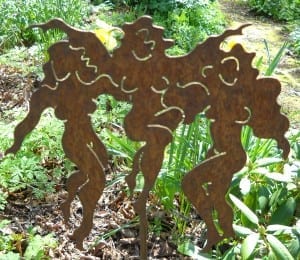 Strawberries are pushing their new leaves up to the sun right now and Solomon's Seal is getting ready to bloom by dropping their rows of delicate white flowers.
As you can see above, the herb garden has just been prepped for the coming year, clean beds and new mulch makes everything look so fresh and inviting. Already there are large patches of herbs returning. Parsley, chives, garlic, very happy and healthy.
So let's start with Chives as there is already a big green patch to show you. Chives are in the same family as onions, garlic, and leeks. They all belong to the Allium family. They like full sun but can manage in partially shaded areas. The most common variety of chives has a lovely round purple flower that can be used as a garnish in salad or floated on a soup or stew. There are other varieties and your local nursery will be able to tell you what grows best in your climate.Chives work well in pots on balconies and can be brought inside to sunny kitchen windowsills over winter.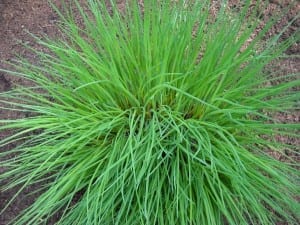 Chives are easily harvested with a pair of scissors ( leave 1/2 an inch at the bottom ) and can be preserved for later by freezing in ice cube trays. Combined with chervil, parsley & tarragon they form the basis of "fines herbs", a  blend of herbs, widely used in French cooking.
They are delicate and best added late to any cooked dish so as not to destroy their flavour or sprinkled on top as a garnish. They compliment, cream cheese, scrambled eggs, salad dressings, salads and mashed potatoes with their light onion flavour.
For more information of the health benefits of chives click here. Herbs-info.com also has a full page that covers history, popular and magical uses.
Please share your chive wisdom, insights and recipes on the main Facebook page so every can see.
Bright Blessings and Happy Growing!