Having dinner guests on a Keto lifestyle? Usually offer buns with dinner but know carbohydrates are an issue? Here is a simple solution to helping guests feel heard and appreciated while not needing to learn a whole new vocabulary.
This recipe makes six to seven not overly large buns.  The recipe can be doubled if needed and the buns work well at breakfast the following morning, turned into a sandwich for lunch or wrapped up and given to your guests as they are leaving. ( If you are the one on Keto then by all means squirrel them away.)
Made with an almond and coconut flour mix that contains oat fiber and xantham gum. A trip to the local bulk food store will probably get you all the ingredients although the oat fiber has been a challenge to locate in my part of the world. Supply chain issues and all.
I am also so sorry about the photos. For some reason they were not all clear and the colour was off on a few.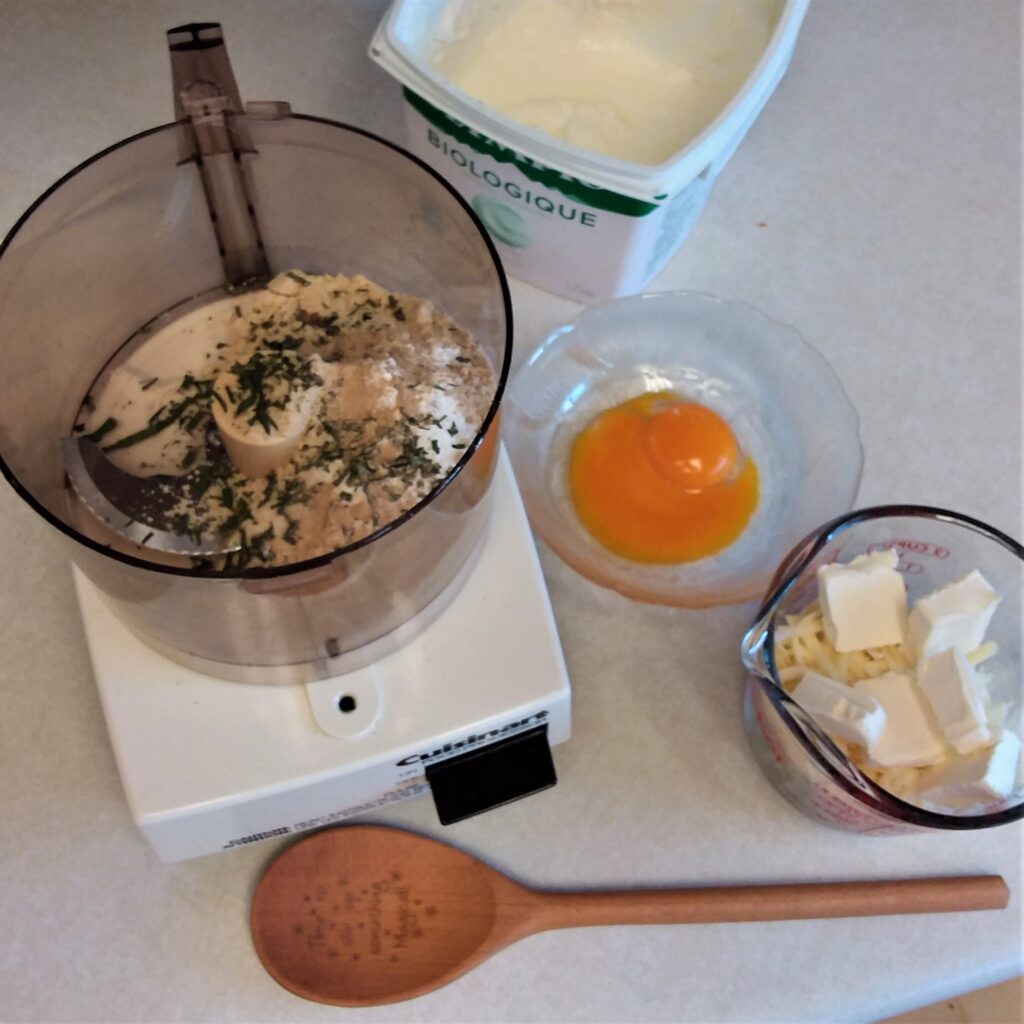 You will need:
1 1/2 cups shredded mozzarella cheese
2 oz. cream cheese
1 egg
1 1/4 cups almond flour mix
3 Tbsp. Greek yoghurt
1/2 tsp. baking soda
1/4 tsp. baking powder
1/4 tsp. salt
1/4 tsp. garlic powder (optional)
2 Tbsp. dried tarragon, crumbled (optional)
poppy seeds, black or white (optional)
Begin by taking a deep breath, especially if this is a first time for dipping your toes into Keto waters. You got this. Whether you are making these for yourself or for a guest, the underlying motivation is the same, caring and kindness. Let your nigglies flow down the drain as hands are washed. Bring your attention into the present moment, take another (or several) deep breaths and begin.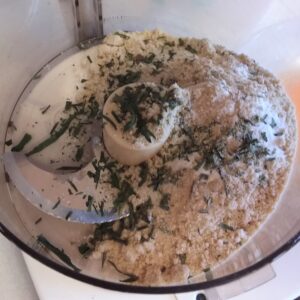 Preheat oven to 400 degrees. Line a baking pan with parchment paper and put aside.
Gather the ingredients and get out the food processor. Into the bowl of the processor place all the ingredients except the two cheeses and the poppy seeds.
Start with the dry ingredients and then add the yoghurt and egg on top, away from the leavening agents (baking soda & baking powder). That will stop them from being activated before they are needed.
For those of you paying close attention, yes! there are two egg yolks in the picture below. I had used the egg whites for something else and rather than let them go bad, I used both instead of one whole egg and added a little extra yoghurt. I try not to swap out too many things in post pictures but sometimes it just happens.
It is good to have this part of the recipe done first so that when the melted cheese is added there is no delay time. The cheese will be warmer than waiting while the ingredients are collected and added, allowing the ingredients to combine more quickly.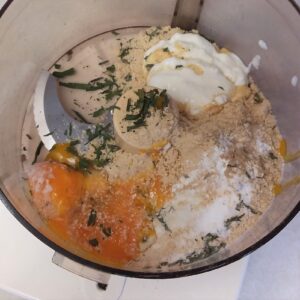 Into a measuring cup add the shredded mozzarella and top it off with the cream cheese. If possible from a Keto perspective, grate your own cheese. A starch of some sort is often added to bags of pre-shredded cheese to help the bits and pieces not stick together. Since one point of a Keto lifestyle is to be aware of how many carbs are consumed and keep them to a healthy minimum, there is no need to add unwanted extras.
Using short blasts of the microwave, melt the cheeses and mix in between to help combine the melted sections. A non stick frying pan is the alternative option. Just be sure to keep stirring.
Once the cheese is melted, stir one last time and transfer it to the food processor. Close and pulse to combine. Open and scrape down the sides once or twice to ensure everything is well mixed.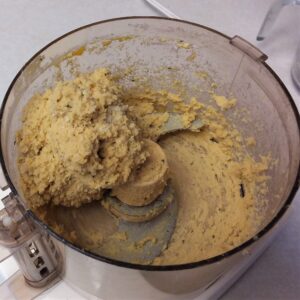 The dough will be sticky. To help out with the ball rolling, keep your hands a little moist or drizzle a little oil on them before rolling.
This batch was turned into seven buns.
I made them a little flatter and finished the tops with a few black sesame seeds. If you have white that works too and either are optional.
As I was about to put the buns in the oven, two thoughts flitted through my brain. The first was that as I had squished the buns down a little, they would make great slider buns. The second was that visually the buns might be perceived as larger if they were baked as round balls. (There is a psychology to shapes and our perceptions of size.)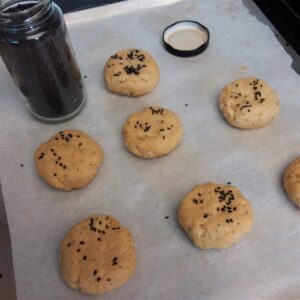 Bake at 400 degrees F for 8-10 minutes and like all almond flour recipes, let sit for five minutes before moving. This will allow the finished product to build strength as it cools and not crumble into many little pieces.
Keep an eye on the last few minutes. Every oven is different and these would probably have been happy at 375 degrees F.
Pop in a basket and serve warm.
If you like the sliders idea, simply cut in half and turn into mini hamburgers or make the buns larger and use as hamburger buns. The baking time will need to be increased so definitely turn the oven down to 375 degrees F so as not to over brown the tops and bottoms.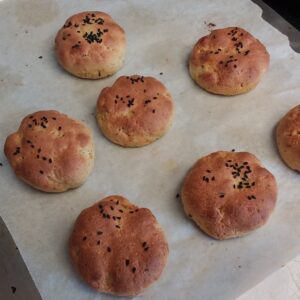 There is very little indication that cheese has been used as a stabilizer for the flour mixture so don't expect the buns to have an overtly cheesy flavour.
I chose to add tarragon and garlic but any combination of spices you enjoy can be substituted or the recipe can be left plain and topped with cream cheese, peanut butter or jam when needed for a brunch time get together.
For those interested in the carb count. There are 3.6 grams of carbs when making seven buns from the recipe. That is based on the macro information of all the products used but and this is important, read the information on the packaging. Cream cheese, for example can range from zero to two carbs per tablespoon and that will change the numbers.
For those of you on Keto, the spread on the bun in the picture below is schmalz. It is generally made from chicken fat in Jewish cooking. Either beef or pork is used in the European version along with onions, apples and spices. I don't generally have this in the house but my step-mother asked for some as it is part of her cultural background. It would be a totally appropriate spread for a Keto bun.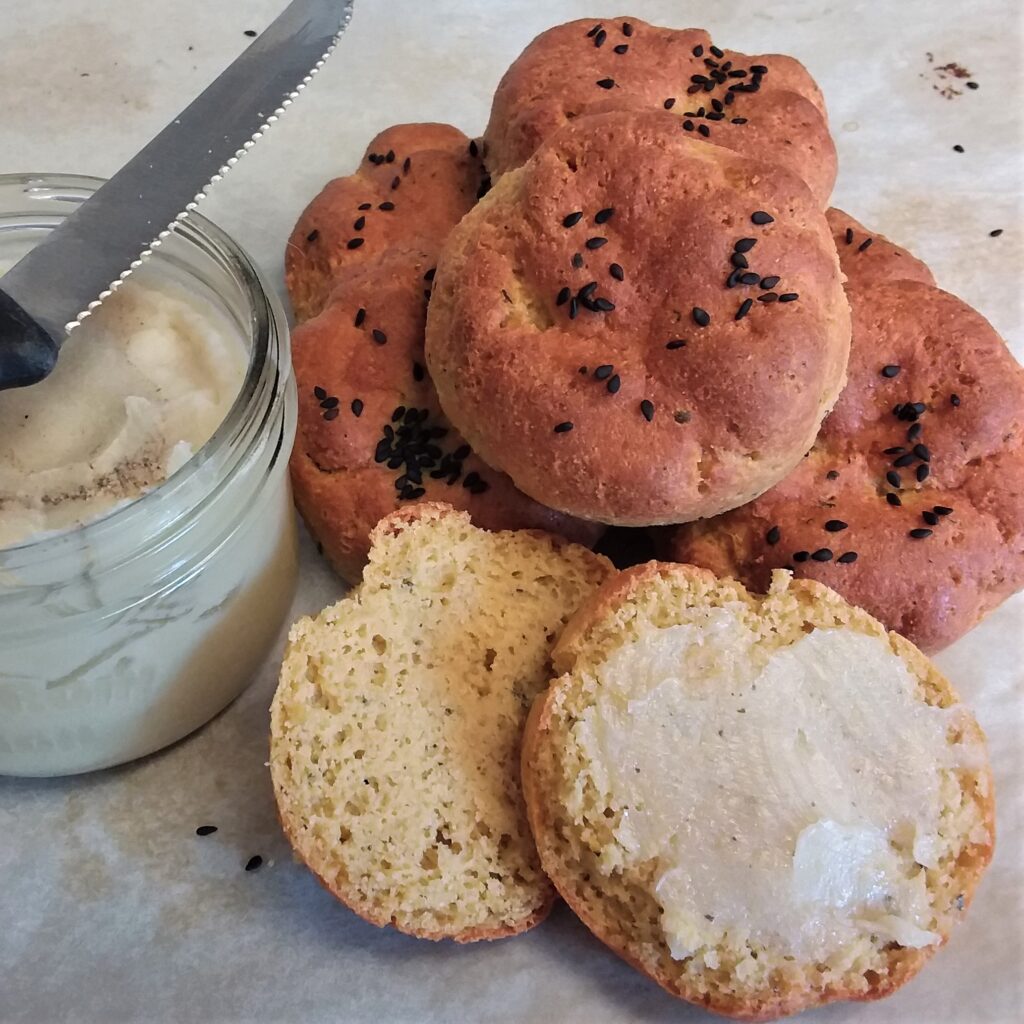 Keto Dinner Buns from My Kitchen Wand