One of my Scottish heritage traditions is lemon curd, so not good for the arteries but soooooo good served just out of the fridge in freshly baked warm flaky tart shells. This recipe is a negotiated middle ground for friends who are not so fond of the pucker a real good lemon curd gives your cheeks. The added buttermilk, softens the custard topping and although still tangy is not too strong, for those who like but don't love lemon.
Citrus fruits were are an extra special treat during Christmas in Europe for most of the 1900's. One precious orange might be given, either on a "bunte teller" ( colourful plate of cookies, candies and treats given out Christmas Eve ) or in a stocking if that was your tradition but fresh fruit was expensive and one was often the limit.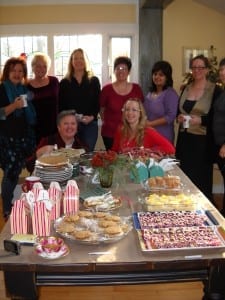 One year before the Iron Curtain came down I sent a fresh green pineapple in a box to relatives on the other side. They put the pineapple on a plate in the stairwell leading up through the house. When I asked how it had tasted to have fresh pineapple for the first time, they replied it made the house smell so wonderful as it ripened that they could not bring themselves to cut the pineapple until it was too late and It was all brown inside.
I often remember that story when I see the abundance of tangy flavours available at this time of the year. Their season is just beginning.
This was part of my contribution to a cookie exchange, this past Sunday. We don't actually divide the spoils as much as chat for several hours over tea and treats before filling up our cartons with whatever fit our plans, diet, allergies or simply what appealed. There were no lemon squares left.
You will need:
6 Tbsp. butter
1/4 cup sugar
2/3 cup flour
2 eggs
2/3 cup sugar
2 Tbsp. flour
1/8 tsp. salt
1 Tbsp. Lemon zest
1/3 cup lemon juice
1/2 cup buttermilk
2 – 3 Tbsp. icing sugar
" Thank you for ingredients that grow so far away, Thank you for the ease with which I can gather what I need. Thank you for health and energy to create at Your hearth and thank you for friends with whom I can share my offerings".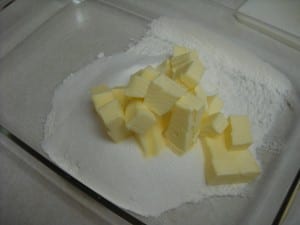 A quick comment on the pictures. I am finding as we get more into December that the lighting in the kitchen is not helping. My apologies for the grayness of some shots.
Start by measuring the 1/4 cup sugar and 2/3 cup flour directly into your 8×8 inch pan.
Add the cubes of butter and blend just as if  you are making pastry.
I do this with my hands so I can feel what is going on and mix in some magic along the way. A pastry cutter will work too.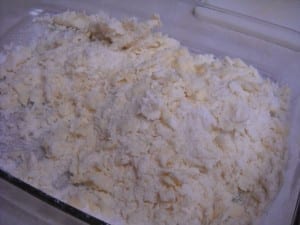 Once you have a crumbly mixture, pat the crumbs down to form the bottom layer of the slice.
Ensure the layer is flat and evenly pressed down. It will return to the oven once the filling is added. This baking time is just to set the crust.
Bake for 15 minutes at 325 degrees.
While the bottom layer is baking, mix the remaining ingredients (minus the icing sugar ) in a large measuring bowl until well combined.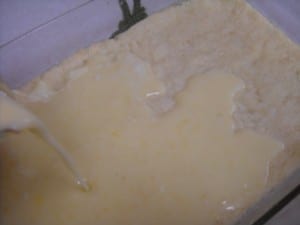 When the bottom layer is finished baking, take the pan from the oven and pour the liquid over the baked layer, returning the pan to the oven for another 25ish minutes. (Every oven is a little different).
The slice should be firm enough that is does not jiggle in the centre when you take it out.
Allow to cool for half an hour before lightly sprinkling with sifted icing sugar. If the sprinking happens while the squares are too warm, the icing sugar will melt into the slices. Just resprinkle when cool and all will be good.
Thank you to the sun for coming out, just when I needed it to. The jelly lemon slices were for eye appeal on the table and for pictures.  Feel free to use a little lemon zest or just leave plain when you try these.
May you also find some time for fun and friendship this holiday season. Remember that the best way to honour a time of rest and renewal is to rest and renew.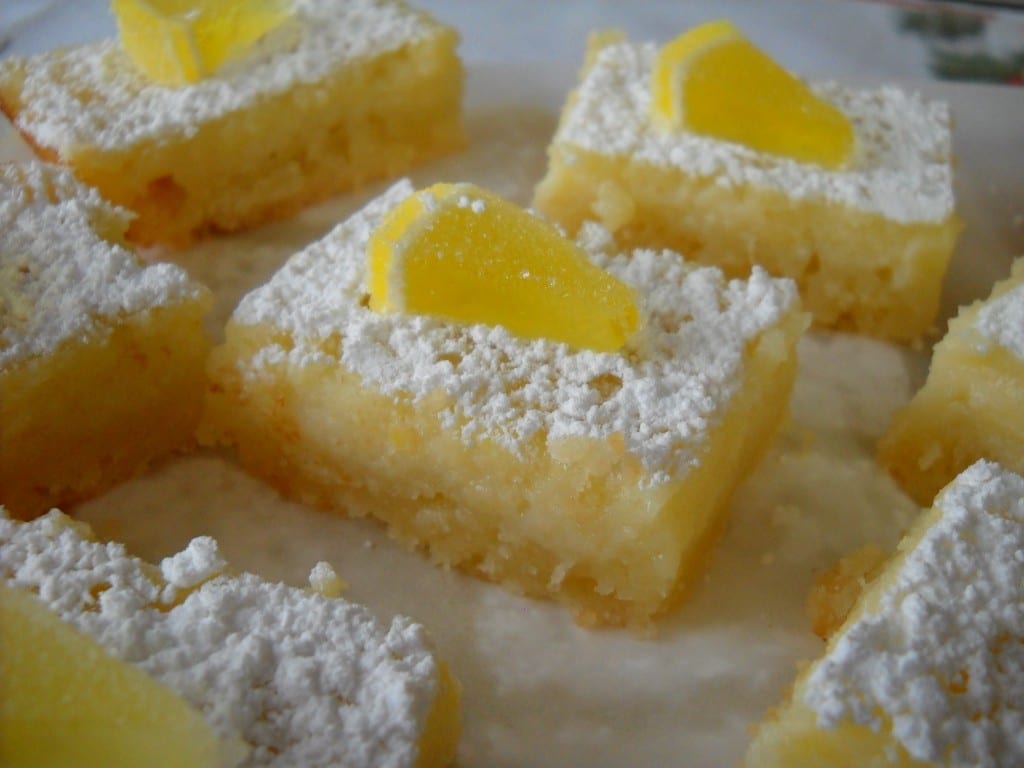 Lemon Curd Buttermilk Squares from My Kitchen Wand