Do you have lemon verbena growing in your herb garden? Try adding some black currants for a warming cup of tea.
Well, tisane actually. Tea by definition comes from the Camellia sinensis bush and all those lovely hot beverages made from herbs are better known as tisanes, although most people would call them herbal teas.
So, lemon verbena. It is native to South America, although these days it is available almost globally. It is impressively high in anti-oxidants making it helpful in reducing aches, pains and joint inflammation. It also has positive effects on a body's immune and digestive systems as well as expectorant properties that aid in releasing congestion. People who have kidney problems should be careful with lemon verbena as it can increase issues.
Black currants are packed with vitamin C and are highly thought of as a berry extract for scavaging free radicals in the body. Copper, calcium, iron, magnesium, manganese, phosphorus and potassium can all be found in black currants to varying degrees. There is lots to learn about black currants, especially when it comes to fighting oral disease such as upper respiratory infectious diseases, including influenzas, herpes simplex virus type 1 and some forms of Streptococcus.  They are be commonly available in all states. In 1911 a ban was imposed in the U.S. as it was thought that the bushes carried blister rust, something that was damaging the white pine lumber industry. Not true but it was 1996 before some states started repealing the ban while in others it still exists.
As in all personal health choices, check information and consult with a certified expert.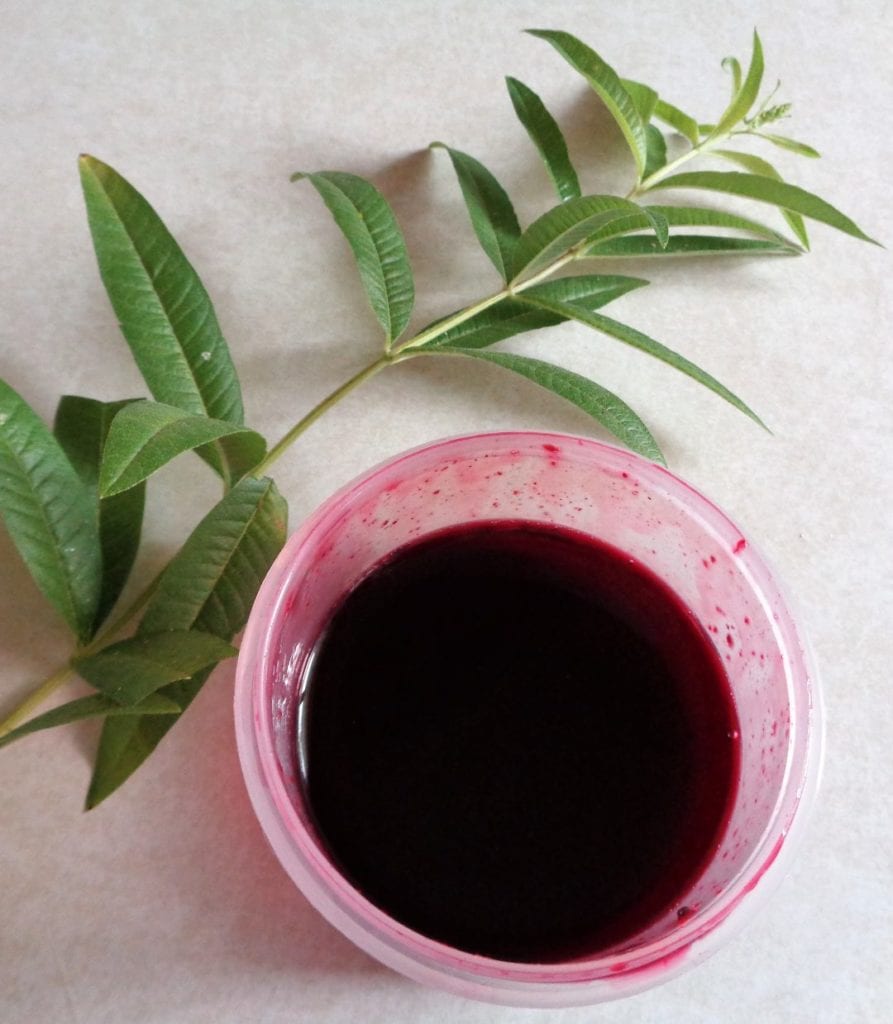 You will need:
18 lemon verbena leaves
2 Tbsp. black currants, fresh or frozen
2 1/2 – 5 cups boiling water
1 – 2 tsp. cane sugar, optional
Gathering freshly harvested ingredients is an excellent opportunity to find and feel gratitude for the bounty of the earth. All the healing benefits that come to us from plants the world over, many readily available in this global market. From that place of gratitude, begin.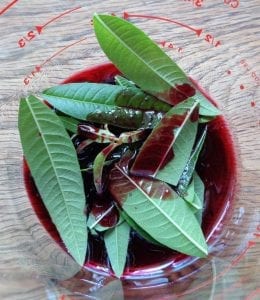 Wash the lemon verbena and take the leaves off the stem. I am using fresh here and lemon verbena can also be dried and put away for use after the season has ended.
Add the leaves to a teapot or any pot that can withstand the heat of boiling water and add the black currants.
You can see that I did not use the berries themselves this time. I happened to have two tablespoons of home made black currant syrup left over for a pavlova made last week so I made a substitution and left out the sugar.
Fresh berries work wonderfully well and if you tuck away a small container of cleaned and destemmed berries in the freezer there will be lots of options all winter long.
Pour in the boiling water and allow the mixture to steep for 5 – 7 minutes. I have included a range of volume choices in this recipe. The less water used to steep the ingredients, the stronger the finished tisane will be. Taste at full strength and add more water if that suits your taste buds.
Pour through a sieve, sweeten to taste and serve hot. Make sure to breath in before drinking. This gives off a lovely lemony aroma.
Another alternative is to cool and ice this beverage on sweltering summer days.
The more variety we can bring to our diets, the greater the mix of micronutrients available to support our health. Try marigold/lemon balm and lavender/mint and a myriad of other easily available safe herbs.
There is an added sense of goodness that comes from knowing you are treating yourself with tasty choices that bring with them health benefits. So much more useful than beverages made from chemicals compounds.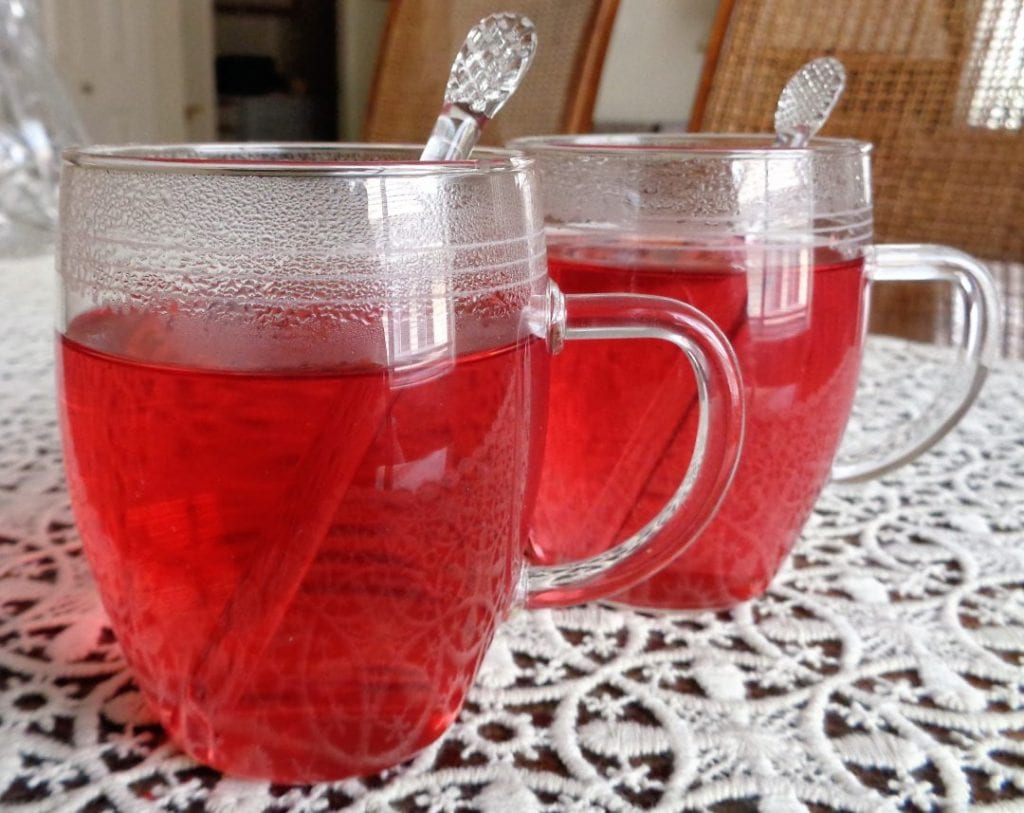 Lemon Verbena & Black Currant Tisane from My Kitchen Wand