Lotion bars are usually made from equal parts beeswax, liquid oil and a harder oil like mango, coconut or shea butter. The addition of an essential oil is optional and depends on what you are looking for as an end result. The reason that you might chose to make a lotion bar over a salve or cream, is that it will be solid at room temperature as all the ingredients combine to a higher melt temperature than a salve and you don't have deal with the possibility that an emulsified cream will separate.
For moulds, I played with chocolate molds, paper and plastic cups and a canning lid as seen below. Your choices are many and it is really about a practical shape for application.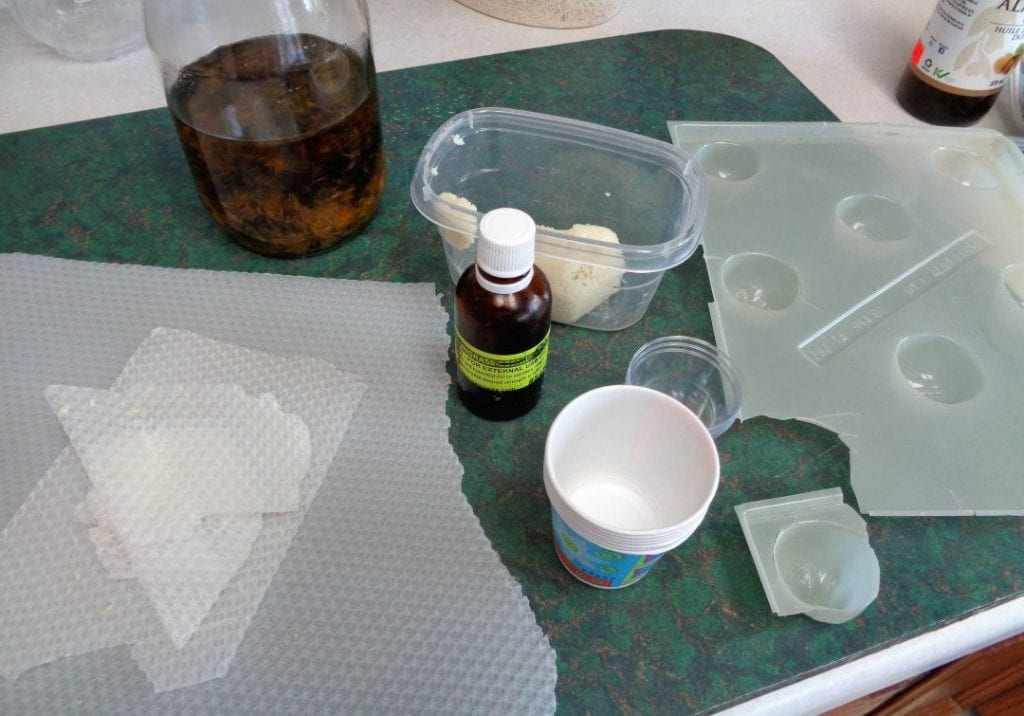 You will need:
1 part beeswax ( I used white sheets as they will melt more quickly than chunky pieces )
1 part liquid oil ( I used dandelion infused almond oil that had been sitting since early spring )
1 part hard oil ( Shea butter was handy )
A few drops lemongrass essential oil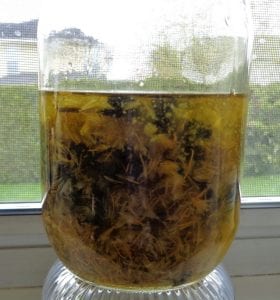 These dandelions have been sitting in oil, infusing for several months. I filtered and measured two tablespoons of oil and the same amount of beeswax pieces into a heatproof container.
Create a makeshift double boiler by setting the container of ingredients over a pan of almost simmering water. The heat coming off the water will melt the contents. It is also possible to do this in a microwave although over water would be my first choice.
Beeswax needs a higher temperature to melt than shea butter and it is best not to let the shea butter overheat as it can get grainy, a little like overheating chocolate. For that reason the shea butter has been left out for now.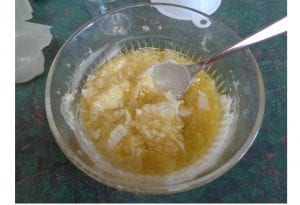 When the beeswax is melted, mix in the shea butter. A little stirring usually finishes the melting.
I wanted to show you this picture because, it is sometimes seen as a problem and it really is not. What has happened here is that in the process of keeping the mixture as cool as possible so as not to affect the oils which do best when not kept at high temperatures for long periods of time, it got too cool. The cooler shea butter has reduced the temperature of the mixture to a point where the beeswax has resolidified. This can happen in salve making as well.
Just pop the mixture back over the water and stir until everything has melted again, add your skin safe choice of essential oil(s) and pour into moulds.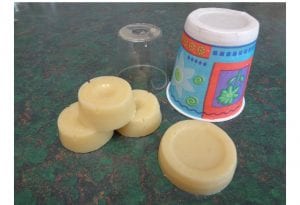 As mentioned above, I played with plastic shot glasses, small paper cups and chocolate moulds. There is bound to be something around the house that will be just the right size and shape for your creative intentions.
The bars sat until solid and as they grew colder, they contracted from the sides of all three styles and popped out with very little fuss when finished.
Salve will melt more easily in warmer weather. It also takes time to absorb into skin. If you have dry and cracked skin from long wonderful days in the garden or something equally skin challenging, then being able to concentrate on the nooks and crannies that need the most help when work is finished is better served with a lotion bar while relaxing on the patio.
Dandelion infused oil is a lovely moisturizer for the body. It is also has a traditional history of aiding in releasing tension and helping with muscle and joint soreness. Lemongrass has skin healing properties and is a good skin cleanser as well. So take the time to give your hard working hands and body some TLC and enjoy the benefits  next morning.
Update: I have been using these bars on a stubborn dry spot on an elbow for three days and loving the change.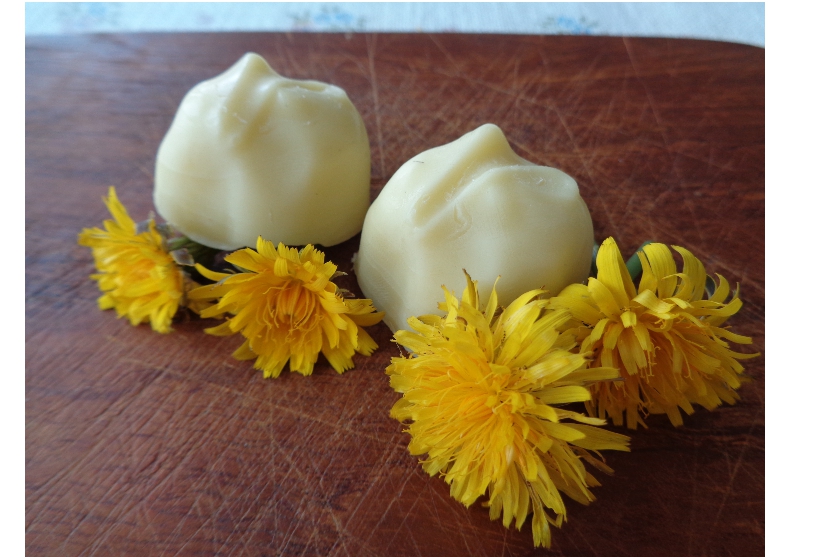 Dandelion Lotion Bars from My Kitchen Wand