Welcome back! Today we are going to create our magical place cards. Cards that we will use with the candles made last time to go a little deeper into the meanings of the season.
On a practical level as host/ess there is a responsibility for the emotional safety of your guests. If levels of trust have already been established because your group knows each other then it is easier. If your guests are meeting for the first time do not expect them to feel quite as free to move deeply into the question they will be invited to answer. You can make a difference to the overall experience by commenting on the honouring of confidentiality for truths shared and by encouraging the act of listening as support for each speaker.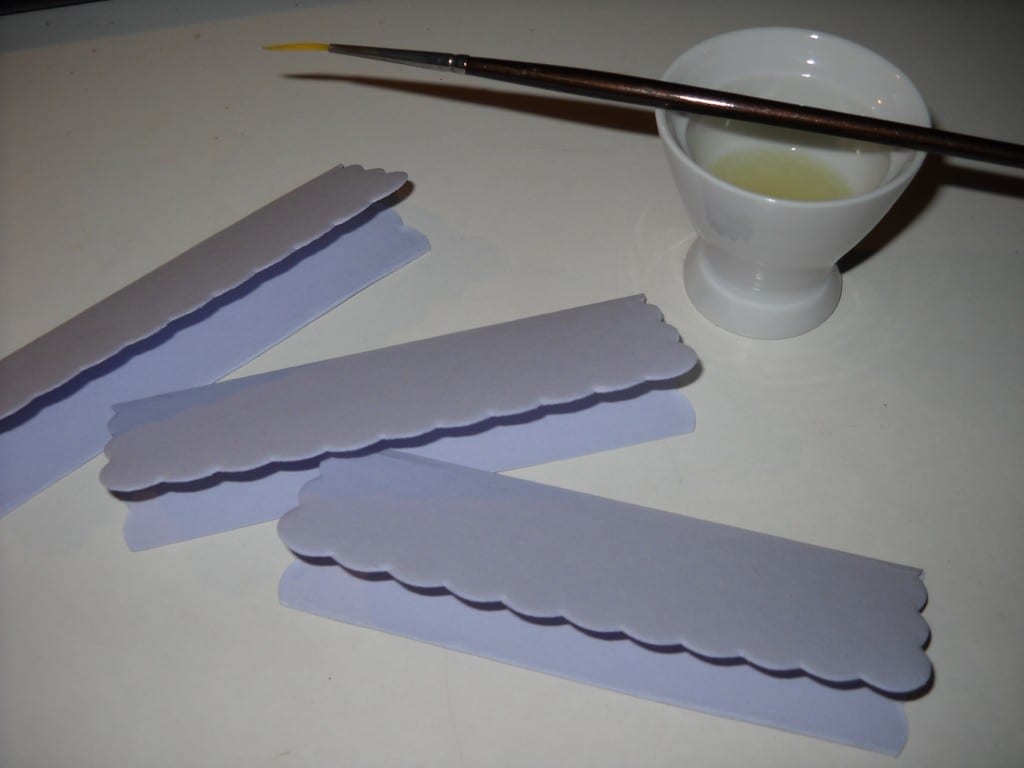 You will need:
Paper
Lemon Juice or milk or vinegar
Thin Paintbrush
I chose supplies from Staples. A2 Scallop Cards are 4.25 by 5.5 in size and come in a variety of colours. It is card stock and I was concerned that the weight might be too heavy for the "magic" to work but as you will see below there were no issues at all.
We will be using lemon juice but I have heard of others being successful with milk or vinegar in substitution.
It is possible to simply buy your place cards. I was looking for a way to coordinate the question cards with the place cards without spending a ton of money and getting many more place cards than I needed.
Cut the cards in half to create 2.75″ by 4.25″ rectangles and then fold again so that the finished product is just under an inch and a half by 4.25. Now if your paper choice changes the size that is absolutely fine. The goal is to create a similar shape. I folded the place cards to that the scallops were visible at the bottom of where the name would go and the straight edge created when I cut the card in half was at the back, not visible until you pick it up.
After creating crisp edges on the folds, open the card up so that you can work on the inside back "page". That will the portion not on the side where you will write the names and not on the outside of the tent you have created.
Dip your fine paintbrush in the lemon juice and write your message on the card. I choose to simply write I.,II.,III. & lV. on the cards. Let the cards dry.
Mix the cards up so that you do not know who will get which number. Center yourself and ask for inspiration as you choose each place card. This is your time to connect with subtle messages that will help you connect a name and a card in the "best" way possible. To complete this portion, carefully and beautifully write the names of each guest on a card. If you have a larger group it is absolutely possible to double or triple up the numbers ( Or you can create more questions when we get to part two.)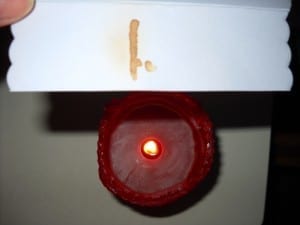 Lemon juice is heat sensitive and while making sure no one sets their place card on fire, it is possible to slowly ( think gently roasting marshmallows, not fully engulfed caramelized balls of black sugar)  heat the card, making what has been written visible. One of the reasons, I choose a card 4.25 inches wide was to keep fingers safe while holding the card.
I would suggest that the time taken for each person to use the Lammas Fire to reveal their question is best done without talking, allowing time for focusing and consideration of the question before answering.
During that time of toasting and revealing, I am going to play a song written by a friend of mine that is sourced in a trip we shared in England, a pilgrimage along the Ridgeway to Avebury before continuing to Stonehenge and Glastonbury many years ago. The song is called "Avalon" and just below is a link for listening purposes and a second for downloading, if you feel you would like to use it as well.
http://music.cbc.ca/#/play/artist/Campbell-Green/album/east
http://www.cdbaby.com/cd/robertcampbell2/Avalon
Now each number on the place cards corresponds to a question card or paper. Just below is what I wrote for the contents of each card. Please copy or modify as best suits your needs, remembering that every person does not need to receive a unique question. If there is another aspect of Lammas or Lughnasa you would like to cover, do so. I am going to use the full sized scallop cards for printing the questions. You can also print the questions off on regular weight paper, roll and ribbon them and place on a plate for use as a table decoration.This is your tea after all. "May the truth deliver me" is a reference to the song mentioned above.
I.
These are the long hot days of summer, where gardens are full
and it time to begin to harvest what we have sown over the past months.
May the truth deliver me.
What have I sown in my life that is now ready to harvest?
II.
Lugh, the Many Skilled God was blessed
with a wide variety of skills & abilities,
May the truth deliver me.
What skills have I been gifted with and
how can I better use them in my life today?
III.
As the sun wanes, the time of winter returns.
Some things will be let unfinished.
May the truth deliver me.
What goals, attitudes, attachments, dreams
is it time for me to release, allowing space for fresh plantings?
IV.
This place we call home offers us food, water,
medicines and materials for a safe place to live.
May the truth deliver me.
How do I show my gratitude
for all that Mother Earth
gives to me?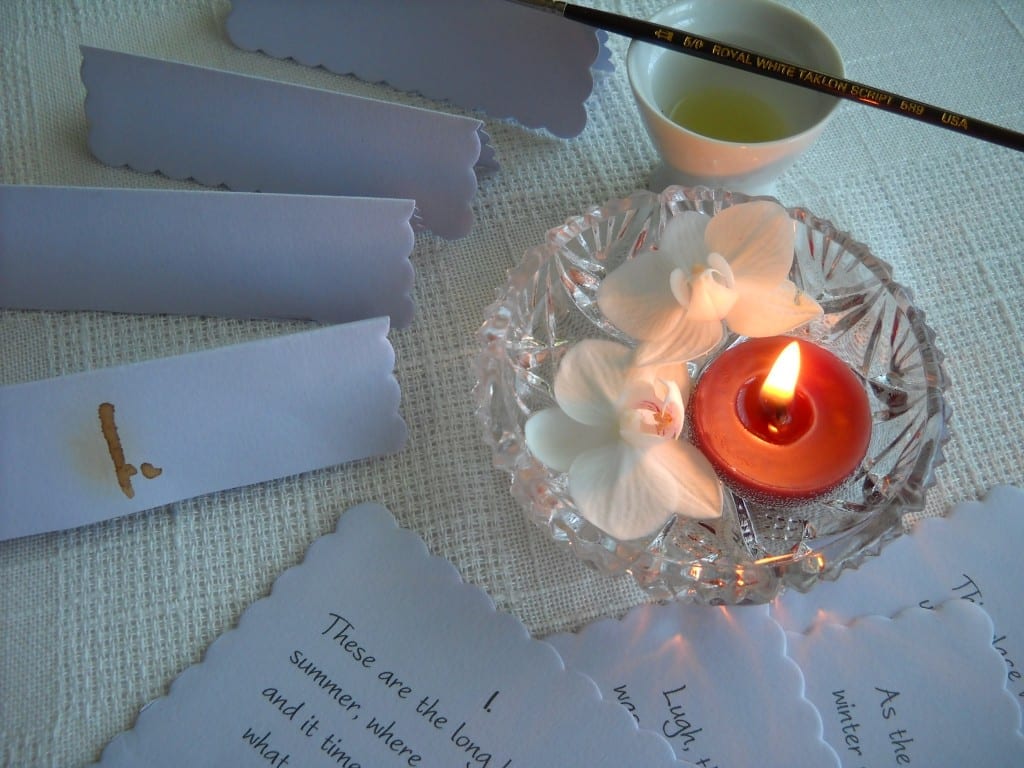 Tuck all your finished supplies away and enjoy the rest of your day.
2015 Update Two pictures from the actual Lammas Tea, one of the finished name cards on the table….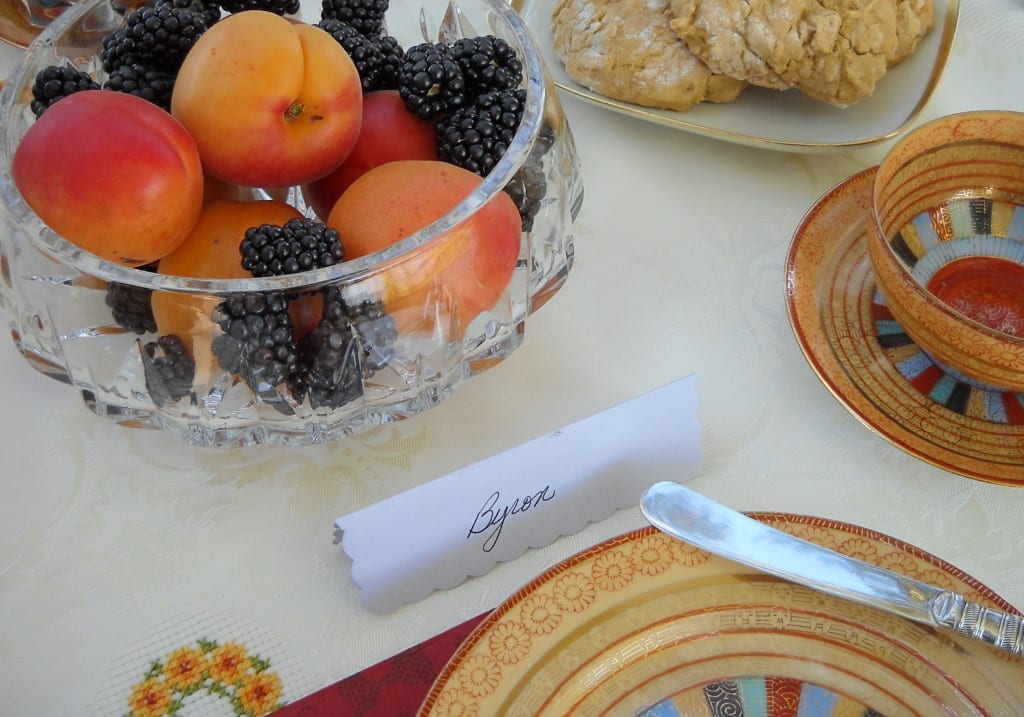 ….and another of the cards being used to reveal their question numbers.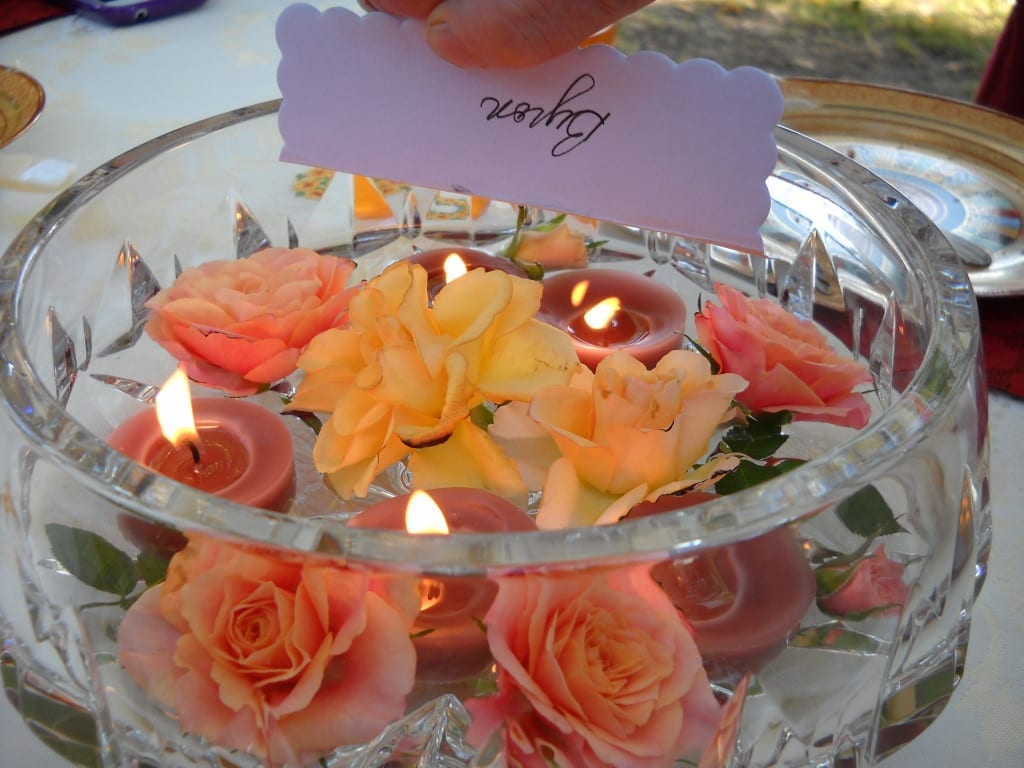 Place Cards, Invisible Ink and Truth Telling from My Kitchen Wand