In a few days it will be September and then very quickly Labour Day. School will start again and schedules will fall back into place. Strawberries and and watermelon will give way to apples and pears. In that place inbetween we find peaches, juicy and sweet, bridging the transition from summer to autumn.
Apple fritters are a delicious treat but I find that unless the apples are cooked a little first, there can be a big difference between the texture of the batter and the firmness of the fruit.
Soft ripe peaches on the other hand squish wonderfully between the lips alongside soft fluffy doughnut crumbs and upping the protein content can happen easily by switching out some of the all purpose flour for ground almonds. No almond flour handy, use a full cup of flour.
With a long connection to longevity, immortality and beauty in Japanese and Chinese myths and legends, it comes as no surprise that peaches were highly valued in Asia. Wang Mu is the Queen Mother of all the gods. Every three thousand years she harvests the peaches in her enchanted garden. Using her skills as an alchemist, she prepares and serves a magical feast, ensuring the immortality of the gods.
The ginger is optional depending on your tastebuds and purpose. Among other things it is connected to increased personal energy and healing, another reason that peaches and ginger work well together.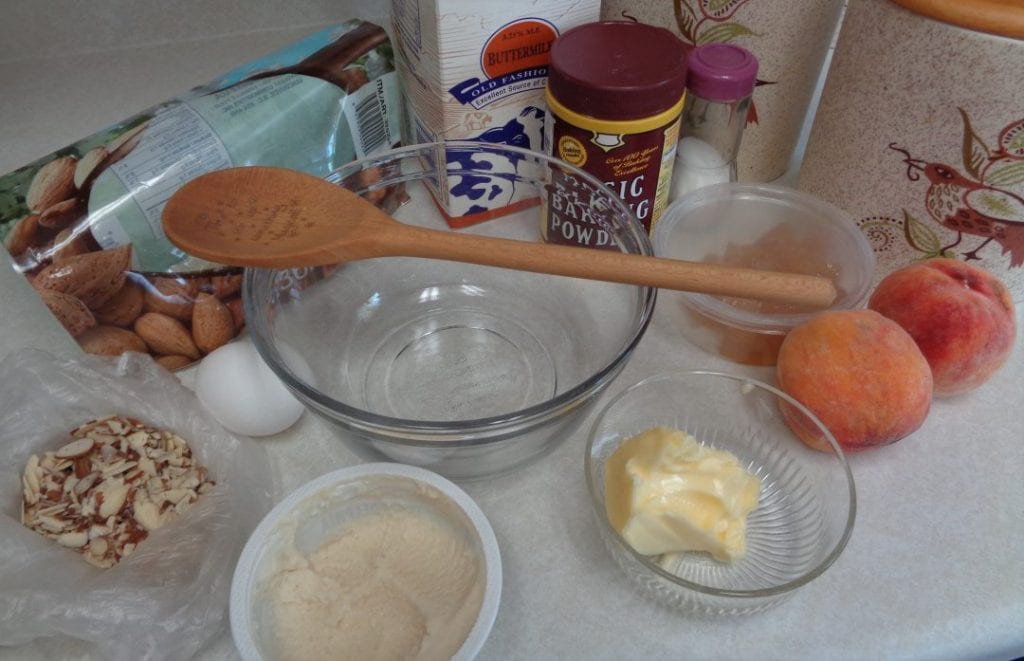 You will need:
3/4 cup flour
1/4 cup almond flour
1 1/2 tsp. baking powder
3/4 tsp. salt
1/2 tsp. ginger
1 – 2 Tbsp. finely diced ginger in syrup
1 egg
1/3 cup buttermilk
1 Tbsp. butter, melted
1 1/4 cups peeled and diced peaches
icing sugar
milk
sliced almonds (optional)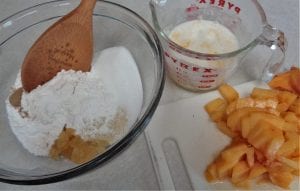 Place a pot on stove with fat for frying or if you have a deep fryer turn that on ensuring you have fresh fat for frying. At least a couple of inches of hot fat will be needed.
Peel fresh peaches and then cut into bite sized pieces. Put aside.
Combine the first six ingredients in a medium bowl and stir dry ingredients together.
In a small bowl or measuring cup, mix together the egg, buttermilk and melted butter.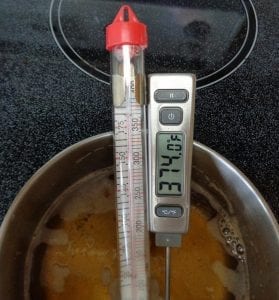 Place your thermometer in the oil to monitor the temperature. If you have more than one, this is an excellent time to see if they agree. You will notice an almost 25 degree difference between the two options in the pot on the right.
Do not assume that temperatures are correct. Test and you will be happier with the end results. Too low a temperature and the fat will soak into the finished product and too high a temperature and the outside will be burnt before the center is done.
You are ready to start frying when the oil reaches 375 degrees F.
Around 365 degrees, place the peach pieces in the flour and toss before adding the liquid ingredients, mixing just until the batter comes together. Do not overmix.
I used a small pot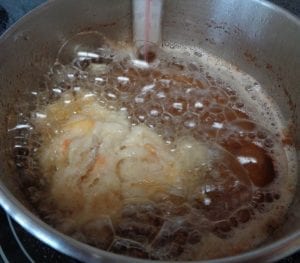 and fried each fritter individually. That is because I rarely fry and didn't want a lot of let over fat. When the idea of peach fritter started calling to me, that was the compromise.
Scoop out one sixth of the batter and flatten down to about 1/2 inch before gently putting the fritter into the hot fat.
Cook on one side for two and a half minutes before turning over and cooking the second side.
Turning back and forth is not a good idea. Cook one side and then the other.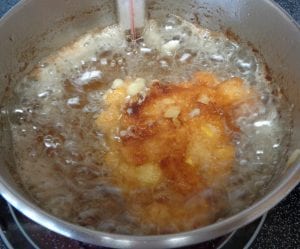 This was the last fritter fried and you can see all the little bits that have come away from the batter. The recipe made six medium sized dougnuts.
A thought if you are feeling a little unsure, make seven slightly smaller fritters and open the first one to make sure it is cooked through properly. Since it is now torn into pieces and not wanting to waste your work,  you will have to pop it into a mouth, once it is cool enough. My apologies.
If you are keeping the fat, allow it to cool and then strain through a coffee filter before storing in the fridge.
Adding a little fresh oil to the mix the next time you fry is helpful but it is best not to overuse any fat as it will pick up flavours and oils do not do well long term at high temperatures. They begin to break down.
Ensure that you are also monitoring your temperature and keeping to a stable 375 degrees F.
Once cooked, remove from the fryer with a slotted spoon, place on a paper towel and allow to drain. I happened to have icing left over from another project and used that up, drizzling it over the fritters and then topping each fritter with a few sliced almonds while they were still sticky.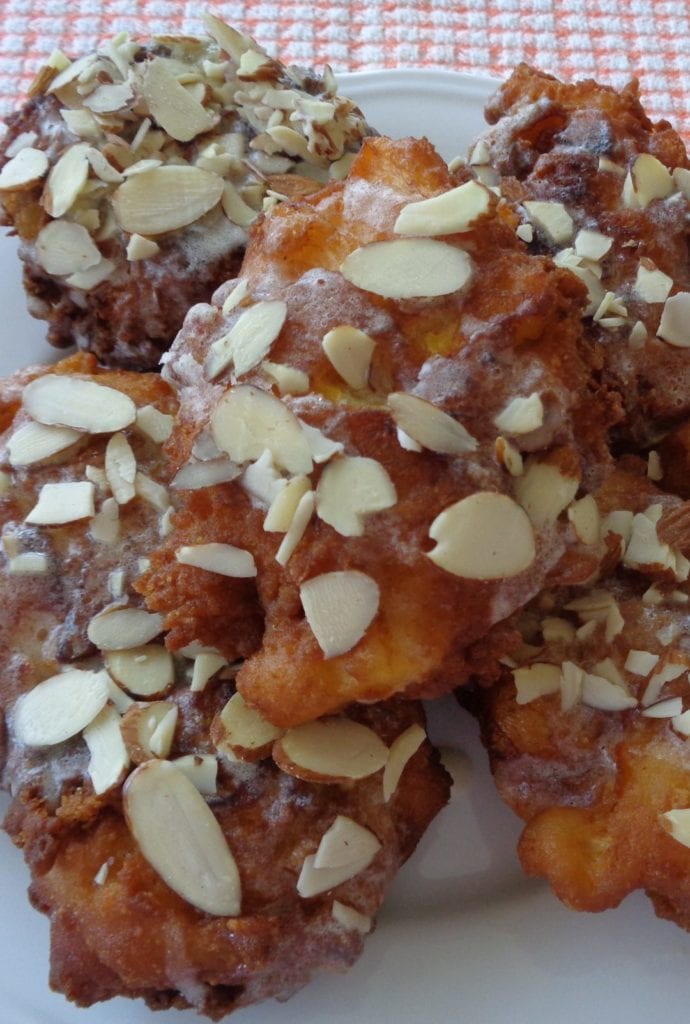 To make the glaze from scratch combine icing sugar in a small bowl with just enough milk to form a thick glaze. Remember that it will thin from the heat of the fritters when drizzled on top. You will only need about a tablespoon or so of glaze for each fritter.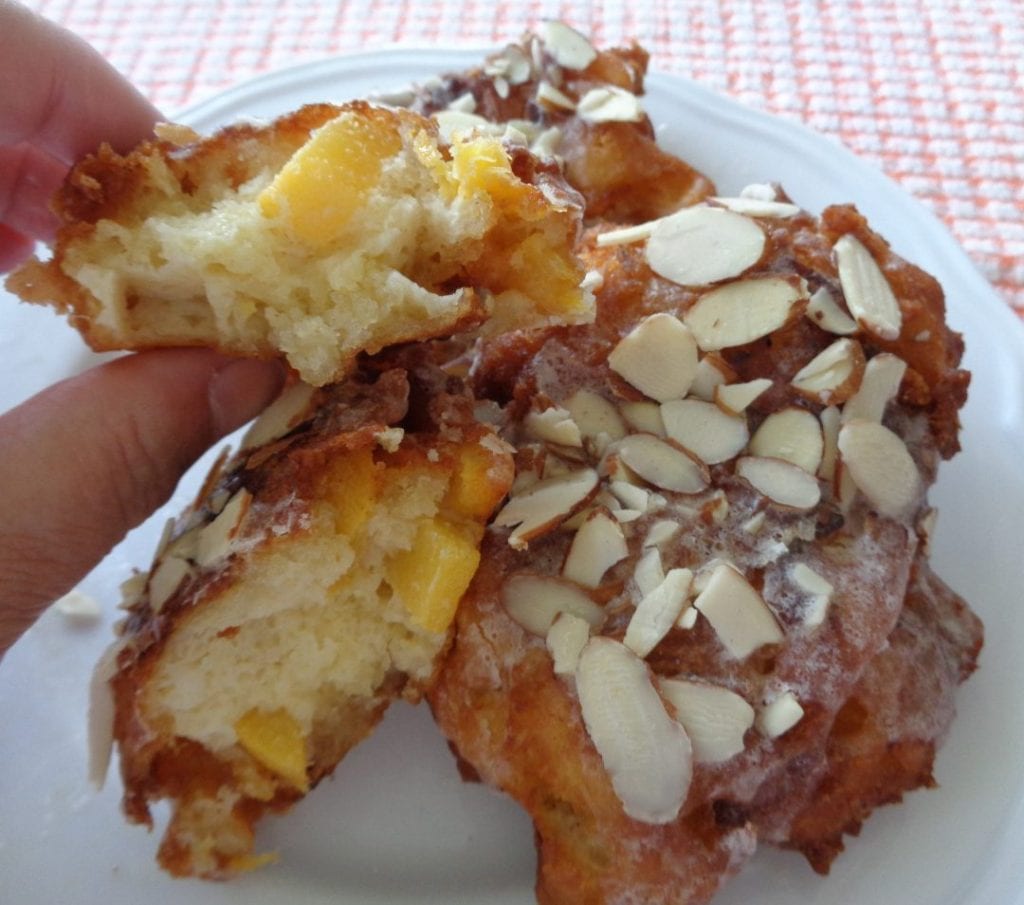 1 1/4 cups of diced peached may sound like a lot  for 1 cup of flour but as you can see, as the baking powder begins to work, it is just fine. If serving as a dessert, adding a scoop of ice cream is always an option. Enjoy!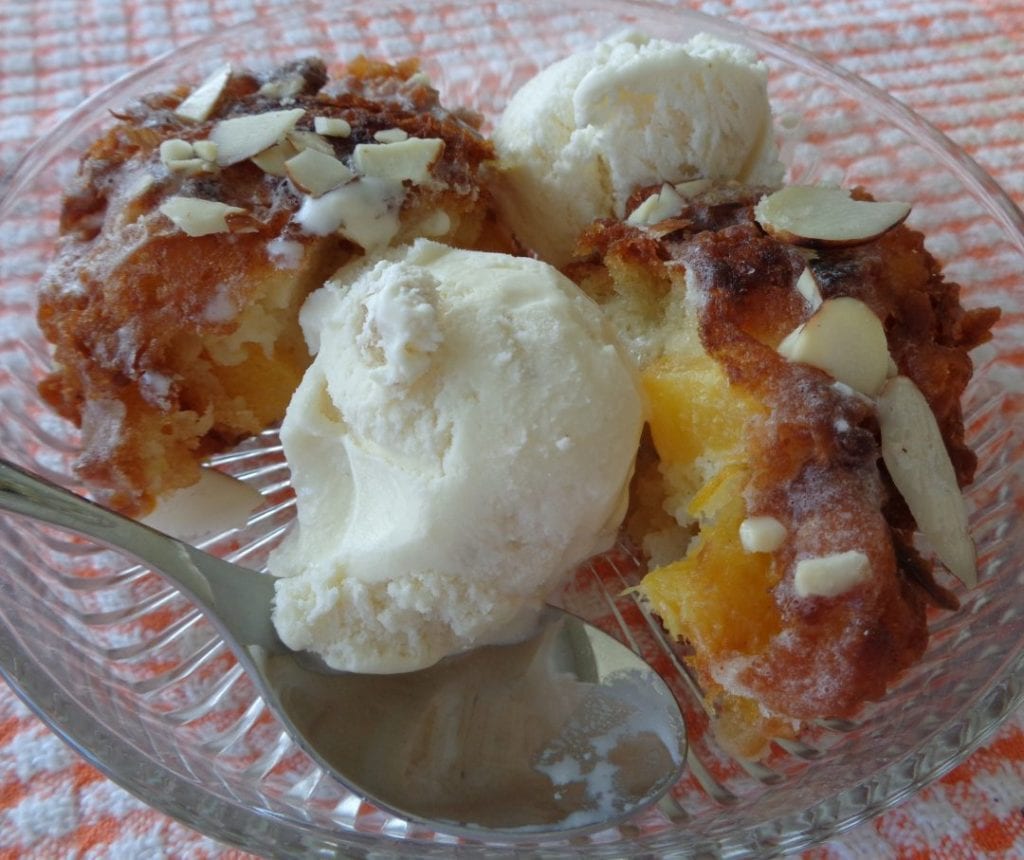 Peach & Ginger Fritters with Buttermilk & Almonds from My Kitchen Wand