Pluots are part of a group of hybrid fruits known as interspecific plums. Apriums, Apriplums and plumcots are also in this group that are a combination of plums and apricots. Sometimes this happens through natural cross pollination and other times they are man made. Pluot's parents are Italian prune plums and apricots. They have that rugby ball shape with a lighter colour that is ripe when still yellow in its undertones. The stones do not release as well as plums stones but they are very juicy and have a similar taste.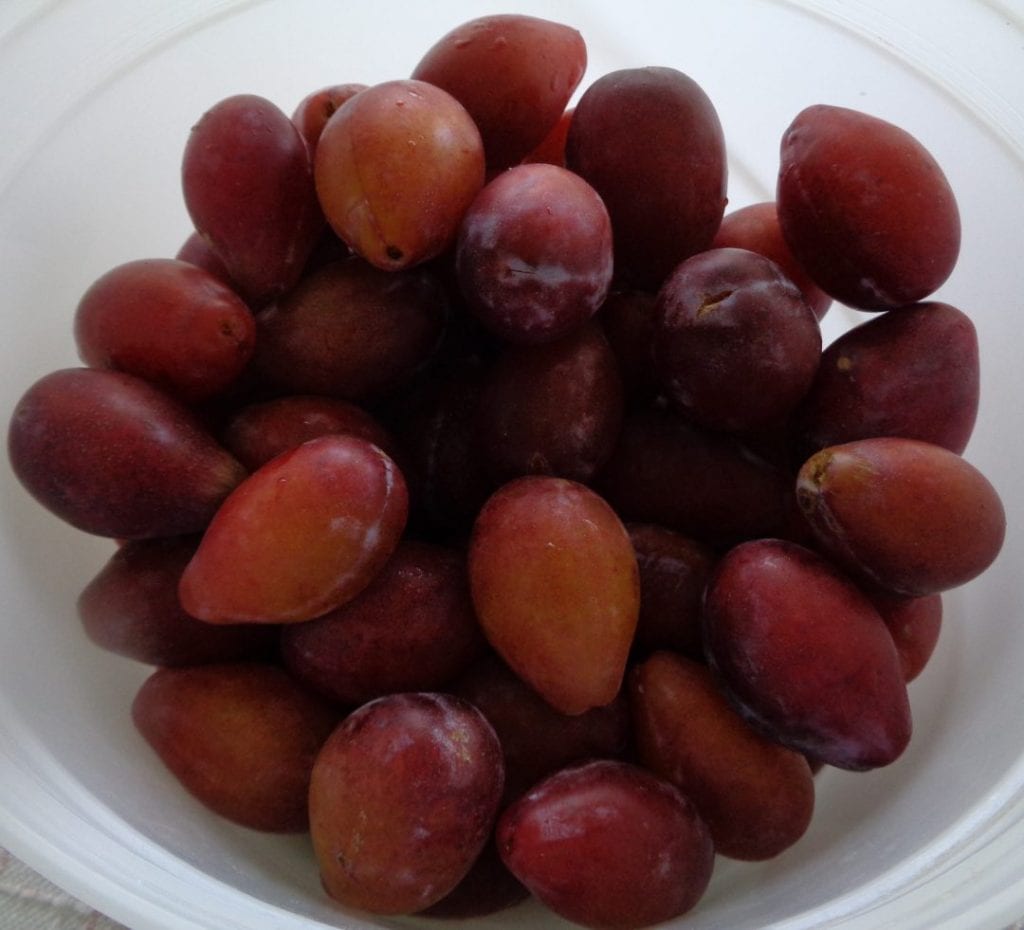 You will need:
1/2 cup butter
3/4 cup white sugar
2 eggs
1 tsp. vanilla or almond or rum flavouring
1 5/8 cup flour
1 1/2 tsp. baking powder
1/2 tsp. salt
6 Tbsp. whey or milk
As many pluots as can be stuffed in the batter ( 40 – 60 )
Grease a 9 x 13 lasagna style pan. Flour the pan or dust with fine bread crumbs and put aside. Heat the oven to 350 degrees F.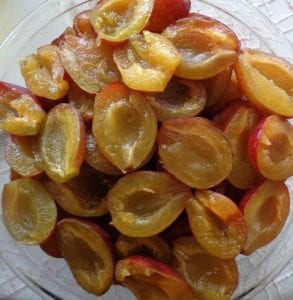 As you wash and pit the pluots, find gratitude for the gifts that come your way. Be that unexpected buckets of fruit on a busy day or the helping hands to deal with them. The earth has been giving up her bounty for the past months and we have benefitted greatly from it. Hold that gratitude in your heart and begin.
I found it best to run a knife all the way around and then to twist the two sides in opposite directions. This released one half and allowed the digging out of the stone.
The stone was a bit of work and my 90 year old stepmother, used to Italian prune plums, found it a bit of a chore. I mention this, not to put you off, but to suggest that if you have helpers young or old, they might need a little help so the fruit stays as whole as possible.
Cream butter with sugar. Add eggs and whichever extract you choose. I used almond but rum and plums also go together well.
Beat until smooth.
Sift in half the dry ingredients, then the whey or milk, stirring until just mixed. Add the remaining flour and give the batter a few final stirs to combine. This will be a soft dough, not something pourable.
Transfer into the prepared baking pan and gently spread out the batter to the edges of the pan. This can be done quickly by wetting your hands and using them to manouver the batter into position. Dry hands and spatulas will tend to stick to the batter.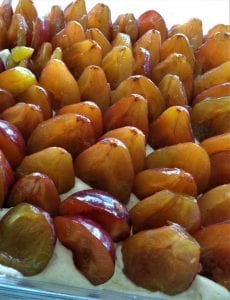 Place the prepared pluots in the dough and press down gently. Best to not lay the pluots flat but to put them in the batter vertically.You can see how much of the fruit is sticking out before being baked and how high the batter comes once out of the oven in the picture below.
We were gifted a bucket full of pluots than needed to sit for five days to ripen. There were about 13 halves along the long edge of the pan and it looks like 9 rows down, so almost 60 plouts. We were trying to get as many in a possible so if you only have 40, no problems.
Bake for about 50 minutes. Please be sure that your cake is baked through, as mentioned ripe pluots, like prunes, are a juicy fruit, especially baked. There may be juice still bubbling when the cake it done. It will seep back into the cake while it cools.
Remove from oven and allow to cool for 10-15 minutes before sprinkling with a dusting of sugar.
This is a cake best served warm and fresh and goes down well with spoonful of whipped cream on top.
Prune plums can be easily substituted if pluots are not available. With Mabon around the corner something plumy that can be easily cut and shared with others is a perfect seasonal option.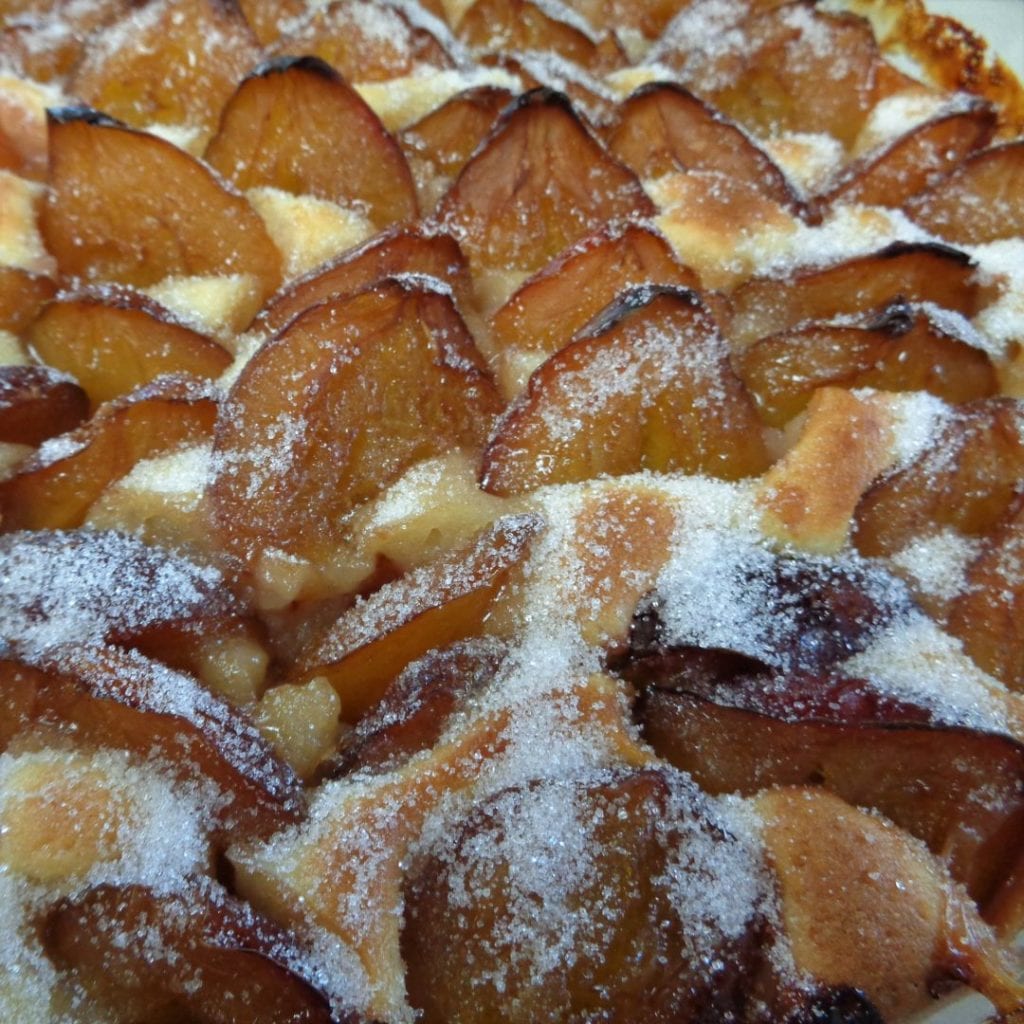 Pluot Cake from My Kitchen Wand