Purslane falls into that unfortunate category of plants that get ripped out when they get identified as weeds. It is, in fact a highly nutritious vegetable that can be used in all sorts of dishes, from salads to pesto, to burgers, sandwiches or a steamed side dish.
Although it also has several additional, not so enticing names, pusley, fatweed, pigweed and hogweed, purslane is actually one of the most nutrient dense plants around. It contains significant amounts of vitamin A & C as well as calcium, iron, magnesium, manganese. It is also low in calories.
I was fortunate to find a seed had happily settled into a container in the garden, far away from any territory marking and other nasties, so I was looking forward to mixing up a batch of veggie burgers! with purslane!!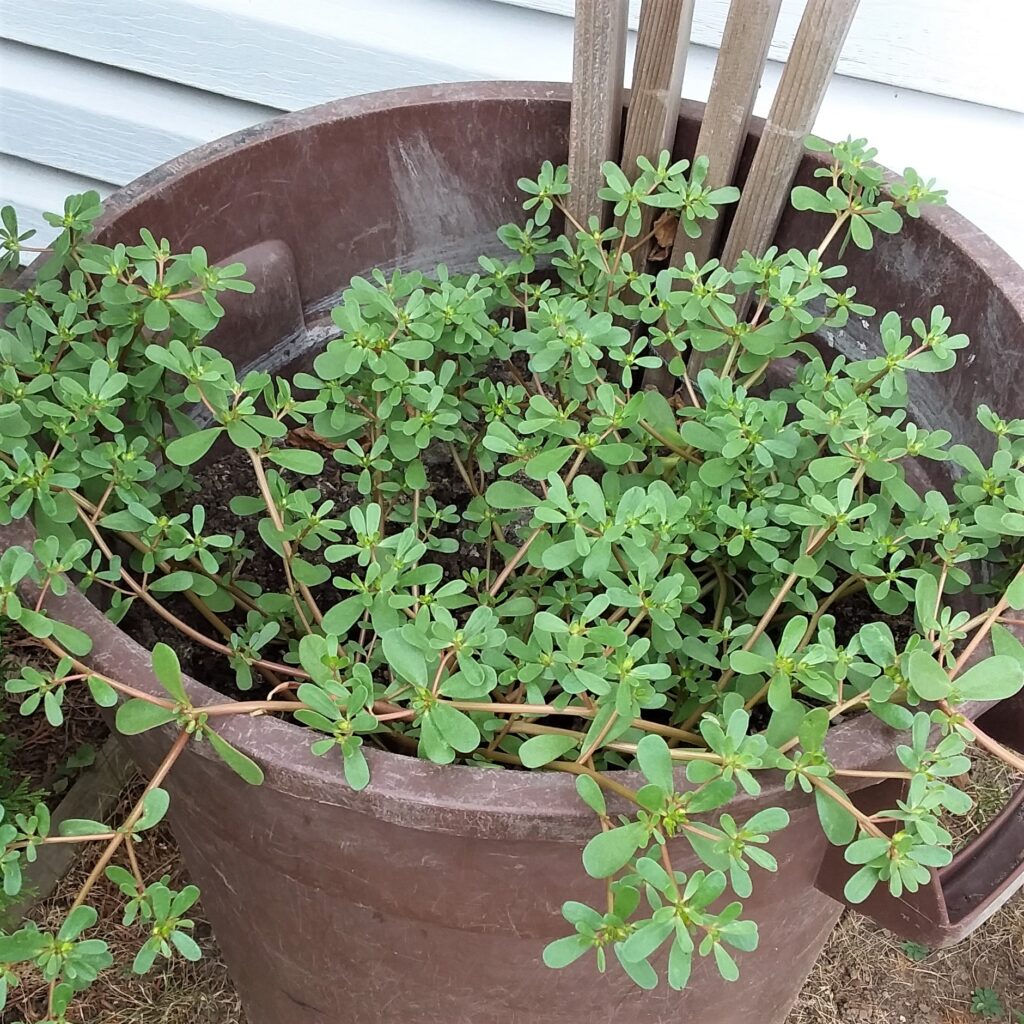 You will need:
1 cup black beans, cooked, drained and rinsed
1 cup lentils, cooked, drained and rinsed
1 – 1 1/2 cups chopped fresh purslane, rinsed
1 cup old fashioned oats
1/4 cup sauteed mushrooms
1/4 cup almond flour
1/4 sunflower seeds
2 Tbsp. brewers yeast
2 Tbsp. hemp hearts
1/4 cup liquid, water, stock, bouillon etc.
1 tsp. garlic powder
2 tsp. sumac powder
1 tsp. salt
1/2 tsp. pepper
"Thank you to the earth for all the bounty that it offers. Thank you for the knowledge passed down to sons and daughters. I hold my heart open in love and gratitude, so the magic in this kitchen's mixed with perfect attitude."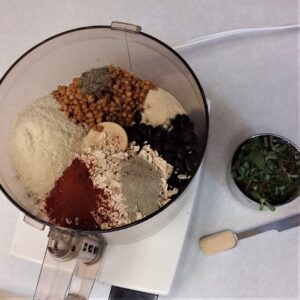 Into my Cuisinart, I added all the ingredients and pulsed several times.
This recipe makes 5 – 6 patties depending on their thickness and doubling the recipe was too much for my machine. If you have something with a larger bowl, then by all means double the recipe and freeze some patties for later.
Be sure not to over mix as that tends to make the mixture soggy.
Scrape down the sides and pulse again several times. The mixture should took well mixed, the larger pieces chopped and still recognizable.
Let the mixture sit for about 10 minutes so that the oats can absorb extra moisture. This will help hold the patties together when they are formed.
Sumac is a spice, not found in every kitchen. It is well known in the Middle East and related to the Sumac shrub that lives in my area. The shrub is poisonous but the spice which comes from a different variety of the plant is not. I really enjoy it in this recipe as I think it boosts the overall flavour closer to beef.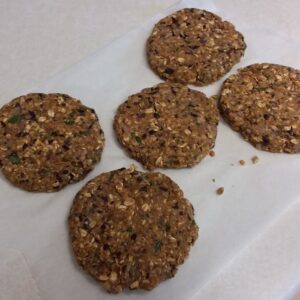 Shape into patties and cook in a medium heated pan. Cover with a lid to keep the heat in.
They will take about 15 minutes on each side and should be slightly brown. If you like your "meat" crunchy, they can be cooked a little longer.
These patties can also be frozen uncooked and thawed as needed. I find them a little juicier when cooked and served at the same time.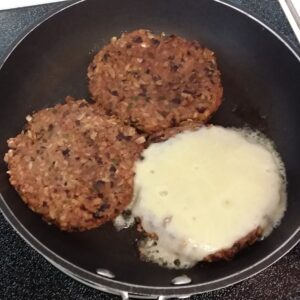 Layer cheese or cheese alternative on top of the patty once it has been flipped
Cover again and the cheese will melt more quickly.
Remove from the heat once cooked and let sit for a few minutes while buns and add-ons are prepared.
The 10 minutes of sitting, cooking with a lid on and letting the patties sit are all ways of helping them not be too mushy.
Build your burgers as you enjoy them and serve with salad or chips.
I have been enjoying these for breakfast with fresh tomato slices or avocado and a little mayonnaise, no bun. There is a German saying, that loosely translated says, " and in the biggest emergencies, tastes the filling also without bread." I concur.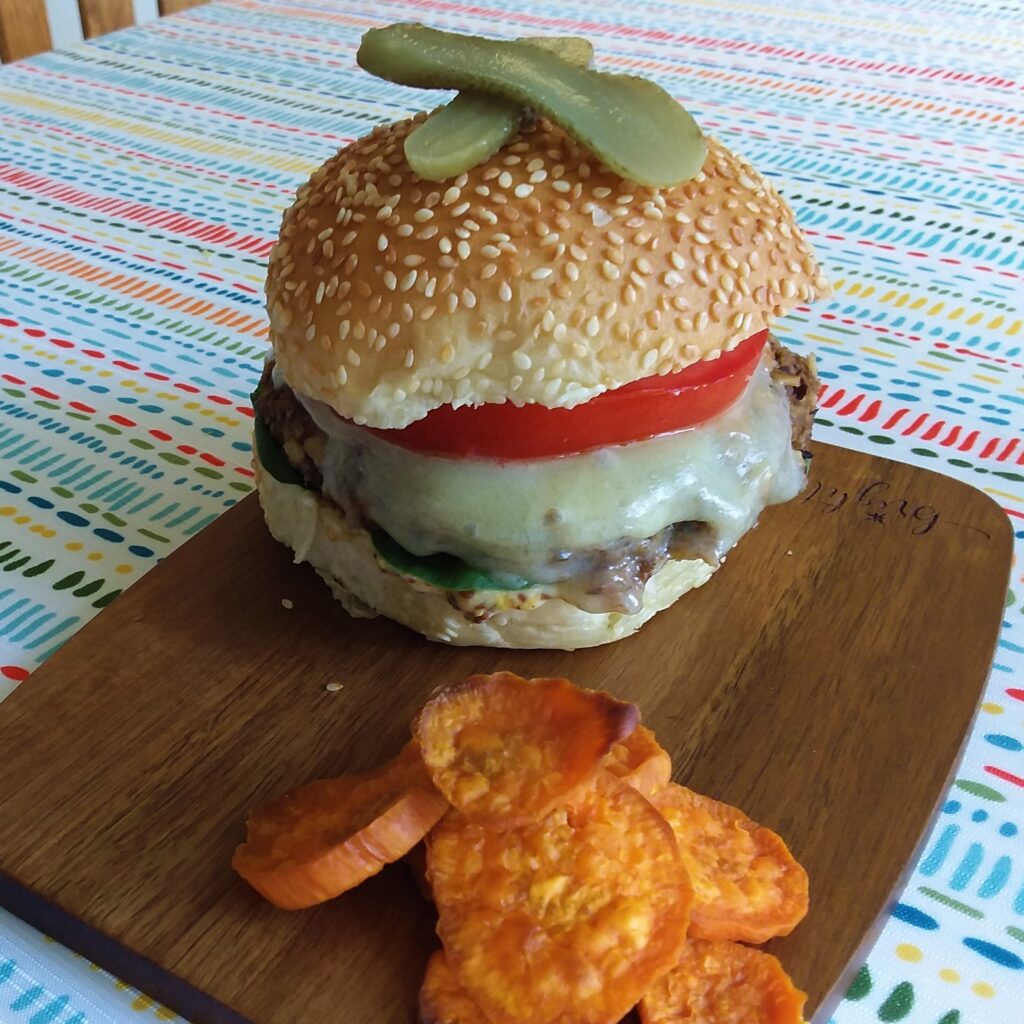 Purslane and Mushroom Bean Burgers from My Kitchen Wand