Asparagus is one of the first vegetables to lift its head in spring, proof that the world is coming back to life or at least waking up from the rest it was having where you live.
These tender green stalks contain lots of fiber, helping keep that full feeling longer. They have an amino acid called asparagine which is a natural diuretic that aids in flushing out excess salt and water. On the flip side aspargus will also change the aroma the next time you use the toilet but it is temporary, I promise.
With the change from winter foods to spring and summer ones, fresh asparagus is a tasty way to get a boost of Vitamins B, E & K, as well as folic acid, iron, copper and calcium; all things to support getting outside and moving around again.
Most of us do not get enough sour in our diets. Foods like kefir, sauerkraut, rhubarb and Greek yoghurt help keep a body healthy. Last year I shared a no cook sweet pickle recipe. This option will give you crunchy spicy pickled asparagus spears to nibble on, along side a sandwich, burger or Bloody Mary.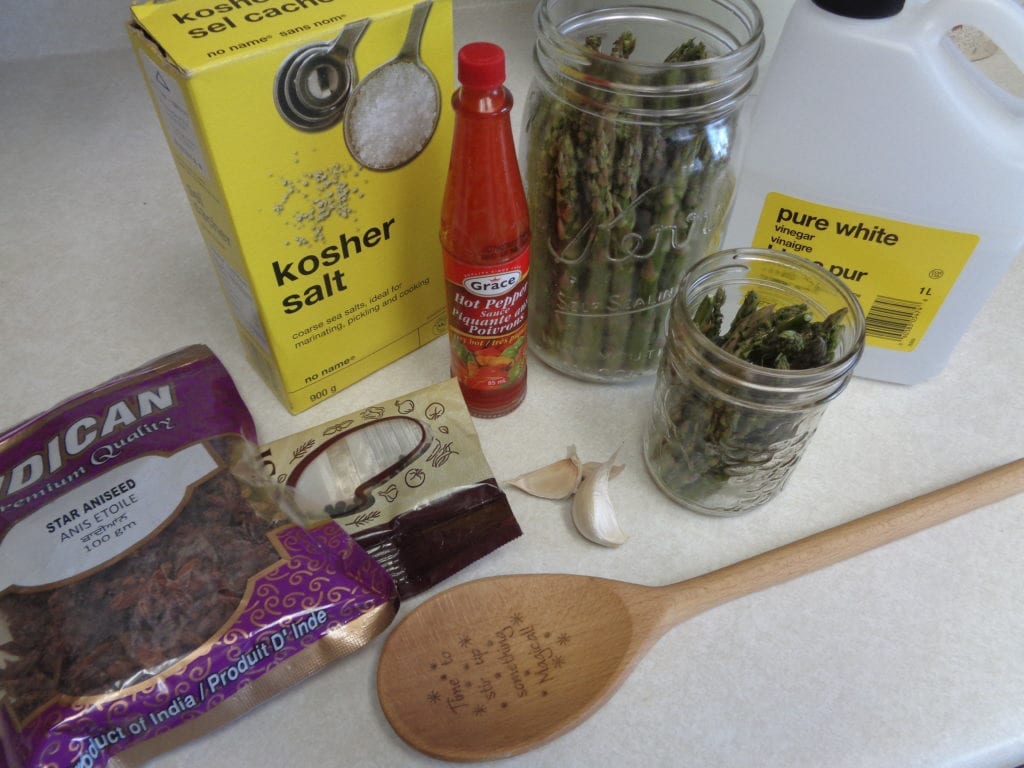 You will need:
1 1/2 cups vinegar, I used white here but there are many other options if you prefer
1 1/2 cups water
1 1/2 tsp. sea salt
1 1/2 tsp. sugar
peppercorns
2 cloves garlic
hot sauce
star anise
and any other spices you like to use when making pickles
Find a place of gratitude in your heart. The bounty of the earth is returning even if not quite as early as many would like. Take a deep breath and holding that focus of appreciation, get ready by washing hands, finding an apron and gathering the ingredients and equipment. Think of this time as a surgeon preparing to operate or cleric preparing for service. These mundane things help to separate yourself from regular time and space when done with intention. They bring focus into the present moment and the intention at hand. Invite the compassionate spirits and begin.
Open the bundle of asparagus or sort through your harvest. The plan here is to have similar lengths when placing the spears into a clean jar. Once sorted by length, cut the woody ends as needed and wash the asparagus. Trim any spears that need it, leaving 1/3 inch space at the top of the jar.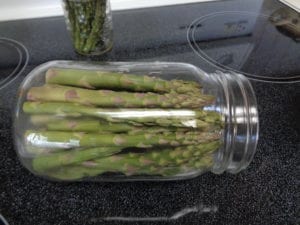 I ended up with two containers. A larger on that made six inch spears and a smaller one for all the little thin ones left over. There is not much flesh on the little ones but they work fine as a garnish.
The easy way is to place the jar on its side and move the spears in horizontally, packing to the top. That way they will stand nicely when stood upright.
In a pot add combine the water, vinegar, salt & sugar along with your choice of additional spices. I used 2 garlic cloves, 4 star anise, 1/2 tsp. red pepper sauce and 1 1/2 tsp. whole peppercorns. A chili can easily be substituted for the red pepper sauce.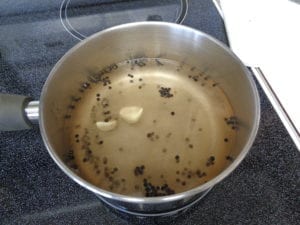 You may have another combination you like and changing things up is just fine. Some prefer a sweeter finished product and others a spicier one. Choose whole spices and seeds as they will end up in the jars once the mixture has boiled and the salt and sugar dissolved.
Experiment. It will be easier to find fresh winter herbs like rosemary and sage but mustard and fennel seeds are other options and playing can be fun.
A bit of easy spring harvest is a lovely way to acknowledge the season and prepare something special to share this weekend, especially if you are celebrating Beltane, as asparagus is also thought of as an aphrodisiac. Vitamin B6 and folate are said to boost feelings of excitement and vitamin E stimulates sex hormones in both gendersbut that is by no means the only reason to be preserving these spears.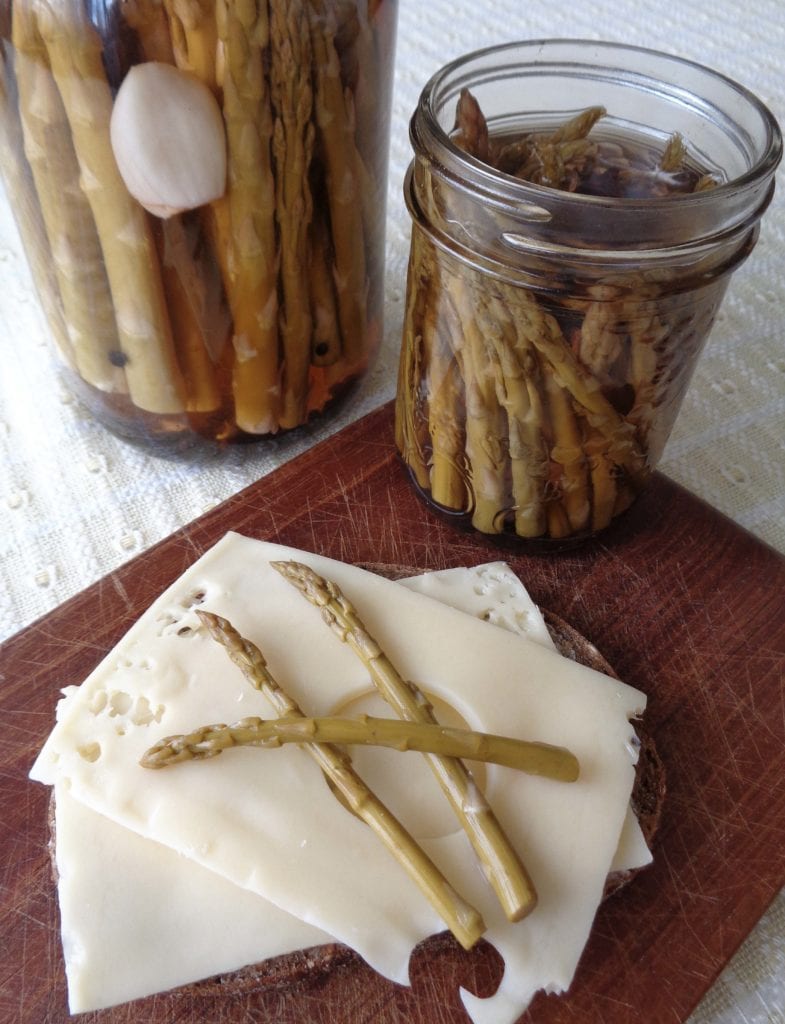 Once the mixture has simmered for about 10 minutes, transfer the cloves of garlic and star anise to the jars of asparagus. Pour the pickling mixture into the bottle and top with any spices left in the pot. Put the lids on and allow them to cool before labeling and putting in the fridge. The red colouring in the hot sauce took away a little of the bright green colour but they are still crunchy with a bit of kick.
So instead of thinking about preserving as a full day, get the canning kettle out fall "job". Try something that can be prepared in small batches, is meant to be consumed in two to three weeks and can be completed in twenty minutes.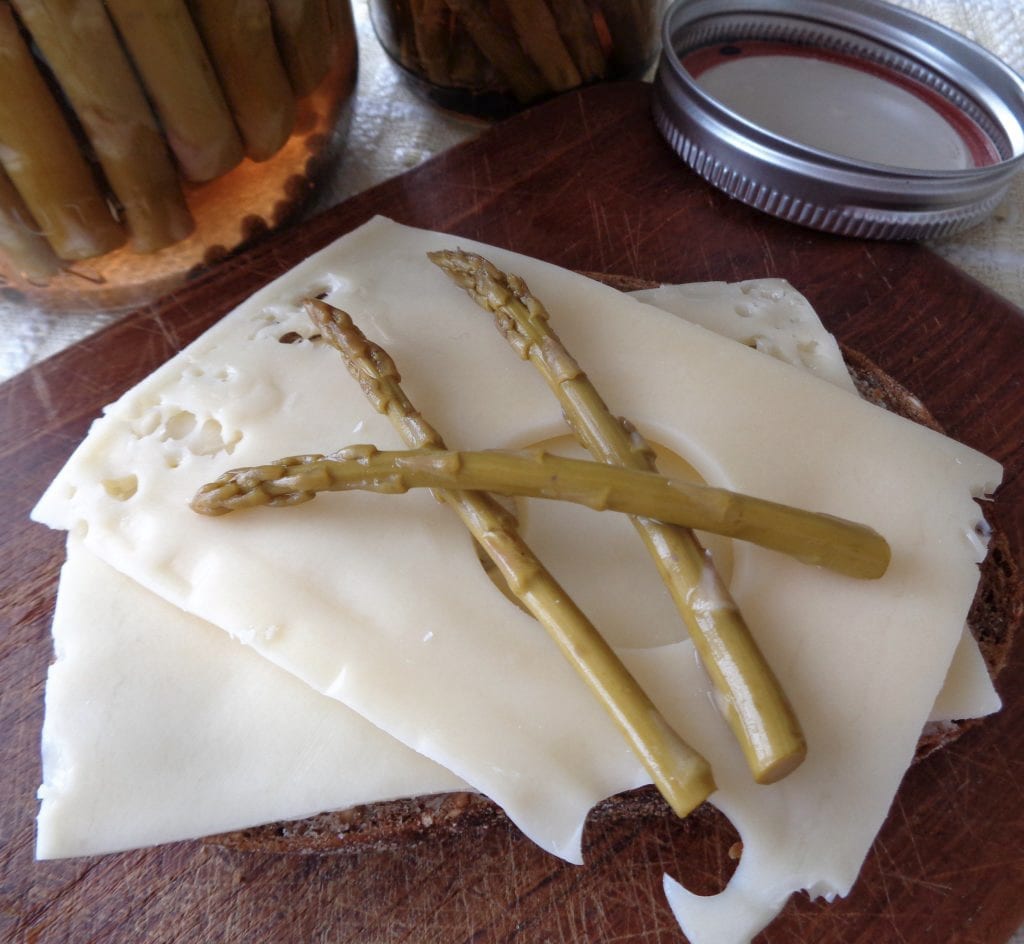 Quick Spiced Asparagus Pickles from My Kitchen Wand