I was informed that blueberries are not just for pancakes anymore and who am I to disagree.
This is a variation on a popular recipe that uses balsamic vinegar and maple syrup. The sweet and sour flavours are also readily available in the raspberry shrub recipe I shared last week and any other variation of the concept you might be working on. I encourage you to step outside soda water and vodka and think about shrub syrup recipes in a broader sense.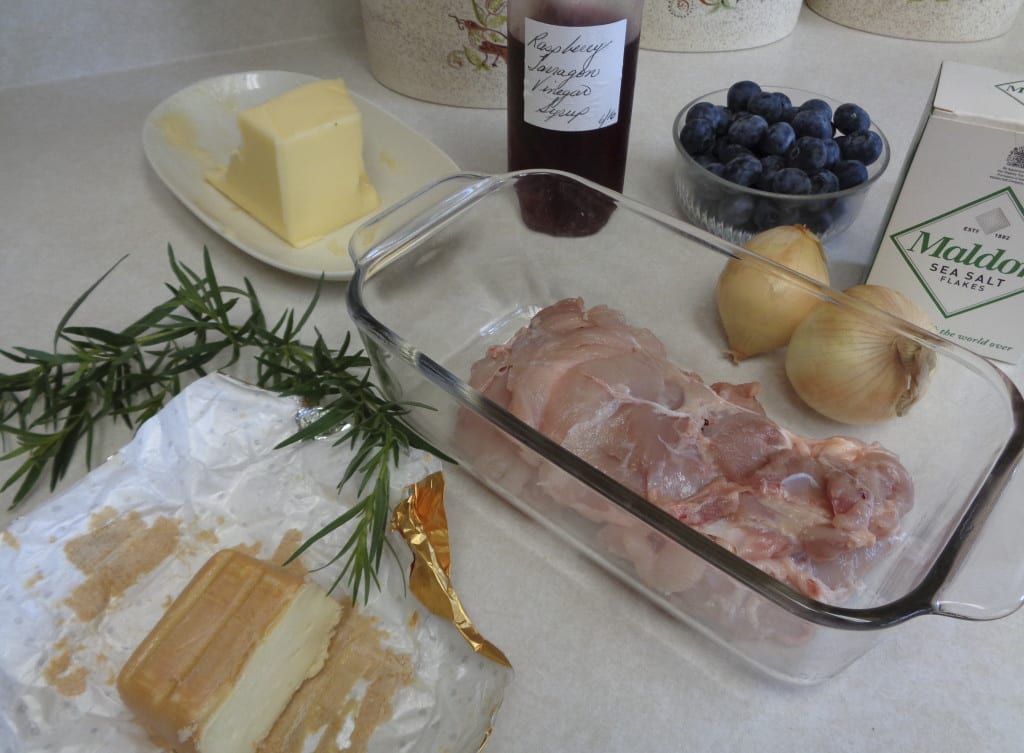 You will need:
6 skinless boneless chicken thighs or 3 chicken breasts
6 pieces of camenbert, brie or limburger cheese 2 x 1/2 x 1/2 inches
1 Tbsp. butter
1 medium onion or 3 shallots, cut in thin slices
10 inches of fresh tarragon
1/2 cup raspberry schrub ( I think my German heritage is showing) shrub
2 cups blueberries
1 tsp. salt
Pre heat oven to 350 degrees as you gather all the ingredients. Take a moment to wash your hands and grab an apron, setting a ritual in place to separate then from now, bringing your focus into the present moment. Invite the compassionate spirits to guide you and begin.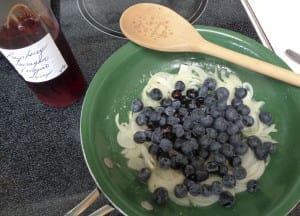 Melt 1 Tbsp. butter in a pan. Peel the onions or shallots and finely slice. Place in the pan with the melted butter and saute until translucent. Add the blueberries, salt and shrub.
Taking the leaves off the tarragon stem put aside enough to place four or five into each chicken thigh and add the rest to the sauce.
Allow to simmer while the chicken is prepared.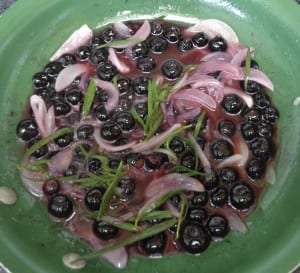 I used chicken thighs for this dish because dark meat is in general terms preferred in this house over breast but there is no reason breast meat can not also be used and would in practical terms be better for the cheese.
Roll out the thigh meat, cutting and flipping any pieces needed to create as flat a filet as possible.
When using chicken breast, cut a slit on the side of the breast that does not go all the way through and slide in the tarragon leaves with your choice of cheese. This will keep the cheese inside the meat.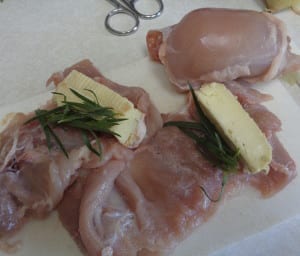 When using thigh meat, place the cheese and tarragon at one end, sprinkle with a little salt and roll up the meat.
The choice of cheese is yours. I used Limburger because it was on hand but if you didn't grow up with some connection to it, the smell will probably put you off. I can only say that this is a case of smell and taste being two entirely different things and brie or camenbert are easy alternatives.
Pour a little of the sauce in the bottom of an oven proof dish and place the meat on top. Finish off by adding the remaining sauce.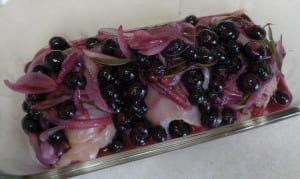 Bake in the oven until the chicken is cooked through, about 45 minutes.
There will be more liquid than needed once the chicken is cooked and transferring that liquid back into a pan and reducing the sauce for about 15 minutes will concentrate the flavours.
Serve with rice or potatoes and a contrasting vegetable to perk up the plate.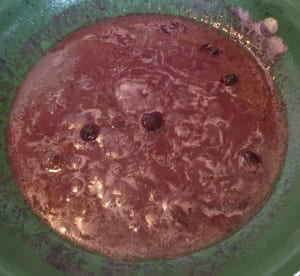 The cheese will have melted into the sauce when using the dark meat option but should still be in the breast meat when served.
Add a few fresh tarragon leaves and blueberries as garnish and enjoy.
The idea of meat and fruit is not a new combination, think applesauce and pork or cranberry and turkey. Blueberries might be a new thought but I can assure you, the depth of flavour in the sauce went over well enough to be asked to make it again.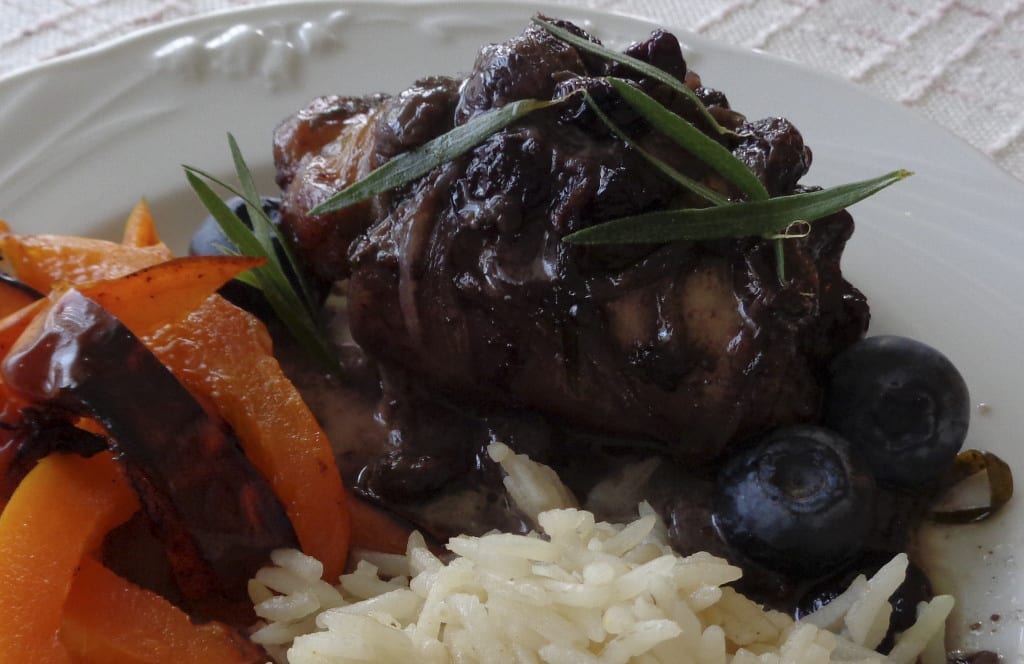 Raspberry Shrub Chicken with Blueberries and Tarragon from My Kitchen Wand