Sourcing good protein has become more challenging. What additional unmentioned and unwanted chemicals are being added to processed foods? How much protein do we really need to be healthy? What is the difference to the sustainability of the planet for animal and plant based proteins? There are a plethora of choices and lentils are just one such options. Try them in chilis, soups, dal, curries and quick breads like scones.
Lentils are seeds that contain 7 of the 9 amino acids that make a complete protein. The other two can be found in grains such as wheat and rice. I grew up being told that all nine amino acids needed to be consumed at the same time but modern research suggests that as long as there is grain somewhere in the 24 hours following a meal with lentils or legumes for that matter, they will all find each other in your body and act as if that Porterhouse steak was the cats meow.
As an aside, sprouting lentils have all 9 amino acids but are best consumed uncooked.
Lentils are packed with needed nutrients, have loads of fiber and provide nearly two times the iron of other legumes. They are also cost effective for gatherings and potlucks.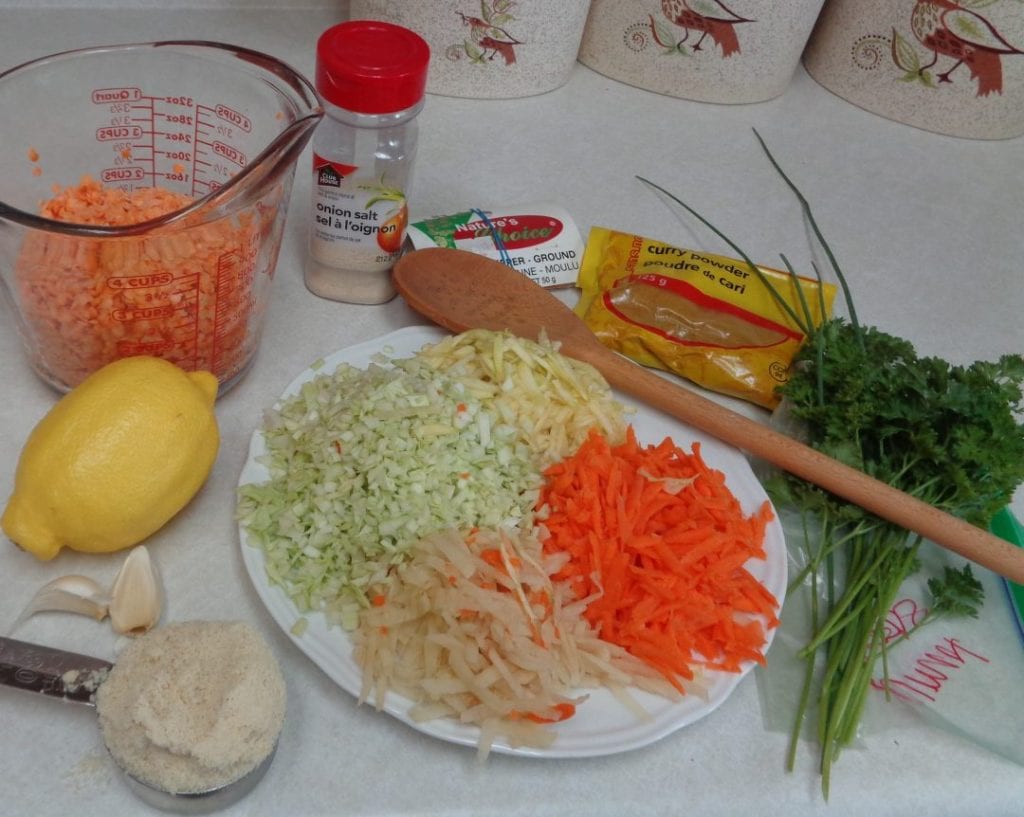 You will need:
1 cup red lentil ( soaked for 20 – 25 mins)
1/2 cup parsley leaves
6 stems of chives
1/2 cup almond flour/meal
Salt to taste ( I used onion salt as it just kinda fell into my hand)
3/4 tsp. curry powder
1/8 tsp. cayenne pepper
1/2 tsp. cumin powder
1/4 tsp. black pepper powder
1 clove garlic, minced
2 – 3 Tbsp. lemon juice
1 tsp. oil
1 cup grated onion (about one medium)
1 cup grated potato (again medium)
1 cup grated carrots (ditto)
1 cup cabbage, grated or finely chopped
oil for frying ( not needed if baking)
As the gathering begins, find gratitude for all the ingredients and supplies, your ability to have access to them and the skills it takes to transform them into a finished dish. Wash hands and put on an apron using the actions to separate your thoughts from the rest of the day and bring your focus into the present moment. Invite the compassionate spirits to join you and begin.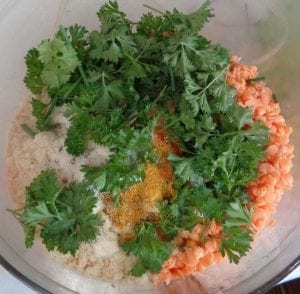 Combine the soaked red lentils, fresh and dried herbs with the almond flour and lemon juice.
Pulse together in a food processor until well combined.
I will say that spice is not always my friend so I don't use a lot. The amounts of cayenne, cumin and black pepper can absolutely be increased to suit your personal taste buds.
Prepare the onion, potato, carrots and cabbage by washing, peeling and grating or chopping as needed.
This is a typical combination but if you would prefer to substitute, turnips, parsnips, sweet potato, squash or something else in need of being used up, give it a try.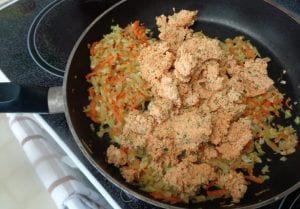 You will need four cups total of grated vegetables and unless onions are not your thing, I would make them one of the cups.
Heat a large frying pan with 1 teaspoon oil and once hot add in the vegetables and saute until the onions are transparent and the other vegetables are almost cooked.
Add in the mixture from the food processor and combine off the heat with a spoon.
Once cool enough to handle. Form patties and place on a plate.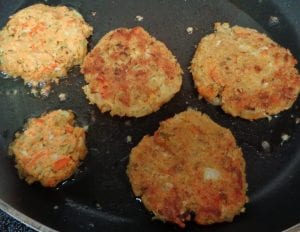 Use up all the mixture, wipe the pan out and add the oil for frying.
Allow the oil to heat. One drop of water should sputter when dropped in the hot oil.
Place the patties in the pan.
Cook until lightly brown on one side and then flip to finish off the second side. Transfer to paper towel to drain if needed.
An oil free alternative is to line a cookie sheet with parchment paper.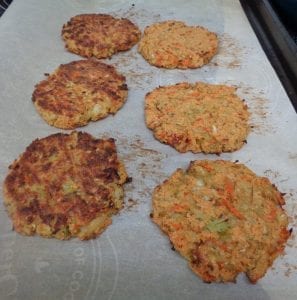 Place patties on paper and bake at 375 degrees F. until browned. Check at about 15 – 20 minutes and flip if needed.
Small patties can easily be served, as appetizers. with a yoghurt dip. (It helps cut the heat if a little more spice than you wanted got into the mix.)
Regular size patties, with rice and veggie,s make a meal.
Another option is to treat them as you would a hamburger, in a bun with all the fixin's.
I did the same thing this time around with a fresh, flaky croissant melted cheese, spinach, tomato and yoghurt dressing.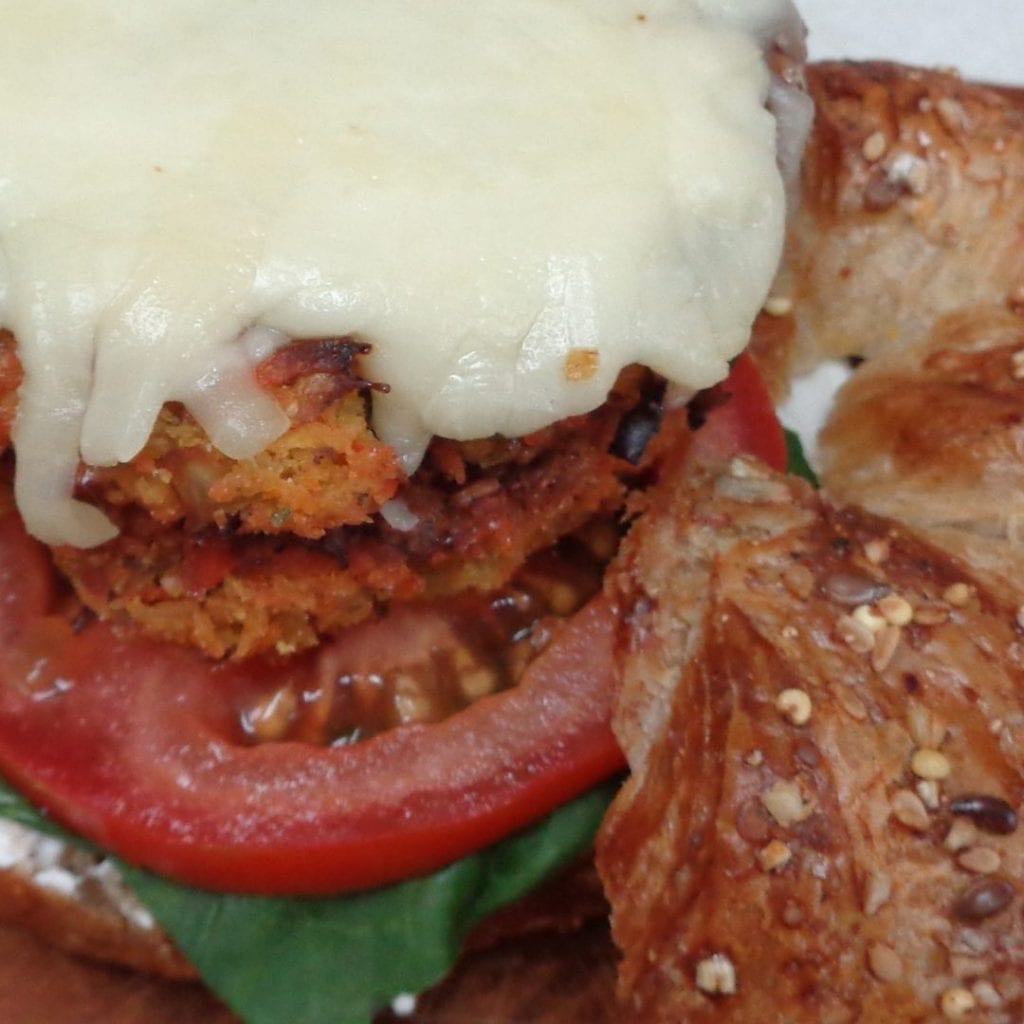 The more traditional fried way is just as tasty. Enjoy!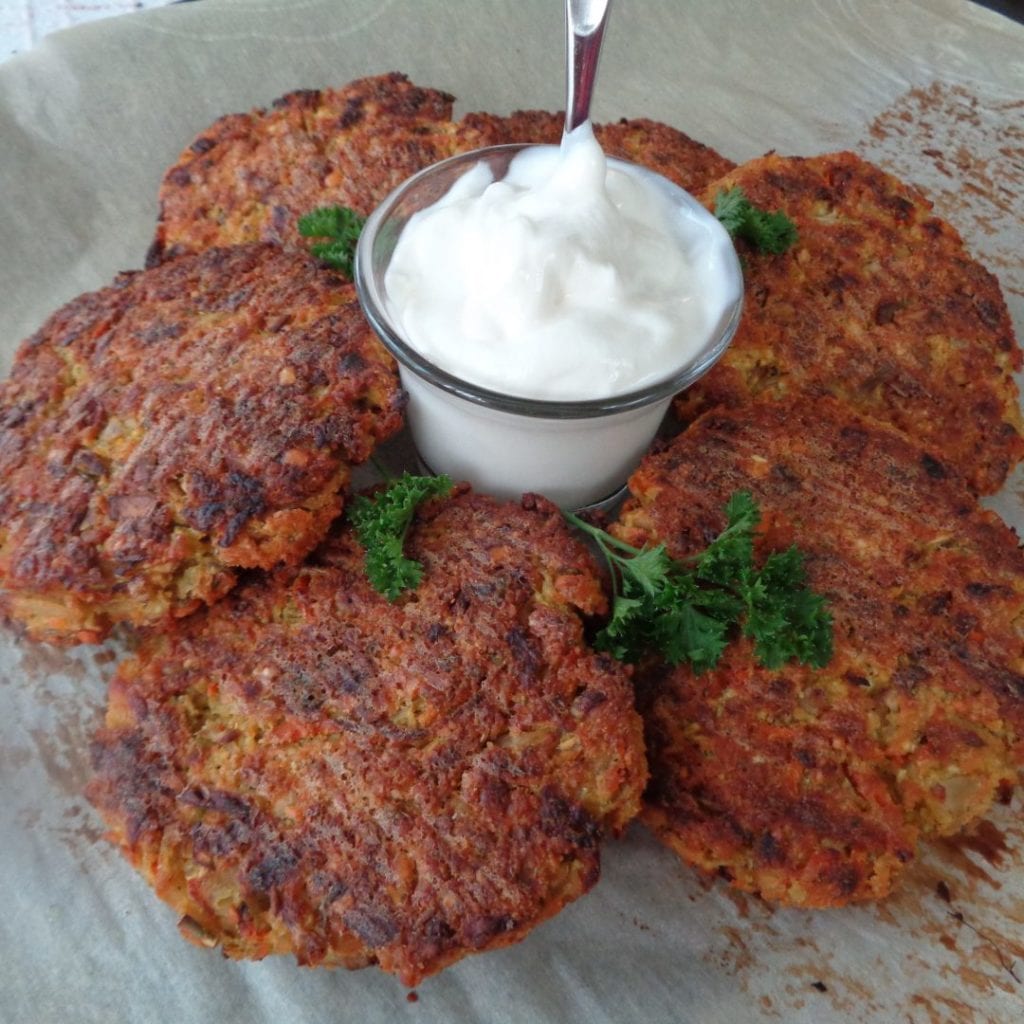 Red Lentil Patties from My Kitchen Wand