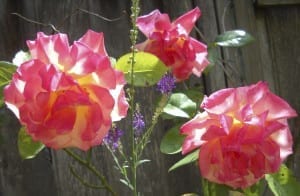 I have been really wanting to make some floral petal infused honey for a while now and John Gallagher of Learning Herbs shared a post the other day that pushed the want over the edge especially when combined with that fact that a friend of mine was going away for a couple of weeks and she suggested I clip all her roses so they didn't end up dead on the sidewalk while she was away.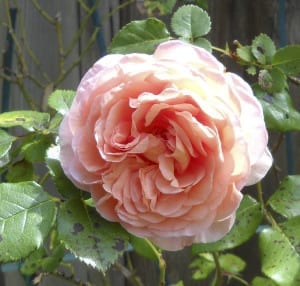 I did some sniffing and collected the three roses above and this lighter coloured one as they were the most aromatic of all the options.
It is good to move the roses a bit before snipping them off. This will give any bugs calling the blossoms home time to move out and time to say thank you to the blossoms for their bounty.
Once you have your blossoms, separate the petals from the bud and place them on a tray. Inspect the petals and discard any suspect ones. Remove any additional crawlies.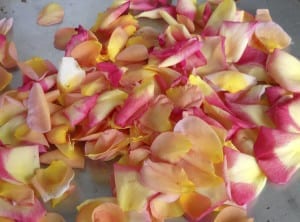 It is best not to wash the petals as the aroma will be significantly diminished. That means it is also important that you DO NOT use petals that have been sprayed (including what you might find in a flower shop). Wild roses or hertitage varieties with lots of scent and no pesticides are your best choice.
I used a 8 oz wide mouth mason jar and packed in the petals, firmly but not tightly.
When I knew how many would fit, I turned the petals into a larger bowl for mixing.
Along the way, I popped my jar of honey into hot water so that the honey itself could warm up a little and consequently be thinner and easier to pour. Stir to keep the warm sections transferring their heat throughout. If you are using raw honey and wanting to keep it raw the temperature of the honey needs to stay below 85 degrees.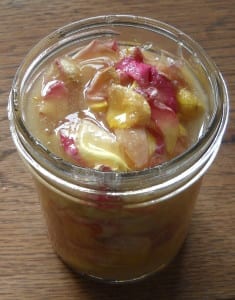 Pour the honey ( about 1 cup) into the bowl of petals and stir. Once stirred, transfer to the jar and once filled put the lid on tightly. Let sit for several days before using and turn upside down every so often to remix the contents.
You will notice the petals loosing colour as they sit. I found though that the smell was immediately available and continued to grow over the next few days.
Use on anything you would normally use honey for but I really find simple things, like the baking powder biscuits below work best as there is space for the flavour to really shine.
Check out John Gallagher's post for the health benefits of rose infused honey, especially if you or someone you know is dealing with arthritis. Roses were a favourite flower of Venus and is associated with love and beauty. The petals represent the unfolding layers around the mysteries and are used in many dishes and beauty products crafted to create feelings of love.
I used up a couple of teaspoons in some of Rose and Raspberry Cream Puffs (also a love fruit) and made sure to add more honey to the jar. I am looking forward to finding other ways I can use my precious honey. Will definitely be making more as the opportunity arises.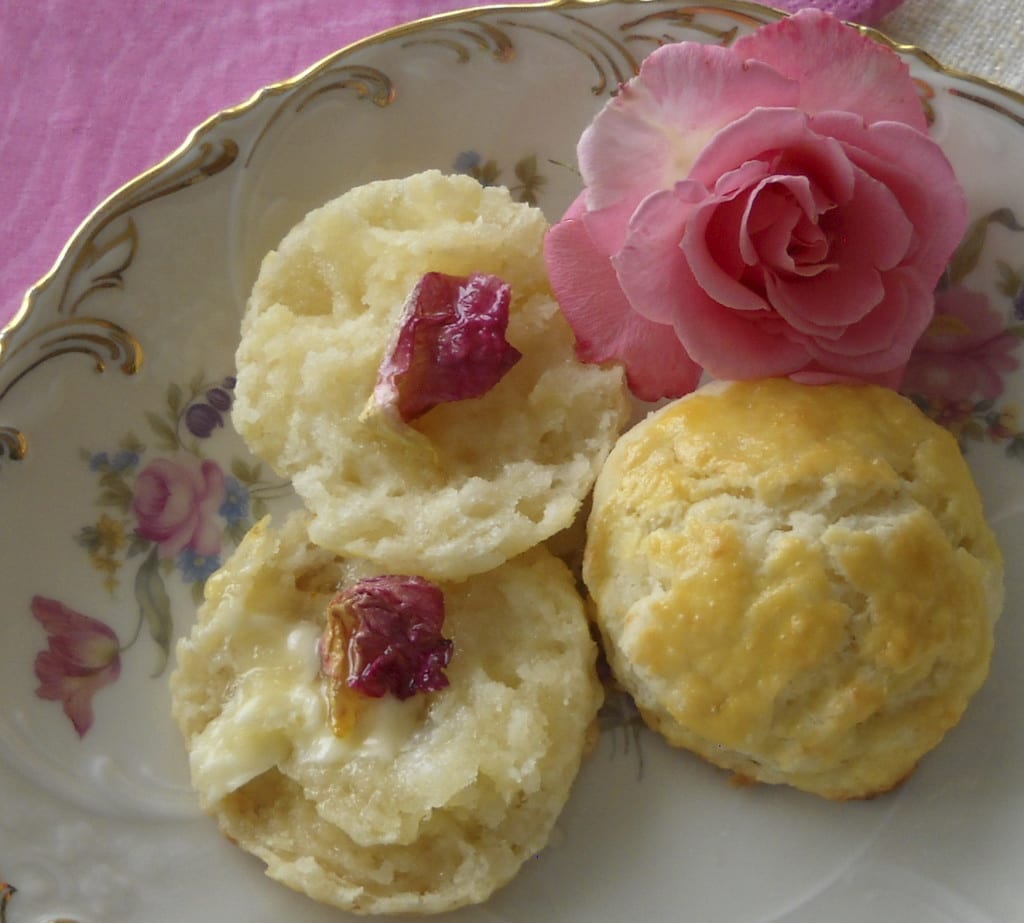 Rose Infused Honey from My Kitchen Wand