Yes, this is a post about infusing alfredo sauce but I would like to add a little context as I was visiting with my friend Detta, a culinarian of Sicilian hertiage. Pasta is in her genes and she has just finished remodeling her kitchen, so we decided to mess it up a bit.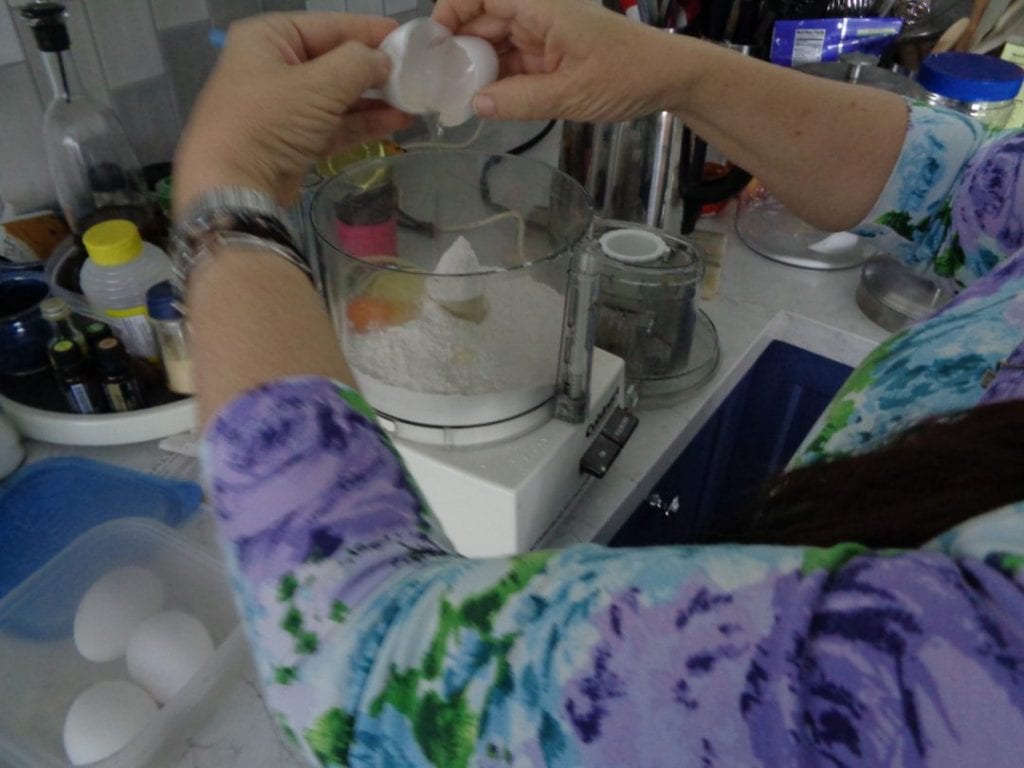 Egg noodles seemed like a good place to start as the truthful reason I was there is that I have been asked to teach a pasta class and figuring out what to cover in an effective way was part of the process.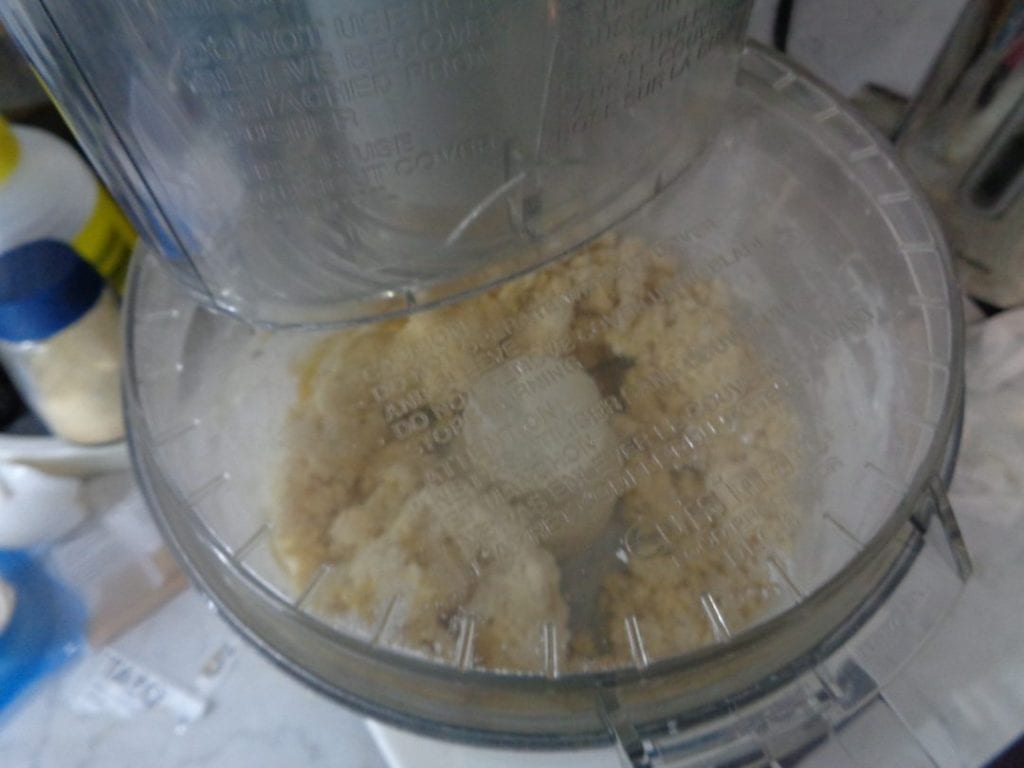 Whipping up a batch (flour and egg) is really easy, once we figured out how to put the machines together. After the mixing was complete, the dough needs to sit for 30 minutes which gave us time to catch up and cuddle furry family members.
Wash hands and back to pasta!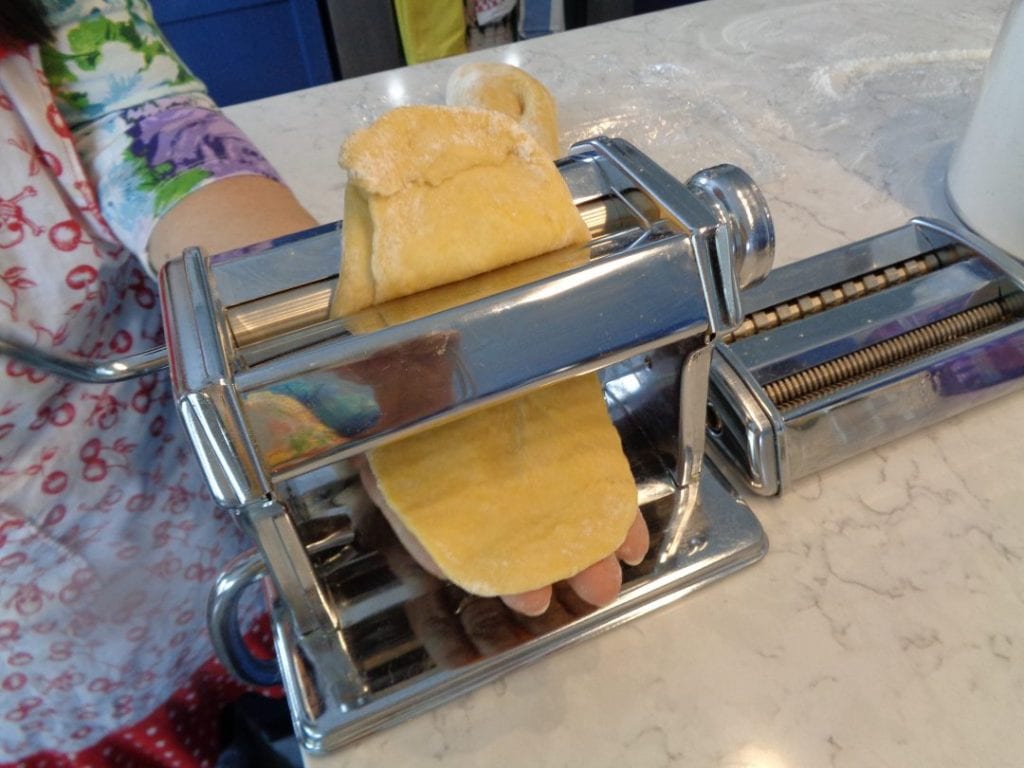 If you have been intimidated by your pasta machine or don't have one, rolling it out by hand is always possible but the machine gives you lots of thickness options and only requires three hands to get it to work properly, one to put the dough through the top, one to turn the wheel and one to guide the pasta out at the bottom. That leaves one hand free for wine!
On the right hand side of the picture above is the attachment that goes on after the pasta has been thinned and cuts either spaghetti or linguini depending on which slot the dough is fed through. Ravioli and lasagna is made from the full sheet.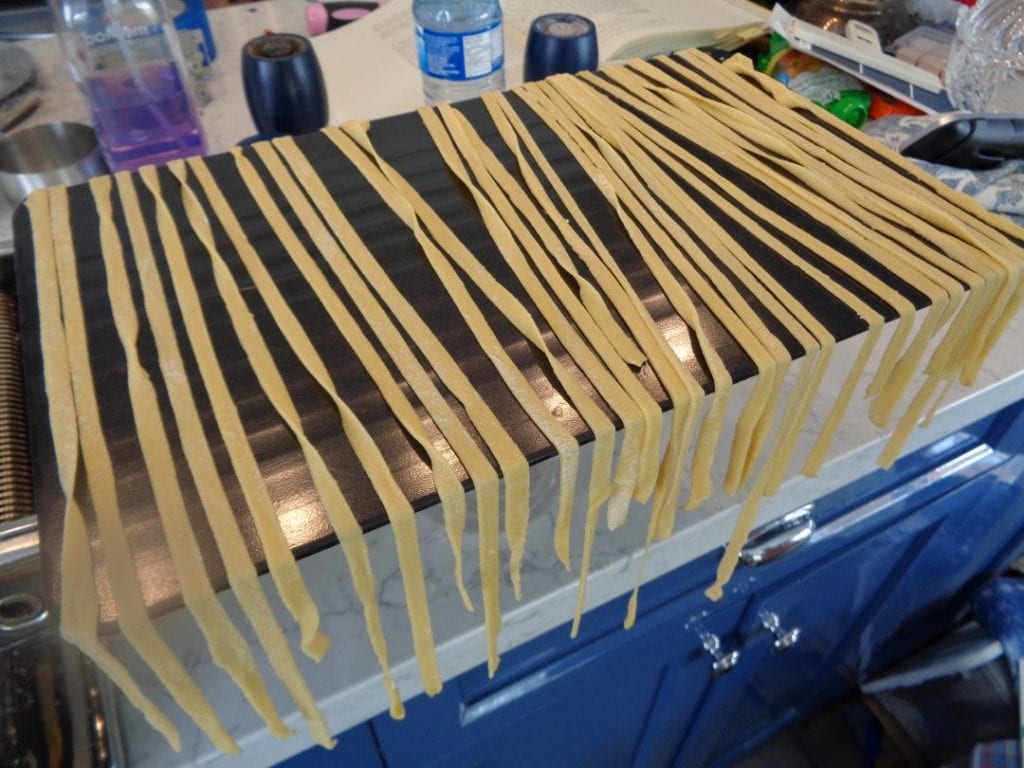 We had two chairs but not the broom stick so ended up letting the pasta dry over a tray. (Note to self, next time bring broom) There will be less sticking as the pasta dries.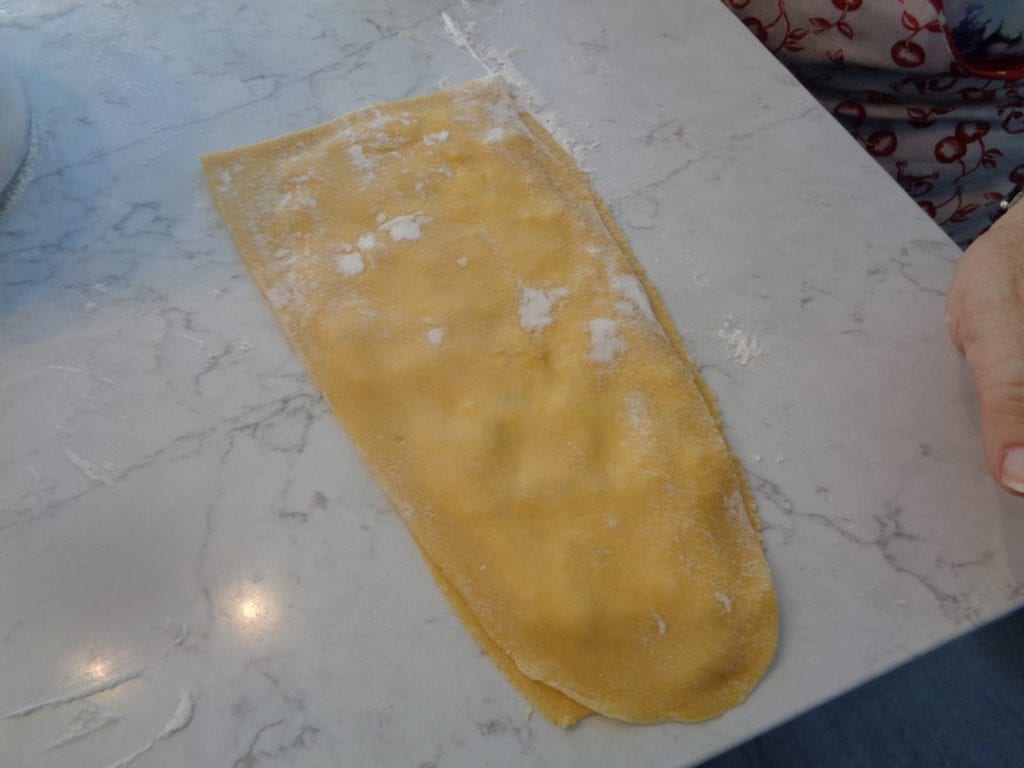 We moved on to ravioli with a ricotta, chive and garlic filling. Detta has a new ravioli maker that she was excited tp try out. Keep the pasta whole. Spread half the piece with filling and fold in half. It is also possible to create two full pieces and put one on top of the other. We were up for some experimenting so started with one piece.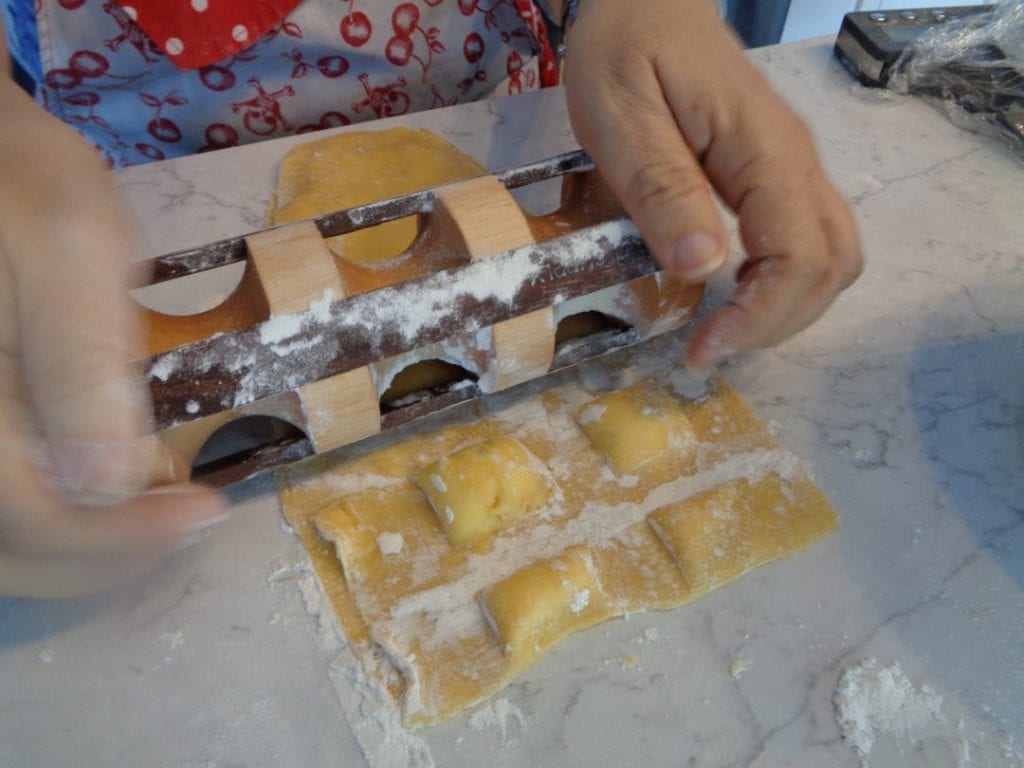 Her magical machine worked well and we just made it again and again, customizing for different preferences. I have tried several different options in my time and these were simple to create, sealed easily and stayed together when cooked. WINNER!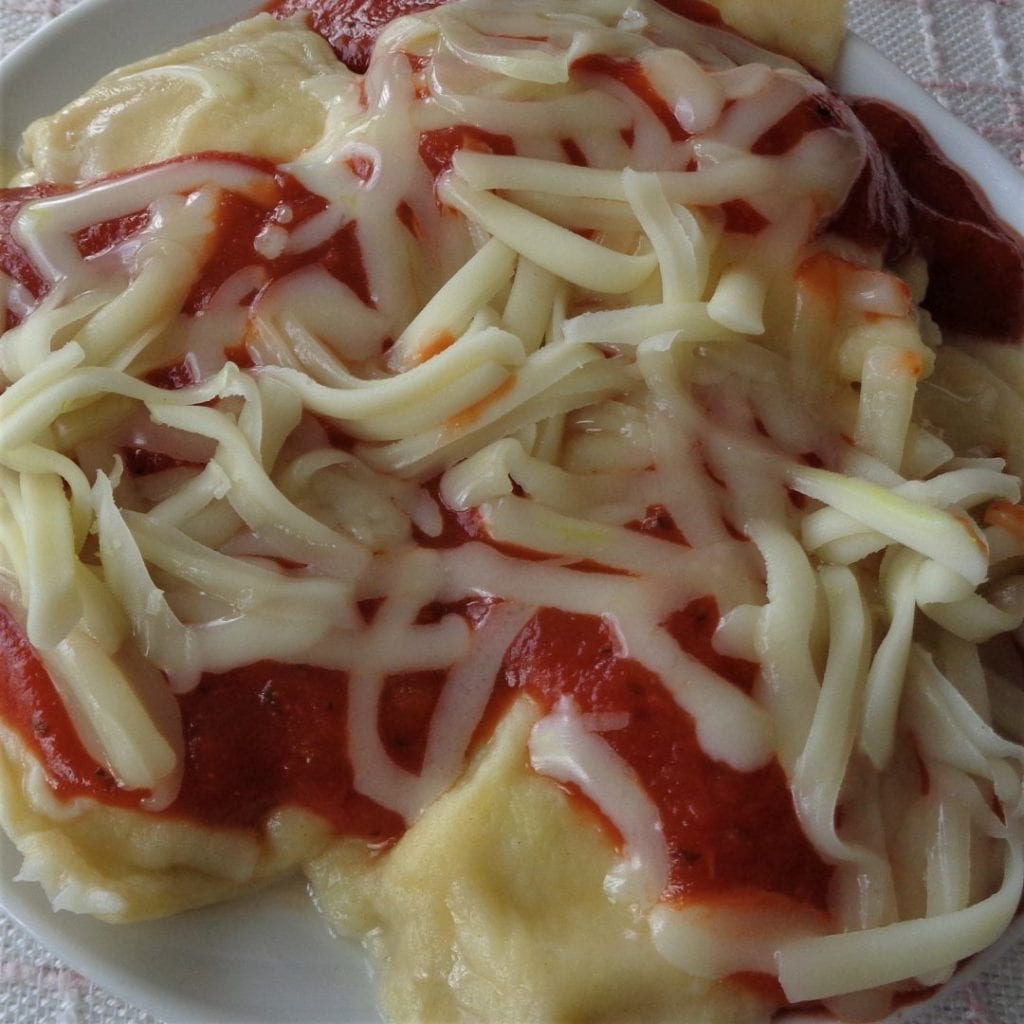 Topped them off with some tomato sauce and fresh mozzarella for a simple dinner. Detta cooked hers as well and tossed them in brown butter to the delight of all.
All of of which gets us to infusing alfredo sauce, finally.
Dairy products take on other flavours easily. Earl Gray truffles are infused with Earl Gray tea when made properly. The cream contains the loose tea and sits for awhile as it cools to allow as full a flavour as possible.
Lots of recipes use a full vanilla bean to uplift the flavour of a vanilla pudding. This is the same basic process.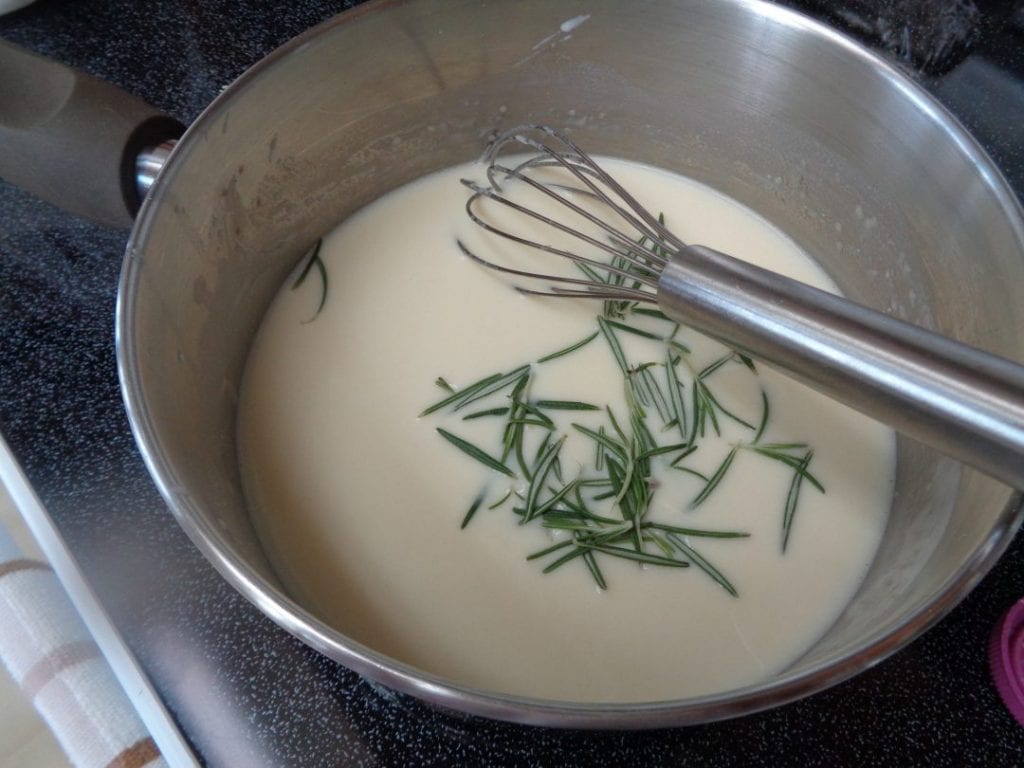 There are many versions of alfredo sauce. Some include nutmeg and an egg yolk, others gruyere and parsley and still others include cream cheese and italian seasoning. I have included one below but if you have one you call your own, by all means use it.
The point here is really to suggest that infusing your sauce with fresh herbs, whether rosemary or something else can change the experience entirely. While they are easily available is a good time to change things up. The old standard will always be available through the winter months.
You will need:
3 Tbsp. butter
2 Tbsp. olive oil
2 garlic cloves, minced
2 cups heavy cream
1⁄4 tsp. white pepper
1⁄2 cup grated parmesan cheese
3⁄4 cup mozzarella cheese
1 -2 9 inch sprigs of fresh rosemary
In a small pot over medium heat melt the butter into the oil. Add the minced garlic, cream and pepper. Strip one or two sprigs of rosemary of its needles and allow them to warm in the heating milk. Bring to a simmer, making sure to stir often. This avoid burning the sauce. Add the parmesan and simmer another 5 – 7 minutes or until the sauce is thickened and smooth and all the cheese had melted.
Pour the sauce through a sieve to catch the rosemary and return the sauce to the pot. Add in the mozzarella. Stir until melted and serve over freshly cooked liguini.
Not my usual style of post but I thought you might enjoy a peek into someone else's kitchen, a different set of skills and a way to add savoury herbs to summer meals.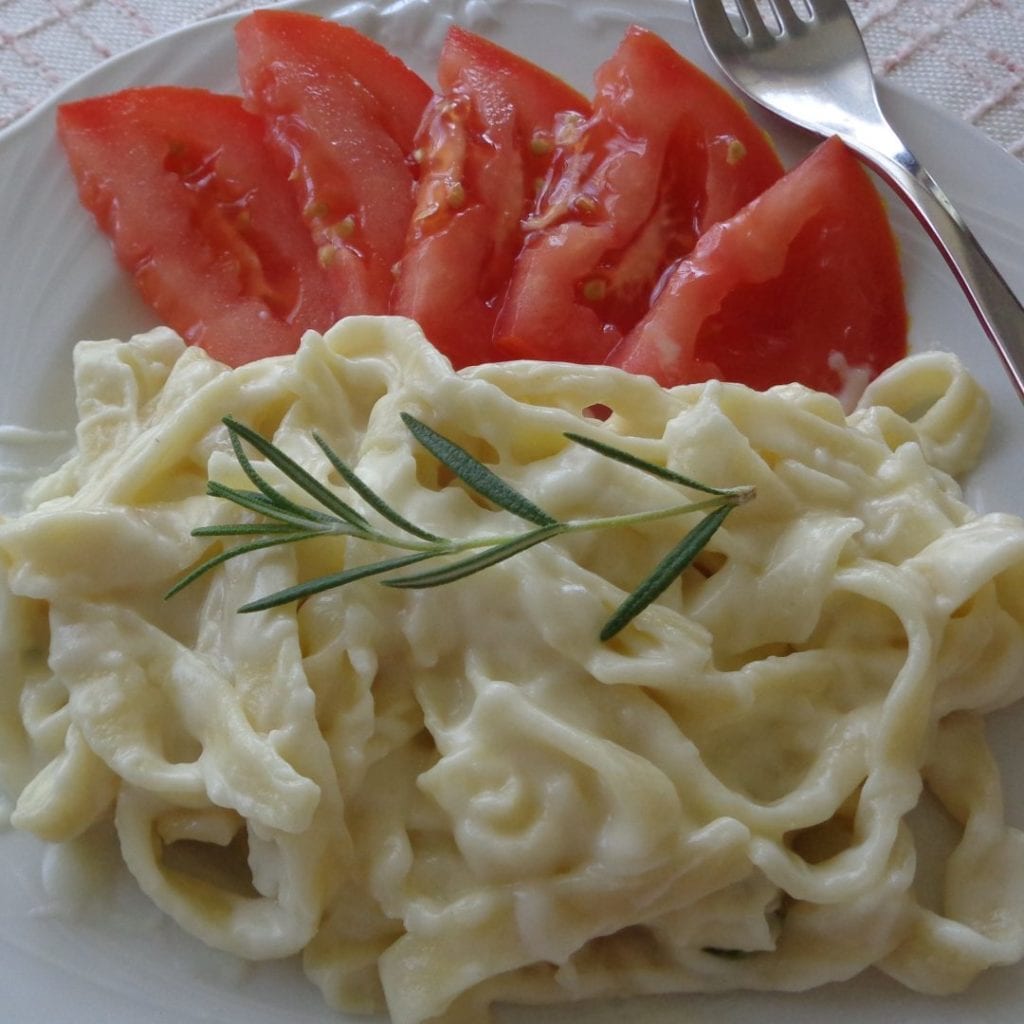 Rosemary Infused Alfredo Sauce from My Kitchen Wand