This year was a good reminder of the fragility of nature. Not to say nature is fragile. It can cope with a lot and since time is measured in epochs not work weeks it can afford to take the long view. The more immediate view is that the weather here has not been good for sour cherries and several businesses were not able to harvest any cherries for sale.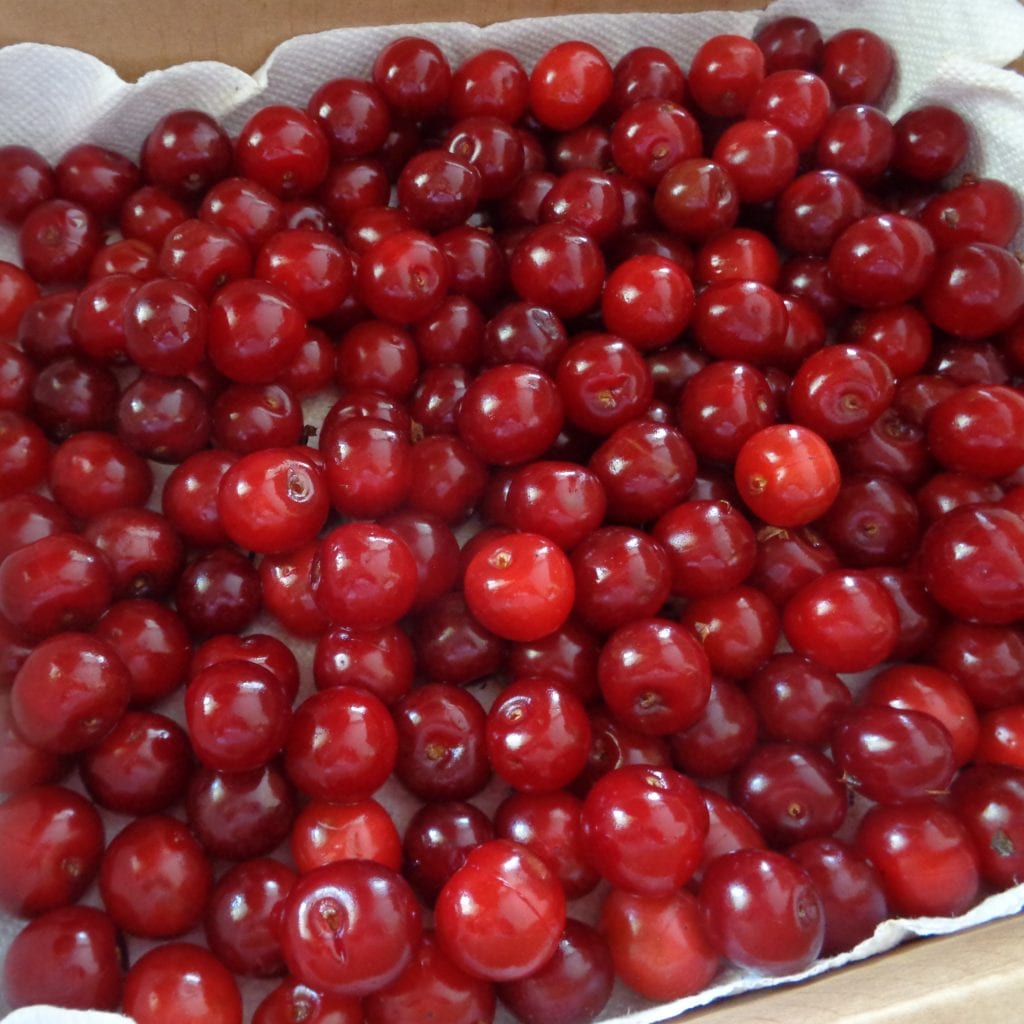 Last year was a different story and these delightful gems, took my full attention for a couple of days. In this part of the world sour cherry season is the third week in July. It is a short season so planning ahead is helpful.
Cultivated sour cherries around the Black and Caspian Seas were known to the Greeks in 300B.C. While they may be a more recent addition to North America, arriving with the colonists, they are very popular in Europe and southwest Asia and have been for millennia.
Sour fruits like cherries and apples are often recommended when baking cakes and pies. If fresh sour cherries are not available locally, bottled ones can be purchased. Be sure to drain the fruit before using in baking. If there is a sour cherry orchard nearby, you may also find frozen fruit available for out of season sale, making this a tasty option year round.
The style of cake recipe is pretty standard in Germany. It can also be used with apples, plums or jam and is often topped with streusel (a crumbled mixture of flour, sugar and butter that gives a crunchy finish to a cake).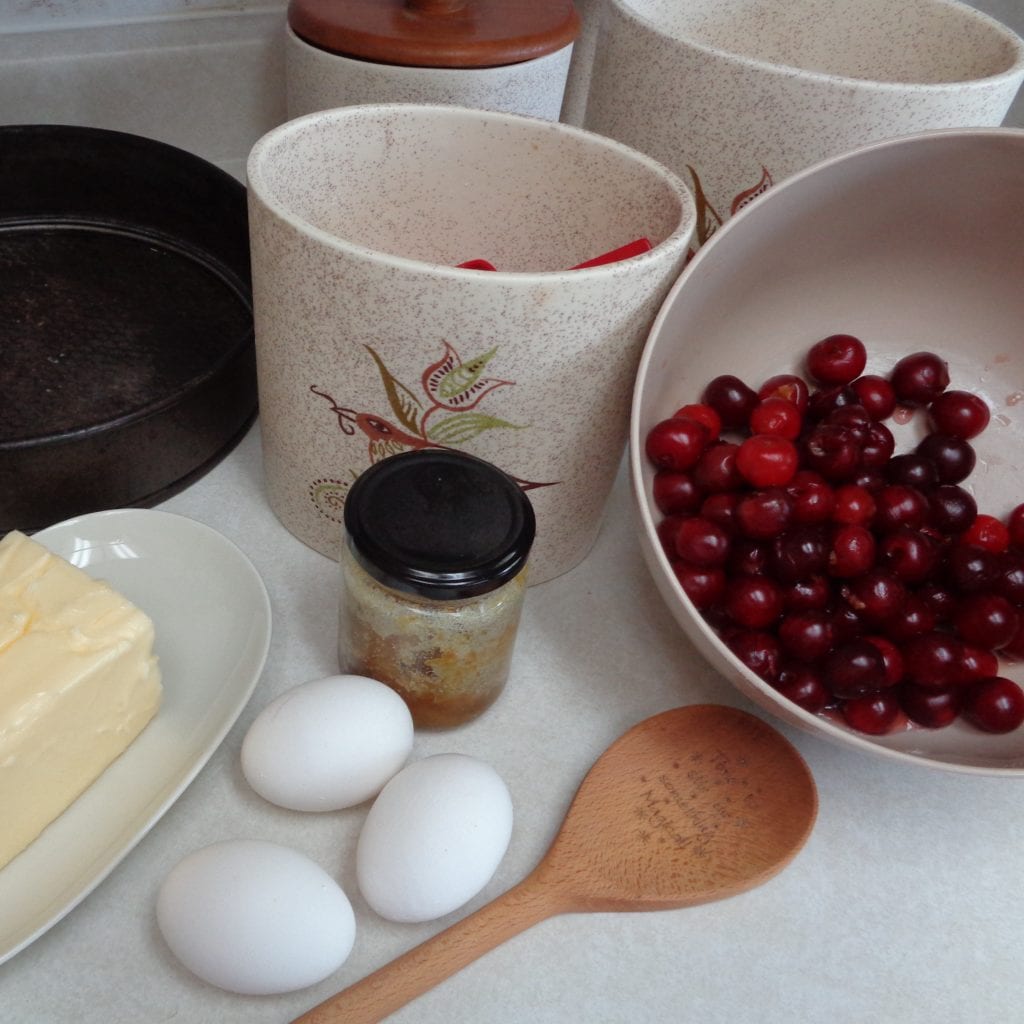 You will need:
1/2 cup butter at room temperature
3/4 cup granulated sugar
1/2 tsp. lemon zest
3 eggs
1 1/2 cups all purpose flour
1 Tbsp. baking powder
1- 4 Tbsp. Milk
1 1/2 – 2 cups fresh or frozen sour cherries
powdered sugar for dusting
Finding undisturbed time for any kitchen project can be a challenge. As you wash your hands and gather the ingredients, give thanks for the supplies, knowledge, time and skills. Focus your intention and letting go of distracting thoughts, remember that, as they say in Findhorn before starting any project, "work is love in action".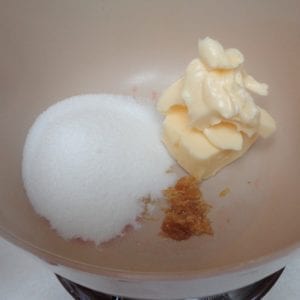 Preheat the oven to 350 Degrees F. Grease and flour an 11  inch spring form pan. An alternative is to use bread crumbs instead of flour if you would like a crunchier edge.
Add the butter, sugar and lemon zest to a bowl and mix until well combined, light and fluffy, scraping down the sides and the beaters as needed.
Adding the eggs one at a time, beat until they are fully incorporated. Note: Take the eggs out ahead of time so they can warm up to room temperature before using.
Combine the dry ingredient; flour, salt and baking powder in a sifter, and slowly add over the sugar mixture.
My mother's notes say, "add a bit of milk if it looks too dry". Much more helpful to have her looking over my shoulder, the first time I made this. Do not add enough milk to make the batter pourable. The batter should be a bit stiff (spoonable when transferring), but not too stiff or the baked cake will be heavier in its texture. Two tablespoons of milk usually works and you have probably a tablespoon leeway either side.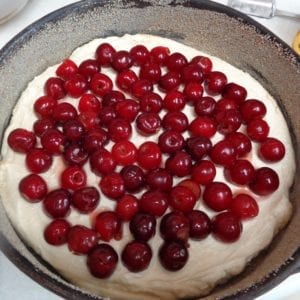 Spread the batter into the prepared pan. The bread crumbs pan coating can be seen in this picture.
Now scatter the fresh or drained cherries across the batter. Fill as full as possible. Keep the cherries away from the edges of the spring form and let them sit on top. The batter will come up and over the cherries as it bakes.
Place the pan in the oven and check at 40 minutes.
A toothpick/knitting needle/skewer in the center should come out clean. Bake an extra 5 minutes if the batter in the middle is still sticky and check again.
Place the cake on a cooling rack and let sit for at least 10 minutes before running a knife around the edges to loosen anything sticking and gently release the latch, paying attention to anything that may still be pulling. Let sit until almost cooled. Serving cakes of this variety are always nicer if they are still a little warm.
Before serving, place a plate over the cake and sift powdered sugar over the edges, or just go for it and sprinkle over the entire cake. Remember that the icing sugar can dissolve where there is moisture if it sits for any length of time. Serve with sweetened whipped cream.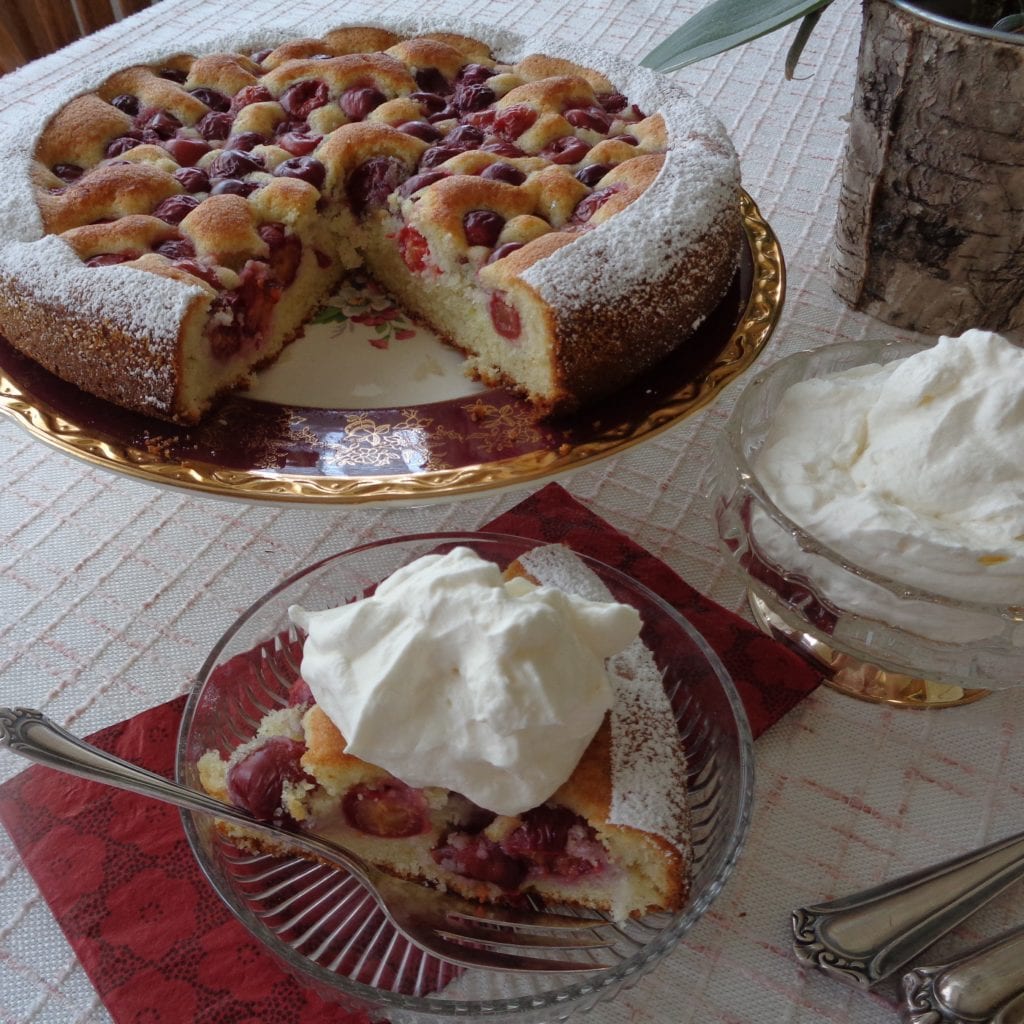 Sour Cherry Cake from My Kitchen Wand