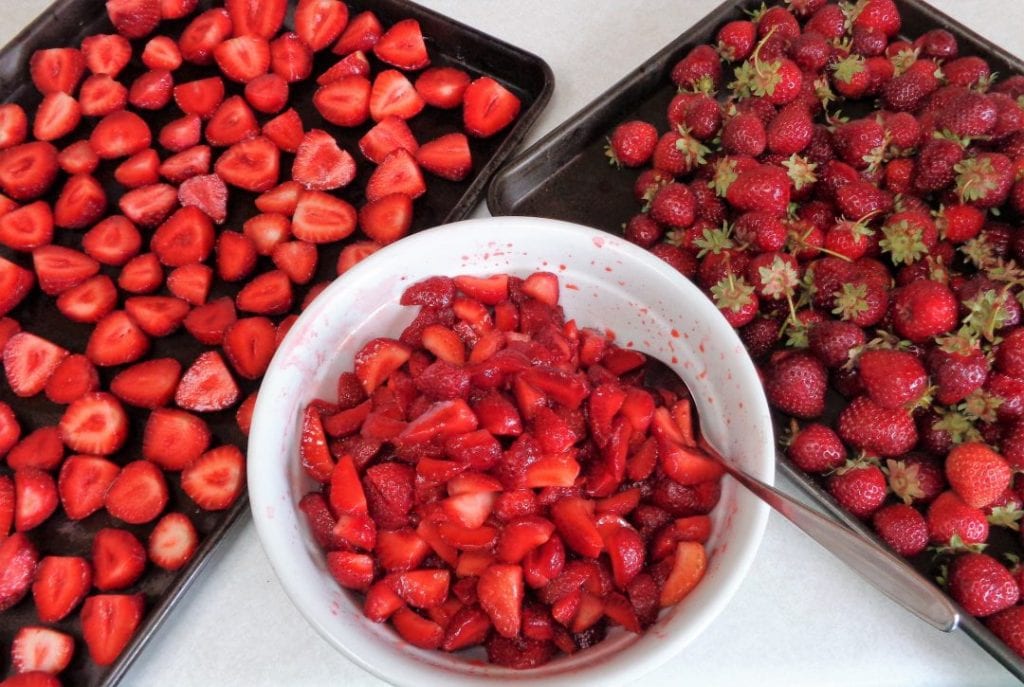 The berry season has arrived in full force! It will not be the best of seasons here. The weather this spring was not ideal for strawberries and raspberries and low yields made for an increase in pricing. So when a "offer" came along, it did not matter that the berries were a little small as long as they were tasty.
Fresh for shortcakes, frozen for smoothies, mushed for jams, good all round. I just made sure to put aside a couple cups of fresh strawberries for this light summer treat before I blink and the season is over.
If your prebaked pie shell is the extra deep variety, increasing the filling by 50% will be helpful. I do not see any reason that a crumb shell would also not be an option.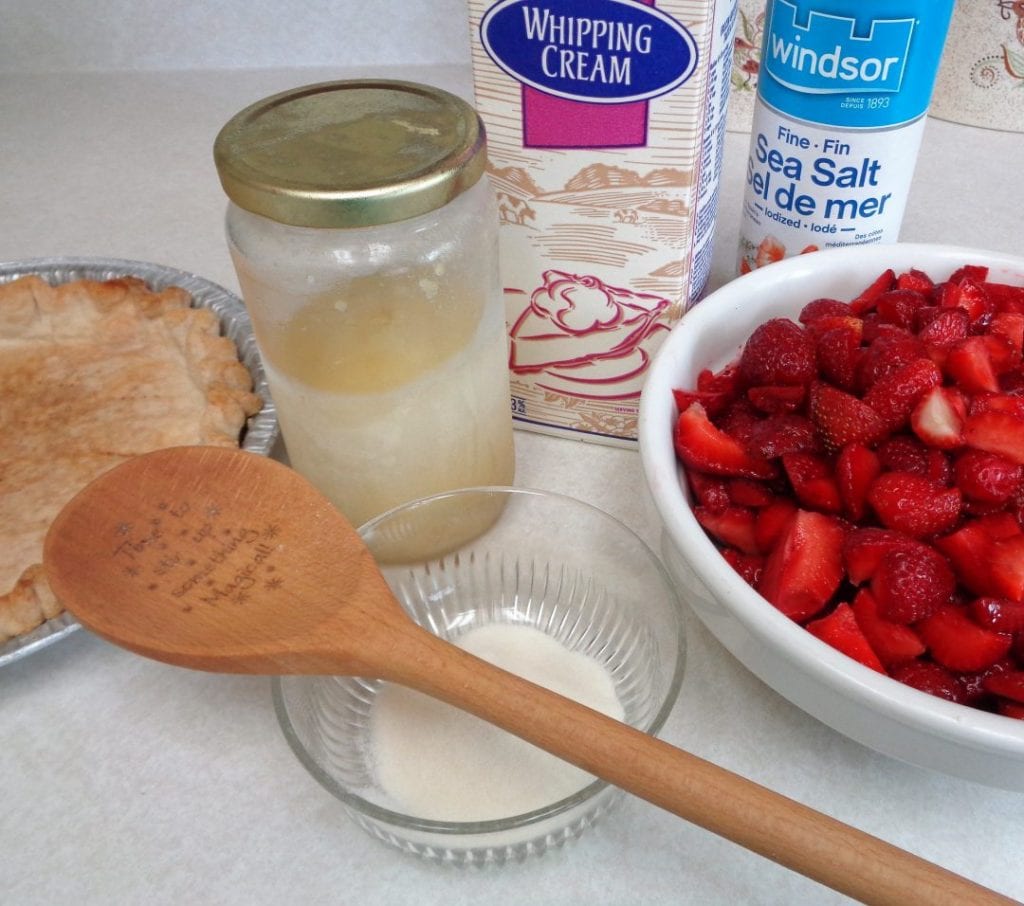 You will need:
1 prebaked pie shell
1 Tbsp. gelatine, unflavoured
2 Tbsp. water
1 1/2 cups fresh strawberries, finely crushed
1 Tbsp. lemon juice
1/2 cup sugar
1/8 tsp. salt
1 cup whipping cream
additional whipping cream and fresh strawberries to decorate
Strawberries are the first ripe berries of the season and filling myself with deep breaths of gratitude and delighted anticipation is so very easy when the room is filled with such lovely aroma. There is proof! in my kitchen that summer is finally here. " In my kitchen filled with care, I Welcome, Earth, Water, Fire Air".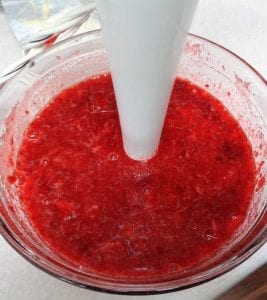 Wash and hull the fresh strawberries and crush. I used an immersion blender once the berries were in smaller pieces and created a lumpy puree.
Is that an oxymoron? If you like the finished product to be purely pink, puree until smooth. If you like little clumps of darker deliciousness showing through when the slices are cut, leave the mixture lumpy like I do.
There is lemon juice in this recipe. Use fresh if it is handy.
I have a glass jar I keep in the freezer containing fresh squeezed lemon juice. The left over bits and pieces from other projects. I just place the jar in a little warm water, in the sink, while other things are moving forward and it is liquified enough when I need that tablespoon of lemon juice in a few minutes.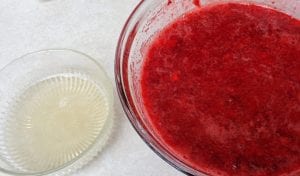 Soften the gelatine powder in two tablespoons of water.
Once softened, place over hot water or use a microwave to heat and stir until dissolved.
Add the dissolved gelatine to the strawberries, along with the sugar, salt and lemon juice.
Set aside and cool. The mixture will thicken.
When almost set, whip the whipping cream into medium peaks and gently fold both the whipped cream and strawberry mixture together until fully mixed.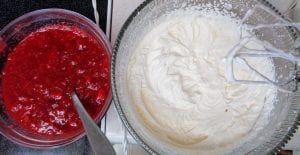 Pour the mixture into the pie shell and allow to chill until set. If you find there to too much filling for your pie shell. Let the first section set for a few minutes and then pile up a little more in the middle on top. You can see in the picture below the filling is higher than the edge of the pie shell. It just needed a few minutes to firm up before I could add the extra topping.
Decorate with whipped sweetened cream and fresh strawberries, either whole or sliced. Serve fresh. This will last for several days with the pie crust staying crisp but you will find the strawberries on top not looking so wonderful as time passes.
Don't have enough strawberries? Try a mix of bananas and strawberries or use raspberries instead. No prebaked pie crust? Pop into individual serving bowls, decorate and cool. It is also possible to use this filling as the center and outside of a jellyroll cake. So many options all yummy.
Fresh local strawberries are here and gone so quickly that I always try to make one treat with them, especially around the summer solstice.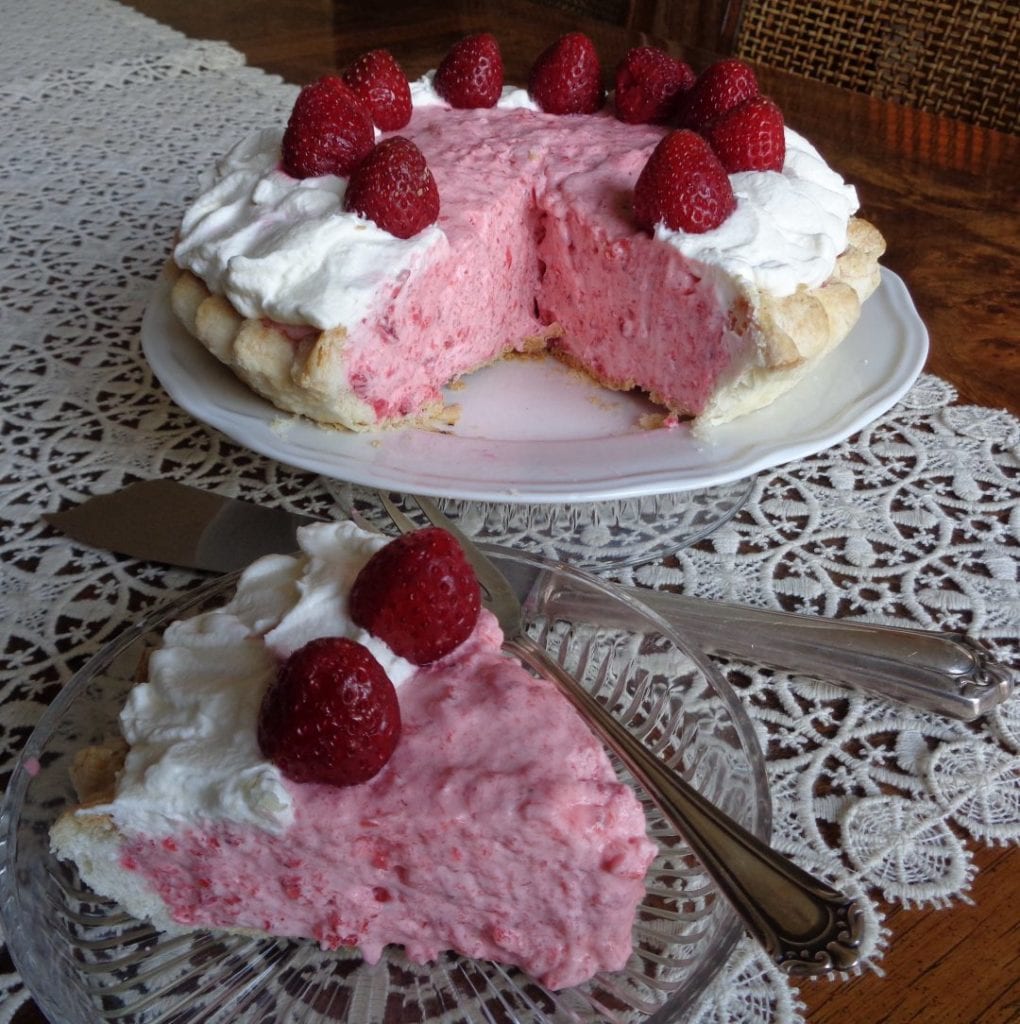 Strawberry Bavarian Cream Pie from My KItchen Wand