Four maple wood laser cut cookie stamps for Thanksgiving.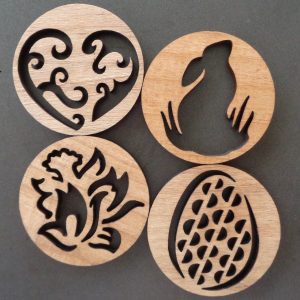 Just under two inches in diameter, they have been bathed in beeswax and grape seed oil. Please wash by hand in warm soapy water. Not recommended for a dishwasher.
These stamps have been tested through 10 dozen cookies but it is important to remember that wood has grain and being gentle while pushing down at narrow points is important.
As late summer turns to fall, winds blow cooler and the last of the fruits and vegetables become ripe for harvest. These are usually the foods that can be stored over winter and will feed families through cold, dark winter nights as the Earth rests.
The cornucopia is a symbol of that abundance. It can be found in a place of honour at Thanksgiving. Woven from reeds or stocks or baked from bread, it symbolizes never ending sustenance, which for many in years past, meant safety and life. Although we can pop down to the local grocery for most things with relative surety that it will be there these days, food security was much more fragile in days gone by. Communities lived on their ability to preserve enough food to get by until the following spring.
Harvest festivals happen around the world all year round. Gratefulness for the bounty the earth nourishes is expressed in community and in family gatherings. It is such an important holiday in North America, that the days around it are some of the busiest travel days of the year.
Apples are picked, ready for storage, cider making and pies. Wheat has been ground, ready for baking and beer making. In good years there are is a plethora of fruits and vegetables to share and give thanks for; pumpkins, cranberries, winter squash, grapes, kale and Brussel sprouts to name few.
In the United States, there is an additional theme of sharing that comes from the help new arrivals received from the native population when times were very hard. Adding extra guests to the Thanksgiving table is a way of passing the gift forward and supporting a sense of community.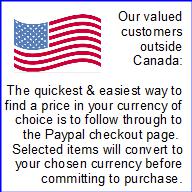 Set of Four Thanksgiving Cookies Stamps      $19.00 Canadian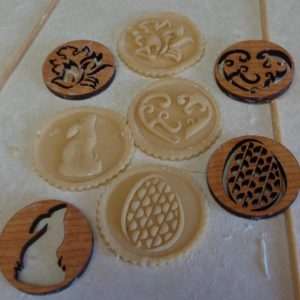 It is best to use a recipe with little or no large extra bits. Spices, extracts and zest are fine but chopped nuts and dried fruits can be more challenging to work with. The cookies in the picture below have a bit of added orange zest.
Roll out dough of your chosen recipe and cut circles either with a glass or scalloped edge cookie cutter.
Tap stamp in flour and push down into the center of the precut cookie.
Bake.
Sugar cookies are traditionally taken from the oven before they brown but since these cookie will not be iced, I personally prefer to get them just a little golden around the edges. That will mean a little paying attention so as not to over bake.
For a full page of tips and tricks click here.