You just can not have an afternoon tea without scones, especially a cream tea as the Devonshire cream has to have something to go on.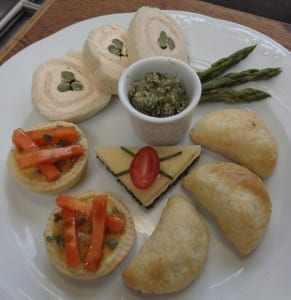 The frosted grapes and candied nuts on this plate are an added bonus, as is the homemade Earl of Raspberry Plum Jam .
I mentioned the other day there were leftovers that I was able to share the next day with a neighbour. (If you are here for the first time in the middle of these posts, all the recipes for the savoury items to the right, can be accessed via the previous titles at the bottom of the page.)
The jam went over so well the next day that it ended up on the scones and the ginger rosemary cookies and the apricot cardamon cake and what was left over stayed when I left, but I am getting ahead of myself. That is tomorrow's post.
Originally a Scottish quick bread, what we today call scones were made with oats and cooked on the hob (stove top). Today you will more than likely find them made with flour and baked in an oven. Traditionally plain or with a few added currants, these have some of the tastes of fall added in.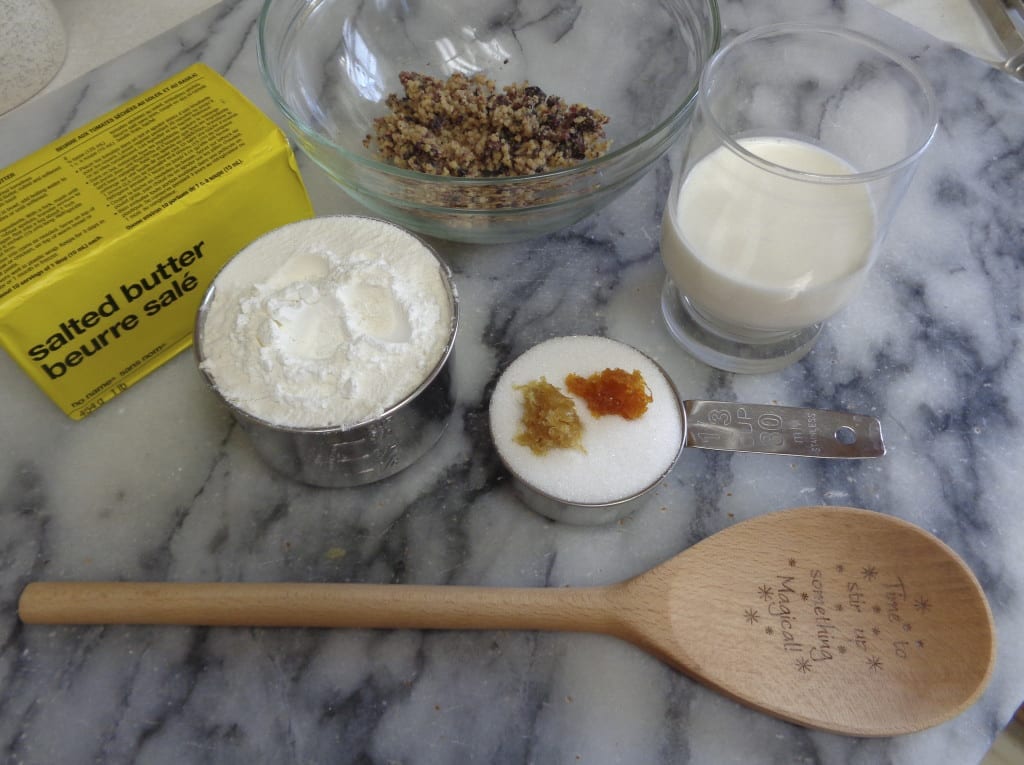 You will need:
1/4 cup walnuts
1 heaping Tbsp. dried cranberries
1 cup flour
3 Tbsp. sugar
1 1/2 tsp. baking powder
1/4 tsp. salt
1/2 tsp. lemon zest
1/2 tsp. orange zest
1/4 cup butter, cooler than room temperature but not cold. It will be easier to work.
1/2 cup milk or light  cream. scant
Pre heat oven to 375 degrees.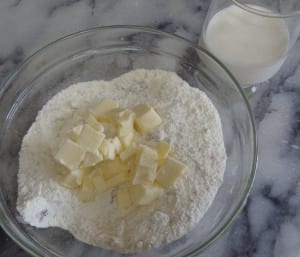 Finely chop/grind or process the walnuts and dried cranberries together. My intention here was to add the hint of fall flavours without overpowering the Devonshire cream and plum jam.
In a bowl add the flour, sugar, baking powder and salt. Stir with a spoon and add the walnut mixture and zests.
Using your fingers gently toss until the mixture is evenly mixed.
Cut butter into small cubes and add to the flour mixture. With two knives, a pastry blender or your fingers work the butter into the flour until no pieces of butter are larger than a small pea.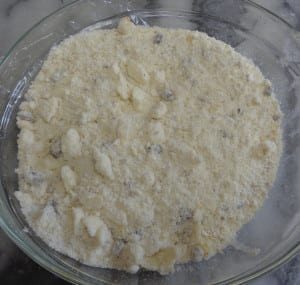 Add the milk and with a fork stir to bring the mixture together.
Turn out onto a floured surface and using your hands pat into a small circle approximately 1 1/4 inches high.
Using a serrated knife cut the circle into 8 wedges and place on a cookie sheet leaving enough room around each wedge that they will not touch while expanding and baking.
Bake at 375 degrees for about 15 – 17 minutes.
Truth time, I baked two batches. One was cut into wedges and with the other batch I used a cookie cutter and made circles. That is why you will see both shapes in this post. This recipe is enough for 8 scones and can be easily doubled.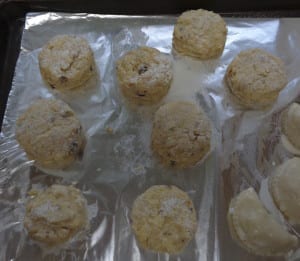 That said, and with all the other things on the menu, it would not be out of place to reduce the size of each scone a little and make ten rather than eight. If you opt to make ten, I would suggest making two circles from the dough and cutting each one into five wedges.
When ten scones are made from one dough circle, the scones will be longer and thinner in shape and not as easy to handle. My consideration was to have a variety of shapes on each level of the tea stand, which was one reason why ultimately I served the triangles and not the circles.
While they are baking, here is something to fill the time and the plate, frosted grapes.
You will need:
grapes, 1 bunch of 3 for each person
1 egg white
Sugar, as fine a grade as you can find, white or cane
Cut each grouping of grapes off the main stem.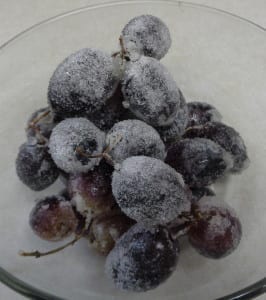 I chose black seedless grapes to add colour to the plate.
Wash, pat dry or allow to dry for several hours until all water has evaporated.
Using a pastry or small art brush paint the grapes with the egg white.
Once painted sprinkle the grapes with sugar. Regular granular sugar if that is the best option but fruit sugar or something of a smaller size ( not icing sugar ) is the best choice.
Once coated allow to dry on a wire cooling rack, separating each grape so that it does not touch another grape.
Sprinkle any additional sugar over missed spots.
Frosted fruit should be used within 48 hours.
Serve jam and cream in small containers with spoons. Add one scone, a cluster of grapes and several Five Spice & cayenne candied nuts ( previously posted here ) for each person.
I source Devonshire or English Double Cream in the deli section of Save-On Foods. (Farmer's Wife Cow & Gate Double Devon Cream brand) It comes in a small glass jar and although white has a consistency similar to slightly cool butter. I would recommend doing research in your area to find a supplier. It is not always the easiest item to locate. If all else fails, substitute a good quality whipped cream.
So that is the second layer on the afternoon tea stand. The jam obviously can be made ahead and just pulled from storage.  The nuts will do fine stored in an air tight container for several days. The fruit can be completed the day before while the scones are best done on the day they are going to be eaten.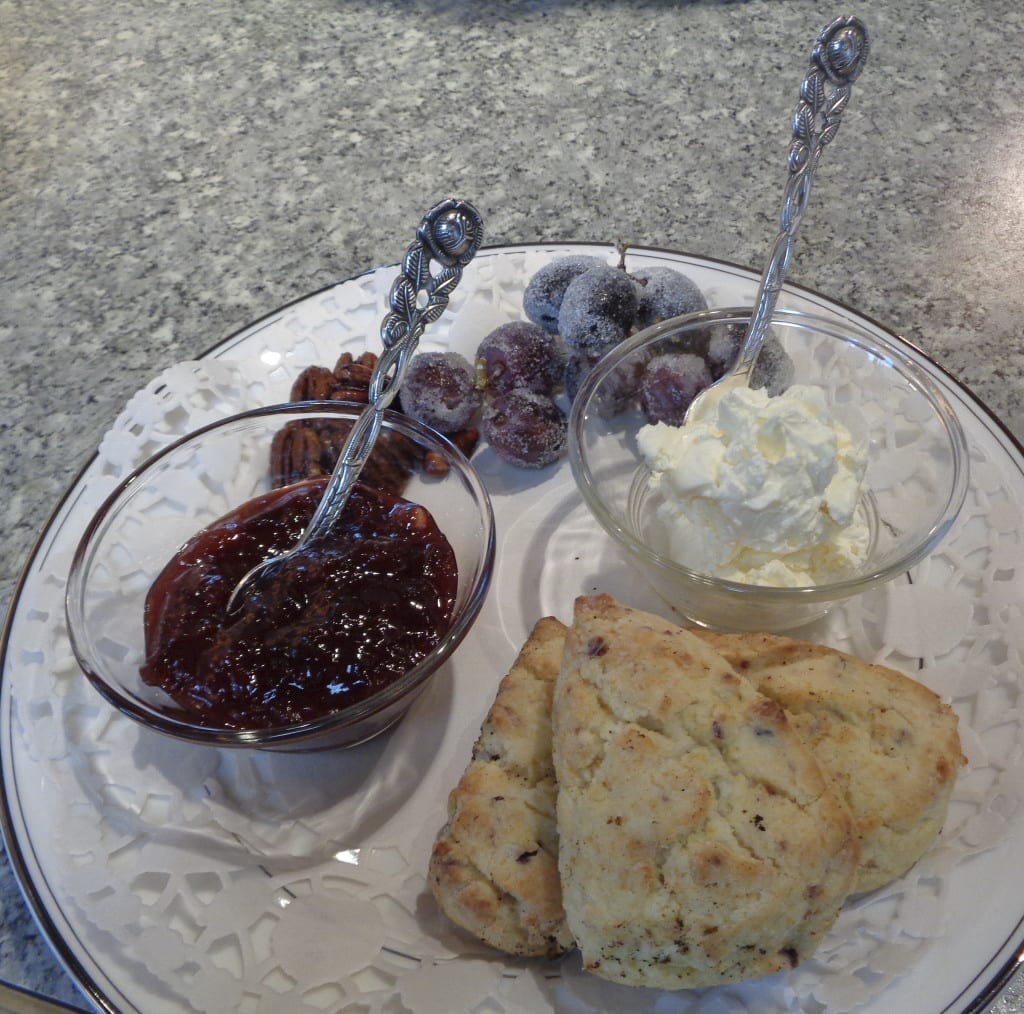 Walnut Cranberry Scones and Frosted Grapes from My Kitchen Wand