Having fresh growing herbs that are easy to reach is a bonus. Hiking out to the back 40 in the middle of preparing a meal is not going to happen regularly. You are more likely to use your herbs when they are easily reachable.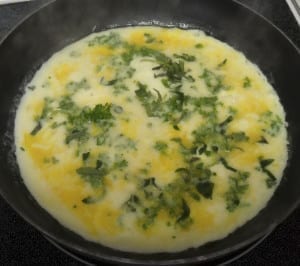 Remembering to use them is the important part. They are full of micronutrients, flavour and add colour to your dishes. Over time, understanding will grow as you discover what your family likes.
Try a mixed selection of freshly chopped herbs in eggs. They can be the filling of an omelet, mixed with a little cheese into scrambled eggs or heighten the flavour of a tasty onion quiche. Keep the colours bright by not over cooking.
Mild fresh homemade cheese is another good option. This recipe for thyme and lemon buttermilk cheese is a perfect addition to the table, especially if you are living "down under" and Imbolc is at the end of the month.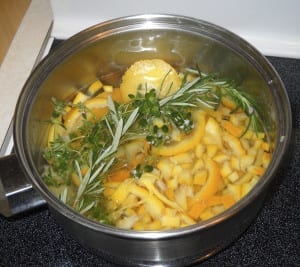 The pot of left over orange peel pieces is from last week's batch of candied orange peel.
I added thyme and rosemary to the pot to boost the flavour of the simple syrup.
The syrup can be used by itself with soda water or added to iced tea and lemonade over the hot summer we are having. It can also used in cocktails.
Here is the full post on making herb syrups from last year.
Tender herbs, like chives, parsley and basil are best used freshly chopped in salads or quickly cooked dishes like the eggs above. Try sprinkling them over veggies as a finishing touch just before serving and adding them to home made salad dressings.
Sturdier herbs such as rosemary, marjoram and oregano, do well in dishes that need a longer cooking time like stews and sauces. Save rosemary stems as you are taking clippings and using the leaves. They make great skewers for grilling kabobs.
Use the general rule of "what grows together goes together" as a guide line. As examples, in most climates, basil and tomatoes ripen at the same time, as do sage and squash.
That does not mean however, you can not experiment with your own sweet and savoury combinations. Thyme dandelion muffins or pear rosemary camenbert tarts are two examples. I know you will find more.
A few weeks back I shared an easy quick fresh mixed herb baking powder biscuit recipe t go along with soup or salad. This is a variation on the theme, Baking Powder Biscuit "Pizza" with a fresh herb sauce and naturally the idea can also be used on regular pizza.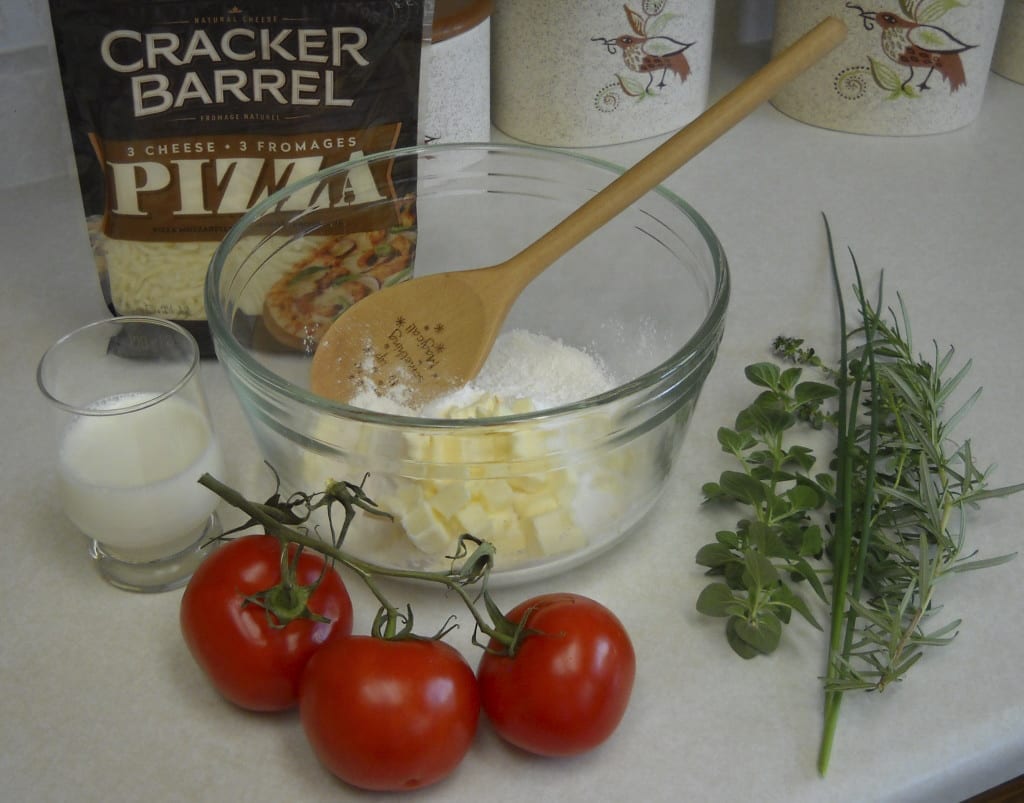 You will need:
1 cup all-purpose flour
1 1/2 tsp.  baking powder
just under 1/4 tsp salt
1/4 cup  butter, cold and cubed
1/2 cup milk
A mixture of fresh herbs, about 1/4 cup per pizza
2 Tbsp. olive oil
1 – 2 tomatoes
2 cups shredded cheese
This is a small recipe that made just enough for two medium pizza bottoms. I used the bottom of a spring form cake pan. In the oven in five minutes and out in another 15, a good quick snack or a full dinner depending on your appetite.
One pizza enough? Turn the remaining dough into biscuits for tomorrow's breakfast.
Preheat oven to 375 degrees.
Say thank you to the plants as you cut the stems with your kitchen scissors.  Hold the gratitude of your bounty in your focus as you put the recipe together.
I clipped the selection above, oregano, thyme, chives and rosemary, stripped the leaves off the stems, finely chopped the leaves and the softer stems. You can try chopping them in a small electric chopper but I found the machine slow and fussy, needing to be stopped every few moments and the herbs pushed together again. Mix in the olive oil and put aside.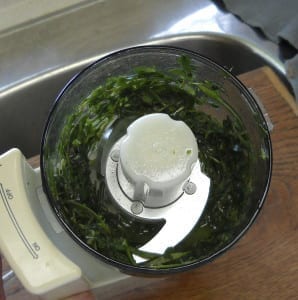 In a medium bowl, mix all the dry ingredients together, I added a pinch of pepper but that is totally optional. Cut in the butter until you have a crumbly mixture. Add in the milk.
Mix as little as possible. The less mixing, the flakier the "pizza" base. Once the dough holds together turn it out onto a floured surface and divide in half.
With a rolling pin, roll the dough out to the size of your pan (about 10 inches). Transfer the dough to the pan. Use your fingers to create a shape if need be. This is a rustic version and a perfect circle is not required.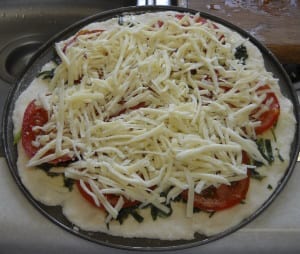 Spread the chopped herbs over the dough. I like putting the herbs in the middle and not sprinkling them on top. They are protected from excess heat and combined with the oil make a tasty substitute for pizza sauce.
Fill the "pizza" with slices of fresh tomato and top with shredded cheese. Bake about 15 minutes, until the bottom is brown and the cheese on top bubbles and also browns. Cut into wedges and serve immediately.
Having fresh herbs nearby is wonderful, doubly wonderful when we remember to use them. If your plants are getting too big, it is always possible to snip a bundle and hang them up to dry but doesn't Fresh Herb Baking Powder Biscuit "Pizza" get your taste buds going? Okay, what happened to my drink?
What do I do with my herbs? Chopped in cooking and Pizzaish! from My Kitchen Wand