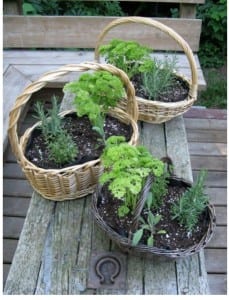 This post is by way of encouragement for those of you that have been reading and wondering what might be possible on a smaller scale than the almost five acres of Jean's Garden.
If home for you is a condominium or apartment, do not loose heart. There is always the option of container gardening.
Jean put these baskets together for a fund raiser this past weekend. All proceeds went to the Stephen Lewis Foundation in support of the Grandmothers for Grandmothers campaign, a movement to help children and their grandmothers who are dealing with the consequences of the H.I.V. epidemic in Sub-Sharan Africa.
It is very easy to do something similar. Focus on culinary herbs that you can trim regularly as summer progresses. If you are looking to just dip your toe in the water ( or finger in the earth ) try one herb in a small terra cotta container.
Does your balcony get light? Most herbs will enjoy the summer sun and remember to bring them inside to a sunny spot ( kitchen window?) when the weather starts to turn.
To create an assorted basket begin by choosing herbs that work well together. This collection is called Scarborough Fair ( Parsley, Sage, Rosemary & Thyme if the Beatles was too long ago ).
If planting in a basket, line the basket with a layer of landscape fabric to keep all the earth inside. You won't need to do this if your container is make from clay or some other solid material.
Make sure the water can drain out. Choose a container with a hole in the bottom or add a layer of stones before adding the soil, ensuring the roots won't drown. A plate underneath will prevent water stains.
Water and feed as needed, while remembering to send lots of love and appreciation their way. If you doubt me check out this article on gardening at Findhorn.
Clip regularly to avoid your herbs getting overly long and gangly.
You can dry or chop and freeze in ice cube trays for meals throughout the year.
So, if for the moment Jean's garden is an unattainable dream or just not your cup of tea, it is still possible to have fresh healthy herbs close at hand and readily available for your next adventure in the kitchen.
Bright Blessings!