Tomorrow is almost here! and it will be Leave some zucchini on your neighbour's porch day! Anyone with a garden knows the feeling. It can be a little like the face on Edward Munch's picture, The Scream at this time of the year. What do I do with it all!!!!!!!
Now it doesn't actually say in what form you can deposit the zucchini. Cakes and loaves are great options, they are easy to wrap and you don't have to keep up with who has what dish or plate.
But they generally only contain 2 cups of zucchini per loaf. If you need to get rid of use up those two box fulls sitting in the laundry then this recipe will be most helpful and if you don't tell anyone anti-veggie what's really inside until later all will be good.
If you are old enough to remember Ritz Cracker Apple Pie. This is a similar style of recipe, just a lot healthier and tasty to boot.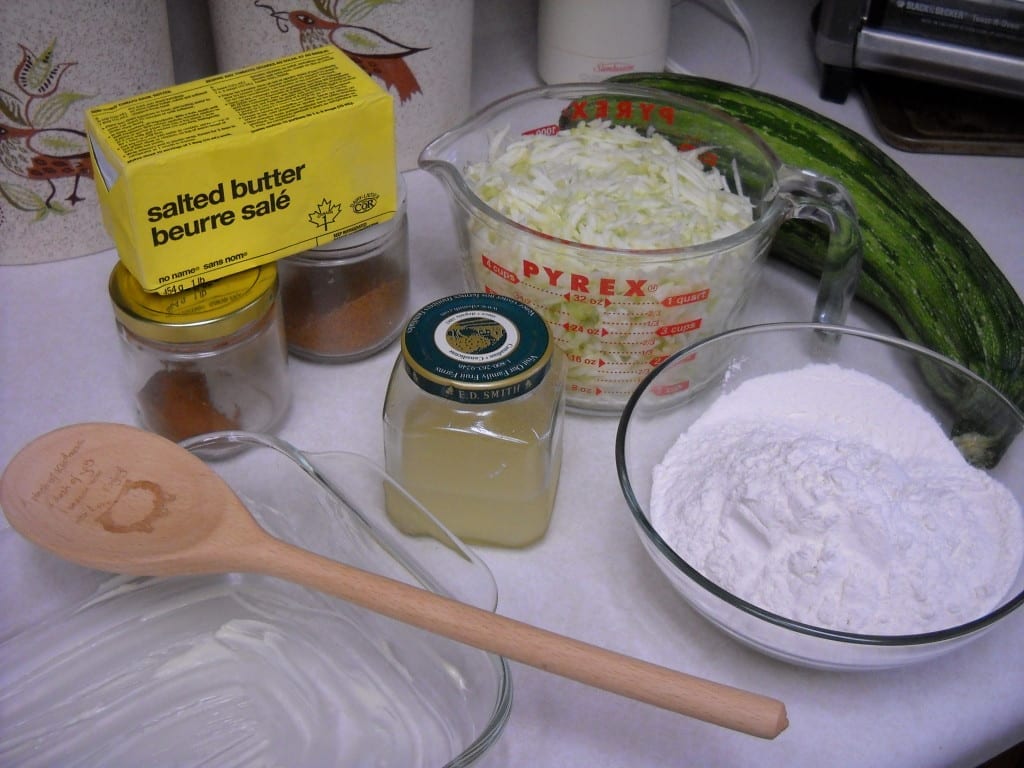 You will need:
4 cups peeled, cored and shredded zucchini
1/3 cup lemon juice
1/2 cup sugar
3/4 tsp. cinnamon
1/4 tsp. nutmeg ( try mace if you have some handy )
2 cups flour
1 cup sugar ( I used half brown and half white for a little extra flavour )
3/4 tsp. cinnamon
3/4 cup butter
Start by gathering your ingredients. Find gratitude for all the vegetables available to you, even as they bring times of excess. Feel the abundance inherent in being able to prepare something in the kitchen and having the ingredients available to use. Breath in gratitude and breath out peace. Access the energy of your heart, opening and expanding as you breath. Welcome the compassionate spirits to your kitchen and begin.
Grease a 7×11 inch pan and preheat the oven to 350 degrees. If 7 x 11 is funny size for you, one and half times the recipe will work in a 9 x 13 inch pan. And it uses up more zucchini. Bonus!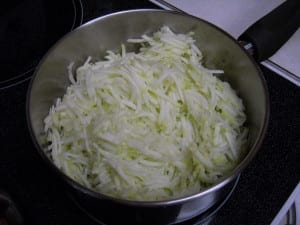 Wash and peel the zucchini, cut in quarters lengthwise and take out the seeds. You can always add the peel and seeds to a quick batch of muffins but for this one, they idea is to use only the flesh of the zucchini. It keeps them guessing a little longer.
I ran the zucchini through a food processor with the grater blade but you can also cut in slices. It will just take a little longer to prep the filling and to cook.
Place shredded zucchini and lemon juice in a pot and cover with the lid. Cook at medium heat, stirring to mix, until tender. This will take about 5 minutes once hot or a little longer if you have sliced the zucchini into pieces.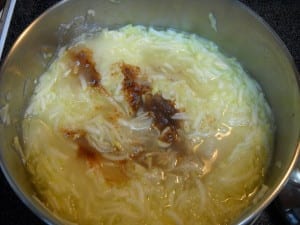 Once the zucchini is tender, take off the heat and add the sugar and cinnamon. Mix.
In a clean bowl add the dry ingredients, flour, sugars and cinnamon.
Cut in the butter. If your butter is hard this can be done with two knives or a pastry knife.
I prefer the butter at room temperature. I find it faster and easier to rub the butter into this mixture until it is crumbly.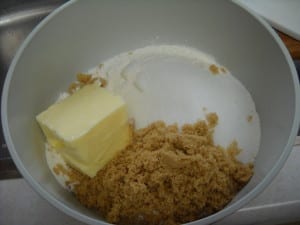 Work quickly, especially if you have warm hands and use light pressure only. No need to try and make a paste of the mixture. Once your mixture resembles the picture below, you are golden.
Take 1/2 cup of this mixture and put it in the pot with the zucchini mixture. Stir well and return to the heat if needed, while the flour mixture thickens the liquid and a sauce is created.
Take off the heat and keep the zucchini mixture warm by covering it with a lid.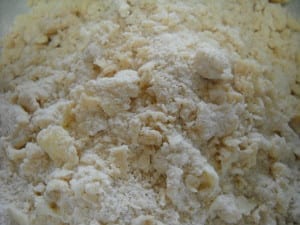 Place half of the remaining crumble in a 7 x 11 pan and press down, making sure to get the corners and edges.
Once level, pour the zucchini mixture on top of the base and then use the remaining crumble to sprinkle on top.
Bake at 350 degrees for 35 minutes or until golden brown.
Cut is slices and serve with whipped cream or sweetened Greek yoghurt for dessert or allow to cool and cut into smaller pieces and serve as finger size treats.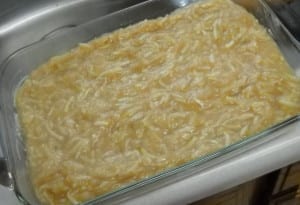 By taking off the skin of the zucchini and adding the lemon juice and cinnamon you are creating a totally different flavour.
A little like working with tofu and starting with a blank slate. I mentioned this recipe to a friend, she said she used to cook her zucchini in pineapple juice before turning it into treats.
You can also buy metal food containers with flat lids. The tin ones that can go in the oven. Get the production line going and make up enough for five or six batches. Bake and share without having to get your container back or pop in the freezer so you pull out an easy dessert on a cold winter's night.
Last week I was at a Lammas celebration and we had lots of graham crackers available so we zipped up a variation of this recipe. 2 cups graham wafer crumbs, 1/2 cup sugar, cinnamon and butter was used for the dry ingredients. We put 1/4 cup of the crumbly mixture into the zucchini mixture and added 1/4 cup of flour to help thicken and then carried on as usual.
This recipe works well as a slice but if your purpose is to clear the kitchen of zucchini, try doubling the "fruit" section, maybe tossing in a handful of raisins and halving the dry ingredient section. Turn it into a zucchini crisp with no bottom, just sprinkle all the crunchy crumbles on top. Bake in a casserole dish, spoon into a bowl and serve with ice cream.
8 cups of zucchini gone! Poof! Magic!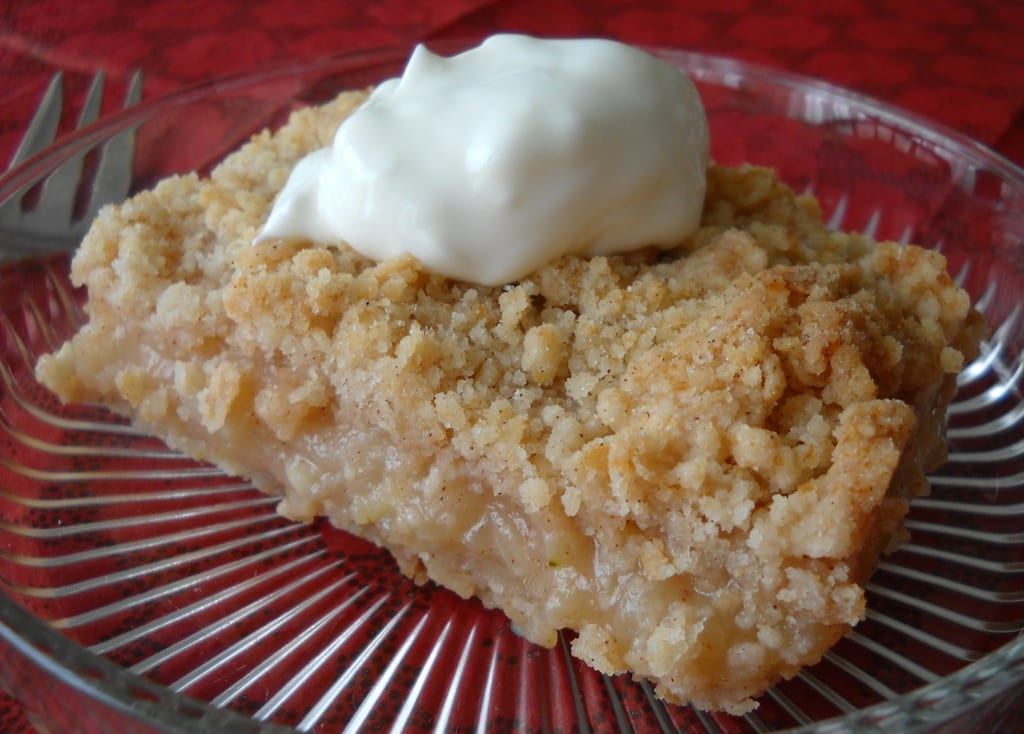 Zucchini Bars (Really) from My Kitchen Wand