Years ago, it was suggested to me that there were two kinds of cooks. One variety finds a recipe, goes shopping for the ingredients and prepares the dish. The second opens the cupboards, looks at what is available and then gets to work.
I would generally put myself in the second category unless I am exploring something new and exotic for the first time. From all the comments I read on food blogs, I would say there is an ever increasing number of cooks in category two. People who are comfortable cooking, use a recipe as a guide and add their own "wild abandon" to what they prepare.
"I'd like to dispel the idea that food made from leftovers is of lesser value and ought to be served up with an apology. It can give a cook enormous satisfaction to create another appetizing meal from the remains of the last." is another quote from Forgotten Skills of Cooking by Darina Allen, my guilty pleasure this long weekend ( in B.C. ).
It reminded me that I had a recipe from last spring that I never posted as it was a savoury dish and I was just using up leftovers while the camera was handy.
This style of casserole used to be a regular on the table when I had students boarding. It filled up their hollow legs and served with a fresh salad was colourful, appealing and tasty.
I encourage you to open your cupboards and experiment with what needs to be used up.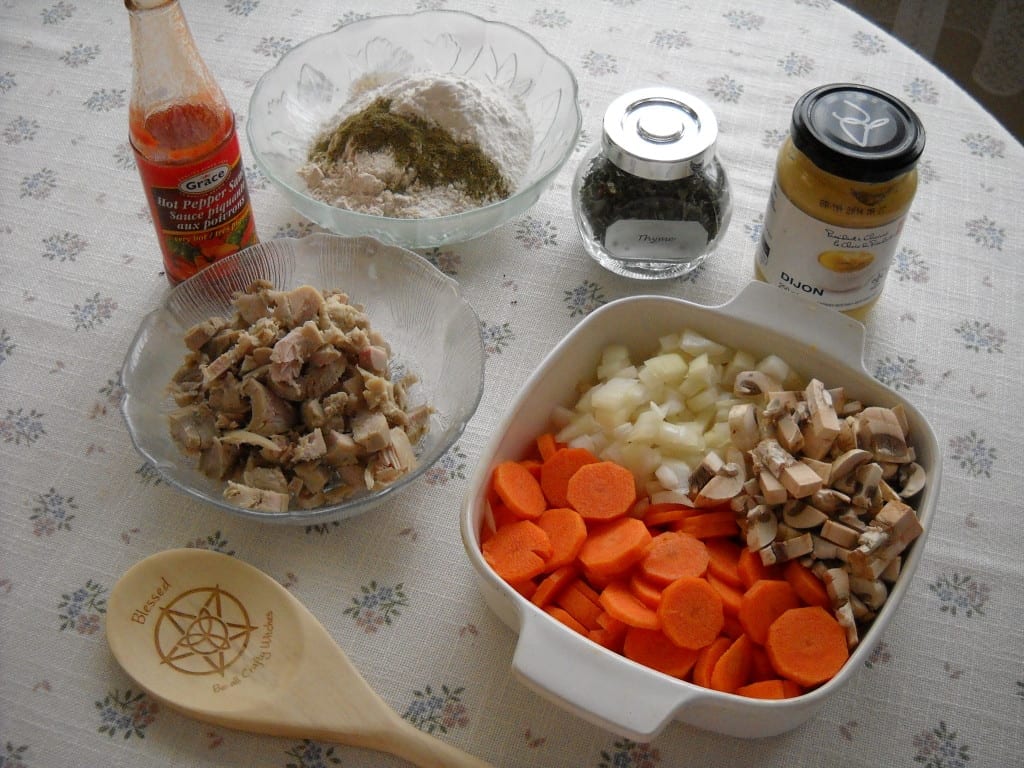 You will need:
2 Tbsp. oil or butter
1 carrot, sliced and cooked
3 mushrooms
3 chicken thighs poached
1/2 onion, diced
liquid pepper flakes
1 1/2 tsp. crumbled thyme
3/4 tsp. mustard
1 Tbsp. flour
1 cup milk/cream maybe a bit more
For the biscuits:
1/2 cup white flour
1/2 cup whole wheat flour
4 tsp. baking powder
1/2 tsp. onion salt
2 Tbsp. butter
1/2 cup buttermilk
1/2 tsp poultry seasoning
3 Tbsp. crushed bacon
Shredded cheese to top
Breath deep and "be" in your space. Let the days aggravations drop away with each exhale. Open your heart and let blessings flow. ' Blessed Be my work today, while cleaning corners deep and dark. Dinner's made with what I found, unleashed was my creative spark".
Preheat your oven to 375 degrees. Butter a medium casserole dish and put it aside.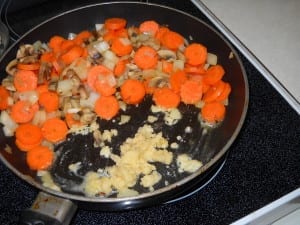 In a pan, add the chopped onions and mushrooms with a little oil and saute until the onions are softened and translucent. This recipe will spend time in the oven once put together so don't over cook. Add the cooked carrots and toss to heat through.
Push the veggies to the side and to the melted fat, add in the flour and blend.
Allow the roux ( fat and flour mixture ) to cook for a few minutes and then take off the heat. Using a whisk add in the milk/cream stirring well to incorporate the roux and resolving any lumps. As the liquid heats, it will thicken forming the sauce.
You can do this is a separate pan and a purist probably would but I find this method works for a recipe where everything will be blended together and makes one less pot to clean.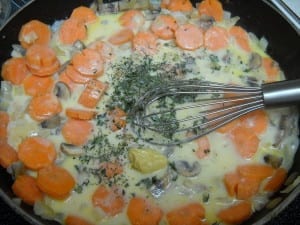 Stir the veggies back into the sauce, add the leftover chicken ( or turkey or pork or…) and allow to heat through for a few minutes.
For flavouring I added mustard, dried thyme from Jean's garden and a few drops of hot pepper.
I like hot pepper in dishes like this and spaghetti sauce. I am not a lover of overly hot foods, they burn my mouth but I really like the feeling of warmth in a satisfied tummy a few drops of this stuff can bring to a meal. We all have opened bottles of flavourings in the fridge so if something else appeals, now it the time to experiment.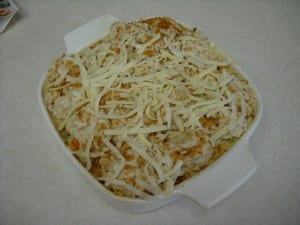 In a clean bowl add the flours, onion salt, poultry seasoning and baking powder. Cut or rub in the butter.
Cutting in the butter is something you do if the butter is hard. Rubbing in happens when the butter is softer and needs a quicker gentler hand. I used to say pretend you are hand washing the collar of a shirt but these days that is not always informative. The idea is to break down the fat and cover each piece with flour. When the fat melts in the oven holes are created that make the biscuit light and airy. So create what looks like a crumbled mix and keep it light. Don't over mix and you will be good. Add the bacon bits and buttermilk and stir just until mixed.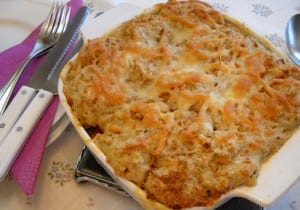 Pour chicken veggie mixture into the casserole dish, top with spoonfuls of biscuits and sprinkle with shredded cheese. Bake for about 25 minutes at 375-400 degrees. The biscuits need to bake but the bottom section is already cooked so a little higher heat and shorter cooking time are alright.
I used up cooked carrots, mushrooms that needed to be cooked, leftover chicken, bacon, the whipping cream that was about to expire, the buttermilk that had yesterday and the last of the shredded cheese.
All in all, an all round good clean up of the fridge.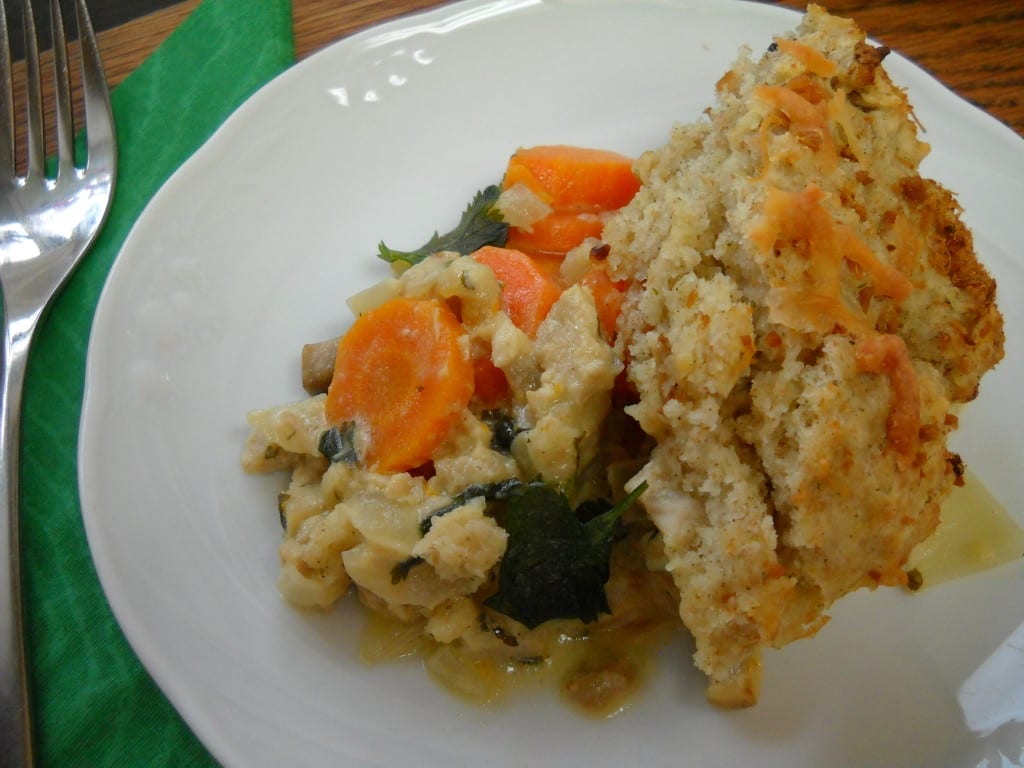 Creamed Chicken with Bacon & Cheese Biscuits from My Kitchen Wand