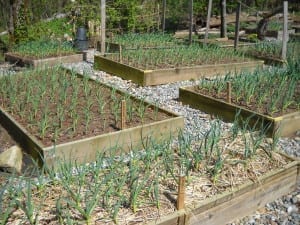 In the early spring, I showed you this picture of the garlic just beginning to do it's thing in Jean's garden.
There were at least ten different varieties that fell into two general categories, hard neck and soft neck.
The hard neck varieties grow a center stalk that is strong enough to stand curly and firm. These tender center shoots are harvested in early summer as scapes and have a delicate garlic flavour, nicely used in cheese, eggs, salads and other recipes. They also look intriging in flower arrangements.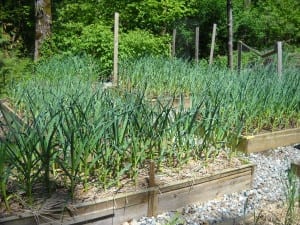 Soft neck stems are flexible and can be easily woven, just what you need for making braids.When the crop is ready the garlic is harvested from the field and allowed to rest in a dry location for several weeks.
A good way to do this is to start by laying them flat for a bit and then bundling and hanging in a safe location where lots of air circulates, car port, drying room, mud room if there is no laundry in it, etc.
When bundling, try tying the groups of garlic with knots that undo easily, not a knot you need to work at. That way the string can be used again and you don't have to ruin your nails getting them undone or in frustration, going for a pair of scissors.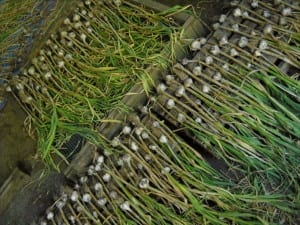 As the garlic dries, the green of the stalks will turn to brown and once that process is complete, you are ready to braid.
Unless you have the misfortune of acquiring a very common fungus, Aspergillus niger, common to garlic, onions & grapes.  Which is exactly what happened to Jean's soft neck crop.
Having put all the bundles into the wheel barrow, we headed for the table, tooth brush in hand to start work on the bulbs. The outsides need cleaning so the top layer of paper is removed if needed and the roots are cut short.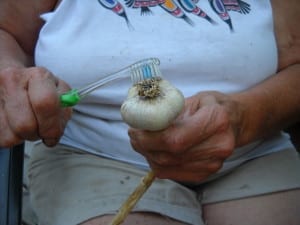 The topknot is then brushed clean of dry earth and it is during this process that the black from underneath the paper surrounding the cloves begins to become visible. The bulb will look just perfect but inside all is not good.
I felt so much empathy for Jean's frustration and it helped me to understand better the tribulations of farmers who farm for a living.
To put in all that effort, to sow, to tend, to harvest and then have the entire crop be damaged beyond it's ability to be sold can be heart breaking, especially if it is what puts food on the table and pays the mortgage.
In addition , it is not safe to use the cloves for next year's planting either.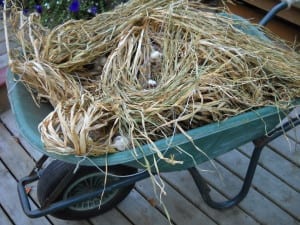 When most of us just pop to the store to pick up what we need, whether in season or not, it is possible to loose touch with the full process that puts fruits and vegetables at our fingertips.
We can easily disconnect from the risks involved and the myriad of issues that can halt the chain of events we have come to rely on for our food supply.
So today, I have much gratitude and thankfulness for all the men and women who make my life simpler and safe through their efforts. Not all seeds planted flourish and not all plants will remain healthy. The good news …the wheel turns and there is always next year if you have the energy to try again.