Yesterday I posted a popular summer time recipe in our home. It is a cottage cheese and chive mixture that can be used as a veggie dip and cracker and sandwich topping.
I also use it sometimes as a quiche or tart filling when working with savoury pastries.
Chives can be found around the world and are popular in Chinese cooking. Within the Western context of sympathetic magick, chives were said to ward-off evil and oft times were included in talismans to drive away illness. Planted outside households, the belief was that chives would dispel unwanted spirits and guard the occupants within against illness and ill fortune.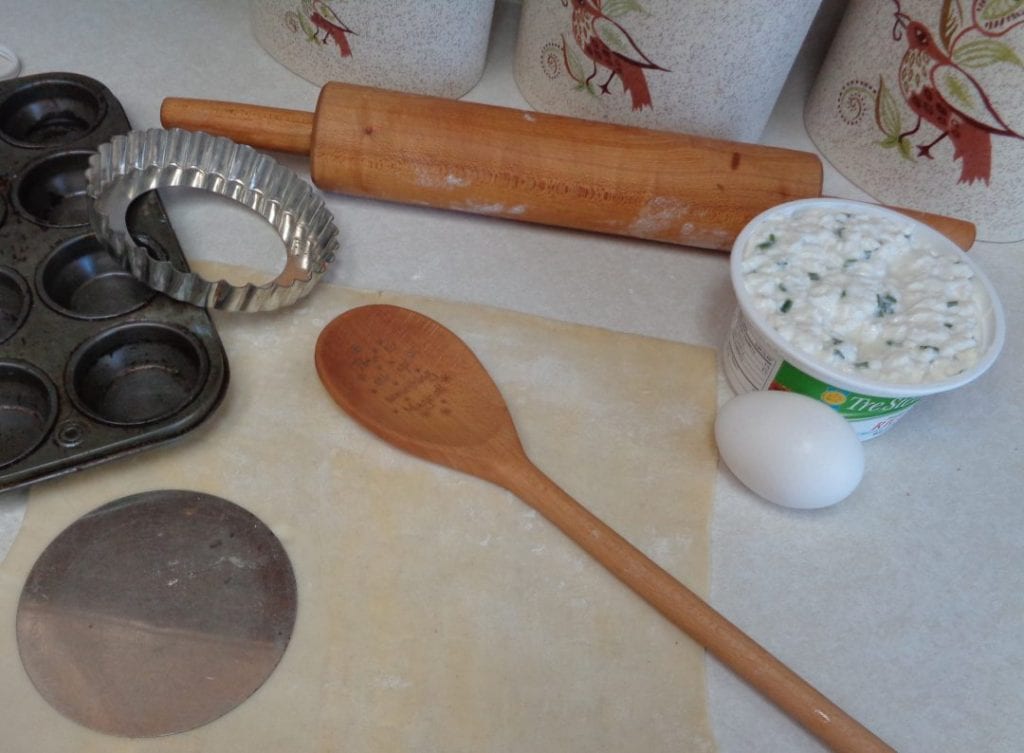 You will need:
1 egg
1 cup chive and cottage cheese mixture
pastry of your choice
Begin with a deep breath. Close your eyes and relax into the moment. Bring your focus into the present and welcome the compassionate spirits. "In my kitchen, filled with care, I welcome, Earth, Water, Fire, Air". Begin.
For this recipe I used puff pastry as there was some thawed in the fridge in need of being used up. Regular shortcut pastry will work just as well as would several layers of filo. When using the puff pastry make sure that it is well cooked and partially cooled before serving. The pastry needs a little time to crisp up once out of the oven.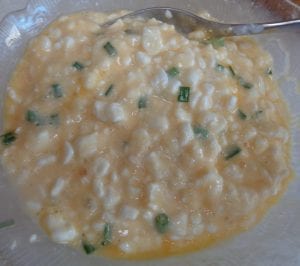 Roll out your pastry of choice and cut into circles that will fit the containers being used.
Gently place each circle into its form working the pastry into the area where the sides meet the bottom without creating any holes.
I had enough puff pastry for a eight deep tarts and one 4 inch tart shell, so 12 tarts is possible from 1 cup mixture and can be increased as needed.
To one cup of the chive and cottage cheese mixture, add one egg and mix together.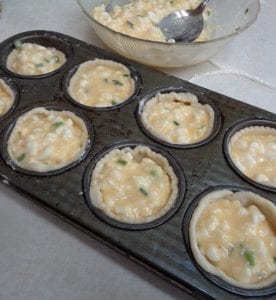 I have also put this mixture in a blender but much prefer leaving the curds whole.
Place in a 375 degree oven and bake until nicely browned, 15 to 25 minutes, depending on the size of the tarts.
Allow to cool a bit before serving.
Top with a few fresh pieces of chives to brighten the final presentation.
Serve the larger tart with a fresh salad for a light sinner, make that dinner.
The tarts are tasty appetizers. Prepare the tarts shells then fill and bake as needed to keep fresh ones arriving through your entire event.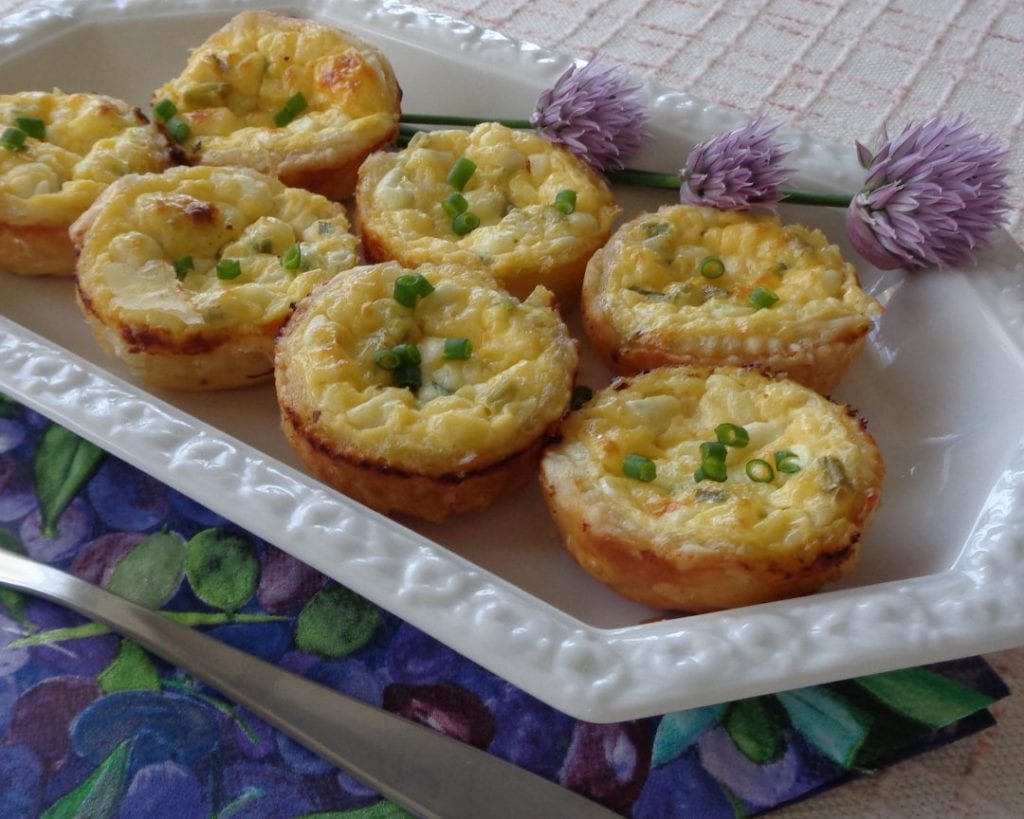 Cottage Cheese & Chive Tarts from My Kitchen Wand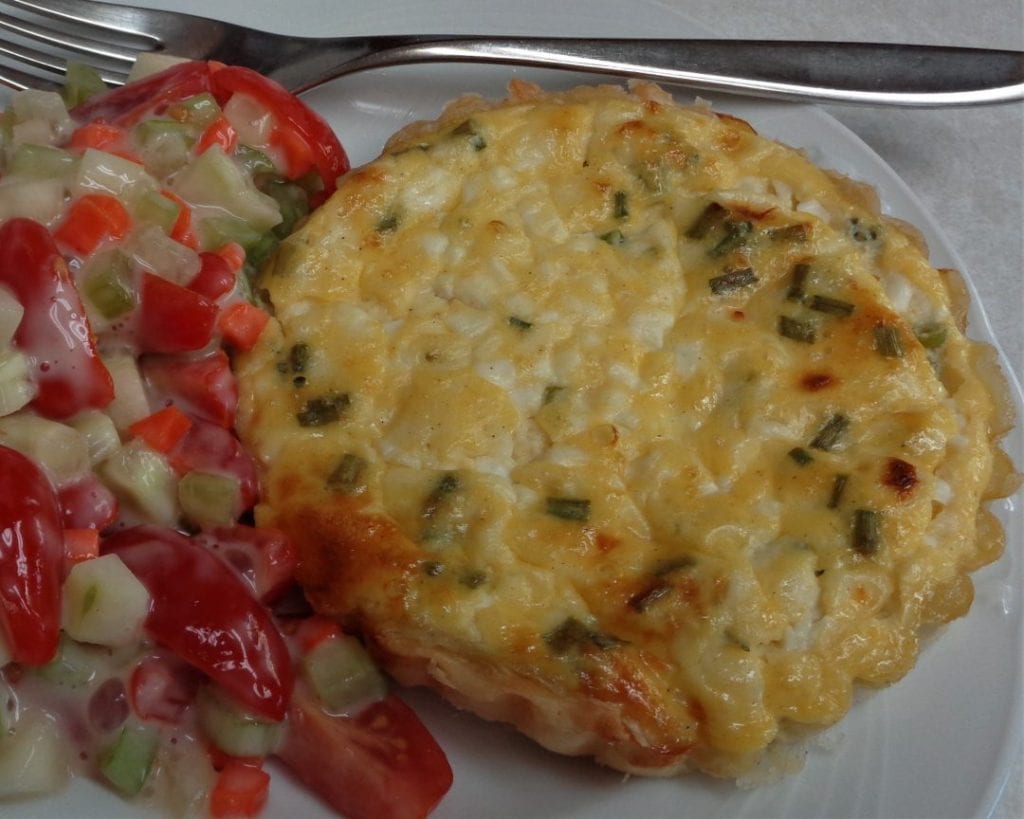 Cottage Cheese & Chive Quiche from My Kitchen Wand