I have trouble calling these Florentines as what I remember from years ago, was a square, had candied peel and a shortbread bottom with bottom and sides dipped in chocolate. Maybe these can be called a lighter variation? Super crunchy, spider-web thin almond toffee cookies flavored with orange zest?
However they are described, they bring a smile to faces and surely there is no better time to be baking with nuts than Yule.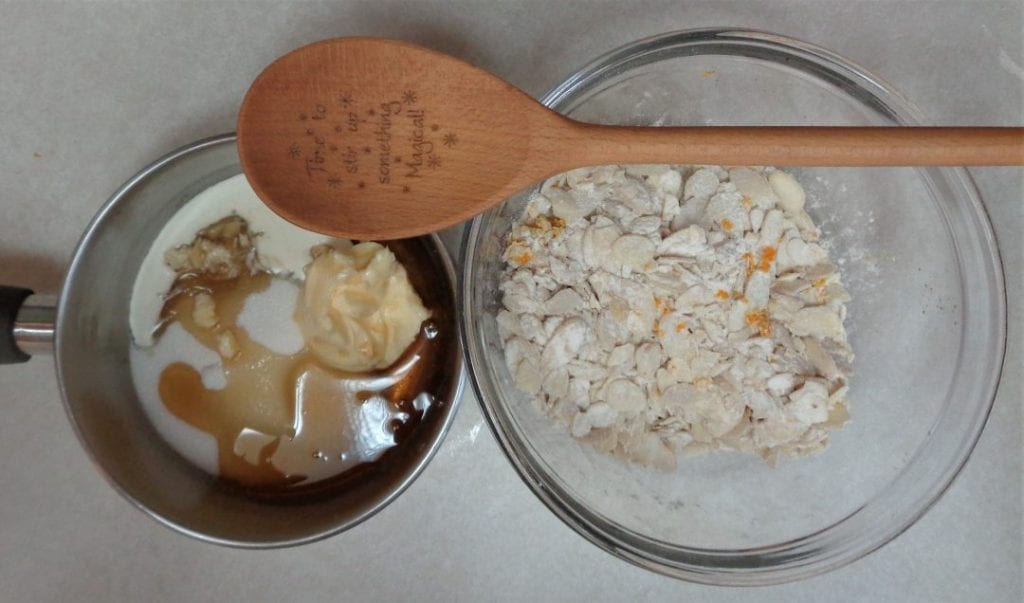 You will need:
1 3/4 cups sliced, blanched almonds
3 Tbsp. all-purpose flour
 2 Tbsp. freshly grated orange zest
3/4 cup sugar
2 Tbsp. heavy/whipping cream
2 Tbsp. golden corn syrup
5 Tbsp.  butter
1/2 tsp. pure vanilla or rum extract
2 to 4 Tbsp. semisweet chocolate, melted and tempered
Before we get started, I wanted to make a couple of comments. Firstly, I don't use corn syrup very often but when I do, I use golden corn syrup by Crown. Please don't take this as an endorsement, I am constantly looking for ways to reduce sugar content and still maintain taste while baking. These cookies were a special request from my step-mom for Christmas. At 90 years of age, she believes she has earned the right to enjoy what she would like. Good blood sugar levels, so who am I to say otherwise? I choose this Crown syrup because it is not made with High-Fructose Corn Syrup; rather glucose, water, refiner's molasses, salt and vanillin. As always, trust your own instincts.
Secondly, these "cookies" will come out of the oven very soft and will need to cool for a few minutes before being transferred to a cooling rack. Test the edges before trying to move a cookie, to ensure they are stable.
Preheat your oven to 350 degrees F. I lined two cookie sheets with parchment paper but if you have silipat sheets, this is an ideal time to pull them out. Check that your racks are in the middle of the oven. Some people bake two sheets at once and exchange them at around 5 minutes. First time through I would suggest baking one sheet at a time, just to get a little experience in the timing before working on two trays together.
As the supplies and equipment is gathered, bring your focus to the task at hand. Who are you making these for? What qualities do nuts (money, prosperity and wisdom), orange (sun & love) and sugar (love) have? How might they be beneficial to the purpose/person at hand? Take a deep breath in and hold for a moment before releasing, relax. Repeat until you are feeling centered in the kitchen and in your intention. Begin.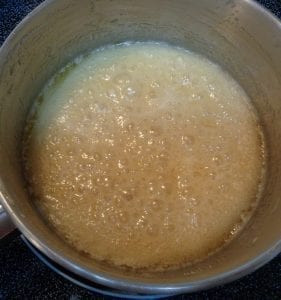 In a medium bowl, combine almonds, flour and orange zest before setting aside. Ruth likes sliced almonds that she can see and chew but it is also possible, if you prefer, to pulse the nuts two or three times to break them down just a little before adding the other dry ingredients.
In a medium saucepan, gather butter, corn syrup, heavy cream and sugar. Place over medium high heat and bring to a boil. There is no real need to stir but we all like to, so once or twice is fine to clean the sides.
Let the mixture properly boil for 1 minute, making sure all the sugar has dissolved. Take off heat and stir in your choice of extract.
Add the nut mixture and stir until combined. The mixture will be hot so use two spoons to transfer batter to the trays until it cools down to a manageable temperature.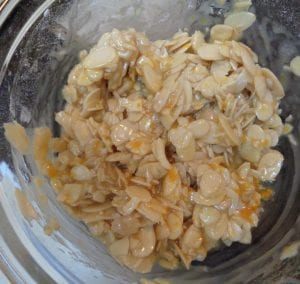 This mixture is going to spread itself very thinly as it bakes. It will need room to expand so six to eight per cookie sheet is a maximum. Best to give each cookie 2 – 2 1/2 inches space, depending on the original size of the batter.
Place about 1 1/2 teaspoons worth of mixture into position and spread with a spoon to even out the almonds. This will give you a baked item about the size of a cookie.
(Another option would be to make them larger with maybe three to a sheet. They will need to bake a little longer. These can be rolled around a wooden spoon while still soft and filled with dessert cream but that may be Too Much Information for right now.)
Bake for 9 to 12 minutes. You will get a handle on how long after baking the first tray. All ovens are different. These were, on average,  done in 9 minutes but it may take longer in your oven. I also found that time reduced as I moved along through repetitive batches.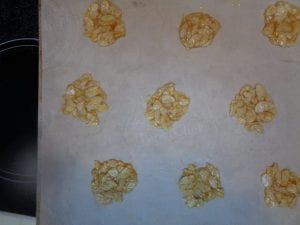 Cookies will be flat and golden when baked.
If you are stepping it up and using two trays at once, remember to switch the trays half way through for even browning.
If not enough space is left between cookies you may find a pancake instead of individual cookies. It is possible to cut through and divide the mass into smaller sections (and reduce the amount of batter in the next round).
Place sheet on cooling rack and allow to cool until stable (3 -5 minutes), before transferring the cookies to the cooling rack. Repeat until the batter is used up.
Once fully cooled, an optional drizzle of melted, tempered dark chocolate is a common finishing touch.
We are calling these cookies, much like a florentine, but they really are more a caramelized nut toffee and should be stored in an airtight container away from other cookies or cakes as the additional moisture will cause these to soften.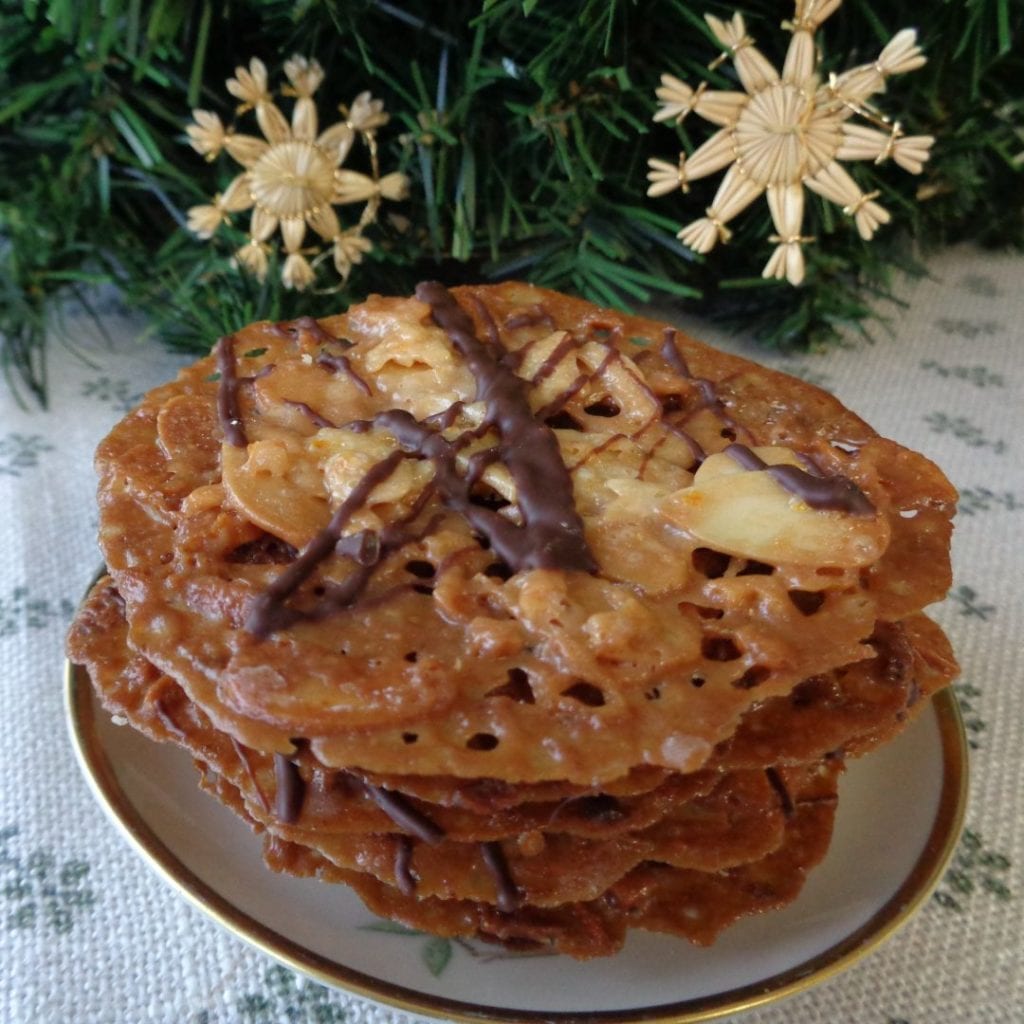 Almond Orange Crunchies from My Kitchen Wand