Not all the my playing with that big can of chestnut puree ended up in something sweet. A bowl of this silky smooth soup makes a richly filling main meal and a smaller cup, an excellent starter for Yule or New Year's Eve dinner. Doubling the ingredients below would be appropriate for a larger group.
Sweet chestnuts are symbolically connected to the ideas of foresight and prevention, based mainly on the fact they are little powerhouses of nutrition and energy, highly sought after by nomadic people on the move or armies needing to cover lots of distance. One of the reasons there are even chestnuts in Europe is that chestnut trees were planted along the path of the Roman army as it spread out over the countryside.
Abundance and fertility are qualities attributed to the chestnut by Native American tribes of the northeast based largely on the volume of nuts produced each year.
Abundance is also in play at harvest time when we begin to gather and preserve for the coming winter. Enjoy the current bounty while having the foresight to preserve some of it through the winter days of lack. (Maybe a container for the freezer?)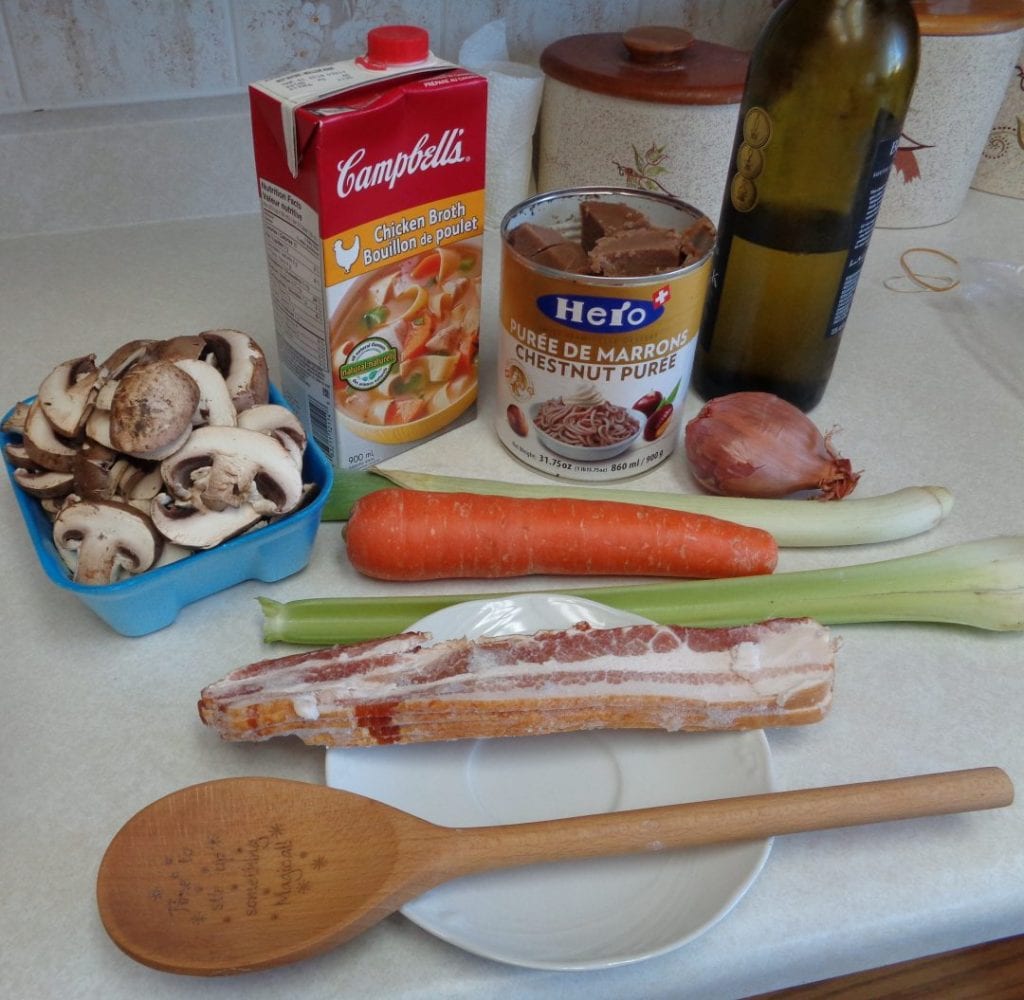 You will need:
2 slices thick-cut bacon, diced and fried until crisp
1 1/2 tsp. butter
1/2 carrot, peeled and sliced
½ celery stalk, sliced
1 1/4 cup sliced leek, split lengthwise before slicing ( Use the most tender parts, the white and lightly green sections)
1/2 cup shallot, peeled and roughly chopped (one small shallot should get you in the ballpark)
1/2 cup sliced Crimini/Cremini mushrooms
Kosher/sea salt to taste
freshly ground pepper to taste
2 1/2 cups chicken broth, plus another 1/2 if needed
½ cup chestnut puree
1/4 cup heavy cream
extra whipping cream and freshly snipped chives as garnish
"In my kitchen filled with care, I Welcome, Earth, Fire, Water, Air" always seems a good place to start when making soup. All the wonderful ingredients that come from the earth, the heat needed to soften and cook the meal, the water that brings all the micronutrients out and flavours the stock and the aroma that wafts through the kitchen while the meal simmers. What better time to invite in the compassionate spirits to support a project. Take a couple of deep breaths, hold each one for a moment and then release your breath along with any nigglies and those tight shoulders. Begin.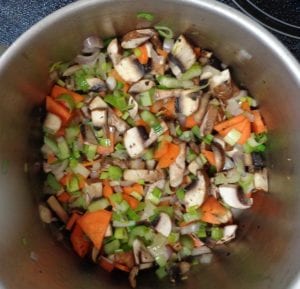 Begin by getting the bacon crisp and then putting it aside until serving.
When looking for a vegan recipe, delete this step and use a vegetable fat to start the vegetables cooking.
Place a medium pot over medium heat and render the bacon pieces crisp. Place the bacon on paper towel to drain and pour out all but 1 teaspoon of the fat. Add in butter melt the butter and all the prepared vegetables.
Sprinkle with salt and pepper to taste.
Over medium-low heat cook until the vegetables have softened, the leeks and shallots are transparent and the mushrooms are a lovely golden brown. Around 10 minutes should do it.
To the pot, add the stock and chestnut puree. I used chicken stock but vegetable stock could be substituted as needed. Low sodium stock will give you more flexibility in reaching the sodium amounts that work for you. Stir to distribute the puree, while bringing to a simmer. Cover partially with a lid and continue cooking for another 20 – 30 minutes until all the vegetable are fully cooked and soft.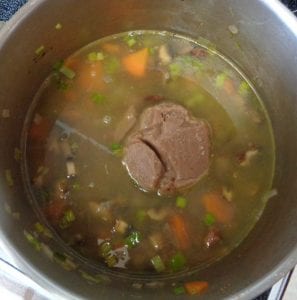 Take off the heat.
Using an immersion blender, process until fully puréed. An alternate option is to use a blender and process in batches. To be safe, let the soup cool a little before blending.
The finished mixture should be very smooth. I had originally thought about a bit of white wine or sherry but this soup was so rich that they seemed over the top additions. (Just passing along the thought in case you feel differently.)
When ready to serve, return the soup to the heat, add the cream but do not boil. Add stock or wine if the viscosity is too thick. This works best as a relatively thin soup.
Taste and add any additional salt and pepper then ladle into shallow bowls, warming the bowls first is a nice touch, especially if they are smaller cups. A first course is likely to cool too quickly otherwise.
Garnish with the reserved bacon, a splash of cream and if you have any left in your garden, fresh chives.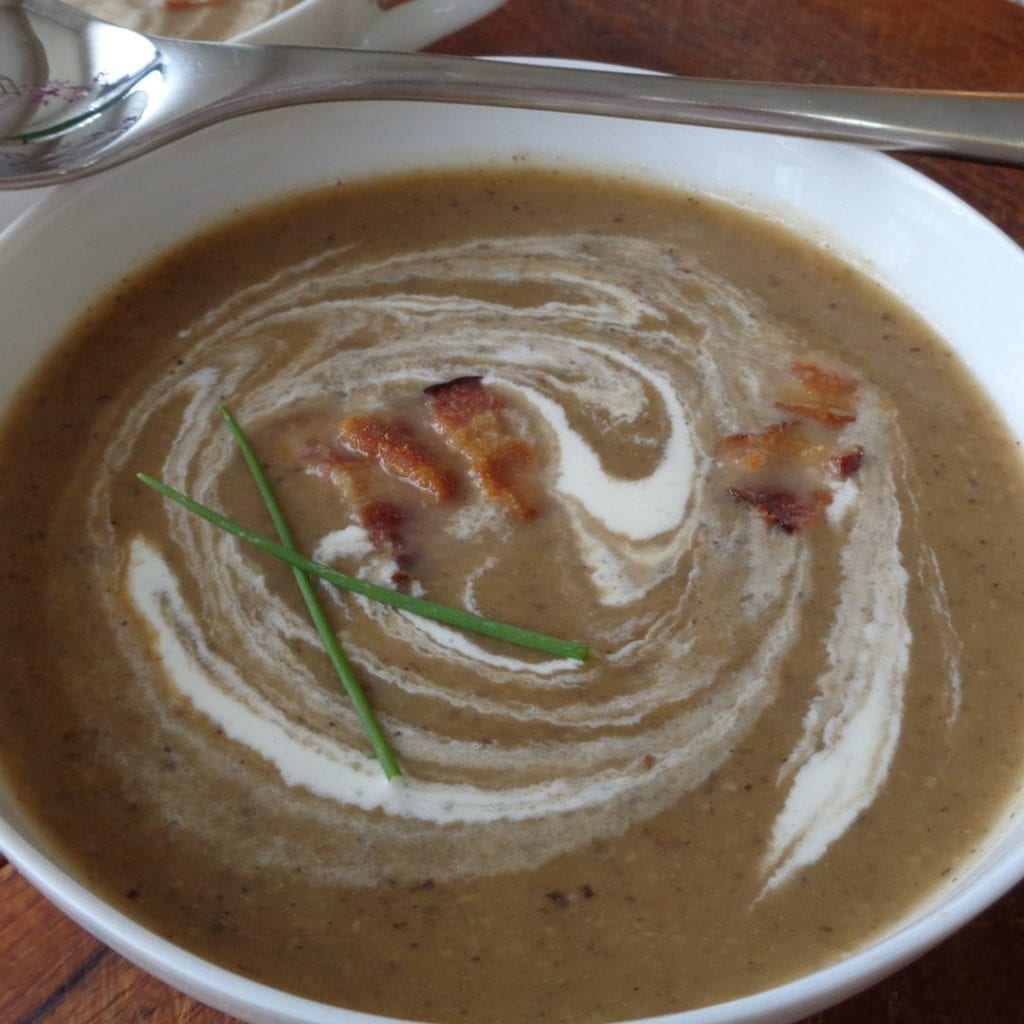 Chestnut Mushroom Soup from My Kitchen Wand