Fairies have a multi-branched family tree of elemental "spirits", not always in the ethereal sense. One of the oldest mentions of fairylike creatures was 3,000 years ago in The Illiad by Homer. He wrote about the nymphs answering the call of Zeus for all Immortals to come. It can get confusing as within the legends of Greece, nymphs could also die. They were usually young woman, human size with a connection to the life energy of the land they lived on and with the ability to bear children. Achilles' mother was a nymph.
There is an English legend, similar to the story of Demeter about a King Frost who fell in love with a shy young girl named Violet. Over time his heart warmed and grew gentle, even allowing the temperatures to become warmer for half the year and Violet to return each spring to the land of her people but only in the form of a small purple flower, making wild violet jelly the perfectly appropriate topping for these fairy tea sized treats and what little girl does not like pinks and purples?
If you don't have access to wild violets or the time to make the jelly, crab apple is also a pretty pink or try a smooth apricot jam. Another option is to find something equally intriguing at your local farmers market.
You will need:
1 cup flour
1/3 cup shortening or lard
1/2 tsp. salt
3 Tbsp. water
2 1/2 – 3 Tbsp. butter
Pinch of salt
1/3 cup sugar
5 tsp. all purpose Flour
1/4 tsp. almond extract
1 large egg
1/4 cup well mounded unblanched whole almonds
Pinch of baking powder
2/3 cup whipping cream
2 Tbsp. sugar
1/4 cup jelly of your choice
Preheat the oven to 375 degrees.
Welcome the fairies into your kitchen but be very respectful to them or havoc can ensue. Gather your ingredients, be in the present moment, feel gratitude for all the bounty you are able to share, Take a deep breath, repeat and begin.
Pastry making can be scary for some people, especially when what I am about to say will go contra to what most books will tell you. While at my first job away from home, I worked the graveyard shift at a truck stop as a waitress about 3 hours away from home. There was not always a lot to do and I asked if I could do some baking. I was told, "yes" and one night my intention was to bake lemon meringue pies from scratch. Everything was sitting in the fridge getting cold, just like I had been taught in school and when the morning cook came in at 4:00am, he laughed his head off, not literally but I sure felt the fool. "No, no, you go ahead and when you are finished I will show you how it is done". He had spent many years as a cook in a lumber camp where there is no extra time for cooling pastry. I have used this method ever since. Done in under 2 minutes and flaky every time.
Place 1 cup of flour in a bowl and add the salt. Cut 1/3 cup of lard or shortening from your package and add to the bowl. I don't use this kind of fat very often and you can choose to use something else. I just don't find that butter gives the same crispy finished product.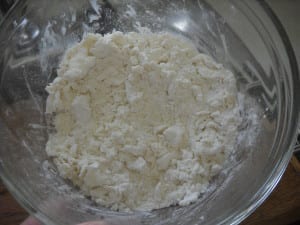 Now since everything is at room temperature, this will mix together very quickly. The key is to not overwork the fat. You want it to look like the picture with that crumbly consistency, little pieces of fat covered in flour that will leave holes of air when baked.
I get that by pretending I am hand washing clothes. It is not a squeezing motion as much as it is a washing the collar of shirts motion. ( Did I just date myself again?) Once the flour is mixed add the 3 Tbsp. water and gather together in a ball. If it doesn't all hold together don't worry and use the extra flour to dust the board you will be rolling the dough out on.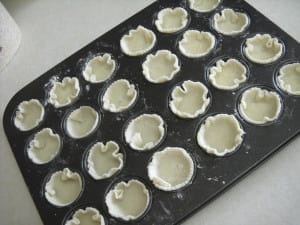 Roll out with a rolling pin and cut into circles that will fit a 24 cup mini muffin tin. If you don't have the right size cookie cutter try a glass.
1 cup flour will make the 24 tarts and an extra six tarts shells so if you have a second tray or a larger size for the extra batter that is great. Of course you can always cut the recipe in half if 12 -14 will be enough. I popped the half I didn't use into the freezer for future adventures. Another option is to put the last of the dough aside, wrapped and in the fridge for another day.
Put the filled tray aside and mix the almond filling.
Start by placing the whole almonds in a food processor and chopping until they are the size of meal. Add the rest of the ingredients flour, sugar, butter, extract, salt and baking powder for the filling and mix until well blended. It might look like I put in 2 eggs but it really was just one with a double yolk.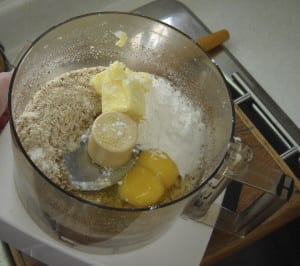 Gently spoon the mixture into the tarts shells, with a teaspoon, making sure not to overfill. You will have enough filling for the six extra tarts. Bake about 15 – 20 minutes until the tops are nicely browned. If any of the filling has risen over the top and attached itself to the side of the muffin tin, separate it with a sharp knife, while still hot, from the tin, before trying to take the tarts out and place on a cooling rack.
Once the tarts are fully cooled, whip the whipping cream with the sugar until stiff and pipe, with a small tip, in a circle around the outside of the tart. Top with enough jelly to fill the hole. If you do this while the tarts are still warm, the heat will melt the whipped cream and it will run down the sides.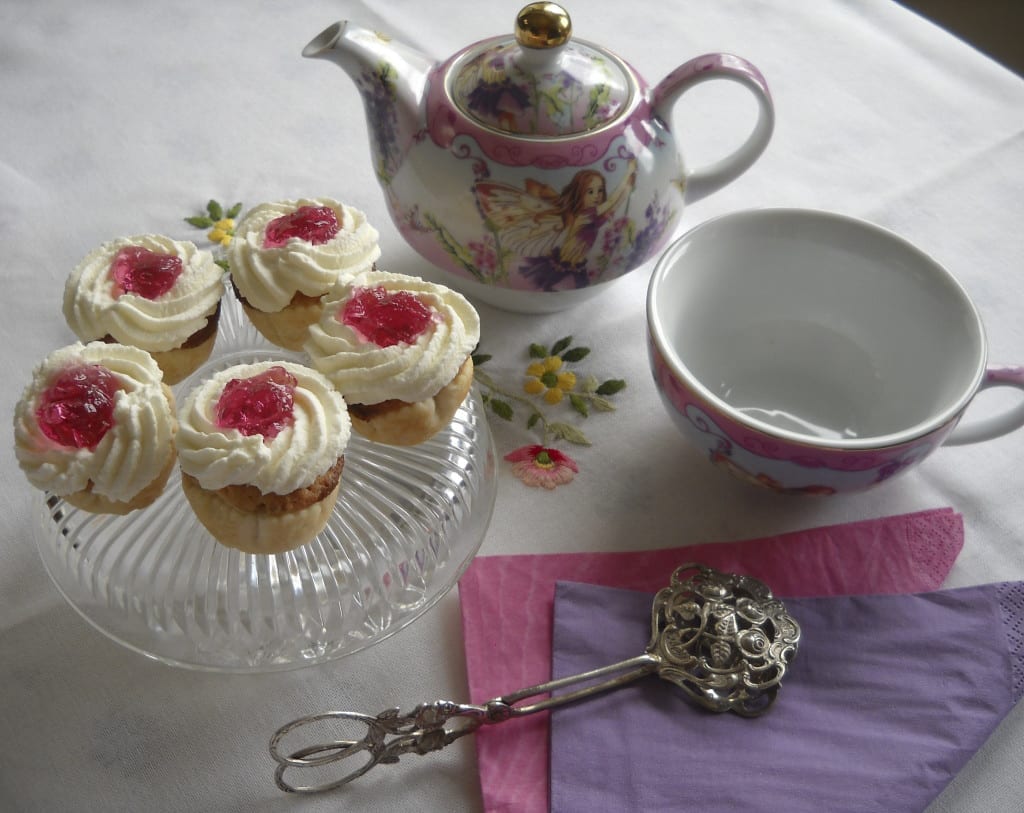 Almond Tarts with Wild Violet Jelly for a Fairy Tea from My Kitchen Wand