I have just been working on the Samhain newsletter, writing about being in sync with the rhythm of the season and slowing down. "Ignore this time at your own risk as what is up for you will find a way to get your attention. Verbal arguments, broken or lost articles, general frustrations about lack of time or respect are all more than happy to help show you the potential of your best self."
Previously, I had been finishing up this post when I hit something incorrectly and was left with a blank page and one lonely "A". I moved on to the newsletter rather than stay in frustration. Now I am back and can only smile at the slap upside the head I gave myself with the message from the newsletter written above.
Tea sounds like a fine idea!
Elder and apple are both trees of the Ogham alphabet used in Ireland and Britain between about the 4th and 7th centuries AD. They are also both fruits typically associated with Samhain.
In Tree Magick by Gillain Kemp, she writes of the apple tree, " Your thirst for knowledge nourishes your earthly desires that increase pure spirituality". Samhain is a time to heed your thirst and find understanding within by digging deep into the dark parts of yourself. Of the elder she writes," You may draw strength from advise rooted in bonds with your mother and grandmother". Samhain is a time for honouring and/or connecting with ancestors.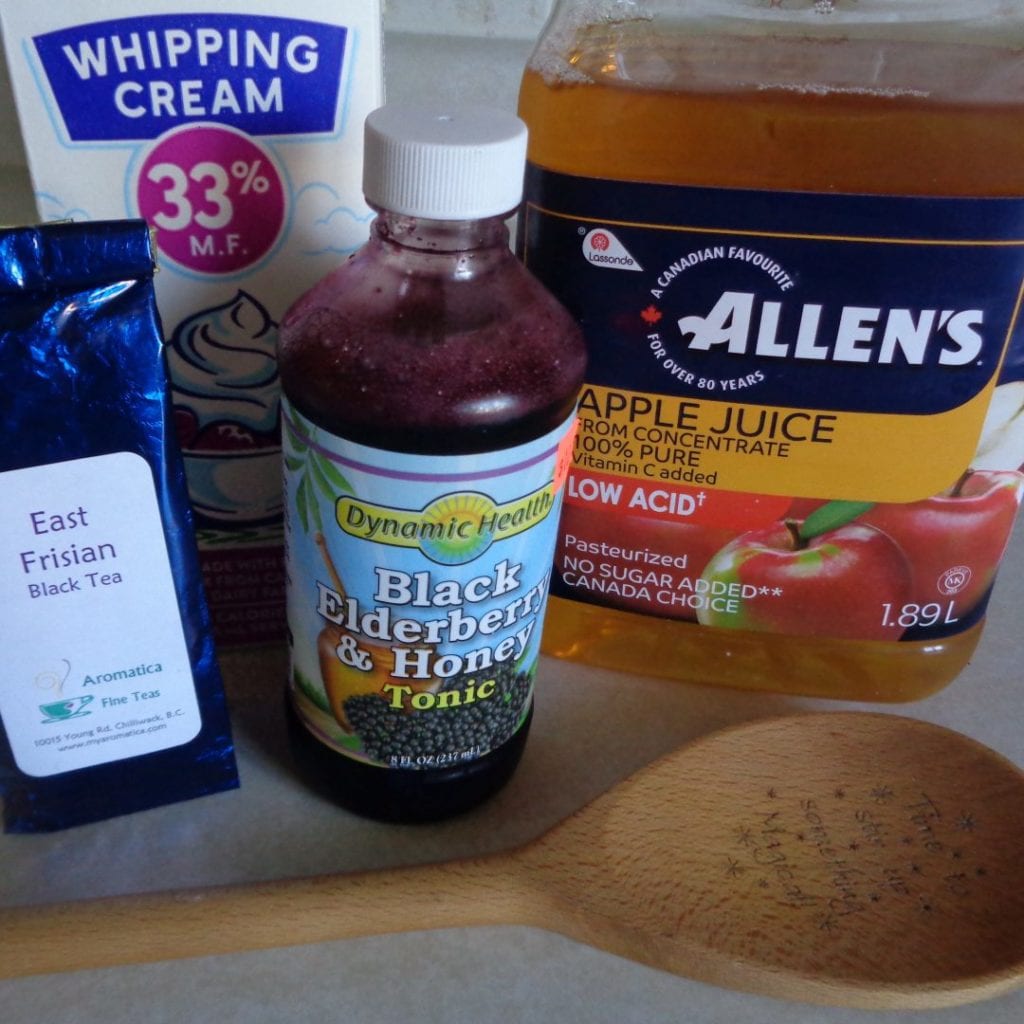 You will need:
1 cup hot black tea
¼ cup apple juice
1 Tbsp. elderberry syrup or juice
honey to taste (start at 1 tsp.)
Elderberry syrup is different from elderberry juice. The syrup has already been sweetened and may have added herbs such as ginger depending on the brand. Either will work for this beverage as the final step is to adjust for personal taste.
"In my kitchen filled with Care, I welcome, Earth, Fire, Water Air". Deep breath in, hold and release and repeat if needed.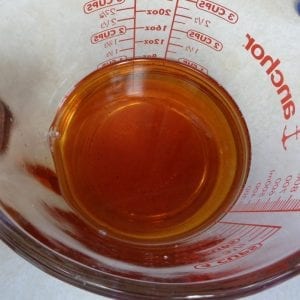 Brew the black tea to your preferred strength. I used East Frisian Tea because it was in the house and is part of my family background.
With Samhain's connection to honouring those who have passed it was personally appropriate but any good black tea will do.
To the hot tea add the apple and elderberry.
Once mixed in taste and adjust the sweetness with a bit of local honey if needed.
Heat up again if needed and enjoy.
This is an easy drink to make, appropriate for the season, that will not break the budget at a get together as it is mostly tea.
For those of you that noticed the whipping cream in the first picture, it is there because East Frisian Tea is typically served with whipping cream. Using a cream of some sort smooths the experience but is definitely not necessary. It can also be a challenge as there is a tendency for the cream to curdle. My suggestion is to try the combination, if you are feeling brave, in a small cup first before adding dairy to a larger batch.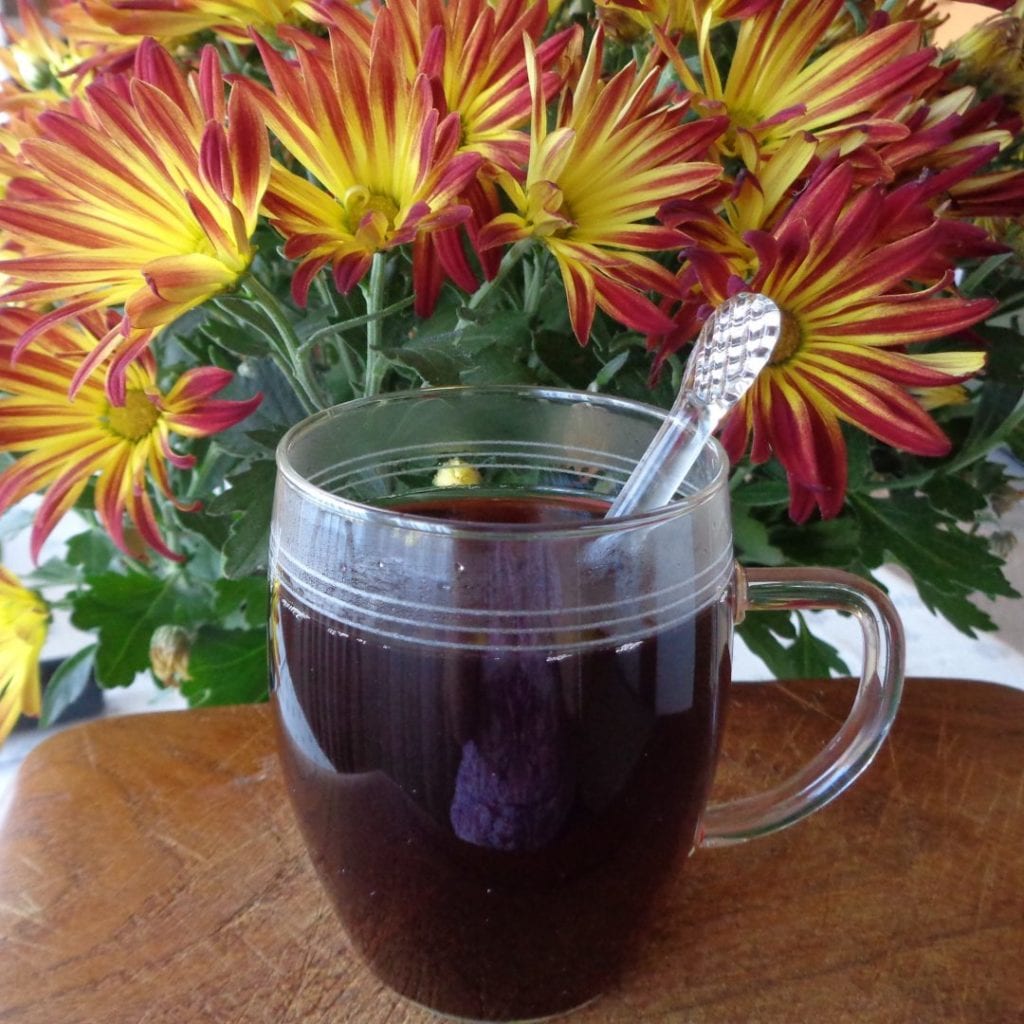 One tradition of the season is to leave space at the your table with food for relatives gone. Try pouring an extra cup of tea and making room in a busy life for a quiet "chat" when you have a moments to yourself. Time to say, "I am sorry/thank you/goodbye" and to listen.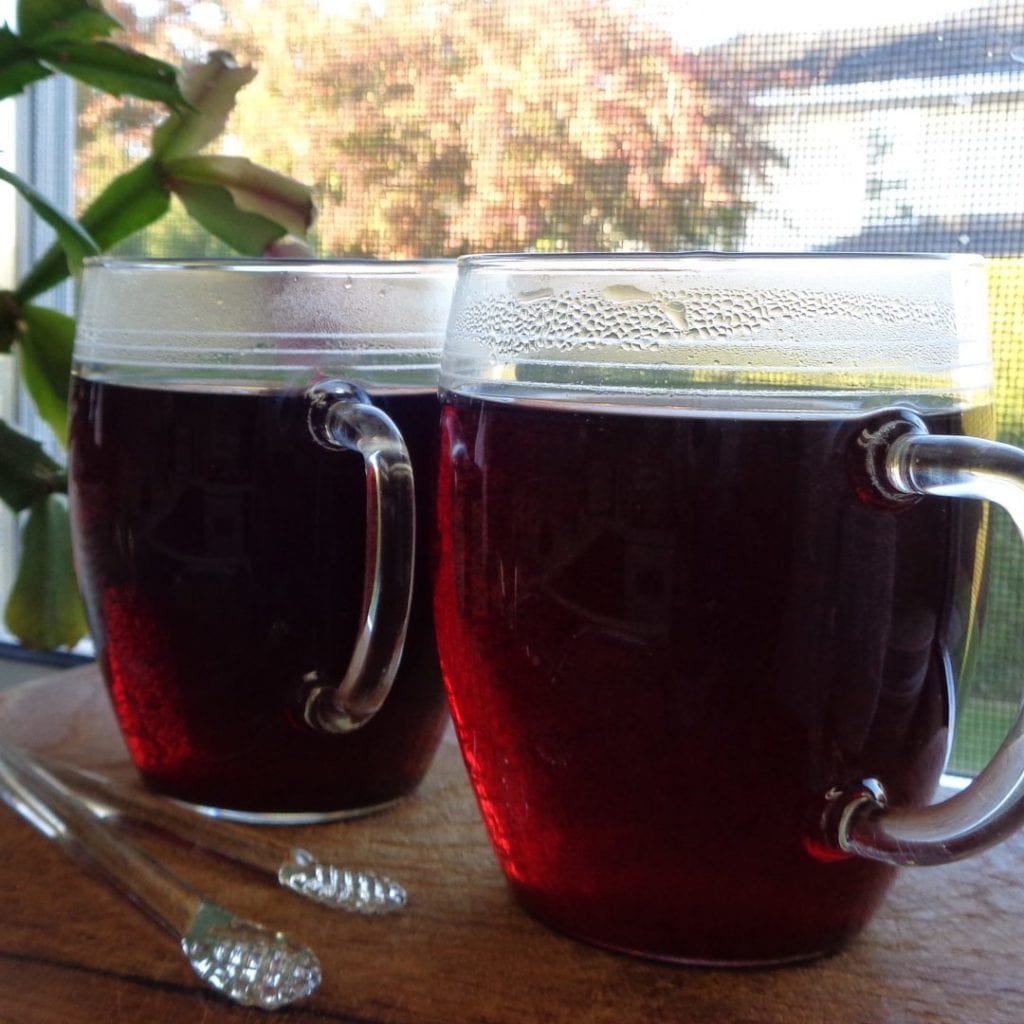 Apple, Elderberry Tea from My Kitchen Wand